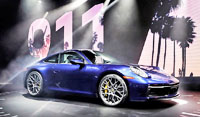 You'd need to go back a very long way to find a year that Porsche's 911 wasn't the best-selling premium branded sports car in Canada or the U.S., and 2018 won't be any different once the final numbers are tallied and compared to its closest rivals. 
Year-to-date third-quarter Canadian-market results showed the 911 at 1,083 units and the next best-selling Audi TT at 366, while the more directly competitive Jaguar F-Type came in at just 347 deliveries. It's really no contest, with some others that might be deemed rivals including the Audi R8 with 208 unit sales, the Mercedes-Benz AMG GT at 195 deliveries and SL at 140, and the Acura NSX with just 33.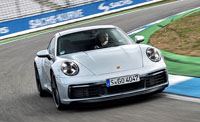 With numbers like these it's no wonder the majority of competitors don't redesign their sports car models very often and aren't offering many special editions either, but Porsche has enough market strength to do both. In fact, the 2019 911 currently available offers three totally unique roof systems, various front and rear fascia designs, differing fender widths, visual body style/performance upgrades such as rear-fender engine ducts, rear- and all-wheel drivetrains, manual and dual-clutch automated transmissions, a host of engine options from 370 to 700 horsepower, a wide assortment of trims for almost every premium-level budget, and options enough to boggle the mind.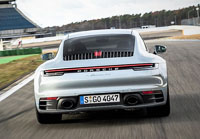 If that weren't enough, Porsche just introduced the all-new eighth-generation 2020 911, which will become available here this coming summer. They've only announced pricing for two models so far, the $129,100 911 Carrera S (C2S) and the $137,400 911 Carrera 4S (C4S), the first rear-wheel drive and the latter all-wheel drive, but more models are set to arrive later this year. 
From side profile the 2020 911 looks a lot like the car it's replacing, but this has more or less been reality since the car went from an air-cooled rear-mounted flat-six to a water-cooled variant back in 1999. Porsche has always been more about year-over-year refinement than change for change's sake, and therefore we have a 2020 model that mirrors the 2019 from some angles.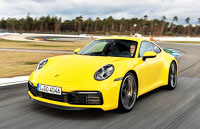 This said the visual modifications are plentiful enough to cause consternation amongst traditionalists, or at least tempered pause. For starters, the hood and lower front fascia have departed from the car's usual combination of mostly body-colour oval shapes to an almost straight, horizontal slit separating the former from the bodywork below, and a broad black rectangle for the latter, giving the entire car a wider, more aggressive albeit not necessarily as elegant stance, similar in concept to the frontal change made to the once technologically-tied, and in recent decades more purposely retrospective VW Beetle (A5), when it lost its "New" moniker in 2011, not that I'm trying to compare either car directly.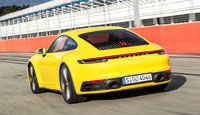 As for design cues pulled up from the internally-codenamed 991 series (2012–2019) seventh-generation model to this 992 series car, the just noted squared-off hood now includes classically tapered creases at each side of its indented centre, just like the original 911 albeit without a vented end, while Porsche intelligently left the outer design of its ovoid multi-element four-point LED headlamp clusters unmolested, a lesson learned when the aforementioned 1999 996's Boxster-inspired L-shaped lamps ventured too far from 911 orthodoxy. 
As noted, the two cars look nearly identical from side profile excepting the previously noted front and rear fascia vents and surrounding bodywork, plus slightly more upright headlamps, reverse front side marker lights, more chiseled wheel cutouts, new mirror caps, new sharply angled flush-mounted door handles that extend outward when touched replacing the old model's more classic rounded pulls, a much smoother rear deck lid, and taillights that now wrap around the bodyside more fully.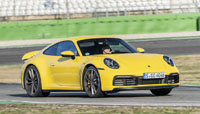 When seen from behind those taillights come into clearer view, with the new model building on the 991's narrow dagger-like LED-infused lenses and even slimmer body-wide light strip (previously only found on all-wheel drive models) by extending the latter further outward to each side, and then at centre grafting in some 718-sourced 3D-like graphics above seemingly open vent slats underneath, while chiseling out even more linear lines for the outer lamps.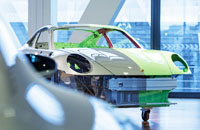 The diffuser-infused lower bumper is bigger, bolder and blacker than before too, plus it feeds faux exhaust tips from within rather than appearing like they're forced to exit below (which actually remains the case), while hidden within the new 911's gently flowing rear deck lid, just above the aforementioned light strip and below a row of glossy black engine vent strakes, is a much wider and larger active spoiler featuring multiple positions for varying levels of rear downforce. 
Of course, there will be many variations on the new 911 theme, some including a fixed rear spoiler for an even more expressive and capable trailing edge, plus various fascia designs nose to tail, but all body panels are now made from lightweight aluminum, bumpers excluded. In reality only the front fenders were lightened, being that most of the 991's skin was already alloy, the change saving between 10 and 15 kilos (22 and 33 lbs) depending on the model, but take note the underlying body structure halves steel content from 63 to 30 percent, with the remaining 70 percent now fully constructed from aluminum, all of which will help to improve structural rigidity, handling, fuel efficiency, and more.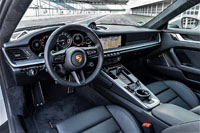 As noted earlier, the first models to be introduced are the Carrera S and 4S shown on this page. Compared to the previous generation this all-new model is not only visually wider due to styling, but actually grows by 45 mm (1.8 inches) at the front wheels. What's more, its rear flanks have widened by 44 mm (1.7 in) to 1,852 mm (72.9 in), this being identical in width to the outgoing GTS model. New 20-inch front and 21-inch rear wheels come standard with S-enhanced Carreras, the former on 245/35 ZR-rated rubber and the latter on a mighty set of 305/30 ZRs—base 911s will get a staggered set of 19s and 20s.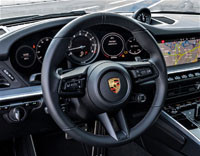 Despite all the extra aluminum used in the new body and chassis, both new C2S and C4S models add 55 kilos (121 lbs) of unladen weight, according to the Porsche Canada retail site, with the outgoing 2019 Carrera S hitting the scales at 1,460 kilograms (3,219 lbs) compared to the 2020 model's 1,515 kg (3,340 lbs), and the old Carrera 4S weighing in at 1,510 kg (3,329 lbs) compared to 1,565 kg (3,450 lbs) for the redesigned car. 
At first glance that extra weight shouldn't have much if anything to do with the powertrain, because the new car's horizontally opposed six-cylinder engine once again displaces 3.0 litres. It's heavily reworked, mind you, with somewhat weightier cast-iron headers replacing the old mill's stamped steel manifolds resulting in freer flowing exhaust, plus an entirely new and pricier piezo injection system for more precise fuel delivery, a fresh set of turbochargers pulled from the outgoing GTS powerplant, and a single new intercooler that's now housed centrally on the 992's backside instead of the two previously hidden within the 991's rear fenders.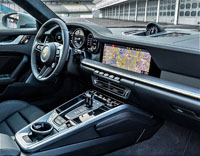 The improvements allow for a higher 10.5:1 compression ratio, up from 10.0:1, which combine for a 23-horsepower and 22-lb-ft advantage over the outgoing C2S and C4S, with thrust now rated at 443 horsepower and twist at 390 lb-ft of torque, resulting in 3.7 seconds from standstill to 100km/h for the former and 3.6 seconds for the latter, or 3.5 and 3.4 seconds respectively with the Sport Chrono Package added, while top speeds are set to 308 and 306 km/h (190 and 191 mph) apiece. Incidentally, the base engine, which keeps the same turbos as last year's car, increases output by 15 horsepower to 385.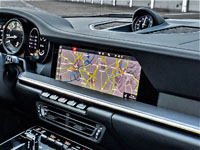 You may have noticed there were no differing times between manual and automatic transmissions, this because 2020 C2S and C4S trims will initially come standard with Porsche's new eight-speed PDK dual-clutch automated transmission, up one gear from the outgoing automatic, with a mostly unchanged seven-speed manual gearbox expected later in the year. 
The new eight-speed PDK was first introduced in the recently updated Panamera, and despite initially being housed in such a large model, was chosen for the 911 due to space improvements. The gearbox doubles its shafts for a shorter, more compact design, even leaving room for a future electric motor when fitted to a similarly sized housing. This means we should expect a plug-in hybrid version of the 911 sometime in the not-too-distant future, and if the just noted Panamera is anything to go by, it'll one day be the most potent form of 911 available.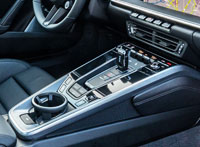 As always, the updated PDK comes with standard steering wheel-mounted paddle shifters, but this time they're an absolute must because Porsche has replaced the old model's conventional shift lever with a tiny little electronically actuated nub, saving enough centre console space for a cupholder while modernizing the interior design. Most won't complain, even old-schoolers wanting to adjust the audio system's volume and swap stations/tracks via rotating knobs, which can both still be found on the same lower console.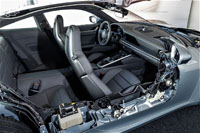 All adjustments are now displayed on a 3.9-inch larger 10.9-inch infotainment touchscreen that also gets better resolution quality and greater depth of colour than its predecessor, plus updated graphics, improved performance, more functions from fewer physical buttons, and most everything else already included with more recently redesigned Porsche models. This said the instrument panel housing all of the above pays much respect to 911s of the '60s, '70s, '80s, and yes even the '90s, all of which were only slight adaptations of the same horizontal theme until the aforementioned 996 arrived in 1999. The new IP even incorporates a narrow shelf that mimics the lower edge of the classic dashboard, this one potentially more functional, if attaching car-sized Pokemon or Hello Kitty action figures—sigh, I've seen these in Ferraris, Lamborghinis and McLarens too.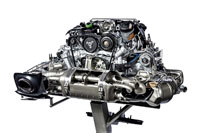 Even the comparatively radical 996 didn't stray too far from the sacrosanct original when it came to organizing its primary gauge cluster, but this time around Porsche went so far as to visually separate each dial like the earlier cars, instead of letting their circular edges bleed into each other. Nevertheless, there's only one mechanical gauge at centre, the tachometer as always, with the four surrounding dials held in place via virtual reality thanks to large TFT/LCD displays that are also capable of showing route guidance, audio, trip, and cruise information, plus more. Specifically, the right side incorporates the multi-information display as with the 991, whereas the left portion shows a conventional looking speedometer in default mode or the various new advanced driver assistance systems including adaptive cruise control, blindspot warning, lane keeping assist, etcetera.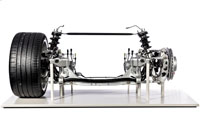 Being that the 2020 CS and C4S are not yet available we aren't able to build them in Porsche's online configurator, but we already know that 18-way adaptive sports seats will be optional, as will a 360-degree surround parking camera that should look fabulous on the new widescreen display, plus new Night Vision Assist that will provide visual assistance for steering clear of pedestrians or animals in the dark via a heat-sensing thermal imaging camera. 
We've also been told that C2S and C4S brake-rotor sizes and calipers continue forward unchanged from the outgoing models, but new Porsche Surface Coated Brakes (PSCB), which were introduced last year on the new Cayenne, will now be available with the 2020 911. PSCB adds a hardened tungsten-carbide layer to friction surfaces to enhance stopping performance, while they're said to last longer than conventional cast iron brakes and reduce dust. The calipers will boast bright white paint to separate them from those used for the standard braking system.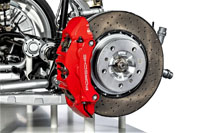 Speaking of standard, a new Wet mode detects as little as one millimetre (0.04 inches) of standing water on the road before alerting the driver, who then has the option of adjusting to a more sensitive stability control setting that's been added to a new version of the same rotating steering wheel-mounted driving mode selector found in the 991. The new 911 will also get standard autonomous emergency braking with moving object detection. 
So when can you get the new 2020 Porsche 911 of your choice? As noted the Carrera S and Carrera 4S coupes with the automated PDK gearbox will be first to arrive this summer, after initially launching in Europe. Shortly thereafter we'll receive Cabriolet versions of the same C2S and C4S models, while later this year we'll get the base Carrera and Carrera 4 with both manual and PDK transmissions, the former of which should also become available with S models. We can expect the new 992 Turbo to show up at the end of the year, with other models arriving in 2020. Porsche retailers are now placing orders for the Carrera S and 4S.
While you're waiting to take one for a drive in person, make sure to check out our comprehensive photo gallery above and all of the videos we've provided below, the first of which is the 42-minute premiere program that covers every historical 911 era:
The new Porsche 911 world premiere. LIVE from L.A. (42:00):
https://www.youtube.com/watch?v=eMq2JrpId8c

The new Porsche 911. Timeless machine. (1:24):


The new Porsche 911: Highlight Video. (2:35):


The new Porsche 911: Exterior & Interior Design. (1:09):


The new Porsche 911: First Driving Footage. (0:59):