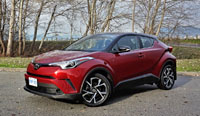 Back in January of 2014 at the North American International Auto Show in Detroit while introducing the FT-1 (Future Toyota) concept, which was the styling inspiration behind the new Supra sports car, Toyota president Akio Toyoda issued a companywide decree for, "no more boring cars," and the C-HR before you is now a good example of what he was requesting, at least when it comes to design. So what do you think? Does it have Toyoda-san's desire for "style that stirs peoples' emotions and makes them say 'I want to drive this'?" 
The 63-year-old grandson of Toyota group's founder, Kiichiro Toyoda, likely approves as he was in charge when the C-HR was initially being drawn up, signed off on those designs, and gave the go-ahead for the production model before you, and remains in charge of the corporation today, so therefore reaps the rewards for a job well done, or alternatively pays any penalties for missing the mark.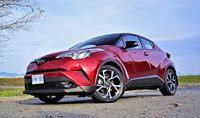 I'll reserve comment on CH-R styling, first because my opinion is irrelevant, you're the buyer after all, so only you should be deciding what appeals to your eyes, and secondly because I've already admitted to liking Nissan's Juke, which is about as polarizing a design as any to ever grace Canadian roads. In other words, my taste isn't your taste, so feel free to like what you like, and choose not to buy what you don't. 
What matters more is Toyota finally filling the subcompact SUV segment with some sort of entry, and I give them kudos for bravery, being that most having already succeeded here did so by leaning toward practicality over originality. That Toyota showed up with a sportier looking, smaller than average entry, and therefore putting styling ahead of practicality, was certainly a surprise.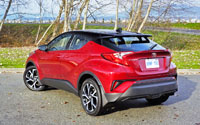 A quick look at the segment sales leaders clearly shows that passenger/cargo roominess and flexibility is king, with models like the Honda HR-V, Kia Soul, and Subaru Crosstrek dominating up until last year, and newcomers like the Nissan Qashqai and Hyundai Kona finding even stronger sales more recently due to their pragmatic approach and more. It's as if the new C-HR picked up where the now discontinued Nissan Juke left off (that latter SUV replaced by the new Kicks, which is selling well), albeit without the top-line Juke's impressive performance. Performance may also be a key ingredient for the Mazda CX-3's formidable Canadian sales, plus arguably attractive styling. 
The C-HR is now in its second model year after arriving on the scene in May of 2017, and is quite a nice subcompact SUV. My tester was outfitted in new Limited trim, which reaches to a higher level than last year's XLE that I previously tested and reviewed, and I must say it combines mostly comfortable operation with the majority of its peers' high-level features, reasonably strong performance, and excellent fuel economy.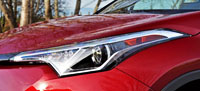 Interior refinement is a C-HR strongpoint, but I wouldn't go so far as to say it overachieves when compared to longstanding competitors like the aforementioned CX-3 in its top-line GT trim, which is really spectacular, even when using this Limited model as Toyota's standard-bearer. Top of the goodies list is a padded and stitched leatherette dash-top, which includes a large bolster that spans from the right side of the instrument panel to the passenger's door, while a similar albeit smaller padded piece gets fitted to the left side of the gauge cluster. The door uppers receive the same high-quality soft touch composite surfacing, while the armrests are even softer and more comfortable.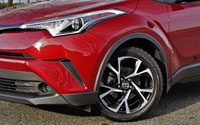 If piano black lacquered plastic is your thing, you'll be overjoyed with all of the shiny, inky stuff found in this tiny Toyota SUV. I personally would like to see less, and not because of its addition to interior styling, but rather that it tends to attract dust like a magnet and scratch all too easily. Better, the door inserts and lower panels are finished in a diamond-textured hard plastic that's like nothing else I've ever seen in the car industry, looking good and appearing durable. More importantly it doesn't feel cheap like this segment's usual glossy hard plastic, plus the tiny diamonds complement the even more unusual assortment of diamond-shaped dimples carved into the roofliner above.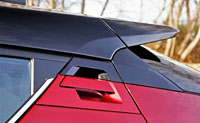 Before delving into any additional C-HR interior styling and quality issues, I should point out this 2019 C-HR received some significant upgrades that should help it find more buyers than last year's model, starting with a new base LE trim level that chops over a $1,000 from the 2018 C-HR's base price. Still, $23,675 is hardly as affordable as some of the sales leaders mentioned earlier, the Qashqai now starting at just $20,198 (only $200 more than last year despite getting loads of new features), and the new Nissan Kicks arriving as the category's best bargain at just $17,998. This said its list of standard features is generous to say the least, so keep reading if you want some more detail about that. 
Another factor going against the C-HR's success is the much larger and more accommodating Nissan Rogue costing a mere $3k and change more, while the all-new 2019 RAV4 starts at just $27,790 (find new vehicle pricing for all makes and models including the C-HR and RAV4 at CarCostCanada, with detailed info on trims, packages and options, plus otherwise hard to get rebate info and dealer invoice pricing that could save you thousands).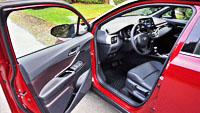 On the positive, the base C-HR LE includes Toyota's new Entune 3.0 infotainment system that I happen to love. This includes a larger 8.0-inch touchscreen and supports Apple CarPlay smartphone integration (if you can't beat 'em, join 'em), and Toyota's excellent in-house smartphone integration app. I like the Entune phone app much more than Android Auto, both when using it on my Samsung S9 and within the car's interface. Better yet, the big new display now incorporates the C-HR's backup camera for a much clearer and safer rear view, which previously was a tiny monitor crammed into the rearview mirror, and thus hardly useful at all. 
Entune smartphone integration also includes the ability to link the Scout GPS app to the centre display for navigation maps and routing, which proved easy to operate and very accurate, while Entune App Suite Connect boasts separate apps for traffic, weather, Slacker, Yelp, sports, stocks, fuel and NPR One, although I'm not sure if anyone in Canada will care much about the latter U.S.-specific National Public Radio station. 
Some additional standard features found on the base C-HR LE worth mentioning include automatic high beam headlights, adaptive cruise control, remote access, an acoustic glass windshield, auto up/down powered windows all around, a leather-wrapped shift knob, a 4.2-inch TFT multi-information display within the gauge cluster, an auto-dimming rearview mirror, illuminated vanity mirrors, dual-zone auto climate control, six-speaker audio, the piano black lacquered instrument panel trim noted earlier, fabric upholstery, front sport seats, 60/40-split rear seatbacks, a cargo cover, autonomous emergency braking with pedestrian detection, lane departure alert with steering assist, all the usual active and passive safety features including a driver's knee airbag and rear side thorax airbags, plus more, which is a very generous entry-level assortment of features that should put to rest any criticisms about its base price being higher than some rivals.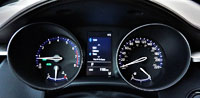 Last year's sole XLE trim level is pretty well carryover for 2019, other than its higher $25,725 price and the new Entune 3.0 Audio Plus system, with its larger display, noted earlier. Additionally, XLE trim gets automatic collision notification, a stolen vehicle locator, an emergency assistance SOS button, and enhanced roadside assistance, with yet more features including 17-inch alloy wheels, a leather-wrapped steering wheel rim, upgraded cloth upholstery, heatable front seats (which are normally standard fare in Canada), and two-way powered lumbar support for the driver's seat. 
An XLE Premium package, which pushes the price up to $27,325, adds 18-inch alloy wheels, proximity-sensing access with pushbutton ignition, heated power-folding side mirrors with puddle lamps, blindspot monitoring with rear cross traffic alert, and lane change assist.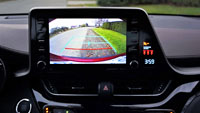 As noted earlier in this review, also new for 2019 is this as-tested $28,775 top-line Limited trim, which adds rain-sensing wipers, a very useful windshield wiper de-icer (especially after the past two ultra-cold winters), ambient interior lighting, and nicely textured leather upholstery in black or brown. 
While the two new trim levels and upgraded infotainment system are improvements over last year's C-HR, the 2.0-litre four-cylinder engine might leave some potential buyers (especially those coming out of the aforementioned Juke) feeling like its performance doesn't measure up to its sporty exterior design due to just 144 horsepower and 139 lb-ft of torque, a lone continuously variable transmission (CVT) with a focus on fuel economy rather than get-up-and-go, plus no all-wheel drive option, front-drive being the only driveline configuration available.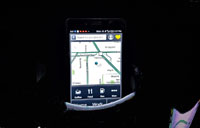 Then again if you're looking for a sporty looking SUV with great fuel economy the C-HR's claimed 8.7 L/100km city, 7.5 highway and 8.2 combined Transport Canada rating might be just what your inflation deflated, carbon tax inflated personal budget demands. 
Also a positive, the C-HR's wide stance and low profile make it inherently well balanced, resulting in handling that mostly meets Toyoda-san's never boring ideals. Once again it's no CX-3, or Kona for that matter, but its MacPherson strut front and double-wishbone/trailing arm rear suspension setup is more than adequate for coursing through a serpentine back road at a speedy pace, while its ride quality is amongst the best in this class.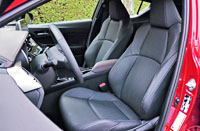 While we're talking comfort, the front seats are superb, and its driving position is much better for my body type than some other Toyota models. My legs are longer than my torso, so therefore I normally need to push my seat farther rearward than someone else measuring five-foot-eight, before adjusting the steering column as far back as can be. Unfortunately, some Toyotas simply don't fit me due to a lack of telescopic steering column reach, so I was once again happy to be reminded that the C-HR provides a highly adjustable tilt and telescopic steering wheel, which provided me all the comfort and control needed. 
Even pushing the driver's seat far enough rearward for my longish legs, I still had about four inches from the front seatback to my knees, plus about three inches above my head (approximately two inches less than up front), which should help taller passengers feel right at home. I also enjoyed enough space from side to side in all outboard positions.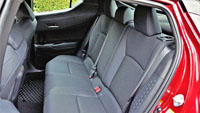 Strangely, there's still no folding centre armrest in back, but at least Toyota provides cupholders at armrest level in the rear door panels. Fortunately the C-HR's rear seats are quite comfortable, particularly for the lower back. Then again I didn't appreciate rear seat visibility out the side window, the SUV's oddly shaped doors forcing rear passengers to look directly into a black panel when turning their heads. This makes me question whether kids will like riding in back, even when seated in a booster.  
Another concern you may want to question is cargo roominess. The C-HR's sloping rear liftgate cuts into vertical space, resulting in a scant 538 litres (19.0 cubic feet) of capacity behind the rear seatback, which lags behind the segment leaders. Of course you can fold the C-HR's 60/40-split rear seatbacks down for a much more accommodating 1,031 litres (36.4 cu ft) of available space, but once again it's nowhere near the largest in this class.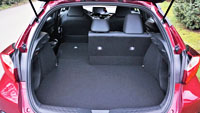 I hate to leave any review on a negative, so I'll point out that the C-HR managed an impressive five-star safety rating from the NHTSA, and thanks to Toyota's good name should provide reliable service throughout its tenure. Yes, I know that's nowhere near the level of excitement that Mr. Toyoda would likely want to hear from a review of one his newest products, but some vehicles were built more for comfort, convenience, efficiency and dependability than speed, handling or wow factor, and that should certainly be reason enough to consider a new C-HR for your personal ride.