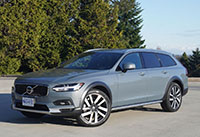 When growing up in the '60s and '70s, wagons were everywhere. We always had one in the family, because they were too practical to live without. Flash forward 50-plus years and the auto market has segmented into many more niches, with minivans, SUVs and newer crossover utilities taking over for family hauling duties. Nevertheless, some premium brands still produce performance-oriented sport wagons that have proven to make an ideal base for raised crossovers of their own, with Audi's Allroad and Volvo's Cross Country virtually owning this fragment of the market since the late '90s.
For a bit of background, Volvo arrived first into the mid-size luxury crossover wagon segment in September of 1997 with its original V70 XC or Cross Country (CC), followed by Audi's Allroad Quattro in 1999, which was an off-pavement version of the Ingolstadt-brand's A6 Avant wagon. The latter, along with its adjustable air suspension, took on the name of A6 Allroad Quattro in 2006, while the V70 CC had already undergone a name-change to XC70 partway through its second generation in 2003, before undergoing a third and final iteration in 2007, and eventually morphing into two all-new models. These included the more compact V60 Cross Country that hit the scene in 2015, providing Volvo with a direct challenger to Audi's A4 Allroad Quattro that had already been on the market for six years, plus the V90 Cross Country, a mid-size model that quickly followed in 2016, and the subject of this review, which once again directly challenges the A6 Allroad.
V90 Cross Country has the styling and interior refinement to take on all challengers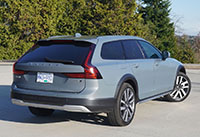 As for which of these two can be deemed the best-looking raised luxury crossover wagon on today's market, the decision is up to you. Volvo should win some sort of award for understated good taste, but now Mercedes' all-new E 450 4Matic All-Terrain Wagon is vying for your eye as well, and this muscled up Merc isn't only going head-to-head with the aforementioned segment leaders, but has the ability to scoop up sales on the basis of brand strength alone.
Each of these mid-size luxury crossover wagons carries its trademark design language inside too, with the Merc most dramatic thanks to its double driver display/infotainment touchscreen, bright metal oval vents, and other swoopy curves, while, like it or not, Audi has long since dropped its minimalist perfection for asymmetrical angles all over the place. Similar to its classy exterior, Volvo once again delivers good taste inside, with the instrument panel's overall design being horizontal, albeit bisected with a vertical centre display and twin vertical vents, plus more upright vents at each corner. Even the grain of the gorgeous open-pore Grey Ash ahead of the front passenger is vertically aligned (alternative hardwoods, metals, leathers, and composite surface colourways are available), this theme continuing over to each door panel as well.
Volvo refinement is amongst the best in class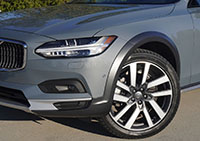 That wood butts up against generous supplies of satin-finish aluminum, while the centre dash-mounted and front door speaker grilles, proudly stamped with Bowers & Wilkins branding, are especially appealing thanks to their brushed stainless-steel surfaces. Common for any class, piano black lacquered plastic glistens in the light as effectively as this inky surface treatment attracts smudges and dust, but fortunately Volvo has kept the long-term trend to a minimum, mostly around the centre display screen and vents, plus the surface surrounding the lower console controls. The rest of the cabin, mind you, is ensconced in high-grade contrast-stitched leather and soft-touch synthetics.
Of course, each roof pillar is wrapped in the same high-quality woven material as the roof-liner, which frames a well-organized overhead console incorporating LED lighting and controls for the sizeable powered panoramic sunroof, while back down below, the rotating dials amongst those previously mentioned controls appear more like silver jewellery than the ignition switch and audio volume knob they actually are.
New B6 mild-hybrid optimizes fuel economy without sacrificing performance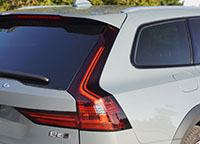 There is no scrolling drive mode selector on this V90 Cross Country B6, unlike the 2019 Volvo V90 Cross Country T6 AWD I tested and reviewed a couple of years ago. And now, with fuel prices up considerably, I don't mind that Volvo's general approach to its V90 Cross Country has focused more on fuel economy than performance.
The T6 designation stamped on the back of the car from two years ago meant that it included the Swedish brand's venerable 2.0-litre four-cylinder engine paired with a turbocharger and a supercharger, which made it capable of 316 horsepower and 295 lb-ft of torque. This allowed for a claimed Transport Canada rating of 11.6 L/100km city, 8.1 highway and 10.0 combined, whereas the new B6 badge denotes that its power unit drops the supercharger and adds a standard mild-hybrid system, resulting in slightly less thrust at 295 horsepower, albeit a bit more twist at 310 lb-ft, with the resulting fuel economy improving to 10.6 L/100km city, 8.1 highway and 9.5 combined. This is also a bit better than the six-cylinder-powered A6 Allroad and E 450 All-Terrain, so kudos to Volvo for that.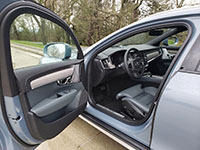 Like the previous V90 CC, the new hybrid power unit utilizes an eight-speed Geartronic automatic transmission for shifting duties, which is a wonderfully smooth operator. I'd guess the slight decrease in power, and slight increase in torque is a wash as far as straight-line performance goes, because this sizeable, luxurious wagon pulled off the line with more than enough energy, and performed even stronger during highway passing manoeuvres. It powers through the gears quickly, and while no paddles are offered in this model's single trim, the leather-clad shift lever works well enough when manual mode is required.
Ample handling prowess with a sublime ride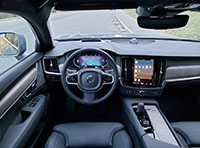 The Cross Country doesn't provide the same level of handling sharpness as the V90 wagon, especially when compared to the R-Design trim noted earlier, but it's no slouch through the corners either. With a substantial 204 mm (8.3 inches) of ground clearance, it's about 30 percent taller than its tarmac-hugging sibling, so therefore its centre of gravity won't allow the same lateral grip through fast-paced corners, but I doubt you'll notice unless pushing it really hard on a serpentine two-laner.
Volvo had given my tester's wheels a $1,000 upgrade too, from 19s to 20s, which were accompanied by a set of 245/45 all-season tires, enhancing its at-the-limit grip from the base 235/45 R19s. It's also possible to get a different set of 20-inch alloys as well as sharp looking 21s on 245/40s, just in case you plan on spending a lot of time carving up canyon roads.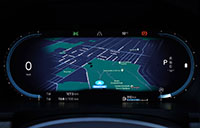 Equipped with the 20s, the V90 CC's ride is absolutely sublime and wholly controlled all the time, plus that extra ground clearance makes it an ideal companion for outdoing fresh dumps of snow in ski resort parking lots, or for that matter trekking up backcountry roads en route to the cottage for that weekend getaway that was supposed to include sunshine. What's more, it even tows up to 1,580 kg (3,483 lbs), in case that destination includes a large body of water and you want to bring along watercraft.
Solid construction and standard AWD make the V90 CC one tough competitor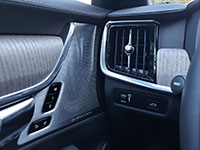 If you want to get technical, the Cross Country features an aluminium double wishbone front suspension and an exclusive integral link design in the rear, featuring a transverse leaf spring made from a lightweight composite, while the setup in back benefits further from an air suspension that instantly responds to the road or trail below in order to maintain its optimal height, stability, and comfort. This said, it's not an adjustable air suspension like that in the A6 Allroad, but the Swede makes use of the same type of high-strength steel and aluminum monocoque body construction as the German, ensuring ultra-tight rigidity for enhancing handling, refinement and safety.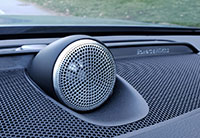 All V90s include all-wheel drive too, with the Cross Country's system also featuring hill decent control and an off-road mode that provides greater ease and confidence-inspiring control during moderate backcountry excursions. To access this feature, you'll need to first press settings on the centre display, then select driving, and then activate or deactivate the off-road mode (it also cancels automatically when turning off the engine). I'd rather have a quick-access switch on the lower console to perform this task, but this said, going off-pavement is normally a deliberate choice, and not something that needs to be done on the fly like when using sport or eco modes. When optimized for the wild green yonder, the V90 Cross Country is quite capable of light- to medium-duty off-roading, such as overcoming small stumps and rocks on a logging road, or wading through a shallow river bed.
Comfort is always king in a Volvo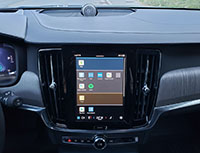 My tester's driver's seat was equal in comfort to the V90 CC's superb ride, which is a Volvo trait, as I've learned over the years. It's truly a car I could drive all day long and never tire of. It helps that the tilt and telescopic steering column provides ample reach for my long-legged, shorter torso body type, and there was no shortage of adjustability options in my upgraded powered Sport driver's seat.
Before diving into the driver's seat upgrades, my tester also came with a $1,000 Climate package featuring a heatable steering wheel rim and headlight cleaning system that sprays high-pressure jets onto the front lenses to enhance visibility at night; plus a $2,000 Advanced package was also included, boasting a head-up display system that projects key info onto the windshield ahead of the driver, as well as a special air cleaner for removing fine particulates from the cabin, a 360-degree overhead camera for making parking in tight spaces easier, and high-level interior illumination that includes special courtesy lights for entry/exit, subtle door pocket lamps, mood lights, and more.
Plenty of option packages on offer, but roominess is standard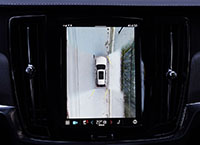 Back to that driver's seat, my tester also featured a $3,850 Lounge package that included the special Nappa leather-covered Sport seats noted earlier, with extra upper bolstering and beautiful contrast stitching. They're superbly comfortable and provided excellent support, thanks in part to a powered lower cushion extension for the driver, which nicely cups under the knees, plus four-way powered driver's lumbar support, necessary for applying pressure to the exact spot in anyone's lower back for alleviating discomfort. This upgrade also benefits the front passenger that gets memory function for their powered seat, while four-way automatic climate control is included as well, complete with a separate rear HVAC interface on the backside of the front centre console, which also incorporates heatable seat switchgear for the rear outboard positions.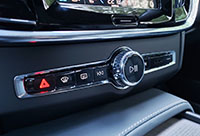 Those rear seats are impressively comfortable as well, particularly the just-mentioned two next to the windows. As far as rear seat room goes, when the driver's seat was set up for my aforementioned long-legged, short-torso five-foot-eight frame, I had almost 10 inches of space ahead of my knees, plus five inches from my shoulder to the door panel, another four inches or so next to my hips, and at least three and a half inches above my head. Therefore, stretching out my legs was easy when placing my feet underneath the front seats. You'll never feel claustrophobic in back of this V90 either, thanks to that previously-noted panoramic sunroof, plus vents on the backside of the front centre console, as well as on the midpoint of each B-pillar, while there are LED reading lights just above.
No shortage of innovative safety gear or technology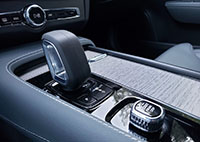 If you've got smaller children, Volvo can outfit those outboard positions with a couple of two-level integrated child booster seats for just $625, while you can enhance rear seat safety further with the Swedish brand's $600 steel protective grille found in my test car. When lowered via hinges from its stowage space under the cargo area roof (see the photo gallery), it separates the rear passenger compartment from the load-carrying area, keeping passengers and pets safely away from each other when braking hard, or worse, if involved in a collision. Of course, this also keeps rear passengers safe from flying cargo that hasn't been strapped down, which is a common cause of injury during accidents.
Both front and rear passengers will also appreciate the aforementioned Bowers & Wilkins audio upgrade. It'll set you back a cool $3,750, but delivers a level of sound quality few will ever experience in a car. This high-end audio system features 1,400 watts of power and 19 speakers, the odd number referencing the cool-looking stainless steel "Tweeter-on-Top" centre speaker that's been a feature in top-of-the-line Volvos for years. This system also includes an air-ventilated subwoofer in back, plus special silver speaker cones made from a proprietary Continuum material that can be seen through the grilles.
Base V90 Cross Country should be good enough for most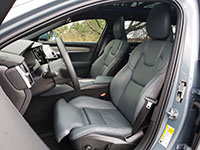 While it might sound like you'll need to buck up for a lot of options in order to enjoy your V90 CC, nothing could be further from the truth. The standard $65,950 model's front seats, for instance, are already inherently comfortable, with superb support all-round. This car also comes standard with dual-zone automatic climate control featuring CleanZone filtration, which makes sure the air your family breaths is clean and fresh, no matter the surrounding traffic.
A 12.3-inch digital driver display is also standard, featuring the ability to shrink the primary instruments when utilizing the multi-information system at centre, while all the mirrors get standard auto-dimming as well. Rain-sensing wipers are included with the most basic trim too, as are wiper blades with integrated washers, auto-folding heated and powered side mirrors, aluminum tread plates, powered and heatable front seats, leather upholstery, a leather-wrapped sport steering wheel and shifter (even the key fob is a leather-wrapped, metal-adorned thing of beauty), a wireless phone charger, a 220-watt audio system, power-folding rear head restraints, a powered rear liftgate, a stainless-steel cargo scuff plate, an alarm, a whiplash injury protection system, and all the usual airbags including one for the driver's knees.
Standard safety has always been one of Volvo's strong points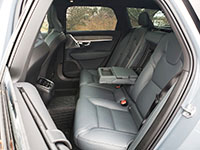 Additional standard features include road sign information, adaptive cruise control, front and rear parking cameras with visual and audible distance warnings as well as Park Assist semi-autonomous self-parking capability, semi-autonomous Pilot Assist steering control, lane keeping aid, oncoming lane mitigation, the BLIS (Blind Spot Information System) and rear cross-traffic alert with mitigation, post-impact braking, all of which helped the 2022 V90 CC to achieve a best-possible Top Safety Pick + rating from the U.S. Insurance Institute for Highway Safety (IIHS), while Volvo's brand-wide total of 13 Top Safety Pick + winners makes it the safest automaker in the entire car industry.
Volvo also includes an impressive 9.0-inch vertical tablet-style touchscreen display on the centre stack, which I've long found to be one of the best in the business. Not only does it use a brilliantly high-definition display, filled with deep, rich colours and attractive graphics, that's as easy to use as a regular smartphone or tablet thanks to the ability to tap, swipe, or pinch the screen for the majority of functions, but its full list of features makes it very versatile.
New Google infotainment operating system streamlines smartphone connectivity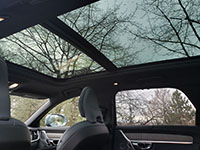 A recent update means it now processes inputs faster than ever too, thanks to a deal Volvo made with Google to completely integrate Android into the back-end. Now the updated system connects your Android smartphone even more seamlessly than the Android Auto app, but you'll need to set up a Google account in order to take advantage.
Once done, you'll have access to built-in Google apps such as voice-activated Google Assistant that lets you call or text friends or business associates, set destinations, modulate the cabin temperature, choose music, inquire about any on-line information, or even control connected home devices just by saying "Hey Google" before your request. The system also integrates Google Maps with real-time traffic info, automatic rerouting, and voice control, while Google Play store is available to download your favourite apps (like CarCostCanada), and more.
As practical as it's luxurious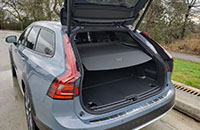 That aforementioned liftgate powers open to reveal an accommodating cargo compartment with a retractable cargo cover that automatically lifts up and out of the way. Altogether it measures 714 litres (25.2 cu ft) with the rear seats upright, and 1,526 litres (53.9 cu-ft) when they're folded flat, making it similar in size to most two-row mid-size crossover SUVs.
The dedicated luggage area is luxuriously finished with carpets that go all the way up the sidewalls and seatbacks, plus of course the load floor. Making my tester even more convenient was a lift-up floor divider with attached grocery bag hooks, as well as a rubber cargo mat, while under the floor is a shallow carpeted compartment for storing ultra-thin items, such as the carpeted floor mats when the all-season ones are being used.
Excellent alternative to a more traditional luxury crossover SUV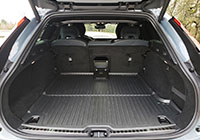 I was a bit disappointed to see 60/40 split-folding rear seatbacks instead of a full 40/20/40 configuration, but Volvo includes a small, narrow centre pass-through that's ideal for a couple pair of skis, while each side can flip down further via powered release buttons. These automatically dropped the headrests too, using the same release mechanism that allows them to be flipped down from up front. Once lowered they provide a nice, flat load floor for lots of gear.
And that last point really sums up what the Volvo V90 Cross Country is all about. Carrying loads of gear and family to your favourite destinations in absolute comfort and efficiency, while having fun getting there.
In summary, the V90 Cross Country is an excellent alternative to a more traditional-style luxury crossover SUV. I highly recommend you take a closer look.
Review and photos by Trevor Hofmann