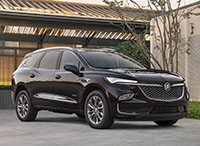 Buick just took the wraps off its refreshed 2022 Enclave, and fans of the brand should be pleased with what they see. There's nothing revolutionary about the design, with most styling cues pulled from its second-generation predecessor that arrived in 2017 as a 2018 model, and from the Chinese version that launched two years later for the 2020 mode year.
Fortunately, the outgoing Enclave was already an attractive crossover SUV, and the Chinese version even more so. Therefore, this mid-cycle makeover only grows the Enclave's grille to give it even more premium presence, updates the headlamps and taillights for more fluid integration into the design, and sharpens the front and rear bumpers to add some visual width, resulting in even more premium appeal that Buick no doubt hopes will lure prospective buyers away from other brands' three-row luxury SUV offerings.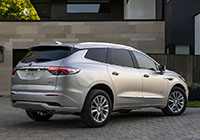 The only choices below $50k, which is currently the entry point of the three-row luxury SUV segment, include today's $48,398 2021 Enclave and the $48,995 Infiniti QX60, but Acura's $56,405 MDX, Cadillac's $57,998 XT6, and Lexus' $59,700 RX 350 L aren't too far away. In fact, that's similar pricing to an Enclave about halfway through its options list, while a fully equipped 2021 Enclave Avenir gets close to $70k, a price point that's similarly positioned to the $64,500 Genesis GV80, $65,500 Land Rover Defender, $64,750 Volvo XC90, $68,600 Land Rover Discovery, $67,950 Audi Q7, and the $69,900 Lincoln Aviator. Just in case you were wondering, three-row alternatives from Mercedes-Benz and BMW are in an altogether different stratosphere, their GLS and X7 starting at $101,900 and $102,900 respectively.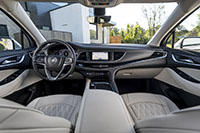 Back down to earth, the updated Enclave's new standard suite of advanced driving assistance and safety technologies, dubbed Driver Confidence Plus, features forward collision warning plus automatic emergency braking with pedestrian detection, blind-spot monitoring and lane departure warning with lane keeping assist, rear parking assist, rear cross-traffic alert, and finally automatic high beam assistance.
The Enclave's sole powertrain offering remains a 310 horsepower 3.6-litre V6 mated to an advanced nine-speed automatic transmission and optional all-wheel drive (the base Essence AWD starts $3,000 higher, at $51,398), while top-line Avenir trim features an adaptive suspension.
CarCostCanada is currently showing up to $1,000 in additional incentives off of today's 2021 Enclave, with its members saving an average of $2,625 at the time of purchase. To find out how you can save thousands when buying your next new vehicle, make sure to learn how to access dealer invoice pricing, and remember to download the free CarCostCanada app so you can have every member benefit right at your fingertips.
Story by Trevor Hofmann
Photos by Buick