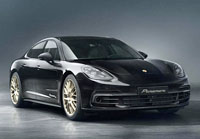 Gold on black has long been a much-loved colour combination in motorsport, with the JPS liveried Lotus 56B probably most revered, as much for its dominance as its much-loved pilot Emerson Fittipaldi. It was followed by the great Jody Scheckter's Wolf WR1, much later by Kimi Raikkonen's Lotus E20, and most recently by Haas F1 team's VF-19, all combining a dark menacing spirit with the rich glitter of gold.
After decades of white gold and platinum adorning the majority of things glimmering, including our wristwatches, jewellery and other trinkets, gold has also been brightening up premium smartphones and tablets over the past half decade, not to mention plenty of premium and exotic car wraps. Now Porsche, a carmaker that's hardly oblivious to tasteful trends, is adorning its 10th anniversary edition Panamera in the classy colour scheme, and we like what we see.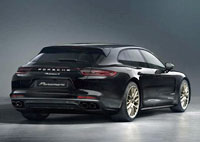 Yes, it's now been 10 long years since the Panamera went into production as a 2010 model, having its first complete redesign in 2016 for the 2017 model year. The current second-generation made big gains in styling, refinement, technology and performance, with each year since improving, especially when it comes to hybrid electric performance, plus for 2018 an entirely new Sport Turismo body style.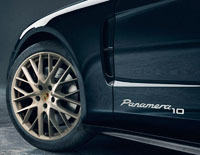 While some markets will offer a Sport Turismo version of the new Panamera 10 Years Edition, Porsche Canada will only make the attractive new package available with its regular four-door coupe body style, specifically for its base Panamera, all-wheel drive Panamera 4, and electrified Panamera 4 E-Hybrid models, although Porsche is only showing pricing for the latter two trims so far, the Panamera 4 10 Years Edition starting at $122,000, for a $17,400 increase over the regular Panamera 4, and the Panamera 4 E-Hybrid 10 Years Edition starting at $132,700, resulting in a $14,900 increase over the regular base hybrid.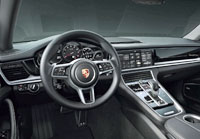 Some of the Panamera 10 Years Edition gold highlights including a unique set of 21-inch Panamera Sport Design alloy wheels painted in satin-gloss White Gold Metallic and special White Gold Metallic "Panamera10" logos painted onto the front doors, while the cabin gets the same logo stamped into the metal doorsills and inlayed within the instrument panel ahead of the front passenger. The interior theme is black with contrasting White Gold thread stitched in all the right places.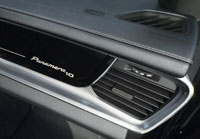 While all that lovely gold might look best next to black, the 10 Years Edition offers up an exterior colour palette as wide and varied as any other Panamera trim line, while the cabin is customizable to personal tastes as well, with additional standard colourways and plenty of options. Likewise, all available trims and options are available too. Make sure to check pricing and other details at CarCostCanada, where you can also learn about available rebates and otherwise hard to find dealer invoice pricing that could save you thousands.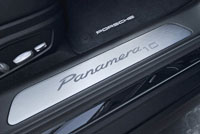 The list of standard Panamera 10 Years Edition features not yet mentioned includes LED matrix headlights, ParkAssist with Surround View, Lane Change Assist with Lane Keep Assist (LKA), 14-way comfort seats with a Porsche crest on the headrests, soft-close doors, and a Bose surround audio system, while standard performance features include Porsche's adaptive three-chamber air suspension with Porsche Active Suspension Management (PASM) and Power Steering Plus. Those upgrading to the hybrid benefit from the more capable 7.2-kW on-board charger instead of the usual base 3.6-kW charge system.
Like all Panamera 4 models, the Panamera 4 10 Years Edition comes standard with Porsche's turbocharged 3.0-litre V6 engine good for 330 horsepower, while the Panamera 4 E-Hybrid 10 Years Edition combines the automaker's twin-turbocharged 2.9-litre V6 with an electric motor for a maximum of 457 horsepower.
Panamera 10 Years Edition deliveries are expected to begin during Q1 of 2020, so make sure to talk to your local Porsche dealer to get your name on one.