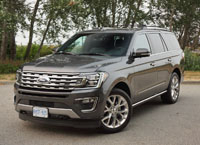 To say that Ford leads SUV sales in this country is almost as big an understatement as merely stating that the F-Series is Canada's best-selling pickup truck. 
F-Series sales were 145,694 units last year compared to 108,569 total full-size GM trucks (55,097 Chevy Silverados and 53,472 GMC Sierras), and 77,951 Ram pickups, with sales actually picking up from January through May 2019 at 59,511 F-Series units to GM's 41,207 large pickups and Ram's 37,152 deliveries over the same five months. As for Toyota and Nissan, the full-size Tundra sold 11,738 units in 2018 and 4,238 as of May 31, 2019, while Titan found just 5,445 buyers last year and a scant 1,399 by the end of May this year. 
In the commercial van sector Ford's lead is even stronger, obliterating its competitors with 22,214 Transit, E-Series and Transit Connect models through 2018 plus 10,658 units up until May 31, 2019, compared to 10,796 total GM vans delivered last year and 4,215 over the first five months of this year, 6,538 Mercedes-Benz vans sold through 2018 plus 2,166 from January through May, 4,362 Ram vans delivered last year and 2,627 more up to the close of May 2019, plus 2,527 Nissan vans down the road in 2018 and 1,122 from January through May this year.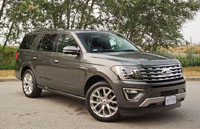 How about mainstream SUVs? While Ford benefited from a less comfortable lead in total crossover and SUV sales across Canada last year, it nevertheless remained out front with 92,418 EcoSport, Escape, Edge, Explorer, Flex, and Expedition models delivered, but with just 36,861 units from January through May of 2019 compared to 86,964 last year and a new lead of 37,125 units from Nissan up until May 31, 2019, not to mention 85,830 from Toyota throughout 2018 and another higher number of 37,348 sales through May, Ford has its work cut out for it if it plans to stay ahead of its closest rivals this year. 
While we're talking SUV competitors, I should also point out that FCA (Jeep, Dodge and Fiat) sold 84,387 SUVs last year and 35,776 up until May 31 this year, whereas GM's three brands (Chevrolet, GMC and Buick) managed 78,002 and 39,407 units respectively, Honda delivered 72,022 and 32,802 new SUVs respectively, and Hyundai found 67,171 and 29,613 new SUV customers during the same two periods of time. 
Take note that one of Ford's better-selling SUVs, the Explorer, saw its sales slip by a significant 45.14-percent over the first five months of 2019 in preparation for a totally redesigned model being launched now (they wouldn't want to stick their dealers with too many older examples when the new one arrives), while Nissan and Toyota had new high-volume subcompact and compact models come online, so we should expect Ford to regain its SUV sales leadership over the final seven months of this year. 
Of course, every other volume brand sells into the crossover SUV sector too, and new models designed to disrupt the status quo are arriving regularly, so we'll just have to wait to see if the blue-oval brand manages to stay on top over the long run, but keep in mind that Ford's all-new retro-inspired Bronco 4×4 will soon go up against Jeep's Wrangler, while its rumoured Baby Bronco will provide an off-road alternative in an even smaller package, and likely be more appealing to Canadians than Jeep's Renegade that's been an unparalleled flop (only rivaled by its Fiat 500X platform-mate).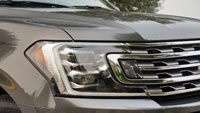 Two of Ford's lowest performing models on the sales charts include the incredibly resilient three-row Flex crossover that surprisingly found 115.71 percent more customers during the first five months of 2019 than it did over the same period last year, its total year-to-date deliveries at 1,812 units as of May 31, 2019, which probably won't be enough to cause Dearborn to keep the unique model in the lineup after being slated for cancellation next year, while the full-size three-row Expedition being reviewed here (you were probably wondering when I'd get around to talking about it) saw its sales increase by 29.4 percent from January through May, up to 2,007 deliveries, albeit that's after year-over-year Expedition sales fell by 12.67 percent throughout 2018.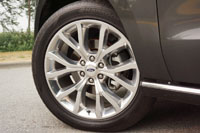 You might remember me using the word "obliterate" to describe Ford's dominance in the commercial van segment earlier in this review, but that doesn't even begin to sum up how dramatically GM outperforms Ford and all others in the Expedition's full-size SUV segment. Where Ford only offers its Expedition and longer Expedition Max to large utility buyers, the General has Chevrolet and GMC anteing up with their Tahoe/Suburban and Yukon/Yukon XL regular and long-wheelbase models respectively, Ford's aforementioned 2,007 Expedition deliveries over the first five months of 2019, and 2,798 sales throughout 2018 looking pale by comparison to 4,617 deliveries of the four GM models in 2019 (comprised of 1,357 Tahoes, 1,255 Yukons, 1,058 Suburbans and 947 Yukon XLs), and 11,629 total units sold through 2018 (including 3,576 Tahoes, 3,061 Yukons, 2,789 Suburbans and 2,266 Yukon XLs). 
The best of the rest is Nissan's Armada that saw its sales rise to an all-time high of 1,435 units last year, followed by a rather scant 321 units sold up until May 31 of 2019, while the trailing Toyota Sequoia's sales fell to 684 units in 2018, and have only managed 248 deliveries over the same five months of 2019.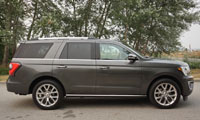 Interestingly, the same scenario plays out within this full-size SUV category's competing luxury brands, with the Lincoln Navigator doing well thanks to an 80.52-percent year-over-year bump from 2017 through 2018 totaling 1,177 units, plus another 21.83-percent increase from January through May 2019 resulting in 720 deliveries, but despite Cadillac's Escalade sales having fallen by 5.43 percent last year it still managed a much healthier 2,767 total units, while Escalade deliveries bounced back by 4.90 percent over the first five months of 2019 to 1,050 unit sales.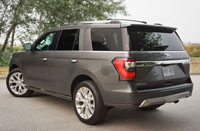 Now where were we? Oh yes, the difference between the now decade-old Flex dying and the latest Expedition, which was totally redesigned last year, continuing to live, come down to plant availability and profit margins, with the Flex produced at Ford's Oakville Assembly plant in Oakville, Ontario, along with the highly popular Edge, impressive new Lincoln Nautilus, and the equally long-in-tooth and ancient D4 platform-sharing Lincoln MKT that only remains alive to serve in airport limousine and funeral service fleets (oh gods of the universe please don't let me go to my place of rest in that horrid looking contraption), plus truly unlucky marrying couples and graduates (hopefully the powers that be within Lincoln will find a replacement for the MKT soon—the fabulous looking, wonderfully outfitted, and strong performing Continental anyone?), whereas the new fourth-generation Expedition rides on the same much more recently introduced body-on-frame and aluminum-skinned T-Platform as the F-Series pickup truck mentioned earlier, albeit the larger Super-Duty versions, and therefore gets produced at Ford's Louisville, Kentucky Truck Assembly plant, alongside the just-noted heavy-duty pickup and Lincoln's just-noted Navigator.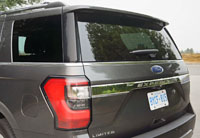 That Navigator adopted the same aluminum body construction as the Expedition last year, both full-size SUVs having received ground-up redesigns for 2018, hence their recent growth in sales. The mostly alloy (and I must say very good looking) skin joins up with a high-strength lightweight boron steel and aluminium frame to further reduce the Expedition's curb weight by 44 kilograms to 90 kg (97 to 199 lbs) depending on trim, or 135 kg (just under 300 lbs) for the longer Expedition Max (EL in the U.S.), yet despite such a significant reduction in overall mass the upgraded SUV is more than 100 mm (4.0 inches) longer than the outgoing model in regular wheelbase form, and 28 mm (1.1 inches) lengthier than the old SUV in its larger Max body-style, while its wheelbase gets stretched by nearly 90 mm (3.5 inches) for the regular-length model and by 15 mm (0.6 inches) in the Max, plus it gains more than 25 mm (1.0 inch) from side to side.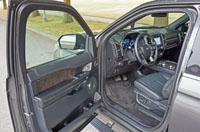 The regular-wheelbase Expedition's size and its lightweight aluminum design are reasons you may want to consider this newest version over the best-selling Tahoe/Yukon pairing, all of these more rugged truck-based SUVs often chosen over unibody car-based crossovers for their passenger carrying and load hauling capabilities, so therefore the more the merrier in this respect. 
The new Expedition's larger dimensions make for an even roomier cabin than the previous generation's already generous proportions, while the cargo compartment grows to a maximum of 2,962 litres (104.6 cubic feet) in the regular length model, or 3,439 litres (121.4 cubic feet) in Expedition Max form, the latter providing 477 litres (16.9 cu ft) more gear-toting space than the regular Expedition. This means 4×8 sheets of building material can be laid flat on top of the load floor with the tailgate closed.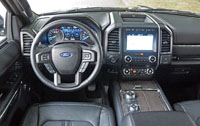 Addition cargo dimensions include 1,627 litres (57.4 cu ft) behind the regular Expedition's second row and 2,077 litres (73.3 cu ft) behind that in the Max, or alternatively 1,800 and 2,254 litres (63.5 and 79.6 cu ft) respectively for the same area when the second row is pulled all the way forward, and lastly 546 litres and 972 litres (19.3 and 34.3 cu ft) behind the regular Expedition's and Expedition Max's third row respectively, or 593 and 1,019 litres (20.9 and 36.0 cu ft) in the regular and Max models' rearmost compartment when the third row is fully upright. Got that? 
Incidentally, both second- and third-row seats can be powered up and down individually via rocker switches on the cargo wall, a really helpful feature in such a large vehicle, and standard with Limited and Platinum trims (third-row PowerFold seats are standard across the line). What's more, those rows fold completely flat so that all types of cargo have a better chance of remaining upright throughout the journey.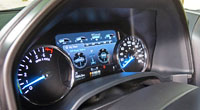 When compared to the Tahoe and Suburban it's easy to see the Expedition and Expedition Max are considerably more accommodating, with the Chevy's shorter wheelbase model's 2,682 litres (94.7 cu ft) of maximum cargo space shy by a whopping 280 litres (9.9 cu ft), its 1,464-litre (51.7 cu-ft) capacity aft of its second row down by 163 litres (5.7 cu ft), and its 433 litres (15.3 cu ft) of gear-toting space behind the third row short by 160 litres (5.6 cu ft). 
As for the Suburban, its 3,446 litres (121.7 cu ft) of maximum cargo capacity is actually 7 litres (0.02 cu ft) larger than the Expedition Max's grand total, or more or less a wash, while the 2,172 litres (76.7 cu ft) behind its second row make it less accommodating by 82 litres (2.9 cu ft), although the big GM climbs back on top with 94 litres (3.3 cu ft) of extra storage room behind the third row thanks to 1,113 litres (39.3 cu ft) of cargo volume.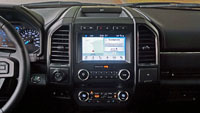 If towing is more on your agenda, take note the regular wheelbase Expedition can now trailer up to 4,218 kilos (9,300 lbs) when upfitted with its $1,400 Heavy-Duty Trailer Tow Package (the base model is good for 4,173 kg/9,200 lbs with the same package), which is an increase of 45 kg (100 lbs) over its predecessor, plus this is the full-size SUV segment's best result by a long shot. Standard is trailer sway control, which works together with AdvanceTrac traction control and Roll Stability Control (RSC) in order to maintain total command of both SUV and trailer. 
Once again comparing the Expedition to the current Tahoe shows 3,901 kg (8,600 lbs) of capacity, but that's with its most capable version in rear-wheel drive trim, whereas the Expedition comes standard as a 4×4 in Canada. The best the Tahoe 4×4 can do is 3,810 kg (8,400 lbs), a considerable 408 kg (900 lbs) less than the Expedition. Likewise the Expedition Max is good for a maximum of 4,082 kg (9,000 lbs) of total trailer weight, whereas its Suburban rival can only tow up to 3,765 litres (8,300 lbs) in its two-wheel drive layout and just 3,629 kg (8,000 lbs) with its more directly competitive four-wheel drive configuration.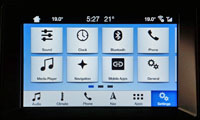 A key reason the Expedition is such an effective beast of burden is its updated twin-turbocharged 3.5-litre Ecoboost V6 that's now good for 375 horsepower and 470 lb-ft of torque in base XLT and mid-range Limited trims, the latter shown here, while an even more potent version puts out 400 horsepower and 480 lb-ft of torque in top-tier Platinum trim. These two powerplants are mated to a brand new 10-speed automatic transmission that, together with standard idle start/stop technology that automatically shuts off the engine when it would otherwise be idling and then quickly restarts it when lifting your foot from the brake, helps deliver much better fuel-efficiency than the outgoing model. 
By comparison, the Tahoe offers full-size SUV buyers 20 horsepower and a shocking 87 lb-ft of torque less performance with its base 5.3-litre V8, which comes mated to a reliable albeit less sophisticated six-speed automatic, while its top-line engine is a massive 6.2-litre V8 mated up to a version of the same 10-speed automatic used in the Expedition (Ford and GM smartly developed this advanced gearbox together in order to save money), this combination providing 20 more horsepower than the most potent Ecoboost V6, albeit 20 lb-ft of torque less twist.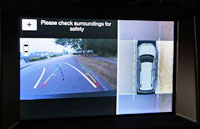 As noted, the Expedition's 10-speed really helps reduce fuel economy, something I noticed during my weeklong drive. I actually had no trouble getting close to Transport Canada's rating of 14.1 L/100km city, 10.6 highway and 12.5 combined when going easy on the throttle, which compares well against the heavier steel-bodied 2017 Expedition with its six-speed automatic that only managed a 15.9 L/100km city, 12.0 highway and 14.2 combined rating in its regular length form. The new Expedition is much thriftier than the 2019 Tahoe 4×4's best Transport Canada rating of 15.8 city, 11.1 highway and 13.7 combined too, despite the Expedition's significant power advantage. 
Likewise, the long-wheelbase 2019 Expedition Max's claimed rating of just 14.7 city, 11.2 highway and 13.1 combined beats its steel-bodied predecessor that could only manage 16.1, 12.2 and 14.3 respectively, a significant improvement, while the best Transport Canada rating for the base Suburban 4×4 is 16.8 city, 11.3 highway and 14.3 combined, worse than the old Expedition Max if driven around town most often. Also notable, there's no stated difference in fuel economy from the base Ecoboost engine to the more powerful version, but the larger optional 6.2-litre V8 in the Tahoe and Suburban slightly increases fuel consumption to 16.4 city, 10.7 highway and 13.8 combined or 17.1, 11.3 and 14.5 respectively.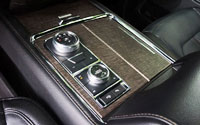 Along with standard four-wheel drive, the new Expedition also gets a version of the Explorer's terrain management system, allowing the choice of driving styles, the capability of maximizing traction on various road and trail surfaces, plus the ability to set the SUV up to either tow a trailer or have it hauled behind a larger vehicle (although the latter is a bit hard to imagine given the size this SUV), all from a dial on the lower console. 
On pavement, where I spent most of my time with the Expedition, I found its Ecoboost V6 nice and smooth, albeit complemented by the sound of a pleasant V8-like rumble emanating throughout the cabin. Step on the throttle and it feels even stronger than the majority of V8s thanks to all the aforementioned horsepower and torque, and therefore would be my choice in this class unless Ford opts to offer the Expedition with a Powerstroke diesel at some point, but that won't likely ever happen due to emissions regulations.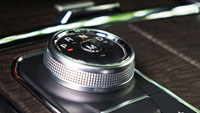 The new 10-speed automatic might be an even smoother operator than the engine. It's truly almost as seamless as a CVT, shifting often albeit without commotion, and responding well to more aggressive digs at the pedal, with fairly quick downshifts and continued silky operation. Likewise, I never tried to defeat the auto idle start/stop system as it shut itself off at stoplights without much notice and restarted immediately, again without even a hiccup. 
Speaking of smooth, the Expedition's ride is a comforting mix of pillows, clouds and whip cream. Ok, that was a stretch, but it nevertheless soaked up bumps, dips and other road imperfections wonderfully around town, out on the highway and pretty much everywhere else, even during some quick tests on gravel roads and wily trails. The Expedition is probably best on the open freeway where it's ability to cruise for hundreds of miles upon miles in any given stint is superb, this ability made even more relaxing via dynamic cruise control that makes life behind the wheel as easy as can be, while its handling around sharper curves is nevertheless very good for this class, its rear suspension being an independent multi-link design unlike the Tahoe's non-independent solid rear axle, plus the Expedition's road and wind noise pretty nominal considering it's shaped like a big brick.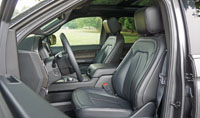 I even found my Expedition tester quite nimble through traffic, aided by the excellent visibility its extremely tall ride-height provides. This said parallel parking in the inner city or trying to find a large enough spot in a parking garage can be challenging, but then again most of the folks I know who own a full-size SUV have a smaller vehicle for getting around town. 
Along with all the performance and luxurious ride is a cabin that's improved so much over its predecessor that I'm really wondering why there's a need for a Lincoln Navigator in the lineup. Okay, I probably shouldn't go that far because the 2019 Navigator I recently tested really impressed me with authentic hardwood and a lot of premium materials all-round, more than making up for the $12k or so price upgrade needed to get into a similarly equipped model, but I certainly wouldn't need all the fancy stuff in a family hauler like this, and found my Expedition Limited test model incredibly comfortable, especially the driver's seat that was about as supportive as can be found in this full-size segment. It only includes two-way lumbar support, mind you, although to Ford's credit that lumbar pad powered in and out exactly where the small of my back required it, so it's hard for me to complain (but you should to try the lumbar support on for size). I found the driver seat's squab fit nicely under my knees too, although can't say how it would feel for someone with shorter legs.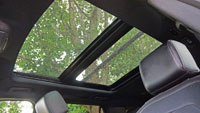 Back to the subject of materials quality, Ford finishes most of the dash top ahead of the driver and front passenger in attractive, soft-touch stitched and padded leatherette, this premium material actually flowing all the way around the sides of the primary gauge cluster, and also forming a separate horizontal strip ahead of the front passenger between chromed metallic inlays. Likewise the top of each door upper was furnished in the same high quality padded and stitched leatherette, front and back no less, while the tops and sides of the armrests are nicely padded as well. 
The Limited trim's woodgrain is finished with a matte treatment, but Ford didn't even try to make it feel real. I have to say it looks pretty good though, so I can't see many complaining as this is the way they've offered up the Expedition since day one, and if you want more you can move up to the new Navigator as mentioned a moment ago. One thing I like more than the Navigator is the knurled metal rotating dial for swapping gears, this a lot more intuitive than the latest Lincoln's horizontal row of buttons.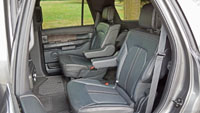 Ford complements its gear selector with a smaller rotating knurled metal dial for choosing drive modes, which include Normal, Eco, Sport, Tow/Haul, Mud and Ruts, Sand, and Grass/Gravel/Snow. I set it to Normal for most of my time behind the wheel, but found that Eco was a good choice when driving around town in busy traffic as well, plus I'm sure there were fuel savings from doing so. 
Eco mode retards the 10-speed transmission's shift points so it doesn't hold gears as long, amongst other things, although if you need to move off the line quickly to get ahead of slower moving traffic the engine certainly responds well enough. Sport mode doesn't allow the auto start-stop function to work, so the engine is always primed and ready to go, while shift points are higher in the rev range resulting in more responsive performance. Also important, when still in Sport mode yet driving in a more relaxed manner, the transmission won't simply hold engine revs high for no apparent reason, making this gearbox design a lot more intelligent than many others I've driven.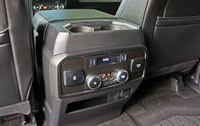 I scrolled through the other drive mode functions for testing purposes and all seemed up to their various tasks, although only a true test over specified terrain would verify. This said I've experienced Ford's Terrain Management System in other models before, such as the Explorer, and can only imagine it would work even better in this true body-on-frame 4×4. 
Back to interior niceties, the instrument panel includes an impressive analogue/digital gauge cluster. It smartly shows a row of 10 gears right next to the tachometer, which move up and down as they slot into place. The standard multi-information display between the two analogue gauges is very large at 8.0 inches in diameter, and extremely high in resolution, plus it's filled with an eye-arresting array of attractive graphics boasting excellent contrast and depth of colour. Functions include an off-road status panel with an inclinometer and more, a real-time fuel economy average that showed 18.3 L/100km when taking notes (fortunately not my weeklong average), a comprehensive trip mileage panel, some engine information such as driving hours and idle hours (my tester showing 209 total hours of which 63 were idling, so the need for an idle start-stop system in a vehicle like this is understandable), a turbo boost gauge, and more.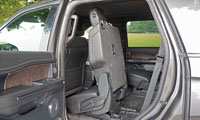 If you're not familiar with the Ford Sync 3 infotainment system then you probably haven't read many of my other reviews about Ford products, because I've been raving about this infotainment system since it was introduced a few years back. I won't say that it's still best of the best, but it was at one point and now remains one of the better electronic interfaces in the mainstream industry, continuing forward with stylish light blue graphics and simple, straightforward commands, plus loads of useful features including a very accurate navigation system and, in the case of my tester, an excellent parking camera system with backup and overhead views. 
Surprisingly, all Expeditions come suited up with a fabulous 12-speaker Bang & Olufsen audio system, while its controls were once again comprised of knurled metal-like dials and tight fitting buttons, as were all the HVAC system controllers that neatly featured temperature readouts within the middle of each dial. Most of the Expedition's switchgear is nicely made, tightly fit and well damped for a premium feel, with only the steering wheel buttons coming across a bit low rent.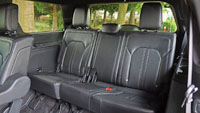 Also, don't look for premium composites below the beltline, Ford even finishing the glove box lid in shiny hard plastic. That might be good news for those looking to their Expeditions for hard work or play, being that the lower door panels, while hard shell plastic, appear rugged enough to sustain plenty of kicks from steel toed boots. Likewise, you won't need to worry about grabbing hold of the A-pillar with dirty, sooty gloves or unwashed hands while swinging yourself into the driver's seat, because Ford doesn't wrap any of the Expedition's roof pillars in fabric, so once again look to Lincoln's Navigator if you're interested in a higher level of premium pampering.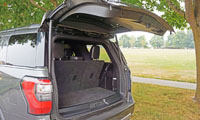 The Expedition's passenger compartment is about as spacious as you're going to get in any class, and no different than the Navigator's from a size perspective. My tester came with two rear buckets featuring a wide passageway in between to get to the third row. You can also tilt either bucket seat forward to access that rearmost row, which might be easier for some, but I expect smaller kids will just run through the middle. This makes it easier for parents still strapping a child seat into that second-row bucket. Nevertheless, the new Expedition is actually the first full-size SUV to incorporate tip-and-slide second row seats, so kudos to Ford for bringing this convenient feature to the largest SUV segment. No one will complain about third-row seat comfort no matter how they climb in back, because its as accommodating as any large minivan, if not more so.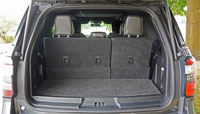 No one should complain about second-row seat comfort either, plus these lucky folks benefit from a comprehensive rear automatic HVAC and audio system panel on the backside of the front console featuring two USB ports, a three-prong household-style socket for laptops, entertainment/gaming consoles or whatever else you might want to plug in, plus buttons for the heated seats, and more. Even third-row passengers can use the aforementioned sidewall-mounted power controls for reclining their seatbacks, while they also benefit from an available USB charge point for each outboard passenger (highly unusual but wonderfully welcome), good standard overhead ventilation, and wonderful visibility out each side through large squared-off glass, not to mention from above via the massive panoramic sunroof, all helping to minimize any claustrophobic-like feelings of being stuck in the very back.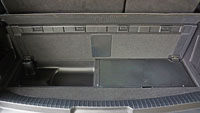 Additional Expedition tech worth mentioning includes wireless device charging (if you have a smartphone new enough to make use of it), Wi-Fi hotspot capability, and rear-seat entertainment, my tester featuring a separate monitor on the backside of each front headrest. This isn't ideal for third-row passengers, so you may get some complaints from the very back about not being able to see the movie (my recommendation is to crank up the B&O audio system and not worry about it). In total, the Expedition provides six USB ports, four 12-volt power outlets, and the single 110-volt power outlet just noted, which should be enough for most families' needs. Lastly, Ford includes 17 cupholders for holding all those personal devices, or alternatively for keeping all occupants' thirst quenched. 
That would be a total of eight occupants, by the way, although as noted my tester's second-row captain's chairs reduced the big SUV's people hauling capacity to seven, and by seven I'm referring to seven adults.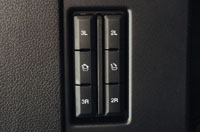 The eight-occupant layout comes standard in $53,978 base XLT trim, by the way, with other standard features including 18-inch machine-finished alloy wheels, fog lamps, black running boards, black roof rails with crossbars, Ford's exclusive SecuriCode keyless entry keypad, Ford MyKey, illuminated entry with approach lamps, pushbutton start/stop, rear parking sensors, a leather-wrapped steering wheel rim, a windshield wiper de-icer, an eight-way powered driver's seat, an auto-dimming rearview mirror, an overhead console with a sunglasses holder and conversation mirror, a universal garage door opener, tri-zone automatic climate control, Sync 3 infotainment with Android Auto and Apple CarPlay, a backup camera, navigation, voice activation, and 12-speaker Bang & Olufsen audio with satellite radio, with yet more standard features including powered rear quarter windows, a flip-up tailgate window, a useful cargo management system, power-folding third-row seats, Ford's Easy Fuel capless fuel filler, a Class IV trailer hitch receiver and wiring, tire pressure monitoring, SOS Post-Crash Alert System, all the usual active and passive safety features, and much more.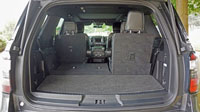 My tester's Limited starts at $65,288 and includes 20-inch alloys, additional chrome embellishments including chrome detailed door handles, bright stainless roof rails, LED taillights, remote engine start, passive keyless entry, power-deployable running boards in body-colour with polished stainless accents, power-folding side mirrors with driver's side auto-dimming, ambient lighting, woodgrain appliqués, a powered steering column, power-adjustable pedals, driver-side memory, a heatable steering wheel rim, 10-way powered front seats with heat and forced ventilation, perforated leather upholstery, the aforementioned heatable second-row outboard seats with Tip-and-Slide and PowerFold (albeit a 40/20/40-split bench), the previously noted powered panoramic sunroof, a Connectivity package that includes wireless smartphone charging, a FordPass Connect 4G WiFi modem, and the two smart-charging USB ports in the third row noted earlier, plus the Limited also gets additional first/second-row and cargo area power points, a hands-free foot-activated powered tailgate, front parking sensors, blind spot monitoring with cross-traffic assist and trailer-tow monitoring, plus more.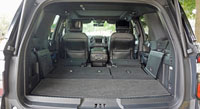 My tester also included a $5,000 302A package featuring 22-inch alloys, LED headlamps, LED fog lights, and a Driver's Assistance Package that would otherwise cost $1,200 while adding automatic high beams, rain-sensing front wipers, adaptive cruise control with stop-and-go, Pre-Collision Assist with forward collision warning and pedestrian detection, lane keeping alert, lane keeping assist, driver alert, a Split View 360-degree parking camera, and the Enhanced Active Park Assist system with Auto Park. 
Lastly, $72,552 Platinum trim makes everything from the 302A package standard while adding its own 22-inch alloys, a unique satin-mesh front grille insert, additional satin-aluminum trim details including its mirror caps, satin-chrome door handle trim, brushed aluminum scuff plates, a similar set of multi-contour front seats as found in the Navigator including an Active Motion massage function, inflatable second-row outboard safety seatbelts, and more (all pricing was sourced from CarCostCanada, which provides full details about each trim, package and standalone option, plus otherwise difficult to find rebate info and dealer invoice pricing that could save you thousands).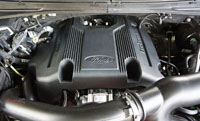 Considering the 2019 Chevy Tahoe starts at $59,500 with 4WD, which is $5,522 (or about 10-percent) more than the Expedition's base price, with even the Tahoe's base 2WD model starting higher at $56,200, the much more advanced 2019 Ford Expedition should really do a lot better than it does from a sales perspective. After all, its powertrains provide more performance plus greater efficiency, its Terrain Management four-wheel drive system is more sophisticated (originally sourced from Ford Motor's previous Land/Range Rover ownership and since improved upon), its suspension system is fully-independent, its body shell is constructed mostly of lightweight aluminum, its third-row access is much easier and rearmost seat more accommodating, its cargo capacity is mostly larger, and the list goes on and on. If you're in the market for a new full-size SUV, you may want to consider all of the above before choosing yet another Tahoe, Yukon or Suburban.