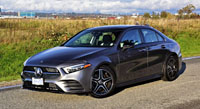 Just like any Mercedes-Benz, the new A 220 gets a lot of attention for its good looks and prestigious three-pointed star. That iconic emblem is a key reason for purchasing any Mercedes product, as it shows you're either well on the way up society's hierarchal ladder or have fully arrived. Only an affluent person can own a Mercedes-Benz after all, right? While that may have mostly been true in the past (2002-2008 C-Class 230/320 Sport Coupe aside—codenamed CL203), once you see the price of this A 220 you might start questioning that premise.
The 2020 A 220 4Matic starts at just $37,300 plus freight and fees, which is a bit of a jump from last year's all-new model that wowed all comers at a mere $34,990, due to standard all-wheel drive in today's version, but it's still well within the majority of middle-class earners' income brackets. After all, a number of similarly sized mainstream volume-branded compact models top out where the entry-level Mercedes begins, so as long as you don't mind going without a few highfalutin features available with the A 220's various packages, you'll get an inherently better car.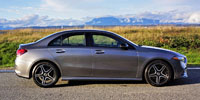 Just one look had me hooked. Yes, the A 220 is gorgeous. It looks too long, lean and low to the ground to be a compact, but indeed its 4,549 mm length, 1,796 mm width, 1,446 mm height and 2,729 mm wheelbase means that it fits within the shadow of mainstream compacts you might know better, such as Honda's Civic, Toyota's Corolla, Hyundai's Elantra and Mazda's 3 to name a handful (it's actually shorter and taller than all of the above), while competing head-to-head more accurately in size and especially price with premium-branded sedans like Audi's A3 and BMW's new 2 Series Gran Coupe (although the latter model more directly targets Mercedes' even lower, longer and wider CLA-Class), not to mention Acura's considerably longer (than the A 220) ILX.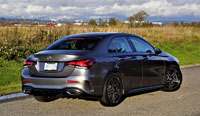 Mercedes slaughters the premium competition on Canada's subcompact luxury sales charts, with more than 5,000 collective A-Class (which includes the A 250 hatch as well), CLA-Class and B-Class (yes more than 300 of the now discontinued models sold last year, and another 200-plus during the first quarter of 2020) deliveries in Canada throughout calendar year 2019, compared to the next-best-selling Mini Cooper (which is a collection of body styles as well, and mostly lower priced) at just over 3,700 unit sales, the A3/A3 Cabriolet/S3 at 3,100-plus examples, the ILX at nearly 1,900 units, the 2 Series (before the new four-door model arrived) with a hair over 1,200 down the road, and BMW's long-in-tooth i3 EV pulling in 300 new buyers. By the way, the A-Class, which was the only model in its class to see positive growth last year at just under 14.5 percent, pulled in 3,632 customers alone last year, putting it just behind the aforementioned Mini that saw its year-over-year sales slide by 17 percent.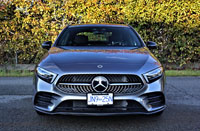 While the A 220's good looks and attractive pricing have no doubt helped lure in its high volume of Canadian luxury buyers, there's a lot more to the sleek four-door sport sedan than a pretty face and affordability. First and foremost is an interior that's oozing with style and generous with cutting edge features, some of which hit high on both marks. For instance, Mercedes' new all-in-one instrument panel and infotainment display is digital art, not only with respect to the colourful, creatively designed and wholly functional graphics within, but also with the fixed tablet-style frame that surrounds it.
This last point highlights an important differentiator between this entry-level Mercedes and compact models from mainstream volume brands. While the A 220's lower dash and door panel surfaces aren't much more upscale than what you'd find in a common compact sedan like Honda's Civic, Toyota's Corolla, Hyundai's Elantra or Mazda's 3, most everything above is as good as being offered in pricier three-pointed star models, such as the C-Class and even the E-Class. Along with the eye-arresting electronic interfaces are beautifully crafted leather door inserts, rich open-pore textured hardwood on those doors and dash, while brushed aluminum accents can be found everywhere, my favourite application being the stunning jet turbine-like dash vents.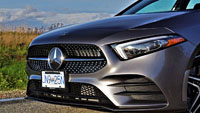 Back to that all-in-one MBUX (Mercedes-Benz User Experience) instrument cluster/infotainment display, the former integrates various screen themes such as Modern Classic, Sport, Understated and the ability to create your own themes, plus an alternative gauge cluster that changes the traditional-looking speedometer into a numeric format while using the rest of the screen for other functions such as navigation mapping, fuel consumption info, regenerative braking charge info, Eco drive setting info and more, while the latter allows for at least as much personalization.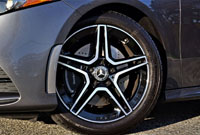 The usual infotainment features were included in my tester, such as navigation, albeit with the ability to choose an augmented reality function that shows a front camera with upcoming street names and directional indicators; an audio interface with satellite radio; the just-noted drive settings that also include Comfort, Sport and Individual modes (also adjustable via a rocker switch on the lower console); advanced driver assistive systems settings; calls, contacts and messages; a large, clear backup camera with dynamic guidelines; and more, while controlling the centre display is the most versatile in the industry.
You can simply use it like a tablet thanks to full touchscreen capability, or alternatively talk to it via Linguatronic Voice Control, one of the best voice command systems in the industry (although "Mercedes" is a bit too willing, inquisitively responding with "How can I help you?" anytime you mention her name), or provide inputs with the tiny BlackBerry-style optical trackpads on each steering wheel side spoke, or lastly utilize the lower console touchpad surrounded by large easy-to-use quick access buttons. The touchpad itself, which is the best of its kind I've ever tested, is ideally sensitive to the usual tap, swipe and pinch inputs, is easily within reach, and never caused me the need to divert too much attention away from the primary role of driving.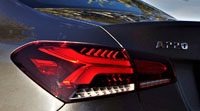 This in mind, intuitively organized climate controls can be found on a slender interface just underneath the centre display screen, designed with nice readouts and a gorgeous row of knurled aluminum toggles, all sitting above a large rubberized tray for storing your smartphone, complete with inductive charging. All-round the A 220 provides a well-organized cabin that's filled with most everything you'll need and some things you probably won't, but I loved the purple ambient lighting anyway.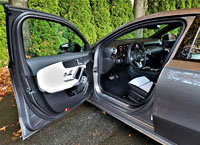 All said I was a bit shocked with the small, delicate size and lack of density of the A 220's steering wheel stalks, and am wondering if they're part of the brand's weight-saving, and therefore fuel economy and performance benefiting philosophy. To be clear, their quality is actually quite good in their detailing wonderful, but they're so light and hollow feeling that someone who prizes substantive solidity over lightweight efficiency might think Mercedes was cutting quality corners. Truly, these are the lightest and least substantive feelings column stalks I've ever tested in any car. That the one on the right-side is needed for putting the transmission in drive, neutral, reverse or park makes its minimalist approach even more obvious, which is why I believe the lightweight design was about reducing mass. Even the paddle shifters feel meatier in the fingers, and then when looking around the cabin at all the ritzy aluminum detailing makes it pretty obvious there was something else at play when deciding to make its column stalks so delicate.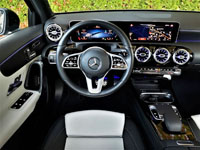 Even before touching the stalks, I was surprised at how thin the plastic was on the lower door panels, thinking at the time it must be due to weight savings as well. Their construction is excellent, and the detail that went into making them lightweight yet still strong impressive, but they don't exactly exude a feel of premium quality. Thankfully everything above the waist is top-tier luxury kit as noted earlier, but the hard-plastic centre console could be a bit disappointing for those stepping out some of those volume-branded models mentioned earlier, which cover such areas in padded soft composites.
Overhead is a lovely console with controls for the large glass sunroof, jewel-like LED dome and reading lights, plus more. I was a bit surprised to find only the A pillars were fabric wrapped, with the B and C pillars finished in a hard-shell composite, but again this is not too uncommon in this smallest class of luxury car. What matters is that all of the components fit together well, with the various lids and doors closing with a nice firm German solidity, except for the glove box lid that's very lightweight as well.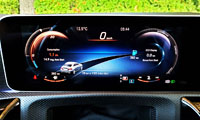 The light grey and black two-tone leather-covered seats are wholly comfortable with excellent side bolstering and include manually-operated lower thigh extensions, a wonderful addition. My tester also used the light grey for the door inserts, making the cabin look decidedly upmarket. Like those up front, the rear outboard seats provide good comfort thanks to nicely sculpted backrests and fairly good room for legs and feet, not to mention headroom. With the front seat set up for my long-legged, short torso five-foot-eight frame, I still had about five inches ahead of my knees and plenty of room for my feet while wearing boots, plus ample space from side-to-side. About three inches remained above my head, so taller teens and adults (just above six-feet) should fit in just fine, while the rear headrests provide excellent support and are blissfully soft as well. The folding centre armrest was slightly low for my height, but would no doubt be perfect for smaller adults or kids, and includes two pop-out cupholders that secure drinks nicely. Mercedes includes netted magazine holders behind each front seatback, plus individual vents can be found on the backside of the front console, and under that a pull-out compartment with a small bin for what-have-you as well as two USB-C charging ports. There were no rear seat heaters in this particular model, but a small panel over each side window includes LED reading lights and a tiny yet strong hook for hanging a jacket or shirt.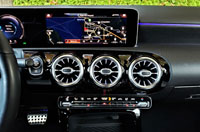 The trunk is fairly large for a sedan of the A 220's compact dimensions, and I love the fact that it can be expanded by a 40/20/40-split rear seatback that allows longer items such as skis to be laid down the middle while rear passengers enjoy the window seats. This is super helpful in a small car like this, because the rear centre position is a bit small compared to what you'd find in a larger car, so you want to save it for storage rather than force one of your rear passengers into the middle. Mercedes provides trunk-mounted levers for folding those seats down, while the finishing is very nice inside.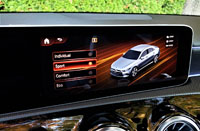 Along with all the niceties mentioned, the 2020 A 220 is packed full of standard goodies like LED headlamps, 17-inch alloy wheels, brushed or pinstriped aluminum interior trim, pushbutton ignition, MBUX infotainment including a 7.0-inch digital gauge cluster and 7.0-inch infotainment display, six-speaker audio with nice deep resonant bass plus good highs and mids, a powered driver's seat with memory, heatable front seats, a large panoramic sunroof, forward collision warning with autonomous emergency braking, and much more.
Just to be clear, my tester also included $890 Mountain Grey Metallic paint; $500 worth of 18-inch twinned five-spoke alloys; a $3000 Premium package that adds proximity entry, power folding mirrors, larger 10.25-inch digital instrument cluster and centre displays with Android Auto and Apple CarPlay smartphone integration, voice control, wireless charging, auto dimming rearview and driver's side mirrors, ambient lighting, a foot-activated trunk release, vehicle exit warning, and Blind Spot assist; a $1,600 Technology package adding multibeam LED headlights with Adaptive Highbeam Assist and Active Distance Assist; and a $1,000 Navigation package with a navigation system, live traffic, Mercedes' Navigation Services, the augmented reality feature mentioned earlier, a Connectivity package, and Traffic Sign Assist.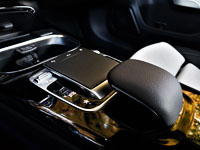 The extras continued with a $1,900 Intelligent Drive package (new for 2020) featuring Active Brake Assist with Cross-Traffic Function, Active Emergency Stop Assist, Evasive Steering Assist, Enhanced Stop-and-Go, Active Lane Change Assist, Pre-Safe Plus, Map-Based Speed Adaptation (that uses navigation system info to modulate the car's speed based on upcoming road conditions before even being visible to the driver), Active Lane Keeping Assist, an Advanced Driving Assistance package, Active Blind Spot Assist, Active Distance Assist Distronic, Active Steering Assist, Pre-Safe, and Active Speed Limit Assist; $900 Active Parking Assist; satellite radio for $475; and black open-pore wood trim for $250 (walnut is available for the same price); all of which added $10,515 to the 2020 A 220's aforementioned $37,300 base price, making for a pretty ritzy little Mercedes for just $47,815 plus freight and fees.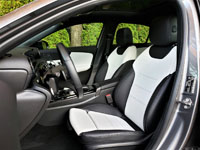 Believe it or not it was missing a fair bit of extra kit like the $1,500 Sport package or $2,000 Night package, available $500 19-inch alloy wheels, $250 heatable Nappa leather steering wheel, $1,500 head-up display, $650 surround parking camera, $700 12-speaker, 450-watt Burmester surround audio upgrade, $300 universal garage door opener, $450 powered front passenger's seat with memory, and $1,200 ventilated front seats (this last feature new for 2020).
As good as the A 220's exterior styling, interior design, execution and feature set is, its Mercedes heritage shines through even more when out on the road. Performance off the line is strong and gets even stronger in Sport mode, where shifts from its seven-speed dual-clutch automated gearbox are quick and precise, and strength from the engine is plenty enjoyable despite only offering up 188 horsepower and 221 lb-ft of torque. The 4Matic in the name means all-wheel drive is standard as noted earlier, so therefore all four of my tester's 225/45R18 Michelins were able to bite into the tarmac simultaneously for very quick immediate response, while it held to the road wonderfully at speed, even in wet weather.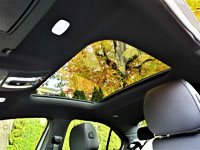 The standard paddle shifters enhance the A 220's performance edge when pushed hard in Sport mode, but they can also be for short shifting to save fuel. I selected Eco mode for that, where shifts are smooth and relaxed, resulting in a favourable fuel economy rating of 9.6 L/100km in the city, 7.1 on the highway or 8.5 combined. By the way, last year's front-wheel drive model didn't save that much more fuel with a claimed rating of 9.7 city, 6.8 highway and 8.4 combined, so the move to standard AWD hardly hurts anyone's ongoing fuel budget.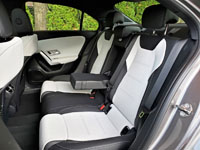 Traveling slower with an eye on saving fuel is when I really appreciated the A 220's comfortable ride, although keep in mind it's set up with traditional German tautness, so it's firmer than what you might find in most Japanese luxury cars, but the majority of premium buyers should find it plush enough. So driven, the A 220's overall quietness adds its luxurious ambiance, making it the ideal compact for hushing inner-city noise and limiting buffeting wind on the highway.
If my personal money were on the line in this class, I'd choose the A 220 over its four-door subcompact luxury peers, as it delivers high marks in every way. It's fabulous looking both outside and within, provides good tactile quality for the category, is packed full of all the features I want, is really enjoyable to drive no matter the situation, and is wholly practical as far as four-door sedans go.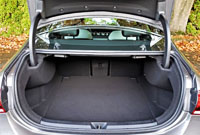 Notably, I haven't driven BMW's new 2 Series sedan entry yet, but its four-door coupe profile won't likely provide the same level of rear seat roominess as the A 220, and the only other two subcompact luxury competitors are Audi's A3, that's been with us for over seven years with only a minor facelift, and Acura's ILX, that's just as old, albeit with a more dramatic refresh just last year, but the Japanese entry is really a previous-generation Honda Civic with an upgraded powertrain under the heavily modified skin.
No matter which car I decided upon, however, I'd first check for any manufacturer rebates, financing and leasing deals, or other incentives at CarCostCanada, where you can also find out about detailed pricing, build your vehicle, and even access otherwise hard to get dealer invoice pricing that could save you thousands. At the time of writing the 2020 Mercedes-Benz A 220 was available with up to $750 in additional incentives, whereas any 2019 models still available could be had for up to $2,000 in incentives. Make sure to visit CarCostCanada to learn more, plus download the new CarCostCanada Mobile App at Google's Android Play Store or Apple's App Store so you can access this valuable information while at the dealership, where you'll need it most.
Story and photo credits: Trevor Hofmann
Photo Editing: Karen Tuggay