For many automotive enthusiasts a lap around the famed Nürburgring Nordschleife racetrack is a top-10 bucket list item, but for Porsche works race driver Kévin Estre it was just another day at the office. 
No doubt an intense day, or at least an intense six minutes, fifty-six and four one-hundredth seconds, or rather 6:56.40. 
That number means the new 2019 911 GT3 RS joins an elite group of production cars capable of lapping the Nürburgring Nordschleife in less than seven minutes, while at least as importantly to Porsche and its legions of dedicated Porschephiles, this achievement signifies an impressive 24-second improvement over the previous 911 GT3 RS.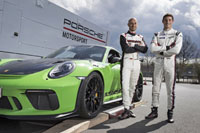 Porsche also holds title to the current lap record, its 911 GT2 RS managing the 20.6-km (12.8-mi) racecourse in just 6:47.25 with Lars Kern at the wheel, while earlier in the same month of September 2017, Marc Lieb pushed the mid-engine plug-in hybrid 918 Spyder to a 6:57.00 result, making it the fastest hybrid-electric vehicle to ever navigate the circuit. 
That's three Porsches in the top six, an amazing accomplishment that's even more shocking when factoring in two of the others aren't even production cars (both produced by British racing car constructor Radical). When measured against production cars alone, Porsche occupies three of the top four spots with Lamborghini holding the other position, its second-place Huracán LP 640-4 Performante having managed a 6:52.01 lap time in 2016.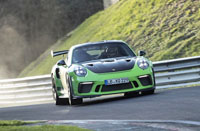 And how does the much-vaunted Nissan GT-R rate? A Nismo-trimmed version put up a respectable time of 7:08.68 back in 2013, but the model hasn't been officially timed since then. Still, this makes it seventh fastest amongst production cars and 11th overall, although according to numerous reports quoting Nissan employees that took part in the event, the GT-R Nismo being used was specially tuned just for the Nürburgring Nordschleife track, featuring larger spoilers for more downforce, softer dampers to deal with the rough road surfaces, upgraded brake pads, non-stock bucket seats that decreased its weight by 50 kilos (110 lbs), and a revised ECU map. In other words, it wasn't stock.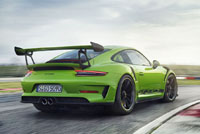 In case you were wondering, amongst true production cars a Dodge Viper ACR holds sixth place with a time of 7:01.30, while rounding out the top-10 is a Mercedes-AMG GT R in eighth with a 7:10.92 lap time, a Gumpert Apollo Sport in ninth at 7:11.57, and another Dodge Viper ACR in 10th at 7:12.13. Interestingly, the current 11th and 12th place positions are held by two Porsches, including a 911 GT3 at 7:12.70, and a 918 Spyder with a lap time of 7:13.00. 
The list continues with a who's who list of sports car and supercar nameplates, from the Chevrolet Corvette C7 Z06 to the Lexus LFA (with its Nürburgring Package), Donkervoort D8 RS, Ferrari 488 GTB, Maserati MC12, Pagani Zonda F Clubsport, and plenty of additional Porsches. To even get on this list is a job well done, but to defeat them all with multiple models is sensational.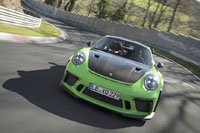 Available from $213,400, the 2019 Porsche 911 GT3 RS receives a naturally aspirated 4.0-litre horizontally opposed six-cylinder engine behind its rear wheels, producing 520 horsepower and 346 lb-ft of torque, which comes mated to a seven-speed dual-clutch automated PDK transmission driving the rear wheels. Capable of a top track speed of 312 km/h (193 mph) and a standing start to 100km/h time of just 3.2 seconds, the big boxer engine will spin right up to 9,000 rpm. 
"No other Porsche model gets as close to racing as the new GT3 RS," said Frank Steffen Walliser, Vice President Motorsport and GT Cars. "Many innovative ideas from top-level motorsport were transferred; for example, from the 911 GT3 R. This is what our philosophy for GT models is about: Highest technology must be fascinating but tangible. In this regard there is no harder test for our ideas than the Nordschleife."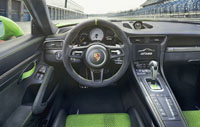 Estre, who also competed for Porsche in the FIA World Endurance Championship, was joined by Porsche development driver Kern, with both drivers completing two laps for a total of four. 
"All four lap times of both drivers were below seven minutes and only tenths of a second apart," added Andreas Preuninger, Porsche Director GT Model Line. "This proves not only the outstanding power of the GT3 RS, but also its extraordinary drivability at the limit. A perfectly composed overall system allows for highly dynamic performance even with a relatively modest engine power. For a driver, each of the car's thousands of parts have to feel like one – that's an unbeatable strength of the GT3 RS. And what especially delights me is how much fun Lars and Kévin had when driving that car." 
Estre, a 29-year old who hails from France, started his record lap at 11:40 am in what Porsche says were ideal conditions of 14 degrees Celsius ambient and 18 degrees Celsius track temperature.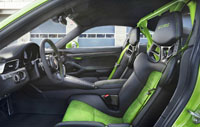 "This lap was a sensational experience for me," said Estre. "Through the fast corners and on the brakes in particular, the GT3 RS is unbelievably close to our racing car GT3 R. This is also thanks to the new generation of tires for road going sports cars. I like the engine of the GT3 RS a lot. Up to 9,000 revs per minute from a six-cylinder engine just feels fantastic. The sound is a dream and the torque is massive." 
The tires Estre speaks of are Michelin Pilot Sports measuring 265/35ZR20 in front and 325/30ZR21 at the rear, and are available at every Porsche Centre, as is the new 911 GT3 RS and the Nürburgring Nordschleife lap record-holding GT2 RS. 
For a closer take on all the action, check out this in-car video of the 911 GT3 RS achieving its amazing 6:56.40 lap time:

Additionally, here's another video showing some of 911 GT3 RS' features: