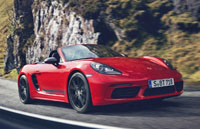 Porsche introduced its exciting new 718 T trim line to the European market last year, and now it's time for Canadian sports car enthusiasts to benefit from these lighter weight, better handling new models.
Starting at $74,400 for the 718 Cayman T and $76,800 for the 718 Boxster T, which is an increase of $10,700 over their respective base models, the new entries slot in just above the base models and below the 718 Cayman S and 718 Boxster S. The well-rounded 718 lineup also includes even sportier GTS trim, while the Cayman can be had in track-ready GT4 form, and the Boxster can be upgraded to the sensational Spyder.
While not as powerful as some of the other trims, Porsche is promising less of what you don't want and more of what you do, or in other words those looking for more performance features in a car that costs less than a GTS will probably like what the Stuttgart-based premium brand has in store.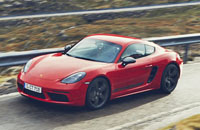 Powered solely by the base 2.0-litre turbocharged four-cylinder boxer engine, which puts out a strong 300 horsepower and 280 lb-ft of torque, the T designation adds a short-throw shifter, a mechanically locking differential, and Porsche Torque Vectoring (PTV) to six-speed manual cars, or alternatively the Sport Chrono Package comes standard with seven-speed dual-clutch automated PDK models, the latter resulting in a 0.2-second whack to the backside off the line from a car that's already 0.2 seconds quicker than the DIY gearbox.
The Sport Chrono Package also includes Launch Control and a "push-to-pass" style Sport Response button in the centre of the steering wheel-mounted driving mode switch, making this transmission the best option for those purely focused on performance.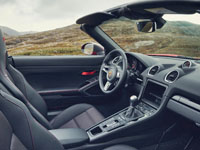 Porsche created the 718 T for "driving pleasure in its purest form" as stated in its January 7, 2020 press release, however, adding that "T stands for 'Touring' in Porsche models" and therefore "the 718 T will be most at home on winding country roads," so therefore you may want to satisfy your soul with the traditional six-speed manual even if it's not quite as quick off the line.
The new 2020 718 Cayman T and 718 Boxster T pull off the same straight-line acceleration times as the already quick entry-level Boxster and Cayman siblings, with standstill to 100 km/h arriving at just 5.1 seconds apiece, while PDK-equipped cars manage the feat in just 4.9 to 4.7 seconds, just like the base 718 models. Likewise, both T cars' top track speeds are identical to their base counterparts at 275 km/h.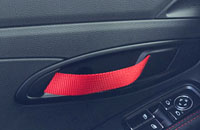 Bigger changes to 718 T models affect handling and control, thanks to standard Porsche Active Drivetrain Mounts (PADM) that incorporate dynamic hard and soft gearbox mounts for reduced vibration and improved performance, plus a sport exhaust system, special high-gloss titanium grey-painted 20-inch five-spoke alloy wheels, and lastly a first for the base turbocharged four-cylinder engine, the Porsche Active Suspension Management (PASM) electronic damping system that, depending on the Normal, Sport, Sport Plus or Individual driving mode selected, instantly adjusts for road surface conditions and changes to driving style. Everything just listed sits on a 20-millimetre lower ride height, resulting in a reduced centre of gravity and thus better control all around.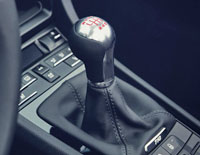 Making the new models stand out visually, Porsche adds a grey side striping package with "718 Cayman T" or "718 Boxster T" script, while the mirror caps are painted Agate grey to match the just-noted wheels, and twin black chrome tailpipes poke out from the back.
Moving to the inside, the new 718 T models include a GT sport steering wheel, scripted "Cayman T" or "Boxster T" logos highlighting the black instrument dials, gloss black instrument panel inlays and centre console trim, red paint for the gear shift pattern atop the shift knob, two-way powered seats, seat upholstery featuring black Sport-Tex centre sections, embroidered "718" logos on the headrests, plus the most identifiable addition of all, black mesh fabric door pulls in place of the usual inner door handles, which can be changed for optional coloured pulls as shown in the photos.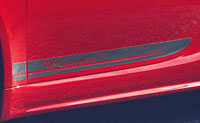 When you're checking over those photos you may also notice something missing from both cars' instrument panels, their Porsche Communication Management (PCM) touchscreens that were removed to reduce weight, and replaced by a large storage compartment. When your 718 T arrives this summer you it won't have this glaring omission due to a regulation that made reverse cameras mandatory as of May 2018, so expect the same high-resolution infotainment display and full assortment of leading-edge features as found in the current 718 Cayman and 718 Boxster.
The two new T models will be available in a variety of colours to allow for plenty of personalization, including Black, Guards Red, Racing Yellow, and White exterior base coatings, optional Carrara White, Jet Black and GT Silver metallic paints, and finally Lava Orange and Miami Blue special colours.
To learn more or order one for yourself, contact your local Porsche retailer. 
Also, be sure to watch the videos below to witness the new 2020 718 Cayman T and 718 Boxster T in action: 
The new Porsche 718 Boxster T and 718 Cayman T. Welcome to life. (1:17):

 
The new Porsche 718 Boxster T and 718 Cayman T. First Driving Footage. (1:49):

 
JP Performance Test Drive: The Porsche 718 T Models. (1:08):