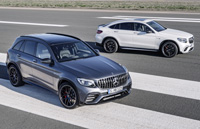 Anyone not cognizant of a steady increase in luxury SUV sales has been focused on other things than the automotive market, but they'll likely become amply aware when it comes time to trade in their ride and they visit the showroom of their favourite premium brand.
Along with the usual assortment of sport-luxury sedans, two- and four-door sport coupes, convertibles, and traditional sport wagons, they'll be met by more new SUVs than they've ever seen, filling ever-increasing segments as well as micro niches never before imagined.
The new GLC Coupe is just one of those unusually welcome alternatives within the burgeoning luxury SUV sector, helping to fill out a particularly focused market segment that was previously only occupied by BMW's X4.
The sporty Mercedes SUV arrived in similar fashion as the German brand's GLE Coupe, which now handily goes up against BMW's long-running X6 in the larger mid-size SUV category. The fastback Merc went on sale in 2014, a considerable eight years after the Bimmer, with Stuttgart appearing to have waited in order to judge market reaction to the Bavarian's entry. Surprising many, Mercedes took no time bringing the smaller GLC Coupe to market the following year as a 2016 model.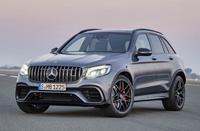 Now that we're about to enter model year 2018, things are heating up a lot more thanks to the expected arrival of Mercedes-AMG's new GLC 63 S 4Matic+ Coupe. It's a perfect example of how the top German brands lead all premium competitors by filling niches within niches. In this case BMW was first with its X4 M40i, but that sporty model in no way diminishes the impact of this exciting new three-pointed star entry, especially considering that along with the SUV coupe version comes a more practical AMG-tuned compact SUV.
That would be Mercedes-AMG's GLC 63 S 4Matic+ that first showed up alongside the SUV Coupe variant at the 2017 New York International Auto Show in early April, a model that only has Audi's SQ5, Jaguar's F-Pace S and Range Rover's new Velar for competition, being that BMW has yet to modify its more traditional compact X3 SUV. Just the same, both AMG-tuned M-B SUVs deliver a level of potency that should cause their rivals to shy away from a direct fight on the track.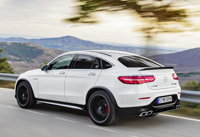 Where the X4 M40i and SQ5 put out a similar 355 and 354 horsepower respectively, plus 343 and 369 lb-ft of torque, and the slightly larger supercharged 3.0-litre V6 powered F-Pace and Velar improve on both with 380 horsepower apiece, albeit only 332 lb-ft of torque, Mercedes seems to have its targets set more directly on Porsche's Macan Turbo that unleashes 400 horsepower and 406 lb-ft of torque in regular trim or 440 and 442 respectively with its Performance package. Still, as impressive as Porsche's top compact SUV is, in all-conquering AMG style the two new GLC 63 S 4Matic+ models produce 503 scorching horsepower and 516 lb-ft of tire smoking torque.
The dominant engine is nothing less than Mercedes-AMG's handcrafted and individually signed twin-turbocharged 4.0-litre V8, a dry-sump version of which is shared with the mighty AMG GT sports car, whereas cog swapping duties come by the brand's new in-house designed and built AMG SpeedShift MCT 9-speed automatic that debuted in the E 63 S 4Matic+, a lightweight paddle shifter-actuated transmission boasting a start-off wet clutch (that replaces the torque converter), ultra-short shift/response times, and double-declutching functionality.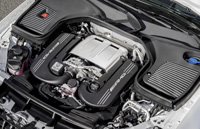 Of course, such specifications result in a very quick tag team of sport utilities, with zero to 100 km/h sprints of 3.8 seconds each, aided by an electronic limited-slip rear differential and constantly variable front-to-rear torque distribution from the standard 4Matic+ all-wheel drivetrain that's also tuned by AMG. Top speed is electronically limited to 250 km/h.
Four wheel grip is further enhanced by a standard set of twinned five-spoke lightweight 20-inch alloys on 265/45 front and 295/40 rear performance tires (or optional 21-inch forged alloys with 265/40 front and 295/35 rear rubber) that also help it stop faster via special high-performance brakes featuring 390-millimetre drilled and internally-ventilated discs front and back, whereas an adjustable air suspension with adaptive adjustable damping optimizes cornering capability.
What's more, in order to give the GLC 63 S Coupe 4Matic+ an edge over its more pragmatic sibling, Mercedes has added a "Race" mode to its usual Comfort, Sport, Sport+ and Individual driver-selectable AMG Dynamic Select performance settings. These modify engine, transmission, suspension, steering, ESP, and all-wheel drive responsiveness depending on demands.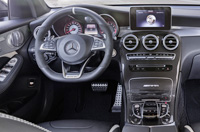 An easy way to tell these ultimate performance SUVs apart from their less formidable brethren are AMG Panamericana-style frontal grilles with unique vertical strakes, similar in design to those found on the much lauded Mercedes-AMG GT C Roadster and GT R sports coupe. The GLC 63 S 4Matic+ SUV and GLC 63 S 4Matic+ Coupe also benefit from unique front and rear bumper designs, while the wheel arches are widened to fit their meatier rims and rubber, plus the SUV body style gets its first rear rooftop spoiler.
Inside, special sport seats are covered with Mercedes' exclusive Artico leatherette bolsters and suede-like Dinamica microfibre inserts, these materials showing up elsewhere around the cabin as well. Additionally, a tasteful supply of aluminum trim joins a mostly black interior that gets spiced up with red accents, not to mention the expected AMG-embossed badges. Beautifully finished carbon-fibre trim is also available, inside and out.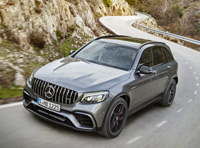 "For us, the new GLC 63 S 4MATIC+ is quite a special vehicle," said Tobias Moers, CEO of Mercedes-AMG GmbH. "It is no easy job designing an SUV to be highly sporty and dynamic, while at the same time offering exceptional driving stability. This required us to put our heart and soul, along with our many years of SUV expertise, into the development of this vehicle. The result is an SUV that can be driven with high precision and agility and which, if required, is equally at home on a high-speed lap of the racetrack. With our V8 biturbo engine, we hold a decisive USP in the Performance market. What is more, with SUV and Coupe, we offer the widest choice in the segment. Also, the technical closeness to our sports cars is underscored visually by the Panamericana grille, which was previously reserved for our AMG GT models."
Of note, the Canadian market will not be getting the 469 horsepower non-"S" AMG GLC 63 variant of these two SUVs, models that are available in the U.S. as well as other markets.
When the 2018 Mercedes-AMG 63 S 4Matic+ SUV and Coupe arrive in showrooms across Canada later this year, pricing will likely start in the high $80k to low $90k range.