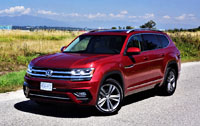 The health crisis has caused mayhem in many industries, and while the auto sector hasn't been hit as hard as travel and hospitality, it's definitely taken its toll. This reality, while bad for many manufacturers and their independent retailers, poses some opportunity for those that want to make a deal.
Many Volkswagen dealers, in fact, have new, non-demo 2019 models available. Yes, I realize we're entering the 2021 model year, and even the "peoples' car" brand is advertising 2021 versions of its cars, but that doesn't change the fact that many 2019 vehicles remain unsold.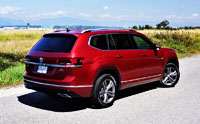 Believe it or not, one of such vehicles is the mid-size three-row Atlas crossover SUV, a relatively new model that's received a lot of praise from pundits like me, and reasonably good sales. Nevertheless, some dealers have multiple new 2019 Atlas models in their inventory, which is reason enough for VW to offer up to $6,000 in additional incentives on models like the top-line $54,975 Atlas V6 4Motion Execline R Line being reviewed here, shows CarCostCanada on their 2019 Volkswagen Atlas Canada Prices page (find out more about CarCostCanada here and remember to download their free app from the Apple Store and Google Play Store).
They're also reporting up to $700 in incentives on the subtly refreshed 2021 Atlas, so there's even a small discount available despite these having just arriving on retailer lots, but the big money is on the 2019, as Volkswagen and its dealers are highly motivated to get rid of this nearly two-year old SUV.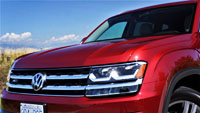 To be clear, VW Canada never imported the 2020 Atlas from Chattanooga, Tennessee where it's built, but instead received its allotment of all-new five-passenger 2020 Atlas Cross Sport models, while allowing nationwide inventory of the larger seven-passenger version to slowly sell off. Seeing that 2019s are still available, this was a very smart move.
Moving into 2021, VW has given the Atlas a deeper grille that now includes a third bright metal-like crossbar, plus new LED headlamps, and fresh front and rear fascias that add 75 millimeters (2.9 in) to the SUV's overall length. Inside, the steering wheel is new while contrast stitching is added to higher end trims with leather. Mechanically, all-wheel drive is now standard across the line, and the base turbocharged four-cylinder engine is more widely available.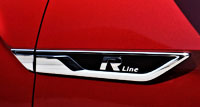 As you might imagine, the 2021 Atlas' starting price is considerably higher now that it comes standard with AWD, the new MSRP being $40,095 (plus freight and fees) for its base Trendline trim, compared to $36,740 for this same trim line in the 2019 model year, a difference of $3,355. Comfortline, Highline and Execline trims are still available, all of which are priced higher except for Highline, which now comes standard with the aforementioned 2.0-litre turbocharged four-cylinder. Just-above-base Comfortline trim continues to offer both engines, but the entry-level 2021 Trendline can now only be had with the turbo-four, while 2021 Execline trim continues to come standard with the 3.6-litre V6.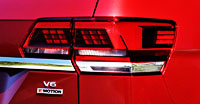 I won't go into much more detail about the 2021, because, frontal styling, new steering wheel and some contrast-coloured thread aside, it doesn't appear to have changed much from this outgoing model. This is no bad thing, however, as its first two model years were well received. I tested a 2018 and this 2019, the first version experiencing a couple of teething problems including a broken second-row sliding seat handle. Otherwise it was an exceptionally good SUV that I enjoyed spending a week with, just like the even more luxuriously appointed 2019 model.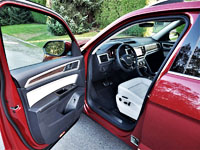 I was surprised by all the positive comments I received from friends and even passersby during my test week, all shocked that VW would produce anything so big and truck-like, the latter when it comes to styling at least, but I quickly reminded all that the old beloved Vanagon and front-engine T5 van (which were available here a long time ago) weren't exactly small, and pretty boxy as well, so the Atlas mostly fits into the brand's DNA. I think they made a good choice from a styling perspective, as the majority of today's crossover SUV buyers seem to want a rugged looking utility, the Atlas' bulky fender flairs and ample chrome doing a fine job of relaying visual toughness.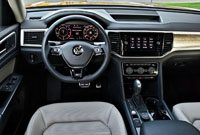 Inside, even without the 2021 updates, the Atlas provides a nice ambience, with wide open spaces and no shortage of attractive design elements. This is especially true in my tester's top-tier Execline trim that came with cream-coloured perforated leather upholstery, woodgrain and satin-silver accents, plus loads of impressive display screens including a fully digital and brightly coloured instrument cluster, along with a large centre touchscreen display.
Before I get too far into this review, I need to mention what I see as the elephant in VW's garage. Where Volkswagen was once the go-to mainstream volume brand for those of us who prefer premium-like interior quality and finishings, this is no longer the case. Some of the Atlas' details are excellent, like the steering wheel, that's one of the best in its class as far as the way it feels in the hands as per to leather quality and shape, plus its overall sporty design, while no one should complain about the SUV's front seats that are Germanic in their firmness and therefore wonderfully supportive, but VW is now falling short by failing to nail the interior refinement details that used to make them reign supreme, such as fabric-wrapped roof pillars, plus the tactile quality of plastics used below the waistline, and in some cases even above.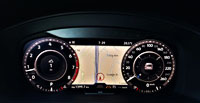 The dash-top is a rubberized black synthetic, which is reasonably good, but the woodgrain on the dash and doors feels cheap and hollow, similar to what GM used to offer years ago. The same can be said for the metallic trim that surrounds it, which only feels a little bit denser due to being closer to the trim piece's outer extremities and therefore strengthened by its complex construction. Volkswagen does add padded leather inserts on the doors, and does a decent job with the armrests, but that's it for soft-touch surfaces. The lower doors and lower portion of the dash and centre stack are all made from hard plastic, and while most is finished with a matte semi-soft paint, it's nowhere near up to the levels offered by others in this class.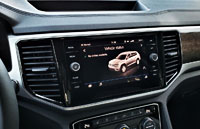 For instance, just after my weeklong Atlas test, I spent another week in an almost loaded Kia Telluride SX, plus the week after that I drove Hyundai's Palisade, and must say that both are as close to premium products as anything ever offered by mainstream brands. The former even wrapped both A and B pillars in the same high-quality fabric used for the roof liner, while the latter does so with a plush suede-like material. Additionally, Kia's faux wood felt so dense and realistic I had to verify that it wasn't real. Likewise, the interior metals are excellent and feel genuine, while even the exterior metal surrounding the windows felt like Lexus' polished nickel.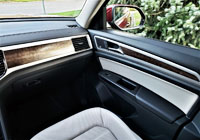 Volkswagen does a better job when it comes to gauge clusters and infotainment, but only when compared to the Kia. Hyundai's fully digital cluster in the Palisade includes side-view cameras within its outer "dials" when changing lanes, a wonderfully useful safety feature on such a large vehicle, while Kia does similar, albeit places the image within the multi-information display between conventional analogue dials.
All said, I'm not about to bash Volkswagen for having one of the best digital driver displays in the industry. It actually comes very close to matching the Audi Virtual Cockpit, which I consider to be one of the best in the industry. I especially like how VW's display reduces the size of its analogue-style speedometer and tachometer to the size of wristwatch faces as it fills the entire screen with a given infotainment function, such as navigation directions complete with full digital mapping.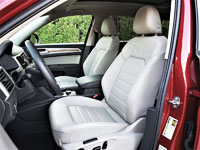 The centre touchscreen is also amongst the best in the business, with superb high-resolution quality including beautiful depth of contrast and superb colours, as well as excellent graphics and speedy actuation. It's filled with all the features you might expect in this class, such as aforementioned navigation, a large, clear and useful backup camera, full climate control and audio functions, the latter system including Bluetooth streaming and satellite radio capability, plus Apple CarPlay and Android Auto smartphone connectivity, etcetera.
The Atlas' switchgear is fairly good overall, but the rotating outer dials around the tri-zone automatic climate control interface were wiggly and sloppy, something I didn't find on the just-noted Kia or Hyundai, or for that matter the majority of their competitors.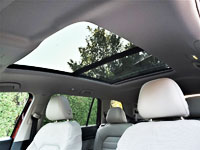 Now that I've once again mentioned the two South Koreans, it should be noted that both fully loaded SUVs are less expensive than the Atlas, but not by much. The Telluride SX that I tested just after the Atlas was quite a bit more approachable at only $49,995, but since then a fancier 2021 Telluride SX Limited with Nappa leather was added to the lineup, increasing its retail price to $54,695 before discount. That's a nominal difference of $280, incidentally, so make sure to drive both the Kia and VW when it comes time to buy. The top-tier 2020 Palisade Ultimate would now be the least expensive of the bunch at $54,199, but the $54,699 2021 Ultimate Calligraphy just happens to be $5 more than the priciest Telluride. Either way I recommend spending some time with this one as well, not to mention Toyota's latest Highlander and Mazda's CX-9 that deserve high praise in this class too.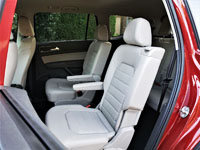 My Atlas tester's heatable steering wheel rim was nice, and the driving position superb. The tilt and telescopic steering column reaches far enough rearward to provide the type of control and comfort I required, due to having a body with proportionally longer legs than torso. The seats were comfortable too, with good lower back support.
Additionally, the rear seating area is very accommodating, even for those in the third row that received comfortable backrests and ample space for feet under the upgraded second-row captain's chairs in my test model. Those individual second-row chairs allowed space in between to access the rearmost seats, making life easier when kids are aboard. There's a place for what-have-you plus cupholders to each side, and also good you'll find third-row vents in the C pillars so rear passengers won't feel claustrophobic. This in mind, the rear side quarter windows are easy to see out of, and Volkswagen also includes reading lights overhead. I can't see any child or average-sized person complaining about the Atlas' rearmost compartment, even during a long trip.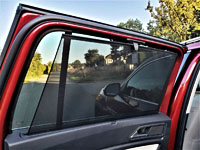 Back to the second-row seating area, VW includes ventilation on the backside of the front console, as well as a digital display for the SUV's automatic rear temperature control system's third zone. The only negative about the Atlas' otherwise excellent HVAC system is that the aforementioned Telluride and Palisade offer quad-zone auto climate control systems. They also make heated and cooled second-row seats available, whereas this VW only included three-way warmers in back, plus the South Korean models get USB charging ports in the third row, this important feature found only in the Atlas' first and second rows.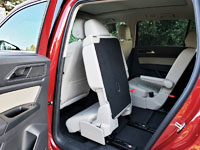 Volkswagen provides a powered rear door to access the large cargo area, par for the course in this class, which impressively measures 583 litres (20.6 cubic feet) behind the third row, 1,571 litres (55.5 cu ft) behind the second row, and 2,741 litres (96.8 cu ft) when all seats are folded flat.
Lifting up the load floor exposes the usual tire changing equipment and a subwoofer for the audio system, but unexpectedly appreciated was a handy storage location for the retractable cargo cover when not in use. The 50/50-split third row folds down easily and provides a flat loading floor, and while you'll eventually get a nice, mostly flat loading floor from lowering the second-row seats as well, you'll be forced to walk around to the side doors in order to do so. The Kia and Hyundai competitors provide power-folding rear seats.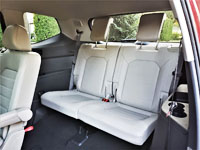 As you may have guessed, Volkswagen delivers in spades when taking the Atlas out on the road. The brand has long been respected for endowing its vehicles German performance characteristics at a budget price, and to that end the big SUV's 3.6-litre V6 really gets up and goes thanks to 276 horsepower and 266 lb-ft of torque mated to a smooth and snappy eight-speed automatic transmission. Still, that's not quite as much oomph as the Telluride and Palisade's V6, which puts out 291 horsepower and 262 lb-ft of torque while also conjoined to an eight-speed automatic, and while all three SUVs sport all-wheel drive, the South Koreans weigh about 300 lbs less, so they feel a bit more engaging off the line.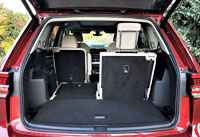 That extra weight may be contributing to the Atlas' less appealing fuel economy, which at a claimed 13.7 L/100km in the city, 10.1 on the highway and 12.1 combined is a bit thirstier than the two Koreans' 12.3 city, 9.6 highway and 11.1 combined ratings. All of these estimates pale in comparison to the Subaru Ascent's 11.6 city, 9.0 highway and 10.4 combined rating, mind you, not to mention the Toyota Highlander's respective 11.7, 8.6 and 10.3 rating, plus the Mazda CX-9's phenomenal rating of 10.6, 8.4 and 9.6.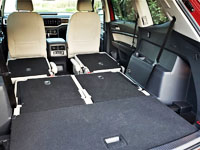 The Atlas' handling is better than most in this class, however, prompting me to call this the driver's SUV of the three-row bunch. This is where its German engineering pays off, even without as much power, and while the two Koreans and most others in this class should keep up through the curves without much effort, the Atlas feels better then pushed hard. Nevertheless, I noticed more interior noise in the Volkswagen than others, and I'm not necessarily talking about road and wind noise, but instead what seemed like the sound of plastic panels chafing up against each other when traveling over rougher roads.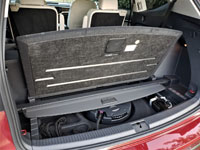 To be fair, Volkswagen may have exorcised out some of the gremlins that plagued my tester since introducing the Atlas, so I'll need to spend a week with a new one in order to learn how it measures up. I certainly appreciate the way it drives, can give it two thumbs way up for exterior styling and interior design, was impressed with its spacious, comfortable cabin, and truly like its advanced electronics, but some tactile and very real quality issues lowered its score, as well as a number of convenience and luxury features that were missing compared to rivals.
All in all, the Atlas is a solid first effort in the highly competitive three-row SUV segment, and I look forward to experiencing any improvements in the new 2021. As far as buying a 2019 model goes, the deep discount now available could make it very worthwhile.
Story and photos by Trevor Hofmann