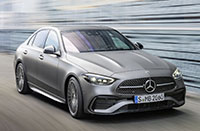 News flash: Mercedes-Benz Canada just revealed an impressive new C-Class and the market responds by purchasing more SUVs.
While a redesigned C-Class will certainly increase the model's sales, it shouldn't go unnoticed that only 684 C-Class sedans were sold into the Canadian market during the first three months of 2021. This represented a downturn of 26.9 percent compared to Q1 of 2020, although ever-growing interest in SUVs over cars wasn't the only factor at play in our whacky new car market. Low interest rates have done their job in propping everything up, despite the repeated economic shocks our systems have experienced via the health crisis et al, but the overarching automotive theme remains changing tastes.
A decade or so ago the C-Class fought for luxury sector dominance with BMW's 3-Series, but now both cars aren't even playing second fiddle to their utilities counterparts, they're deep into the second row of backup string players. Adding a little clarity to this scenario is the C-Class' third-place standing in Mercedes first-quarter retail hierarchy, with significantly more popular models including the similarly sized GLC compact luxury SUV selling 1,778 units during the same three-month period (1,094 more than the C-Class), and the GLE mid-size luxury SUV finding 1,598 buyers (and outselling the E/CLS-Class' 341 deliveries by 1,257 units).
This story is nothing new, but instead supports the reasoning behind C-Class' competitors bowing out of the market. Over the past few years, we've seen the end of Jaguar's XE and Lincoln's MKZ, while a number of previously popular luxury sedans are the sole remaining body styles in their respective lines, with their coupes, convertibles and wagons having been nixed (more on this in a moment).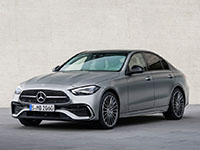 The only Mercedes' car to challenge the SUV-winning trend is the entry-level A-Class, which together with the CLA-Class (a four-door coupe that rides on the same underpinnings) earned 1,001 new buyers compared to the GLA and GLB subcompact luxury SUVs' collective 609, but this anomaly likely has more to do with the A's relatively inexpensive pricing that results in an affordable gateway into revered Mercedes-Benz ownership.
Back to wagons, a diehard niche of Mercedes enthusiasts will be sad to hear their beloved C-Class Wagon will be dearly departing from North American markets for 2022, so grab a new AMG C 43 4Matic while you can. The fifth-generation (W206) C will now soldier on with its Sedan, Coupe and Convertible body styles, leaving enhanced cargo-carrying duties to the aforementioned GLC and GLC Coupe SUV models, within the compact luxury sector at least—the E-Class Wagon soldiers on in three trims, including the sensational AMG E 63 S 4Matic.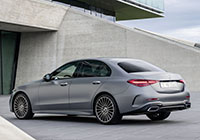 With this bit of Mercedes spring cleaning out of the way, the new C should please all that lay eyes on it. It wears the luxury brand's sportier new styling from front to back, including the new frowning oval sport grille now found on the aforementioned A and CLA classes, as opposed to the outgoing smiling one (its ends now point downward instead of upward). Additionally, new more angular Performance LED headlamps wrap farther around the front fenders, plus a revised lower front fascia flows more effortlessly from side-to-side. The hood now features two stylish new character lines, reminiscent of those found on the classic '50s-era 300 SL.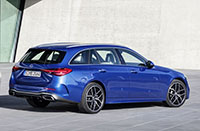 Looking rearward, Mercedes did away with the outgoing model's graceful beltline crease that previously swept downward through the rear door before disappearing below its handle, the new car's flanks less curvaceous, but the lower upward crease remains intact.
The new C's two-piece taillights might be its most noticeable update, as the old car's less distinct ovoid blobs have been replaced with nice sharp triangular lenses (can you tell which ones we like better?), also similar to those found on the A-Class. Lastly, new 18- and 19-inch alloy wheels round out the design changes, plus new exterior paint colours of course.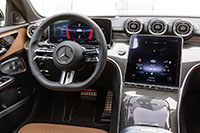 The current C-Class is the last remaining Mercedes-Benz with a conventional dash layout, either incorporating mechanical analogue dials flanked by a centre multi-information display or a fully digital gauge cluster with the same curving metal shrouds all around, this fully separated from a smallish tablet-style infotainment touchscreen perched atop the centre stack. All other models within Mercedes' lineup received a version of the fancy MBUX two-in-one conjoined digital gauge cluster and infotainment touchscreen setup.
It's now clear the brand's second-best-selling sedan will never see that much-praised layout, but instead get something similar to the entirely new S-Class (which initially ushered in the MBUX dash design). Both sedans feature a fresh new approach to the MBUX layout, incorporating digital gauges ahead of the driver in a fixed horizontal tablet-style cluster, plus a massive vertically positioned display on the centre stack, not dissimilar in size to that found in a Tesla, albeit flowing almost seamlessly into a curving lower centre console.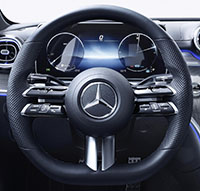 It's artfully executed, especially when accompanied by high-gloss carbon fibre weave as seen in this story's accompanying press photos. The centre display should be easier to reach than either the current MBUX or outgoing C-Class designs, plus much more capable of hosting multiple functions simultaneously. This will be important, as it appears Mercedes is saying goodbye to its console-mounted touchpad and surround switchgear, the minimalist look more attractive and elimination of redundancies likely less expensive to produce.
Integrating haptic feedback makes clear that Mercedes wasn't cutting corners, mind you, or for that matter including over-the-air software updates, not to mention biometric authentication via voice or fingerprint scanning. Touching the scanner makes pre-selected memory adjustments to the driver's seat, radio station, and more, the latter including the ability to purchase apps (and possibly other items) from the Mercedes Me store. What's more, the head-up display in front of the driver uses augmented reality to project real-time visuals onto the windshield.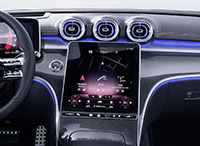 The driver isn't the only benefactor from new C-Class upgrades, however, because everyone should enjoy a bit more comfort from the car's greater overall length and width. This means front and rear passengers gain legroom and shoulder space, important in a segment that sees some competitors nearing mid-size dimensions.
Offsetting the increased dimensions while parking is a rear-wheel steering system, an unusually welcome addition in this compact luxury category. Likewise, the new C 300 4Matic's advanced tech extends to the powertrain, which combines a standard 48-volt integrated starter-generator (ISG), or mild hybrid system, with Mercedes' well-proven 2.0-litre four-cylinder engine and mostly carryover nine-speed automatic transmission.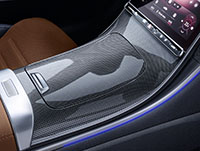 The electrified portion of the drivetrain provides 20 additional horsepower and 147 lb-ft more torque in certain situations, totaling 255 horsepower and 295 lb-ft of twist, but strangely this new 2022 model is a fraction slower than the outgoing 2021 C 300 4Matic—go figure. The drivetrain allows gliding, boosting and kinetic energy recovery, however, so it should be ultra-efficient as far as gasoline-powered mild hybrids with all-wheel drive go.
A plug-in hybrid would be nice for nabbing those special parking spots close to the shopping mall entrance, or whisking down the HOV lane unimpeded during rush hour (depending on your jurisdiction's regulations), while they provide a bit of pure electric propulsion too, over short distances, but no PHEV will be offered in Canada. One does exist, incidentally, providing a shockingly good 100 kilometres of EV range, but for reasons only those within Mercedes-Benz Canada's inner circle know, you won't be able to get your hands on it.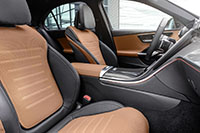 As for ultra-powerful six- and eight-cylinder AMG variants, no announcements have been made yet. Still, reports have been made that next-gen C-Class AMGs will receive electrically-assisted four-cylinder engines with varying outputs, not unlike Volvo's T8 and Polestar Engineered models. Their focus will be primarily on performance over fuel efficiency, although meeting regulations will be high on their priority list too.
Now that we're talking practicalities, the new C-Class will come packed full of advanced driver assistive systems, even as much as the new S-Class, with all the usual features now supplemented by the capability of recognizing stop signs and red lights, plus steering assistance that helps a driver maintain their lane up to 210 km/h (where legally allowed).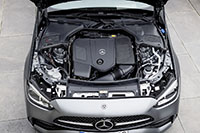 The new 2022 C 300 4Matic will go on sale later this year, with pricing and trim details available before launch. Until then, Mercedes-Benz Canada is offering up to $5,500 in additional incentives on the 2021 C-Class, with CarCostCanada members saving an average of $2,437. To find out more about saving money with CarCostCanada, which provides information about factory leasing and financing deals (when available), manufacturer rebates (when available), and dealer invoice pricing that can save you thousands when negotiating your next new car deal, visit CarCostCanada's "How it Works" page, and be sure to download the free CarCostCanada app from the Google Play store or Apple store too.
The C-Class: Rapid-Fire Questions to Dirk Fetzer (1:07):

The New C-Class Sedan: An Intelligent Comfort Zone (0:49):

The New C-Class Sedan: A Connected Comfort Zone (0:56):

Story credits: Trevor Hofmann
Photo credits: Mercedes-Benz