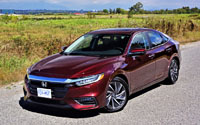 I've got to admit, Honda's hybrid and full-electric strategy has long baffled the mind. Despite being second in the world and first in North America amongst modern-day hybrid makers, the Japanese brand's combined love affair with impractical two-seat electrified sport coupes and hybrid five-passenger sedans, the latter providing real sales success stories, has left them with a much smaller slice of the alternative fuels market than they most likely would've enjoyed if they'd devoted all of their wired investment into highly marketable projects.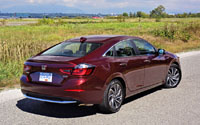 I'm going to guess that Honda's best-selling electron-infused effort to date is the Civic Hybrid, just because of the sheer number of them I've seen on the road over the past decade-plus, although the brand never parsed out hybrid sales numbers from Civics using their conventional powertrains, so only those on the inside know for sure (please tell me I'm wrong, Honda). In fact, the decision to add a hybrid power unit to Canada's most popular car was so smart that Toyota finally copied them with its latest Corolla Hybrid, a model that now partners the hybrid sector's long-time best-selling Prius in the compact segment (just a quick note to let you know the new Sienna minivan, only available as a hybrid, just surpassed the Prius as the number-one hybrid seller in the US, not to mention the best-selling minivan).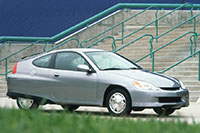 Mentioning the Prius pulls memories of a particularly poorly planned successor to Honda's original Insight, or at least most buyers thought so, as did I after initially testing it. While the first-generation 1999–2006 Insight needs to be slotted into the impractical two-seat electrified sport coupe category I noted a moment ago, the second-gen 2009–2014 Insight came across like an embarrassing admission of the first car's failure. Honda came as close to copying the second-generation Prius as it could without being sued for plagiarism, but the rather bland hatchback didn't look as good or go as well as its key rival. To be fair, it was the best-selling car overall in Japan for the month of April, 2009 (three months after going on sale), besting Honda's own Fit for top spot, but North American buyers were never so enthusiastic. I could only get excited about its fuel economy at the time, which admittedly was superb.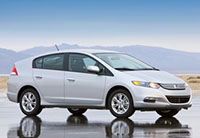 After a reasonable five-year stint (2011–2016) playing around with another impractical two-seat electrified sport coupe dubbed CR-Z, a stylish runabout that I happened to like a lot, yet not enough buyers with real money agreed, the third-gen Insight arrived as a more attractive (in my opinion) Civic Hybrid, sans the name (an initial image of the new 2022 Civic shows the brand is leaning toward a more conservative design approach).
At first, I considered Honda's choice of rebadging what's little more than a hybridized Civic with the Insight nameplate as a stroke of genius (don't ask me for marketing advice), but as it soon became apparent by the lack of Insights on the roads around my hybrid-infused Vancouver homeland (Honda chose the 2018 Vancouver International Auto Show for its launch, after all), it hasn't been a hit.
It seems, much as Honda wants to keep the Insight legacy alive, or maybe just shine a prettier light on it, the comparatively obscure moniker's historical relevance is no match for household name recognition (and another key issue I'll go into more detail about later). As noted earlier, only Honda has the internal data to compare the percentage of Insights and Civic sedans it sells now to Civic Hybrid and conventionally-powered Civic sedans it sold in the past, but as stated at the beginning of this review, my guess is the old Civic Hybrid made a much bigger impact on the brand's small car sales chart.
Enough about Honda's hybrid duopoly of Civic and Accord success stories and insightful missteps, mind you, because the question that matters more is whether or not the latest Insight is any good. Of course, being based on the Civic can only mean that it's inherently an excellent car, so therefore adding Honda's well-proven hybrid drivetrain to the mix can only make it better from a fuel-efficiency standpoint, or at least that's what I deduced after a week behind the wheel.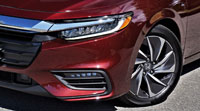 The powertrain consists of a 1.5-litre Atkinson-cycle internal combustion engine (ICE), an electric propulsion motor, and a 60-cell lithium-ion battery, with the end result being an enthusiastic 151 net horsepower and an even heartier 197 lb-ft of torque. Claimed fuel economy is 4.6 L/100km in the city, 5.3 on the highway, and 4.9 combined, which is exemplary when comparing it to most conventionally powered sedans in its compact category. Even the thriftiest version of Honda's Civic sedan is downright thirsty when viewed side-by-side, its rating of 7.9 L/100km city, 6.1 highway and 7.1 combined stacking up well against competitors, yet not so impressive next to the Insight. Then again, sidle up Toyota's aforementioned Corolla Hybrid beside to the Insight and its 4.4 city, 4.5 highway and 4.5 combined rating edges it out.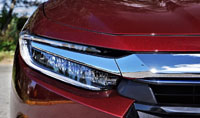 Of course, even hybrids aren't all about fuel economy. Straight-line performance matters too, as does handling, refinement, style, etcetera. Before venturing away from driving dynamics, I have to mention how wonderfully smooth the Insight's drivetrain is. It uses a continuously variable transmission, which is par for the course across most of the Civic line, and not uncommon amongst competitors too, Corolla included, so as long as driven calmly it's pure bliss.
Step into the throttle with Sport mode engaged and it moves along quickly enough too, but the CVT keeps the engine at higher revs for longer than a conventional automatic would, and therefore produces more noise and harshness. I'm willing to guess most hybrid drivers don't deep dive into the go-pedal all that often, however, so this probably won't be a big issue. It certainly wasn't for the duration of my test week, as I drove it in its default Comfort, Econ and EV settings more often than not.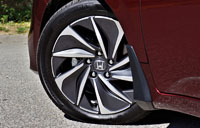 On Honda's side, the Insight's all-electric mode is much more useful than the EV modes in Toyota's Corolla or non-plug-in Prius, as it can actually be used at city speeds without automatically switching into hybrid mode, or in other words have the ICE kick back in. Unless moving up to one of Toyota's plug-in Prime models, their ICEs automatically turn on at around 20 km/h, making it impossible to drive around town on electric power alone.
Some of my city's poorly paved streets made me grateful for the Insight's well sorted suspension, incidentally, as the ride is very good for its compact dimensions. This is partially due to an independent rear suspension setup, which is ideal for soaking up bumps and ruts no matter the speed, not to mention keeping the rear of the car from hopping around when driving quickly through imperfect asphalt mid-corner. Yes, it handles quite well, with the Insight's battery weight hidden under the rear seat for a low centre of gravity.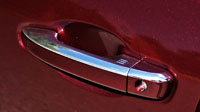 You'll be wanting to use the previously noted Sport mode for such situations, but don't expect to manually row a gear lever through stepped intervals to so, because you won't find any such thing. Instead, the Insight lets you swap "cogs" via much more engaging steering wheel paddles, while using Honda's pushbutton gear selector for PRND, complete with a pull switch for reverse. It looks clean and elegant, plus saves airspace above for uninhibited access to centre stack controls, yet leaves more than enough room nearby on the lower console for stowing a large smartphone.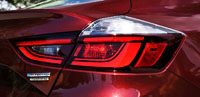 The latter includes a rubberized tray, plus a couple of USB charging ports and a 12-volt charger just ahead, these items forming the base of the centre stack that continues to be well organized and filled with plenty of useful features, such as an attractive dual-zone automatic climate control interface, integrating a strip of quick-access buttons for the three-way heatable front seats and more. It's all topped off by the same big 8.0-inch touchscreen Civic owners will be all too familiar with, incorporating attractive, colourful, easy-to-use graphics that are laid out in a convenient tile format, with functions such as Android Auto and Apple CarPlay smartphone connectivity, an accurate navigation system in my Touring trimmed tester, and an engine/battery power flow indicator that can be fun to watch.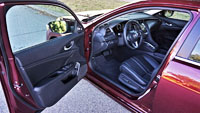 For those unfamiliar (which would include those trading up from a base second-gen Insight, or those still driving base Civic Hybrids from the same era), the display works like a smartphone or tablet, letting you tap, pinch, or swipe to perform various functions, while Honda has also lined each side with some quick access buttons. On the left is a one for the home screen, plus another for the return or back function, one for swapping between day and night screens, two more for scrolling between radio stations or tracks, and lo and behold an actual volume knob that I used more often than the redundant one on the left-side steering wheel spoke.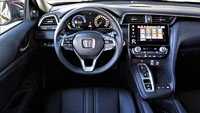 Honda lights up the name of each feature so they'll be easy to see at night, but this caused me to press the name instead of the little black button below when getting acclimatized, my mind seemingly pre-programmed for touch-sensitive controls these days. Some will be ok with this unorthodox analogue setup, while others, like yours truly, will wonder why Honda didn't choose larger buttons with integrated backlit names, but being that this was my only criticism after a week on the road, I say they're batting 300.
The primary instruments are fully digital, with those on the right housing a speedometer and gas gauge, and the left portion of the cluster featuring a multi-information display filled with helpful hybrid info, including a battery charge indicator. Switchgear on the steering wheel spokes control the MID, and I must say they're very well made and ideally fitted in place, just like all the buttons, knobs and rockers throughout the rest of the cabin. These include controls on the overhead console too, which houses a set of incandescent reading lights, an emergency assist button, a HomeLink garage door opener, and a rocker switch for the regularly sized powered glass sunroof.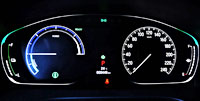 Following this high-quality theme, the Insight's interior comes close to Acura ILX levels of fit, finish, and materials quality. The dash top, for instance, consists of a really impressive soft-touch synthetic surface treatment, while a padded and French-stitched leatherette bolster ahead of the front passenger continues over the entire instrument panel all the way down the side of the centre stack, which made it a shame that Honda didn't finish the driver's area to the same impressive level. Each side of the lower console is done just as nicely, however, matching the sliding centre armrest. Additionally, the front door uppers receive the same high-quality treatment as the dash top, while the door inserts get a similar stitched leatherette to the instrument panel bolster. It all looks very upscale, with refinement that's on an entirely new level for Honda's compact offerings.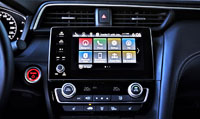 The driver's seat is up to Honda's usual high standards too, with plenty of support and good adjustability, while the tilt and telescopic steering column provides ample reach and rake, not always the case with some competitors regarding the former. I couldn't make mention of the steering wheel without adding that it's thick, meaty, and shaped like it came out of a performance car, or one of Honda's impractical two-seat electrified sport coupes (I know I'm going to get hate mail from all those CR-Z fans out there, but don't slay me for pointing out the fact that an otherwise good car wasn't exactly a runaway sales success).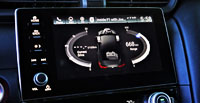 Much like the spacious front seating area, the rear passenger compartment is roomy and comfortable, seemingly on par with the regular Civic. Likewise, the trunk could also be from a Civic, and even includes storage space under the cargo floor for random items. Honda stows the car's tire repair pump in this location, a requirement for fixing flats as no spare tire is included. The segment's usual 60/40 split-folding rear seatback configuration expands the trunk's usefulness when needed, growing it from 416 litres (14.7 cu ft) to who knows how much (but ample for skis and boards) when lowered.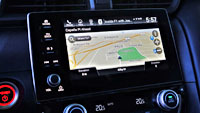 Yes, the Insight is a spacious, comfortable four-door sedan with a very practical, secure trunk, plus a good performance and fuel economy compromise, along with an impressively crafted interior with excellent electronics, and in my opinion, very attractive styling. If rebadged with the Civic Hybrid name, I think it would sell better than it does, simply because everyone knows someone with a Civic. This said, don't let any negative connotations about old Insights dissuade you from buying the current model. In fact, if you can get one for the right price, I'd highly recommend it, and I'd also recommend that Honda get even more practical with future hybrids, like possibly a CR-V Hybrid for the Canadian market?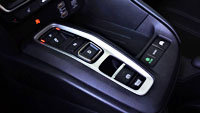 It's hard to understand why Honda allowed others to hybridize the SUV segment before they got around to it, but unfathomably there's still nothing in their Canadian lineup to compete with electrified versions of the Toyota RAV4, Hyundai Tucson, Ford Escape and others, an especially odd predicament for the Japanese brand to find itself in when considering the CR-V is built right here in Canada.
The problem is reportedly due to Honda's inability to build an electrified version in its Alliston, Ontario plant, and unwillingness to procure one from its U.S. manufacturing division (according to multiple sources quoting Honda Canada VP of marketing and sales, Jean-Marc Leclerc, selling a CR-V Hybrid here would simply not be profitable). They don't seem to be having much trouble selling CR-Vs as it is, but the latest RAV4 has taken over top spot in the segment, possibly due at least partially to its past regular hybrid and current plug-in Prime variants.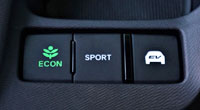 Until the powers that be at Honda choose to take on hybrid challengers within Canada's fastest growing compact SUV segment, the only two electrified vehicles in the lineup will remain this Insight, the larger mid-size Accord Hybrid, and the brand's rather unusual looking Clarity Plug-in Hybrid (good luck trying to find one of those on the road). All three are sedans, with the latter two approximately the same size and therefore somewhat redundant (I'd argue they would have done better with an Accord plug-in). Again, Honda's electrification strategy remains a mystery. At least the Insight and Accord hybrids are straightforward in design and four-door functionality, with either being a good choice for those desiring a sedan body style. If only there were more buyers for this type of vehicle these days.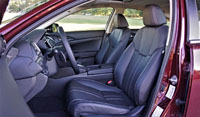 To wrap it up, as of April's close, Honda has delivered a grand total of 15,629 CR-Vs so far this year, which sounds quite good until noting Toyota's 23,585 RAV4 sales total, of which I'm willing to guess (again) about 25 percent were hybrids (electrified vehicle sales have been surging in Canada over the past two years, and RAV4 Hybrid sales were already at 22 percent in 2019). Canada's third best-selling vehicle is Honda's Civic, by the way, with 10,884 units down the road so far in 2021, while the previously mentioned Corolla is a close fourth at 10,788 YTD sales to its credit.
Even if the Corolla Hybrid only managed 15 percent of that model's total sales, it would have achieved more than 1,500 deliveries since the beginning of the year, which totally destroys Insight deliveries of just 132 units over the same four months, and sadly that's after seeing 1.5 percent year-over-year sales growth. It can't be the styling, as it's easily as attractive as the current Civic sedan, and more so in my opinion, so therefore, while my argument for name recognition might factor in to some extent, it probably has everything to do with acquisition costs from Honda's Greensburg, Indiana plant, the same facility that makes the CR-V Hybrid.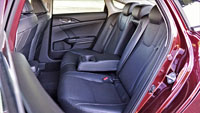 This results in a starting price of $28,490 plus freight and fees, which is $3,400 more expensive than Toyota's Corolla Hybrid that begins at just $25,090. Ouch! The Touring trimmed model I tested is even dearer at $32,190, and this car isn't much better (if at all) than a top-level Corolla Hybrid with its Premium package, that will only set its owner back $27,090 (plus destination and dealer charges). That's $5,100 more affordable than the Insight, hence the lost sales numbers. No wonder Honda isn't willing to add its U.S.-made CR-V Hybrid to the mix, as there's obviously a serious problem making a business case for U.S.-produced hybrids in Canada.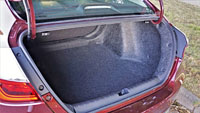 Honda produces its Accord Hybrid in Marysville, Ohio, incidentally, a model that seems to suffer from the same problem, with a base price of $35,805 compared to the Toyota Camry Hybrid's entry window sticker of $30,790. Likewise, the top-line Accord Hybrid Touring is available from $42,505, whereas the optimally loaded Camry Hybrid XLE is a mere $39,690.
Moving forward, Honda Canada will need to address this issue, at least with the models it can. By rejigging their Alliston assembly plant, they should be able to sell many more CR-V Hybrids than any other electrified model currently on offer, although the business case for doing so may not make sense in a market that's only about 10 percent of America's size.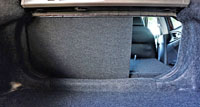 Such a scenario might be justifiable if they chose to produce the Insight right next to the Civic, that's also built in the Alliston facility, or even better, create a new Civic Hybrid model that doesn't require the extra expense of unique body panel stampings. It certainly wouldn't be the first time Honda offered a Canadian-specific Civic, although that model was under the Acura EL nameplate.
No doubt Honda's Canadian division has thought through numerous hybrid and electric strategies, as choosing the right one will be critical to its future success. Waiting for a fully electric alternative will put them at risk of losing ground in Canada's electrified car industry overall, which really isn't an option considering that the HEV, PHEV and EV industry is growing faster north of the 49th than it is south of the border, and also factoring in that all of its competitors are already selling or in the process of ramping up multiple hybrid and pure electric production vehicles. As it is, Honda Canada is only discussing the possibility of a CR-V Hybrid, and then only as part of the model's upcoming generation.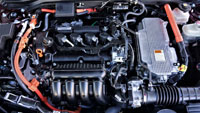 Yes, even after all these years, Honda's global electrification strategy is anything but cohesive. Nevertheless, the Insight is a very good car that could provide you with a lot of happiness behind the wheel. The automaker is attempting to sweeten the deal with incentives up to $1,000 on 2021 models or $1,600 off 2020 models (yes, there's no shortage of new 2020s still available), but this is countered by Toyota's factory leasing and financing rates from 0.49 percent on the Corolla Hybrid, with average CarCostCanada member savings of $1,937 when factoring in the knowledge gained by their dealer invoice pricing advantage.
Make sure to find out about every CarCostCanada membership benefit, plus remember to download their free app from the Google Play Store or the Apple Store, and choose your next car wisely. You could do a lot worse than purchasing a new Honda Insight, although the asking price might be a bit steep despite its exclusivity.
Review and photos by Trevor Hofmann