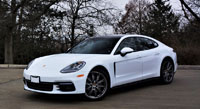 To anyone interested in purchasing a sport sedan from a premium brand or something from the even sportier four-door coupe category, Porsche's Panamera needs no introduction. It's one of, if not the sportiest ways to get around with four doors, while its elegantly raked rear liftback makes it one of the more practical entries in its category too. 
This relatively new market sector has expanded considerably since Mercedes-Benz launched the CLS-Class 15 years ago, with the original Panamera first to compete in 2009, the Audi A7 and Aston Martin Rapide following in 2010, and BMW finally showing up with its 6 Series Gran Coupe in 2012. Ideally timed with the latter Bavarian model's imminent demise and the upcoming 2020 8 Series Gran Coupe's arrival, Mercedes is now tripling down in this low-slung viertürig segment with a new higher-priced GT 4-Door Coupe model that will soon join up with the recently redesigned second-generation CLA and third-gen CLS, so it's not as if this category's expansion is slowing, at least when it comes to entries. As for sales, it remains stronger than the more traditional luxury sedan segment.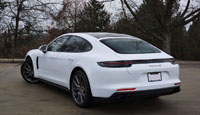 While some low-volume offerings have spiced things up along the way, such as the limited production (120 units) Rapide-based 2015 to 2016 Lagonda Taraf that was priced at a cool $1 million-plus, possibly even more interesting is the success of smaller entries from Mercedes, BMW and Audi that have pulled the sleek body style down market almost as far as VW's CC (now the much more appealing Arteon) and Kia's stronger selling Stinger. 
Bridging the massive gap between the $40k range and one million-plus, Lamborghini has long toyed with the idea of launching something in this sector, the stunning Estoque concept ruthlessly teasing the supercar world with production rumours for years, while talk of a more rakishly penned Bentley four-door has been circulating the interweb for almost as long. Both make loads of sense being they could utilize the Panamera's underpinnings and hard points, Bentley already sharing Volkswagen Group's MSB architecture for the new Continental and Flying Spur, but for the time being those in the $300,000-plus crowd will need to remain satisfied with a fully loaded Panamera.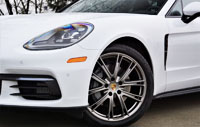 And yes, if you completely load up a top-line Panamera Turbo S E-Hybrid Executive you'll be paying in excess of $320k, and its glossy black SportDesign Package enhanced exterior will wear an exclusive colour with matching wheels, its upgraded interior will boast softer, plusher leather nearly everywhere that's not already covered with hardwood or carbon fibre, and every technology will be included. 
I drove a regular wheelbase version of that new for 2018 model last year (check out the four-model review here), the Turbo S E-Hybrid outrageously quick thanks to a once unfathomable (for a hybrid) 680 (net) horsepower, while I put last year's new wagon-like Sport Turismo body style through its paces as well (again, see it here), albeit that car was motivated by the very same 440-horsepower twin-turbo V6 powerplant found in the Panamera 4S seen on this page.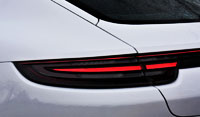 Moving into 2019, other than small pricing bumps across the line nothing has changed with any of the cars mentioned thus far, the version shown here exactly as it was for the 2017 model year when the second-generation Panamera arrived on the scene. This said, 2019 hasn't been without additions to the Panamera lineup, thanks to a special 453-horsepower twin-turbocharged 4.0-litre V8-powered GTS model now slotting between this 4S and the Panamera Turbo in both price and performance (see my overview of the 2019 Panamera GTS here), the car I'm reviewing now starting at $119,600, the new GTS at $147,400, and the Turbo at $174,200. 
Unfortunately no GTS was available at the time of testing, leaving me with the first-world problem of this less potent 4S. Still, it produces 110 more ponies than the 330-horsepower base Panamera (read my review of this model here), and sends them to all four wheels, hence the "4" in its designation. The gurgling exhaust note is sensational in Sport mode, crackling and popping at liftoff, although rest assured its Jekyll and Hyde personality provides luxurious quietude when the drive mode selector is set to default.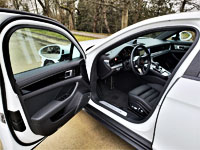 Its seemingly perfect balance between serene opulence and raucous tomfoolery is the Panamera's best asset, no other four-door providing its ground-hugging sports car like performance along with such a rarified level of highbrow pampering. It bucks against today's ride 'em high SUV trend, Porsche offering its Cayenne (see a 2019 Cayenne Buyer's Guide overview here), new Cayenne Coupe, and Macan for those wanting performance with a view, the Panamera instead coming across like the ultimate gentrified SoCal low-rider without the hopping and bopping suspension. 
That's the thing. It slices through fast-paced corners like nothing so large has ever been able to before, yet its ride quality is surprisingly smooth. Whether suffering through inner-city laneways, inundated with poorly paved railroad crossings and ill-engineered bridge expansion joints, or tackling a circuitous back road filled with broken tarmac, the Panamera provides plenty of suspension travel for soaking up the worst bumps and ruts without getting unsettled. Of course its compliance or firmness depends on the trim and wheel options chosen, but I've driven every grade besides the new GTS, and all combine racetrack-worthy performance with a level of comfort I'd be happy to live with daily.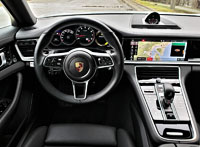 My test model's optional Satin Platinum finished 21-inch alloys on 275/35 front and 315/30 rear Pirelli Cinturato P7 performance rubber are the largest on offer, so it wasn't as if I was temporarily whisked away on the velvet carpet ride of the base 4S model's standard 19s, the exact same 265/45 front and 295/40 rear ZRs used for the most entry-level of Panameras, incidentally, which can be had for just $99,300. 
That more luxury-oriented model might not be the quickest in the line, but it still provides a spirited 5.7-second sprint from standstill to 100 km/h or 5.5 seconds with the available Sport Chrono Package, while my tester reduces such stoplight shenanigans, er… such professionally sanctioned launch tests on privately owned drag strips to just 4.4 or 4.2 seconds respectively. Likewise the 4S continues charging onward and upward to 160 km/h in just 10.3 seconds, shaving 3.3 seconds from the base model's zero to 160 km/h time, all before topping out at 289 km/h, an amazing 25 km/h faster terminal track velocity than the entry Panamera.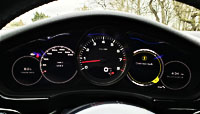 As exciting as all this sounds there are still much quicker Panameras on offer, the new GTS doing the initial deed in 4.1 seconds, the Turbo blasting past in just 3.8 seconds, and the Turbo S E-Hybrid needing a mere 3.4, while top speeds rise commensurately, the latter model capable of 310 km/h if you can find a track with a long enough straight to test it on, but suffice to say this Panamera 4S performs better than most sport sedans, its new eight-speed dual-clutch PDK gearbox delivering quick, smooth, paddle-actuated shifts, and torque-vectoring all-wheel drive maintaining awe-inspiring grip in all weather conditions, while it looks just as sensational when blurring past at high speeds as when cruising through town. 
As I glossed over earlier, the inky black exterior accents don't come standard, but my tester's darkened trim contrasted the white paint beautifully. Satin silver and/or bright metal embellishment is the norm, or alternatively you can paint out the mirror caps, door handles, badges, etcetera, in glossy black. Inside, the possibilities are nearly limitless, but the Panamera's incredibly fine attention to high-quality details, including the best of composites and leathers, optional woods, aluminum or carbon fibre, and digital interfaces that are so high in resolution it's as if you can stick your hand right into the depths of their beautifully deep, rich contrasted screens and graphically illustrated artistry.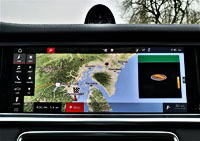 Yes, this is as good as digitization gets in the automotive realm, whether staring at the classic five-dial Porsche instrument cluster, its centre circle being the only analogue component in an otherwise colourful array of displays, the left-side screen for more driving related information and the one on the right being a comprehensive multi-information unit, or alternatively letting your fingers do the walking over the wide centre infotainment touchscreen, which comes close to 3D when viewing the navigation map. All the expected gesture controls make this as easy to use as a smartphone or tablet, and speaking of your personal device of choice it now syncs up to either Apple CarPlay or Android Auto, while providing all of the functions expected in this class including an as-tested overhead camera that, together with audible and visual fore and aft sensors, makes parking much easier.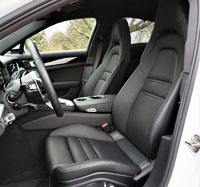 Most controls on the sloping centre console are touch sensitive, requiring a subtle push and click to engage. All the switchgear feels extremely high in quality, a real solid piece of work. The surrounding surface is relatively easy to keep clean thanks to a black glass-like smartphone treatment, although the piano black lacquered trim found throughout my tester, especially the section on the ashtray at the very base of that lower console, was always covered in muck, dust and what have you. Fortunately you can opt for any number of surface treatment substitutes that look cleaner even when dirty, although there's something to be said for being able to easily see what needs cleaning for the sake of keeping things sanitary. 
Ahead of the driver is one of the best leather-wrapped sport steering wheels in the industry. I love the narrow spokes, hollowed out for an even lighter, more sporting look, while the integrated buttons and scrolling knurled metal dials are superbly crafted with wonderful tight fitment and ideal damping. As usual the heated steering wheel button hides within the base of the third spoke, a smart design for sure, albeit some might find it easy to switch on or off when spinning the wheel. This said it comes on automatically when starting up, or likewise stays off, depending on its settings.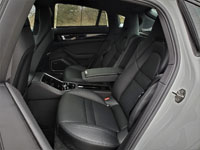 My tester included three-way heated and cooled front seats, plus a fabulous optional 710-watt 15-speaker (including sub) Bose Centerpoint 14-channel surround audio system that only gets upstaged by the 1,455-watt 22-speaker (including a 400-watt active sub) Burmester 3D High-End Surround system (I've tested this before and it's out of this world). This said my test model did not include the aforementioned Sport Chrono Package, so therefore was shy 0.2 seconds of sprint time (not that I noticed), plus its centre dash top-mounted clock merely provided a lovely looking black face with white numerals and indices, rather than the chronometer version with digital displays used for lap timing, et al.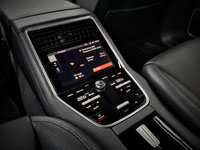 Then again, thanks to a full rear console with a massive high-definition touchscreen of its own, plus three-way heated rear seat switchgear, dual rear automatic climate controls for a four-way system front to back, powered-side and rear window sunshades, plus a massive dual-pane panoramic sunroof overhead, not to mention the model's usual snug fitting bucket seats that are as comfortable and supportive behind as they are up front, I'm not sure whether I would've rather driven or been chauffeured in my particular test model, but not requiring the funds or available friend for the latter I enjoyed a quiet sojourn in back while taking notes, and otherwise took care of all driving duties without complaint.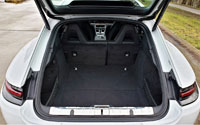 Let's be reasonable here. The Panamera is now so good in every way it's impossible to find much fault. Certainly the rear seating area is not as accommodating as an S-Class, but no matter which Panamera model I've tested, I've never had a problem fitting comfortably within, and remember that Porsche offers the longer-wheelbase Executive version for those who occasionally transport larger family members or friends, which means you don't have to give up gorgeous design and ultimate performance in order to maintain a practical lifestyle. 
That last point pretty well sums up the Porsche Panamera, and with such a wide variety of trims, packages and options, all available to review in detail at CarCostCanada, where you can also find out about available manufacturer rebates as well as dealer invoice pricing that could save you thousands, the 2019 Panamera offers something for nearly every sport-luxury car buyer.