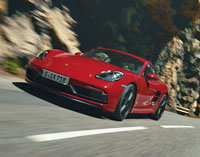 Only a couple of weeks after Porsche announced Canadian pricing, features and specifications for their new lightweight 718 Cayman T and 718 Boxster T performance trims, plus all the details for the two 718 models' new 2020 base, S, GT4 and Spyder variants, news of a fresh new take on the 718 GTS is upon us. 
Up until the current 2020 model year, fourth-generation Cayman and Boxster models were only available with turbocharged four-cylinder powerplants, but thanks to the new GT4 and Spyder a formidable 4.0-litre six-cylinder engine was added to the mix. Now, hot on the heels of those two top-tier 718 models, Porsche is announcing the refreshed 2021 718 Cayman GTS and 718 Boxster GTS with horizontally opposed six-cylinder power as well.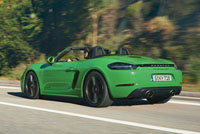 Previous 718 GTS models, available from the 2018 model year up until the end of 2019, already made a generous 365 horsepower and 317 lb-ft of torque, but power came from a 2.5-litre turbocharged H-4. While impressive in its own right, thanks to 500 cubic centimetres of extra displacement, plus 65 more horsepower and 37 additional lb-ft of torque than the 718's base, S and T trims' 2.0-litre turbocharged four-cylinder engine, the outgoing 2.5 is nowhere near as formidable as the new GTS trim's naturally aspirated 4.0-litre six.
Those familiar with the just-noted GT4 and Spyder will already be well versed in Porsche's new H-6, which sports 414 horsepower in these two top-tier models, and while shy some 20 horsepower in the new GTS, the revised 394 horsepower H-6 nevertheless makes an identical 309 pound-feet of torque.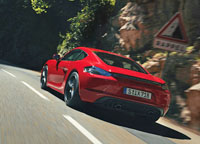 That's superb performance from a trim line soon to be positioned between the two $74,400 718 Cayman T and $76,800 718 Boxster T models, and the $110,500 718 Spyder and $113,800 GT4. The new engine, which revs up to 7,800 rpm, produces Porsche's much-loved six-cylinder growl and therefore will appeal to Porschephiles across the board, while its mechanical delights are improved upon further by a standard dual-tailpipe sports exhaust system.
Also notable, Porsche makes the engine more efficient via an adaptive cylinder control (cylinder deactivation) system that alternately switches off one of its two cylinder banks under low loads, plus its direct-injection system incorporates piezo injectors and a variable intake system to further reduce fuel consumption while enhancing performance.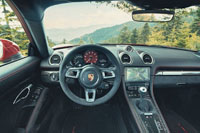 Just like the sport-tuned 718 T models that arrived earlier this month, new 718 GTS trim adds a mechanical limited-slip rear differential, Porsche Torque Vectoring (PTV), and the brand's much-lauded Sport Chrono Package featuring an upgraded Porsche Track Precision App with an integrated lap timer to its standard equipment list.
The Sport Chrono Package incorporates a "push-to-pass" style Sport Response button in the centre of the steering wheel-mounted driving mode switch, plus Launch Control with the optional seven-speed dual-clutch automated PDK transmission.
The new 2021 718 GTS models launch from standstill to 100 km/h in a mere 4.5 seconds when utilizing their base six-speed manual transmission, slicing 0.1 seconds off of the old 718 GTS' sprint time, while they're only 0.1 seconds slower to 100 km/h than the ultra-hot 718 GT4 and Spyder.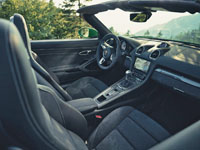 Additionally, both 718 GTS models improve their top track speeds by 3 km/h (1.8 mph) to 293 km/h (182 mph)—the GT4 and Spyder achieve 304 and 301 km/h (189 and 187 mph) respectively. Porsche has yet to announce performance figures for the new 718 GTS models with their optional PDK transmission, but it shaves 0.2 seconds off the GT4 and Spyder's zero to 100km/h time, so we can likely expect a similar result for the GTS.
Along with the new 718 GTS models' improvement in straight-line acceleration, a host of standard features also make for better handling, such as Porsche Active Drivetrain Mounts (PADM) that integrate dynamic hard and soft transmission mounts to reduce vibration and improve performance, while unique Satin-Gloss Black-painted 20-inch alloy wheels wrapped in staggered-width 235/35 front and 265/35 rear performance rubber keep the two new cars locked to the pavement below.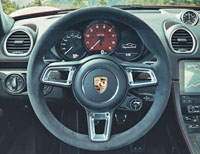 The Porsche Active Suspension Management (PASM) electronic damping system is standard too, and instantly adjusts for road surface conditions and driving style changes, depending on the Normal, Sport, Sport Plus or Individual driving mode chosen.
What's more, both 718 GTS models ride 20 millimetres lower than regular Cayman and Boxster models, reducing their centres of gravity and therefore improving control. Bigger cast-iron brakes, measuring 350 mm (13.8 inches) up front and 33 mm (13.0 in) in back make for shorter stopping distances too, while composite ceramic brakes are once again available.
So that everyone can differentiate the new models from their lesser siblings, dark grey "GTS 4.0" script can be found on each outer door skin, while just like with other GTS models, more gloss- and matte-black trim bits get added to the exterior, these including the front lip spoiler, the lower front fascia's all-black Sport Design air intake, darker front fog lights, darkened tail lamps, and a unique lower rear bumper cap, not to mention the aforementioned sports exhaust system's twin tailpipes finished in black chrome, and those inky black wheels noted earlier as well.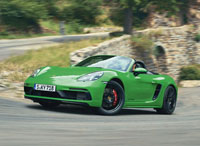 A GT sport steering wheel gets added to the new 718 GTS models' interior, as does a scripted "GTS" logo to the classic three-dial primary gauge cluster's centre-mounted tachometer, while carbon-fibre trim embellishes the instrument panel and centre console, and dark Alcantara covers the steering wheel rim, centre console, gear shift knob and skirt, the door inserts and armrests, plus the centre sections of the standard sport seats, while the A pillars and roof liner also receive this rich suede-like surface treatment in the 718 Cayman GTS 4.0 hardtop model.
Optional, a GTS interior package provides either contrasting Carmine Red or Crayon chalk grey/beige for the tachometer face, seatbelts, floor mat borders, and decorative seams throughout the cabin, including the embroidered "GTS" emblems on the headrests.
As usual, the Porsche Communication Management (PCM) system comes standard, set within a 7.0-inch high-resolution touchscreen display featuring the comprehensive list of infotainment functions found in lesser trims, plus connectivity to the aforementioned Track Precision App. This motorsport-originated application is downloadable to your iPhone or Android device, and shows performance-related data on the car's centre display for use on the racetrack, while simultaneously recording that data to your smartphone for post-race analysis.
Other PCM features include a navigation system with real-time traffic info, plus available voice control as well as Porsche Connect. What's more, audiophiles will be glad to hear that an optional Bose surround sound audio system can be upgraded further to an even higher end Burmester surround sound system.
The new 2021 718 Cayman GTS 4.0 and 718 Boxster GTS 4.0 will be available to order from your local Porsche retailer this summer, with deliveries arriving later in the year.
So while you're waiting, make sure to check out our complete photo gallery above, plus the two available videos below:
The all new 718 GTS 4.0. More of what you love. (1:52):

 
Porsche GTS. More of what you love. (1:30):