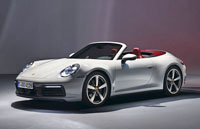 If you don't know about the all-new eighth-generation 2020 Porsche 911 yet, where have you been hiding? It was introduced at the Los Angeles Auto Show back in November of 2018, while the Cabriolet arrived at Detroit's North American International Auto Show in January. Those two cars we first saw seven and nine months ago, however, were mid-range Carrera S models, so it was high time Porsche released images and info about its base Carrera Coupe and Cabriolet. 
The formidable S will soon arrive with 443 horsepower and 390 lb-ft of torque, resulting in 3.7 seconds from zero to 100km/h for the C2S and 3.6 seconds for the C4S, or 3.5 and 3.4 seconds respectively when the Sport Chrono Package is added, but take note that while the new base Carrera isn't as intensely capable off the line it's still a force to be reckoned with.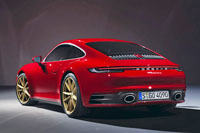 The new 911 Carrera Coupe and Cabriolet share the same basic 3.0-litre horizontally opposed twin-turbocharged six-cylinder engine, but it features a different set of turbochargers for a more conservative yet still considerable 379 horsepower and 331 lb-ft of torque. Take note these new numbers add 9 horsepower over the outgoing 2019 model, resulting in standstill to 100km/h in just 4.2 seconds or 4.0 with its Sport Chrono Package, which is a big step up from the outgoing base Carrera that could only manage 4.6 or 4.2 seconds respectively. 
In an unusual move, at least for Porsche, the new 911 Carrera will initially only be available with the brand's new eight-speed dual-clutch PDK gearbox, which is up one gear from the outgoing automatic. This upgraded transmission was originally announced with the Carrera S that also won't see its seven-speed manual arrive until later in the model year.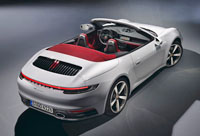 The new 2020 Carrera Coupe maxes out at 293 km/h (182 mph), which is identical to the outgoing 2019 model and slightly below the new 2020 Carrera S Coupe that tops out at 306 and 308 km/h (190 and 191 mph) with and without the Chrono Sport Package respectively. The Cabriolet, on the other hand, will be capable of a 291-km/h (181-mph) top speed, its ability to nearly keep up with the hardtop version due to magnesium surface elements dubbed "bows" integrated within the redesigned fabric roof's structure that prevent "ballooning" at high speeds. 
Incidentally, that soft top, which is now larger in order to snuggly fit over a more accommodating cabin, can open and close while driving at speeds of up to 50 km/h (30 mph), and takes just 12 seconds to fully perform this function due to revised hydraulics, a process that also powers an electrically extendable wind deflector to keep gusts of air from discomforting the driver and front passenger. 
Below that well insulated top, the new 911 Carreras get a totally updated interior with a big 10.9-inch high-definition centre touchscreen, while new driving tech includes Porsche's exclusive Wet Mode that allows for more control during inclement weather to improve safety. 
While all features just noted are standard with the Carrera S, the new base model will receive a smaller set of uniquely designed 19-inch alloy wheels on 235/40 ZR performance tires in front as well as a larger set of 20-inch alloy rims wearing 295/35 ZR rubber at the back. What's more, the regular Carrera's 330-millimetre brake discs are also smaller than the Carrera S rotors, these pressed down on via black-painted four-piston monobloc fixed calipers, whereas the base model's exhaust system features special individual tailpipe covers.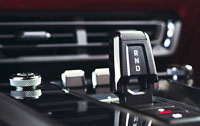 So far Transport Canada hasn't provided fuel economy figures for the upcoming 2020 911 models, but Porsche is claiming that its new base Coupe and Cabriolet will be good for 9.0 and 9.2 L/100km city/highway combined respectively on the New European Driving Cycle (NEDC). 
Fortunately Porsche has announced Canadian prices, with a significant increase over the outgoing model's $104,000 base price to $111,000, while the Cabriolet's entry price has increased from $118,100 to $125,600. Porsche is no doubt banking on the two new models' many improvements justifying those $7,000 and $7,500 price increases, one of which is the standard PDK automatic (prices may be reduced when a manual arrives), but it will be interesting to see how more value-driven competitors, such as the new 526-horsepower mid-engine C8 Corvette, which will start here in Canada at just $69,998, will eat into 911 sales. 
Nevertheless, the 2020 Porsche 911 Carrera Coupe and Cabriolet can be ordered now and will be delivered early next year, while all-wheel drive versions will be available soon. While you're waiting to get yours, make sure to enjoy the complete photo gallery above and the lone video below: 
The new 911 Carrera Coupé and 911 Carrera Cabriolet. (1:00):