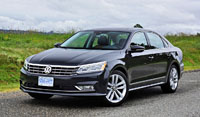 Volkswagen had big hopes for its American-sized Passat when it replaced the smaller Euro-spec B6 model back in 2011 for the 2012 model year. I tested and reviewed a TDI Trendline+ and a 3.6 Highline that year, and while impressed with the styling, performance and roominess, I was a bit put off by its downgraded interior refinement.
After a first foray with the car my review comments included, "The dash, door uppers and inserts remain high-quality soft touch synthetic, but that's about it for premium pliable composites as the rest of the cabin is less impressively finished in hard plastics, a disappointment when compared to most top-line models in the mid-size segment, and a downer considering just how well-made the old Passat's interior was."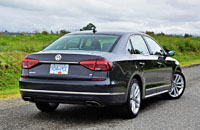 To make matters worse, the replacement Euro-spec Passat B7 was a move up in every respect, and likely a model that would've worked very well here in Canada where we traditionally appreciate smaller cars. VW followed this European market sedan up with a unique five-door Passat Alltrack (similar to our Golf Alltrack, but larger), a model VW's U.S. division must now be lusting after considering how well Subaru is doing with its Outback, while the entirely new Passat B8, introduced in 2014, is such a styling knockout and appears so upscale inside that any knowledgeable North American Volkswagen fan (the majority of which are quite well versed in the brand's global affairs) will feel slighted.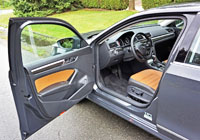 After all, we had to wait until last year for a mid-cycle update to a Passat design that's been in our market for seven years without much noticeable change. As you might expect, the car's sales are considerably softer than its interior plastic these days, with the first half of 2017 resulting in just 1,793 units (including the CC that gets lumped into the Passat's Canadian sales numbers). All of last year was slightly stronger at 4,023 deliveries, but the model's steady fall from its initial 2012 calendar year high of 8,019 units is evident in the numbers in between, which included 7,909 units for 2013, 7,520 for 2014 and 5,838 for 2015.
This loss of favour is shared with some other mid-size sedans that have been shoved aside for the current crossover SUV trend, VW's own 2018 Atlas hoping to alleviate some of the brand's mid-size four-door pain, but the Passat never owned as much market share as its rivals and continues to be a minor player in the lucrative mid-size sedan game. It currently sits ninth most popular in Canada, behind the Honda Accord, Toyota Camry, Ford Fusion, Nissan Altima, Chevrolet Malibu, Hyundai Sonata, Chrysler 200 (that's already been cancelled), and Kia Optima, only beating the Subaru Legacy and Mazda 6.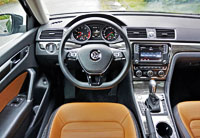 If you think it enjoys any more success in the U.S. market where it was purposely designed to compete you're right, but its current eighth placement is only one better because Chrysler has stopped shipping 200s and its dealer stock is almost depleted. In other words, VW will want to rethink its approach to the mid-size market when it comes time to replace this aging model.
For the time being it soldiers through the 2017 model year with a slightly refreshed uniform as of last year, plus some important updates inside, its completely revised infotainment system featuring proximity-sensing plus Apple CarPlay and Android Auto especially notable, while specific to this year its base Trendline trim has been scrapped, as has its top-line Execline offering. This leaves the Passat Trendline + as the new base model, plus the Comfortline and the new top-tire Highline in the mix, the latter trim available with the base 1.8-litre turbo four as well as the 3.6-litre VR6 currently in our garage.
VW shipped this car in Deep Black Pearl with a gorgeous Titan Black and Golden Oak interior, the latter saddle brown colour referring to the second hue of its two-tone interior motif, which is used for the door panel inserts, the ribbed leather seat inserts, and the contrast stitching found on those seats. The cabin is further upgraded with glossy grey-stained faux hardwood in classic American sedan tradition, and yes I say this last part with tongue firmly in cheek—I'd rather be surrounded in the optional matte light oak woodgrain that looks and feels a bit more realistic. A generous dose of piano black lacquered plastics adorn key areas as does VW's usual assortment of satin-finish and bright metallic accents, while a merely average colour multi-information display set within the Passat's classic analogue gauge cluster is totally upstaged by that aforementioned infotainment touchscreen.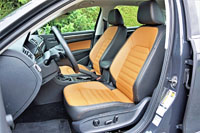 I'll go into more detail in my upcoming review with respect to the usability and capability of this infotainment system including its standard navigation and backup camera, how well the Highline's standard 400-watt Fender audio system pumps out tunes, the ease and simplicity of smartphone setup and audio streaming functions, the quality of interior furnishings and overall comfort and roominess of the cabin, its trunk size and ease of rear seatback cargo expansion, plus of course how well it drives with this more formidable 280 horsepower powerplant.
Plus I'll take a look at how well its new $1,350 Driver Assistance package measures up to other active safety suites in the class, this one including adaptive cruise control, lane assist, park assist, and park distance control, but no auto high beams, autonomous braking, etcetera.
Is the Passat really a cheaper alternative to an Audi A4 or A6, or just a mid-size wannabe that's not worthy of going head-to-head with our current bestselling Accord? Stay tuned…