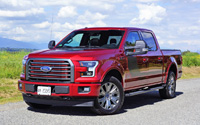 Ford F-150 buyers love their special editions, and I must admit the new 2017 Lariat Special Edition added to my SuperCrew 3.5 Ecoboost 4×4 tester is one I could definitely fall for as well.
This thing looks fabulous! I can't tell you how many rubbernecking stares I got while driving around town, and my neighbourhood is one of the rarer places to find pickup trucks, at least when it comes to those that live here. There are plenty of plain white work trucks with side signage scattered across the myriad building sites throughout my ever-burgeoning inner-city-like suburb, while the streets are literally littered with the bourgeois supercars of the nouveau super riche, from Ferrari, Lamborghini, Maserati, McLaren, and the like. Cars like that are commonplace, but a truck like this totally stands out.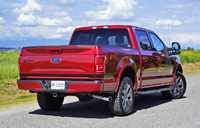 Lariat sits third amongst seven trims, the others being XL, XLT, King Ranch, Platinum, Raptor, and Limited. We really should consider the Raptor a completely unique model due to exclusive body panels and an extreme off-road specific driveline, but for the time being we'll just leave it alone, being that Ford has promised a full week's test with one in the near future.
Back to the Lariat, while third-rung up the F-150 ladder, its $46,149 price tag is somewhat higher than the XL's $28,249 starting point, or the XLT's $30,549 base window sticker. Then again the King Ranch starts at $63,349, which is well into premium-branded luxury mid-size SUV territory, and the Platinum delves even deeper into the luxe class with a sticker of $65,549. The Raptor, incidentally starts at $68,399, while the end-all-to-be-all luxury trucks (or at least Ford would like to have us think of its F-150 Limited this way) is a highfalutin $73,149: ranch owners and contractor/developers only need apply.
All of a sudden this Lariat is looking pretty approachable, even with its fancy additions. Upgrading to the four-door SuperCrew cab with the five-and-a-half-foot short box, the 3.5-litre Ecoboost V6, new 10-speed automatic (yes, a 10-speed, just like the bike my big brother got when I was relegated to a 5-speed) with auto start/stop, and four-wheel drive elevated that Lariat price to $58,249 (back up to mid-size luxury SUV territory again), while its Ruby Red paint adds another $450.
That black stripe down the side and its black hood decal are part of the Special Edition package mentioned a moment ago, as are the strips of red running across the otherwise grey-tone grille. There's much more to this $2,400 package than that, mind you, such as LED headlamps with dark housings (my tester also had the Luxury package, so expect halogens in lesser equipped models), body-colour front and rear bumpers, unique 20-inch alloys on 275/55 all-terrain tires and a set of black running boards between them, unique red and black fender and tailgate "F-150" badges, and finally a unique squared off chrome tailpipe finisher on the outside.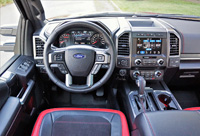 Inside, the F-150 Lariat Special Edition gets an exclusive red-stitched leather-wrapped steering wheel, red-stitched detailing on the unique instrument panel and doors, a red-stitched console top, and a very fine looking set of red-accented, leather and psuede-trimmed Special Edition seats, plus all of the features that come with the Lariat and the Luxury package noted a moment ago.
The latter is a $4,900 package that adds whollops of high-end features like those LED headlights that are actually comprised of very cool looking dual-stacking beams and infused with auto high beam technology, while the taillights are upgraded to LEDs as well. The package normally comes with 18-inch chromed wheels and a whole host of chromed exterior trim, all of which gets nixed for the Special Edition package above, but the normally chrome-capped side mirrors (black as-tested) benefit from power-folding capability, auto-dimming, LED side-mirror security approach lights, blindspot monitoring warning lights, and more, while rear cross-traffic alert is also part of the 502A Luxury upgrade.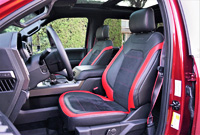 Additional kit from this package includes rain-sensing wipers, a universal garage door opener, a heatable steering wheel rim, a powered tilt and telescoping steering column with memory, 700-watt 10-speaker Sony audio (with a sub), satellite radio, voice-activated navigation, Sync Connect services, and heatable rear seats.
We could leave it there, but you might notice the addition of the $1,250 Technology package in the photos, which ups the ante with a 360-degree parking monitor with a split-screen display and Dynamic Hitch Assist, plus lane keeping assist.
A $550 spray-in bedliner made the box much more serviceable, while Ford's exclusive (and still brilliant) $400 Tailgate Step made getting in and out much easier (money well spent for the 50-plus crowd). Likewise for the $300 retractable Box Side Steps, and there were more extras added on, but I will leave it there as this is supposed to be a "Garage" piece, not a complete review.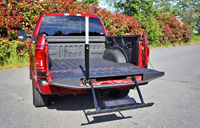 That means I'll be back soon with that full road test review where I'll talk about how the modern-day legend 3.5 Ecoboost mates up to its new 10-speed partner, and how intrusive (or not) the auto start/stop system is. Fuel economy matters a lot in this class and was one of the key reasons Ford spent all the crazy money needed for this truck's fully aluminum body shell, so will go over in detail, plus hauling specs, and of course the experiential stuff, how it drives in town, rides overall, pulls away from a stoplight, manages highway speeds, handles, coddles, comforts, etcetera.
Come back soon for a full report…