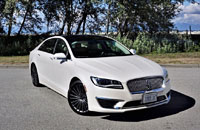 What can I say about a car that's on its deathbed, and minimizing trim and powertrain offerings as it quietly fades into history? Get it while you can.
Despite having been announced for cancellation, the MKZ wears Lincoln's newest design language from the outside in. It took on the domestic luxury brand's much more upscale chrome-laden frontal design for 2017, and blended it with rear styling that was already very unique and attractive. It even looks kind of aggressive with its optional dark grey matte-metallic 19-inch alloys wrapped in 245/40 Michelin rubber, although an upward glance reminds that the MKZ is mostly about artful elegance.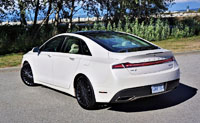 For those still enamoured with four-door mid-size luxury, and your numbers have been steadily shrinking across the entire Canadian market, now is the time to act before more good cars like the MKZ whither away into oblivion. Lincoln Canada has done fairly well with this model, achieving a sales high of 1,732 units in calendar year 2006, although after a lull to accommodate the 2007/2008 financial crisis and another drop in 2012, it's been a gradual downward slide from 1,625 units in 2013 to 1,445 in 2014, 1,130 in 2015, 1,120 in 2016, 994 in 2017, 833 in 2018, and finally 367 examples sold last year, the latter number representing a 55.9-percent year-over-year plunge. No doubt other factors have played into the MKZ's most recent downturn, parent company Ford's announcement of the model's demise last year potentially doing the most damage, but none of this takes away from the essence of the car itself.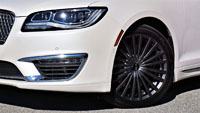 New for 2018 was the very same 3.0-litre turbocharged V6 that wowed me in the larger, heavier Continental, which means the 400 horsepower velvety smooth beast of an engine, making an equally impressive 400 lb-ft of torque, hustles down the road even quicker. With this much thrust and twist on tap, there's really no need for an eight-, nine- or 10-speed automatic, so Lincoln was content to leave its smooth and reliable six-speed transmission in place, complete with paddles to extract as much sport out of the potent drivetrain as possible.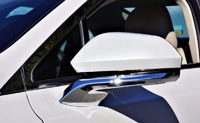 Like all Lincolns the MKZ uses a pushbutton gear selector located on the dash, this one on left side of the centre stack beside the centre touchscreen. The vertical row of buttons incorporates the usual PRND controls sandwiched between an engine start/stop button up top and an "S" or sport mode button at the bottom. Once acclimatized to the layout it's as easy as any other type of gear selector to use.
The smooth gearbox is more engaging in sport mode, particularly when the just-noted steering wheel-mounted paddle shifters are employed, but even so I found upshifts took about two seconds and downshifts about a second and a half to complete, which isn't quick enough to call it a sport sedan, but the well-proven transmission was very smooth and should be reliable. The MKZ was never designed to be a sport sedan anyway. It's certainly capable when called upon, with loads of power off the line, real automatic feel when pulling its paddles, and capable control around tight, quick corners, but this car was primarily designed for comfort.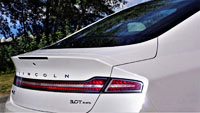 That means it's wonderfully quiet and blissfully smooth riding. Still, when making serious speed down a winding rural road near my home, the midsize sedan provided good grip and capable control, as long as you don't temporarily lose your sense of reality by thinking it has Mercedes-AMG-, BMW M- or Audi RS-like handling chops. Its advanced electronics and as-tested torque-vectoring AWD make it stable in slippery conditions nonetheless, while it comes well loaded with additional safety features.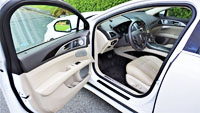 As well as it drives, and as attractive as its exterior styling is, the MKZ's best asset is the interior. It really can't be faulted, other than sharing some design elements, switchgear and underlying equipment with the Ford Fusion it's based upon. This is most noticeable with the steering wheel, IP/dash and centre stack, with respect to their design layout, as well as the door panels regarding handles and switchgear. Lincoln takes the MKZ's finishings up a considerable notch from the Ford, of course, with a completely soft-touch instrument hood and dash-top that even extends all the way down to the lower knee area, plus pliable composites down each side of the centre stack and along the lower console, even including each side portion of the floating bottom section.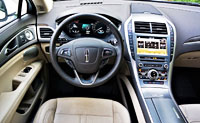 While I'm nowhere near finished extolling the merits of this interior, storage space is another MKZ attribute. That floating centre console is home to a large area for stowing smartphones, tablets, or what-have-you, while Lincoln also provides a large glove box, a big bin under the centre armrest, another smaller bin integrated within the folding rear armrest, most of these lined with a rich velvety material no less, and bottle holders in each lower door panel, plus a large trunk measuring 436 litres that's expandable via 60/40 split-folding rear seatbacks or alternatively a handy centre pass-through.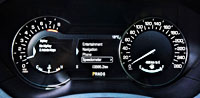 The MKZ Hybrid model's trunk is just 314 litres, by the way, and that's the only model available for 2020. Yes, the fabulously fast V6 is now history, or at least you can't buy a 2020 MKZ with this ultra-potent engine, but some 2019s are still available, so make haste to your local Lincoln retailer if you want serious performance as part of your luxury experience, while saving up to $7,500 in additional incentives according to CarCostCanada's 2019 Lincoln MKZ Canada Prices page. Lincoln is offering up to $1,500 in additional incentives for the 2020 MKZ, incidentally, and up to $13,000 in additional incentives on a 2018 model if you can possibly find a new one that meets your requirements (there probably is one out there).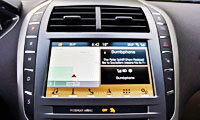 Model year changes in mind, the move from 2018 to 2019 left mid-range Select trim behind in the non-hybrid car, leaving only Reserve trim with the base 2.0-litre turbocharged four-cylinder, this engine good for a spirited 245-horsepower and 270 lb-ft of torque, plus the Reserve model as-tested with the 3.0-litre V6. The hybrid's combustion engine makes 141 horsepower and 129 lb-ft of torque, but its net output is much stronger at 188 horsepower combined, the electric motor making 118 horsepower (88 kW) and 177 lb-ft of torque (don't try to add them up, because quantifying hybrid output figures is not so easy).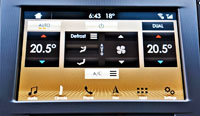 More easily calibrated is fuel economy, and considering constantly fluctuating Canadian gasoline prices, which will no doubt be affected by our government's unwillingness to enforce trespassing, jaywalking and now arson regulations, amongst others, in our evermore lawlessly protesting nation, pump prices could skyrocket like they did last year, so choosing a more fuel-friendly car isn't a bad idea. To that end the MKZ Hybrid's 5.7 L/100km city, 6.2 highway and 5.9 combined rating is twice as efficient as the performance variant being reviewed here, the hybrid model's continuously variable transmission aiding efficiencies, albeit not as much as the electrified powertrain. As it is the MKZ 3.0-litre V6 AWD is good for 14.0 city, 9.2 highway and 11.8 combined, whereas the same car with the non-hybrid 2.0-litre four manages a slightly more efficient 12.1, 8.4 and 10.4 respectively.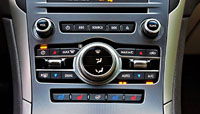 I previously mentioned not being finished with my MKZ interior accolades, as it truly is impressive for its modest $47,000 to $53,150 price range (the Reserve AWD starts at $52,500, by the way, with the 3.0-litre V6 adding $6,500 to the window sticker). Like the instrument panel, the door panels receive high-quality stitched composite door uppers, inserts and armrests, while the lower panels are also soft to the touch. You could compare the MKZ directly against some of the much higher priced compact-to-midsize segments' German rivals and they won't improve on its level of fine detailing, not to mention the Lincoln's real hardwood trim and beautiful perforated aluminum speaker grilles that feature a lovely spiral pattern, while the quality of the car's switchgear matches many in the premium sector too, this also praising Ford that often punches above its weight in the mainstream sector.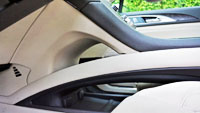 The same is true for in-car electronics, specifically the beautiful new mostly digital gauge cluster that includes the usual two circular primary dials with a multi-information display at centre, or at least that's what it initially looks like. To be clear it's not so simple. Instead of a big screen with all dials and other functions shown graphically, Lincoln houses the digital interface within gauge-like frames, the left side showing an analogue-style tachometer around the outer edge and multi-info display within, or alternatively a much larger MID. The speedometer on the right side of the cluster features a digital needle and dial markers, plus other gauges. This gives the MKZ a modern up-to-date look that's complemented by a centre stack-mounted infotainment touchscreen that was already very good.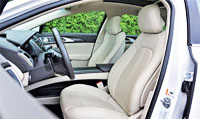 The MKZ uses Lincoln's version of Ford's Sync 3 infotainment interface, with an earthy brown and gold colour treatment in place of the mainstream brand's sky blue and white design. It's an excellent system in both brands, and needs no updating in the MKZ. It features full audio controls, a dual-zone automatic climate control interface with three-way front heated/cooled seat controls (that are duplicated within a separate set of analogue HVAC controls lower down the centre stack), Bluetooth phone/audio streaming connectivity via Sync, plus Apple CarPlay and Android Auto smartphone integration, an easy-to-use navigation system with good accuracy, an app menu that comes stock with Sirius Travel Link and allows you to download additional mobile apps as well, plus a comprehensive car settings menu with two full panels of functions as well as a third panel boasting ambient lighting choices and multi-contour seat controls.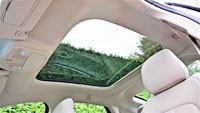 On that note, the driver's seat is extremely comfortable and provides excellent support, even laterally, which takes us back to the MKZ's performance mentioned earlier. My favourite seat feature, however, is its four-way lumbar support, a good reason to consider this Lincoln over the Lexus ES, which only provided two-way powered lumbar (in and out) in the 2019 model I recently tested. Then again, before I committed to four-way lumbar as my favourite MKZ feature, I probably should've mentioned the little button at the centre of the lumbar controller that turns on the massage feature. Pressing it immediately pulls up a panel within the centre display to customize the multi-contour seat controls, some of which allow for a relaxing massage that's especially soothing on a long drive or when stuck in traffic.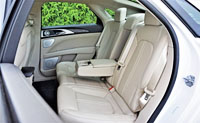 This said you'd be comfortable no matter where you're seated. The rear passenger area is finished just as nicely as the one up front too, with the same high quality, soft touch door panels, including their beautifully finished aluminum speaker grilles. Of course, the folding centre armrest includes the usual dual cupholders, while Lincoln also supplies rear air vents on the backside of the front centre console, plus buttons for two-way heatable outboard cushions, two USB-A charger points and a three-prong 110-volt household-style plug.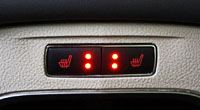 The aforementioned trunk is accessible via a powered lid, and it's nicely finished with carpeting on the cargo floor as well as the sidewalls, plus under the bulkhead and of course on the backsides of the rear folding seatbacks. Unfortunately they're divided 60/40, which isn't the most convenient compared to the 40/20/40-split European models, but Lincoln does provide a centre pass-through for loading longer items like skis. Still, you'll probably be limited to one set of skis as it's a fairly small enclosure.
You certainly won't be limited when it comes to features, mind you, the MKZ Reserve standard with the aforementioned multi-contour front seats for 2019, plus rear window sunshades, active motion and adaptive cruise with stop-and-go, and 19-inch satin-finish alloy wheels. What's more, Lincoln added a windshield wiper de-icer as standard on all trims, plus standard rain-sensing wipers, blind spot monitoring, and lane keeping assist, while the options list grows to include a new package featuring premium LED headlamps, a panoramic glass sunroof, and a 20-speaker audio system.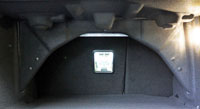 In the end, the only issue standing in the way of purchasing a Lincoln MKZ instead of its the most common competitor, the Lexus ES noted earlier, or another large family sedan from a non-premium maker like Toyota and its Avalon, Nissan and the Maxima, or Chrysler and its 300, is the fact that it's already slated for cancellation, as noted earlier. It's not alone, of course, as a host of large sedans have recently been kicked to the curb as well, including Lincoln's own Continental (a car I like a lot) and Ford's Taurus, plus a couple of Buicks and Chevys, so it's possible that any new sedan you choose could get the boot in the near future if Canadian consumers' lack of interest continues and/or the economy goes south. So, like I said at the beginning of this review, get it while you can.