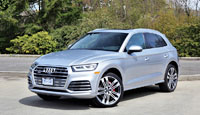 The more popular SUVs continue to become, the more likely we'll be seeing ever varying adaptations on their sport and utility themes. Some automakers will break from the status quo by providing ultimately capable off-roaders that take to the hills like their forebears could never have dreamed, while others will come equipped with new levels of roadworthiness, as adept at managing the track as their upright, five-door body styles are capable of swallowing up family and cargo. The Audi SQ5 fits into the latter mould. 
The word mould might not be the ideal descriptor, mind you, being that very few SUVs even come close to measuring up to the wonderfully quick and superbly agile SQ5. In fact, maybe a handful within the compact luxury segment could be called competitors at all, these including the 355 horsepower BMW X3 M40i, the 360 horsepower Porsche Macan GTS, the 362 horsepower Mercedes-AMG GLC 43, the 380 horsepower Jaguar F-Pace S, the Jag's familial Range Rover Velar with its version of the same 380 horsepower supercharged 3.0-litre V6, and the 400 horsepower Macan Turbo, while the 440 horsepower Performance Package version of the same Porsche Macan Turbo, the 503 horsepower AMG GLC 63 S version of the Mercedes SUV, and the 550 horsepower SVR version of the aforementioned Jaguar are in another class altogether.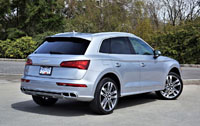 A humbling assortment of super-SUVs? Considering the SQ5's 354 horsepower is the lowest output in this rarified group, one might think so. Still, it comes down to performance at a price, and the $61,300 SQ5's sizeable 369 lb-ft of torque allows it to sprint to 100km/h in just 5.3 seconds and on to a speed limited 250 km/h that neither of us will likely ever experience.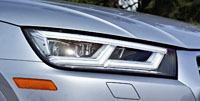 It'll cost you just $200 more to slice 0.5 seconds off that zero to 100km/h time with the just noted X3 M40i that makes an identical torque figure, while strangely the $1,200 pricier GLC 43's more robust 384 lb-ft of torque only results in 4.9 seconds to 100km/h, but it's still quicker than the SQ5. Despite a much loftier price of $76,000 the Macan GTS is probably the closest performance match to the SQ5 at 5.2 seconds to 100km/h, but the same model in even pricier $87,200 Turbo trim chops the sprint time to 4.8 seconds, whereas the $69,900 V6-powered F-Pace is left slightly behind at 5.5 seconds to 100km/h, and the identically powered and priced Velar is good for 5.7 seconds. All prices can be found at CarCostCanada, by the way, plus rebate info and dealer invoice pricing that could save you thousands.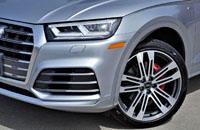 A noteworthy alternative is the new Alfa Romeo Stelvio that manages a cracking 5.4-second sprint to 100km/h and 232 km/h top speed despite only offering 280 horsepower and 306 lb-ft of torque from its 2.0-litre turbocharged four, while the new $95,000 Stelvio Quadrifoglio will soon be tied with the AMG GLC 63 for fastest in the class due to a zero to 100km/h run of just 3.8 seconds and top speed of 285 km/h, its twin-turbo 2.9-litre V6 making a significant 505 horsepower and 443 lb-ft of torque. Considering the Stelvio comes from the global automaker responsible for the 707-horsepower Jeep Cherokee SRT Hellcat, why should we expect anything less?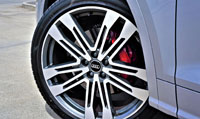 As for those other super beasts, the $99,000 upgraded Macan Turbo does the deed in 4.4 seconds, Jag's hyper-fast $89,900 SVR is rated at 4.3 seconds, and Merc's outrageous $90,500 GLC 63 is, as already noted, now tied for the segment's quickest SUV at just 3.8 seconds to 100km/h. 
As it's easy to see, the more you pay the more you get, for the most part, yet the SQ5 delivers a potent dose of straight-line performance for what is currently this compact super-SUV segment's lowest price point. What's more, if you were to build out each of these competitors you'd quickly learn that Audi's value proposition grows commensurately as its rivals' directly comparative pricing expands exponentially.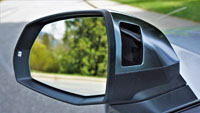 Being that purchasing any one of the aforementioned SUVs is hardly a needs driven choice, the decision will come down to other factors as well, such as how all that performance translates into real-world driving capability, both when pushing the limits and when cruising down the highway or running around town, plus the usual personal taste issues like styling, interior design and execution, features, and general livability.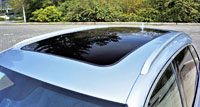 Something could be said for heritage, with the four-ringed brand's history dating back to the early 20th century, although these were complex beginnings that involved the merger of four brands to form one conglomerate in 1932, Auto Union AG being the latter and Audi, DKW, Horch, plus Wanderer making up the former four. In the end, Audi was the only name to survive after Volkswagen group acquired Auto Union from Daimler-Benz in the 1960s, and after some initial hiccups it has transformed into one of the most formidable players in the premium automotive sector. 
As for the SQ5, it has also shown endurance as the compact luxury SUV segment's longest running performance model. It arrived in 2013 as a 2014 model, and has therefore been with us for six-plus years. The Macan hit the road the following year, while the M40i version of the X3, and the rest of these compact SUV power players, are relative newcomers.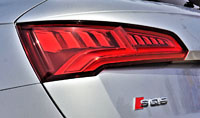 Something else the SQ5 has in its corner is a Q5 donor model that's the segment's number one seller, showing that in this class more luxury buyers prefer Audi when it comes to drivability and the multiple parameters previously mentioned, including styling, interior design and execution, features, and overall functionality.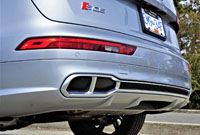 Similar to the Q5, the SQ5 is an easy and enjoyable SUV to drive around town, wonderfully comfortable over smoothly paved roads and irregular patches of asphalt alike, albeit more stiffly sprung than its less sporting stable mate. This makes it superbly stable on the open highway, and especially so when the road narrows and starts to wind, where its sport sedan-like handling is much more capable than those on the more docile side of this category. Adding to its comfort quotient, well-designed sport seats support five occupants front to back, ample roominess surrounds, and driver ergonomics are especially good. 
As for styling, the Q5 is entirely new for 2018 so its design remains totally fresh, albeit heavily influenced by the smaller subcompact Q3 and larger mid-size Q7, not to mention other Audi models. This, of course, is a good thing, being that most find the brand's lineup very attractive.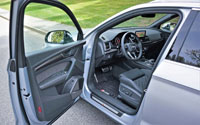 The SQ5 differentiates itself from the Q5 via new standard LED headlamps, bolder front grille strakes, the same horizontal aluminized slats on the front corner vents, which protrude lower and incorporate some nice new details as part of a revised front valance, some unique satin-silver trim up front, on the mirror caps and at back, modified side skirts spanning a sporty set of twinned five-spoke 20-inch alloys shod in 255/45 performance rubber, a longer rooftop spoiler, and a revised rear bumper cap incorporating visually extended side skirts at each corner and a new set of ovoid tailpipes at each end of what appears to be a completely open diffuser. Red and silver SQ5 badging finishes off the look, which is a nice visual step up from the regular Q5 overall, albeit not dramatically different.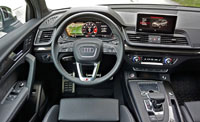 Back to the mechanicals under the SQ5's svelte new sheetmetal, the 3.0-litre V6 engine's aforementioned torque rating is 22 lb-ft greater than it was from 2014 through 2017, thanks to a new turbocharger that replaces the previous supercharger. All that extra twist is now available lower down the rev range too, arriving at only 1,370 rpm, which gives the updated 2018 SQ5 a noticeable improvement in response off the line.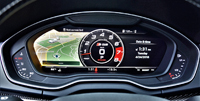 In fact, the SQ5 accelerates at a blisteringly quick rate accompanied by a wonderfully sonorous exhaust note that blips with each gear change for an adrenaline inducing auditory track, enhanced further when Audi drive select is set to Dynamic sport mode. The eight-speed automatic provides fairly quick paddle-prompted shifts, but it doesn't flick through the gears with the type of precise action as Audi's S-tronic dual-clutch gearbox. Still, each increment is smooth, which is a more suitable attribute for an SUV than anything too abrupt. 
I should mention the revised engine is 14 kilos (30.8 lbs) lighter too, which when combined with the new SQ5's reduced weight helps to lessen curb weight by 35 kilograms (77.1 lbs) overall.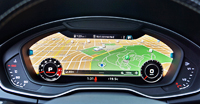 Along with the obvious benefits to performance, the new SQ5's trimmed girth aids fuel economy, with a 2018 rating of 12.7 L/100km in the city, 10.0 on the highway and 11.5 combined, compared to 14.1 city, 9.9 highway and 12.2 combined for the outgoing 2017 model. That's a massive improvement considering both utilize similar eight-speed automatic transmissions with auto start/stop, and standard Quattro AWD.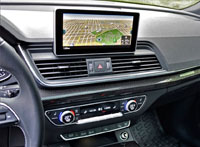 Features in mind, last year the SQ5 came in a top-tier Dynamic Edition with 21-inch alloys, performance tires and loads of premium kit that was otherwise optional, but this upgrade was discontinued for 2018 in place of the usual mid-range Progressiv and top-line Technik trim lines, plus a similar assortment of packages and standalone options. 
On that note the SQ5 Progressiv comes well equipped with the aforementioned full LED headlamps featuring automatic high beams, LED taillights with dynamic indicators, anodized metal-finish roof rails, proximity-sensing keyless access that includes a hands-free power tailgate, pushbutton ignition, an electromechanical parking brake, plus Audi drive select with Auto, Comfort, Offroad, Dynamic sport and Individual modes. 
Interior trim includes brushed aluminum inlays, while a special S-branded leather-wrapped multifunction heatable sport steering wheel with shift paddles, and heavily bolstered sport seats with gorgeous diamond stitched S-embossed Nappa leather upholstery continue the SQ5's bespoke look and feel.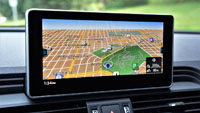 Additional standard features include rain-sensing wipers, power-folding and auto-dimming side mirrors, an auto-dimming rearview mirror, a HomeLink garage door opener, heatable powered front seats with four-way powered lumbar and driver's memory, tri-zone automatic climate control, an 8.3-inch MMI infotainment display with Apple CarPlay and Android Auto smartphone integration, the MMI touch control system on the lower console that includes a touchpad, rotating dial and quick-access button combination, Bluetooth phone connectivity with audio streaming, accurate navigation with detailed mapping, front and rear parking sensors, Audi's music interface with USB connectivity, satellite radio, a powered panoramic sunroof featuring an opaque sunshade that still allows a bit of light through when closed, Audi pre sense basic that automatically closes all windows and the sunroof if sensing a potential accident, the usual allotment of active and passive safety features, plus more.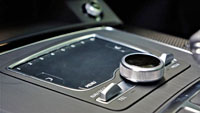 My $65,900 Technik trimmed tester replaced the base model's 7.0-inch colour multi-information display (MID) with the 12.3-inch Audi Virtual Cockpit, a fully digital instrument cluster that's easily one of the industry's best thanks to its ability to shrink down the primary gauges while simultaneously expanding the MID's functions, the navigation mapping especially impressive when this "VIEW" mode is applied. Likewise, Technik trim improves on the base model's backup camera with dynamic guidelines by adding a Bird's Eye overhead 360-degre surround view, while this top-line model also replaces the base 10-speaker stereo with a fabulous sounding Bang & Olufsen 3D surround system, plus it adds custom colours to the standard ambient interior lighting, heated/cooled front cupholders, and heatable rear outboard seats.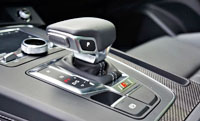 Technik trim also includes a number of advanced safety features like Audi pre sense rear that does everything pre sense basic does with a focus on potential rear collisions; the Audi side assist blindspot warning system; rear cross-traffic alert that warns of drive-by traffic when reversing out of a perpendicular parking spot or driveway; a new exit warning system that lets you know if a vehicle is approaching from behind when you're parallel parked and opening your door to get out; plus Audi Connect Assistance and Security, which is a suite of entertainment and security-based services designed to enhance convenience, enjoyment and safety.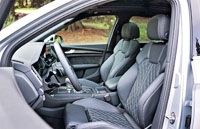 By the way, all of the aforementioned safety systems and the surround camera are available in lesser Progressiv trim when opting for the $1,500 Driver Assistance package, while both trims offer a $1,100 Comfort Interior package with softer Milano leather upholstery, ventilated front seats, and rear side window sunshades. My tester didn't include the latter, but its interior looked fabulous thanks to $900 worth of glossy Carbon Atlas inlays across the dash and door panels. 
Technik models go a step further by offering a $2,100 Advanced Driver Assistance package that includes adaptive cruise control with Stop and Go, Audi pre sense front autonomous emergency braking, Audi pre sense city, traffic sign recognition, Audi active lane assist, and traffic congestion assist.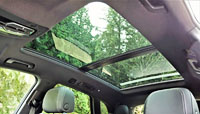 Also available, a $1,100 head-up display projects key information onto the windscreen ahead of the driver, while rear passengers can benefit from the added safety of side-impact airbags. 
Audi swapped out the regular 20-inch alloy wheels that come standard with both trims for set of $1,000 21-inch V-design alloys on 255/40 performance tires, which helped to dress up the exterior even further than the standard SQ5 while enhancing handling a little bit more.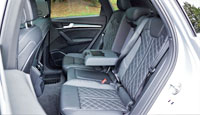 While great to look at, fabulous to drive and as beautifully finished inside as anything this class has to offer, the SQ5 remains as utile as the regular Q5. From its spacious and comfortable passenger compartment to a roomier than average 759-litre (26.8 cubic-foot) cargo capacity, which expands up to 1,710 litres (60.4 cu ft) by pulling on levers attached to each sidewall, the SQ5 doesn't shortchange on space or fine attention to detail, like high-quality carpeting, webbed pockets, chromed tie-down rings, and a stunning brushed metal protector plate in the back. Even better, those rear seatbacks automatically drop either 60 or 40 percent, but take note that the left 60 is actually divided 40/20, which lets you unlock the centre portion to lay longer items like skis down the middle while rear passengers enjoy the more comfortable outboard window seats that, as noted, were heated on my tester as well. The 60/40 portions slide fore and aft plus recline too, so you won't be hearing complaints about comfort from those in back.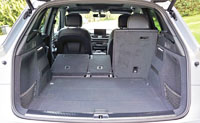 Truly, I can't imagine anyone complaining about life with an SQ5, other than your significant other moaning expletives if they don't get enough time behind the wheel. The truth is, as comfortable as the SQ5 is for passengers, you'll want to be in the driver's seat more often than not. That's certainly how I felt. 
There may be faster performance SUVs on the market, but the new SQ5 might just be most well rounded option available, delivering bucket loads of speedy acceleration, a sonorous soundtrack of burbling exhaust notes, a superb handling and ride compromise, a gorgeous, comfortable and fully functional interior, plus enough features to even keep techies enthused well into the ownership cycle. I wholeheartedly recommend it.