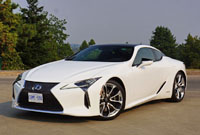 Every luxury brand has models that sell in volume and therefore provide necessary income and hopefully profits, while most also have one or more image vehicle that increases visibility of the entire model lineup and, in theory, causes people to buy into the make. On rare occasion a model achieves both, but such is not the case with the beautiful new Lexus LC. 
Putting things into perspective, the LC could actually be considered a runaway success when compared to Lexus' previous image car. The LFA was purposely limited to just 500 units worldwide over two model years built between 2010 and 2012, 10 of which came to Canada. By comparison the LC, which was introduced in 2017 as a 2018 model, is selling like gangbusters with seven examples finding well-heeled Canadian customers last month alone, and nine the month before. In total, Lexus delivered 55 LCs over the first seven months of 2019, which makes it the second slowest selling model in the Japanese luxury brand's lineup, just ahead of the LS (with 51 units) but not the slowest selling sport-luxury car in Canada.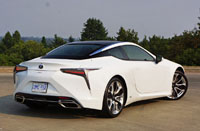 That honour goes to the Maserati GranTurismo that only found 14 new buyers so far this year, while the LC is also doing better than Acura's NSX that only has 17 units sold, not to mention the Nissan GT-R's tally of 36, and the Audi R8's 54. Still, Mercedes-Benz sold 99 SL-Class models year-to-date, BMW's 8 Series earned 160 new owners thus far, Jaguar's F-Type found 181 buyers, Merc's AMG GT pulled in a surprising 258 (considering it starts at $170k), and Porsche's 911 won over 587. Making matters more interesting, that Porsche sales total represents a 31.74-percent drop in popularity compared to the same seven months last year, due to a lull in availability ahead of the all-new 2020 model arriving now.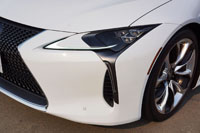 The 911 wasn't the only sports car to lose ground on this list either, the R8 falling a catastrophic 70.97 percentage points from grace, the GranTurismo losing 48.15 percent, this LC have been knocked down by 48.11 percent, F-Type sales dropping by 29.30 percent, the GT-R down some 21.74 percent, and the SL having dipped by 16.10 percent. Only the AMG GT grew its year-to-date sales, by 55.42 percent, with the 8 Series too new to compare. You might also get a kick out of learning that Lexus' parent brand Toyota sold 66 new $65k-plus Supra models during its first month of availability in July, which you'll now know is more than every LC sold so far this year.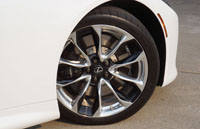 There are other cars competing in this class, but some, like the BMW i8 and Mercedes S-Class Coupe, combine their numbers with other models in their respective lineups (the i3 and S-Class Sedan in these cases), whereas the Aston Martin DB11, Bentley Continental GT and Rolls-Royce Wraith are in a slightly different league when it comes to pricing. Ford sold three Markham, Ontario-built GTs and Dodge even notched one up for the Viper, incidentally, but the former is a purposely low-volume supercar and the latter went out of production two years ago, so the unsteady trickle of deliveries shouldn't count. A bit further down the pricing hierarchy is Chevy's Corvette that totaled 840 units year-to-date, and it's a foregone conclusion the slightly pricier mid-engine C8 will soon fly out of GM showrooms, which will make it even more difficult for very good cars like this LC to find sales traction.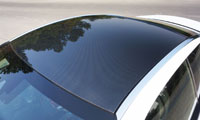 When sales don't stack up, it's always important to point out that a given car's popularity isn't necessarily a reflection of its overall goodness. As one might expect, the very fact the LC is a Lexus is reason enough to give it respect, and other than the most recently introduced fourth-generation LS luxury sedan, the second model to use the Toyota New Global Architecture (TNGA), specifically TNGA-L (GA-L) underpinnings, the LC is easily the best Lexus ever made. 
The initial draw has to be styling. The LC takes the brand's spindle grille to new widths and depths, but the design gets even more radical to each side, with headlamps that look like some sort of mechanical set of alien-implanted growths, yet the lit areas are actually quite small and filled with tightly grouped trios of LEDs (which Lexus had to reinvent in order to fit within such a small cluster). All of the abstract irregularities are just glossed over black trim, other than the Nike swoosh-style "arrowhead" daytime running lights just below.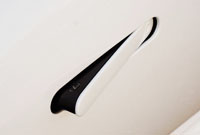 The LC design continues rearward with additional modern-day Lexus trademark elements, such as the blackened C-pillar "floating roof" effect with nice polished nickel detailing, far-reaching pronged taillights that more or less mirror the supposed "L-shaped" headlamps while infused with 80 individual LEDs per side and sharing design elements with the aforementioned LS (not to mention the Toyota Prius and Camry XSE). Each element might appear a bit bizarre on its own, but the entire package comes together in one surprisingly elegant and undeniably beautiful cohesive whole. 
Come to think of it I almost never comment on styling, unless the designer got something especially right or incredibly wrong. In the LC's case, the Newport Beach, California-based Calty Design Research centre's team, led by studio chief Ian Cartabiano, with Edward Lee responsible for the jaw-dropping exterior and William Chergosky plus Ben Chang in charge of the interior, the LF-LC Concept that inspired it couldn't have been more right. It was miraculously transformed from awe-inspiring prototype to equally stunning LC 500 and LC 500h reality with only minor outer modifications made, the end result quite possibly the closest a production model has ever been to resembling its concept car roots.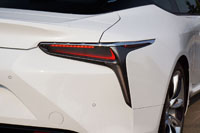 The road-going LC's interior was completely redesigned, albeit kept the general theme including an LFA-inspired pod-like digital gauge cluster, a horizontally shaped instrument panel with a recessed widescreen centre display, a cockpit-style driver's compartment that's semi-enclosed by a buttress-type centre stack extension doubling as a front passenger grab-handle in the production model, a flowing set of downward-swept suede-like alcantara door panel inserts, deeply sculpted, heavily bolstered front sport seats, similarly styled rear sport bucket seats, and more. All the effort spent was immediately rewarded by placement on Wards Auto 10 Best Interiors list when the car came on the scene in the spring of 2017, and I have to agree that it's a wonderfully artful design that provides all the luxuries and digital modernity expected in a personal sports-luxury coupe starting at $102,750 in 2019 LC 500 form and $103,050 in just-arriving 2020 trim, or alternatively at $118,850 with the as-tested 2019 LC 500h electrified powertrain, or $118,950 as a 2020 500h model (see all Lexus LC 500 and 500h pricing at CarCostCanada for both the 2019 and 2020 model years, plus find out about available rebates as well as dealer invoice pricing that could save you thousands).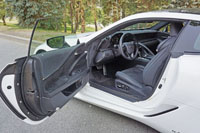 Nothing significant changes from 2019 to 2020, only the elimination of a special $14,800 Inspiration Series package with Flare Yellow semi-aniline leather upholstery (etcetera) for the LC 500 model, and the addition of a new Bespoke White interior theme for the conventionally powered car as well. No matter which powertrain you choose all six exterior colours remain identical, with Infrared the only optional paint at just $650, while the three remaining interiors are also carried over. 
A key reason my 3.5-litre V6-powered hybrid LC 500h tester is pricier than its 5.0-litre V8-powered LC 500 sibling, despite the latter upping horsepower by 113 ponies and without doubt providing a more tantalizing exhaust note, plus fitted with a quicker-shifting, more engaging gearbox than the hybrid's E-CVT (electronic continuously variable transmission), is equipment, the 500h coming standard with everything from the Performance package that would otherwise cost an LC 500 buyer $13,500 more.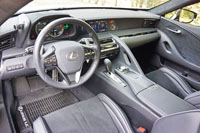 The list of upgrades includes four-wheel active variable gear ratio steering, a Torsen limited slip differential, 21-inch forged alloy wheels on Michelin performance tires instead of the standard 20-inch set, a carbon fibre roof in place of the standard glass panel, an active rear spoiler, carbon fibre reinforced polymer scuff plates, an alcantara headliner, upgraded sport seats, and an eight-way power-adjustable driver's seat instead of the usual 10-way unit, plus lane change assist added to a long list of standard advanced driver assistive systems on both models that include a pre-collision system with autonomous emergency braking, lane departure alert with steering assist, blindspot monitoring with rear cross-traffic alert, automatic high beams, and dynamic cruise control.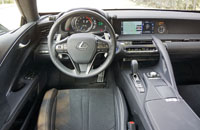 I should point out a shortlist of standard luxury and convenience highlights while I'm at it, these including LED cornering lights to go along with the triple-LED headlamps noted earlier, a cool credit card-sized smart key to let you inside via proximity sensing, a head-up display to go along with the fully digital gauge cluster mentioned before, power-folding side mirrors, a heatable steering wheel rim that actually lets you adjust the temperature, a powered steering column that works with the front seat memory, cooled front seats (plus heat of course), semi-automated self-parking, and much, much more. 
Also standard is a 10.3-inch high-resolution centre display featuring a regular backup camera with dynamic guidelines, accurate navigation, Apple CarPlay smartphone connectivity (but no Android Auto), superb 13-speaker Mark Levinson high resolution surround audio, satellite radio, dual USB ports, traffic and weather info, Lexus' Enform App Suite 2.0 with Slacker, Yelp, Sports, Stocks, and Fuel apps, Enform Destination Assist with a one-year subscription, and the Enform Safety Connect suite containing Automatic Collision Notification, a Stolen Vehicle Locator, an Emergency Assistance button (SOS), and Enhanced Roadside Assistance with a four-year subscription.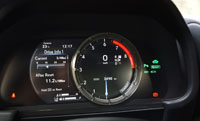 The display is too far away to reach easily, so Lexus provides its Remote Touch Interface 2.0 touchpad on the lower console, and it works easily enough after some getting used to. A few quick-access buttons and audio controls surround the pad, making it perfectly acceptable yet hardly my favourite infotainment system. Fortunately there are plenty of other reasons to like the LC. 
Despite being based on the same platform architecture as Lexus' big LS sedan, the LC is a fraction of the size in every dimension except width. It reaches across an extra 20 mm (0.8 in) at 1,920 mm (75.6 in), and you can sense its spaciousness in shoulder room once seated next to a passenger, but its wheelbase is 255 mm (10.0 in) shorter at 2,870 mm (113.0 in), and overall length a whopping 475 mm (18.7 in) less grand, while its obvious height difference is reduced by 116 mm (4.5 in). 
So what's the closest rival in size and interior roominess? Before comparing measurements I initially thought of the S-Class Coupe being that it's top of the personal luxury range at Mercedes, but the mid-size E-Class Coupe is actually a lot larger than the LC in every dimension except (once again) width. The LC is actually closer to cars like BMW's i8 and Aston Martin's DB11, with a bit more wheelbase, length and height than the exotic looking German and truly rarified Brit, but less width this time. 
The longer wheelbase and length means that four adults can fit inside, although I'd recommend smaller folks in back. I'm just five-foot-eight with taller legs than torso, and I had to bend my neck all the way over to the side in order to fit within, with my head still rubbing up against the rear glass. The seats were comfortable, and there was plenty of room for my legs and feet, not to mention my shoulders and hips, so it was a shame that even medium sized adults can't fit in back. As for the trunk, it's a bit smaller in this hybrid model, measuring 132 litres (4.7 cu ft) instead of 153 litres (5.4 cu ft), so you might be forced to stuff one set of golf clubs into that otherwise kids-only back seat.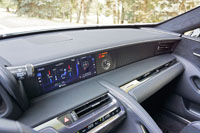 And yes, to those reading who don't understand this market, the number of golf bags that can be stowed in the trunk of a personal luxury coupe is much more important than mere performance, which, together with rear seat room, may be reason enough that sales haven't caught on as much as they could have. Let's be clear, the LC is not a pure performance car, especially in hybrid trim, but rather a luxurious personal coupe that also goes quickly. In this respect it's a lot like the just-noted i8, in that it drives beautifully and handles corners brilliantly, but it's really a luxury car. As for comfort, the suede-like alcantara covered driver's seat was as feel-good supportive as any in this class, plus wonderfully adjustable and replete with enough side bolstering for all but my most enthusiastic rally-type antics.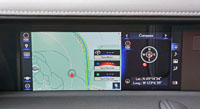 I was initially scheduled to spend a week in both models, but someone did something naughty to the regular LC 500 just before I was to receive it, so instead of experiencing its 467 horsepower and 398 lb-ft of torque firsthand, not to mention its reportedly quick-shifting 10-speed automatic, I was shuffled into something else that week, never to see the LC 500 again. This said, not too many weeks later I was able to get into this LC 500h, which comparatively makes a more modest 354 horsepower and an unknown amount of torque from its V6/electric combination, but I have to say it feels a lot more energetic than the numbers claim.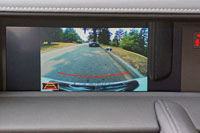 The internal combustion portion of this hybrid power unit only makes 295 horsepower and 257 lb-ft of torque, which is actually less than the same engine puts out in Toyota's Camry, but before we slag this top-tier Lexus for using such a pedestrian mill, take note that a more highly strung version puts out 430 reliable horsepower in the mid-engine Lotus Evora, so it's in good company at least. Of course, the lithium-ion battery and electric motor fulfill their fast-forward purpose as well, the latter good for 177 horsepower and 221 lb-ft of torque, for a combined 472 horsepower and, well, let's not bother because net horsepower and net torque don't exactly work that way, which is why Lexus officially claims 354 horsepower and other sources are estimating about 370 lb-ft of twist at the rear wheels. I think they're being extremely conservative in this estimate, being that the conventionally powered V8 sprints from standstill to 100km/h in 5.1 seconds and the hybrid a mere 0.5 seconds slower at 5.6, and that's despite weighing 77 kilos (170 lbs) more at 2,012 kg (4,436 lbs) for the 500h to 1,935 kg (4,266 lbs) for the 500.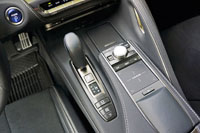 In order to maximize either model's fun factor, choose the Drive Mode Select system's most engaging Sport S+ setting, which may not be as extreme as the sportiest mode in a BMW M car, or a Lexus RC F for that matter, but it certainly allows the engine to rev higher and prompts quicker shifts from the large metal steering wheel-mounted paddles. I have to admit Sport S+ became my go-to position for getting through town quickly, particularly because the engine makes such vicious snarling noises, especially when revs ramp up, and "gear changes" are a lot more direct.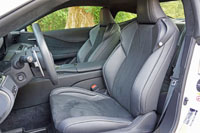 And yes, in case you were wondering, this may just be the best continuously variable transmission I've ever tested, but despite its impressive 10-speed Simulated Shift Control technology, which actually incorporates a conventional multi-gear transmission within, it still has some latent CVT tendencies, which means that even in its sportiest mode the shifts can come so quickly between intervals, albeit without all the snappy positive engagement from a sport-tuned automatic or dual-clutch automated gearbox, that it seems like nothing's really happened at all, plus the engine tends to whine up and down with a bit of the old rubber band effect in between. This means serious performance fans will want to get the LC with its V8, leaving those wanting to make some sort of environmental statement opting for the hybrid, because I really can't see anyone spending $100,000-plus for a personal sports coupe caring one whit about how much they pay at the pump.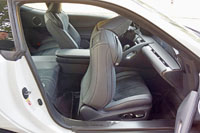 The LC 500h's estimated fuel economy is impressive, however, at 9.0 L/100km in the city, 7.1 on the highway and 8.1 combined compared to 15.1 city, 9.5 highway and 12.6 combined for the LC 500; bragging rights to all but Tesla warriors. 
I imagine the lighter weight LC 500 adds more agility through fast-paced corners than the LC 500h, but this long, wide, low and relatively large coupe is nevertheless a great handling car, taking up a couple of tons of real estate yet able to manage curves with deft precision. This is its forte, the LC providing the same kind of relaxed high-speed confidence found in a big Mercedes coupe, yet with its own Japanese premium flair. Its ideally balanced chassis is expectedly easy on the backside too, with a ride that's a lot more comfortable than its big wheels and low-slung bodywork suggest, while its also wonderfully quiet when its driving mode is switched to one of its less formidable settings, Comfort, Eco and Sport also on the menu.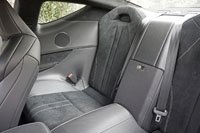 At the end of the week the LC 500h is a sensational car, but numbers don't lie. As good as it is, the people have spoken. Even in the US, where Lexus is one of the strongest luxury brands available, the LC has only found 764 buyers since the first of January, which is a bit better than in Canada per capita, but hardly anything to get excited about. Word of a new more performance-oriented LC F arriving later this year could cause some much-needed interest to return to the nameplate, as will an attractive convertible version that's starting to show up on the interweb, but then again the lovely LC may just end up as another image-building car, helpful for raising Lexus' well respected name up to higher, pricier levels of the premium market, yet not capable of making a profit on its own.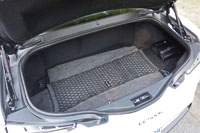 This said the LC makes for a wonderfully exclusive piece of automotive art that managed to attract more attention from passersby than many pricier cars with more prestigious branding, having garnered more longing stares, pointing fingers and open mouths of astonishment than I could count, not to mention a completely overcome German tourist who just had to get his photo taken beside it. Still, unlike the usual exotic hardware that causes such adoration, the LC still provides a high level of reliable performance, a standout feature for sure. If you're looking for something breathtakingly beautiful that's completely different from anything else on the road, I highly recommend the Lexus LC.