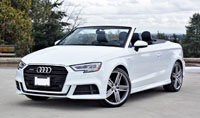 You know you want it. Spring is here and summer is just around the corner (or at least we hope), so there's no better time to contemplate a new convertible. Fortunately, Audi has the ideal answer to your newfound dilemma of which drop-top to buy.
Say hi to the recently updated 2017 Audi A3 Cabriolet, a refreshed version of the entry-level luxury convertible that's made a comfortable home for itself just below the A5 Cabriolet since it debuted for the 2015 model year.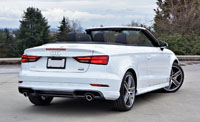 Audi isn't alone in this category thanks to BMW's 2 Series Cabriolet, which gets an even more subtle facelift and interior improvements as part of an early 2018 release (the former appearing to be nothing more than body-colour lower fascia paintwork added where matte black used to be, some chrome splashed onto the top edge of the corner vents, and an interesting new hexagonal take on the corona LEDs within the headlamps, plus more of an M2 design added to the Sport package fascia), but the four-ringed Ingolstadt, Germany-based luxury brand offers plenty of reasons for considering its open-top offering over its Munich-sourced countryman.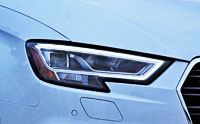 First and foremost it looks every bit an Audi and a particularly attractive one at that. While Audi's horseshoe-shaped singleframe grille is big and imposing, most find it difficult to figure out exactly which model is heading toward them from a distance. This is done intentionally, and while some competitors have attempted to add near full-size versions of their grilles to compact models with questionable effect, none has succeeded as wholly as Audi. As it is, all Audi cars, from the full-size A8 to the comparatively tiny A3, are obvious siblings.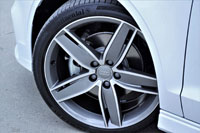 In total, the A3/S3 sedans, the five-door A3 Sportback (only available with the e-tron plug-in hybrid powertrain), and this A3 Cabriolet were refreshed for 2017, the result being a win-win-win aesthetically. I've driven and reviewed the other two already, so this convertible version will complete my coverage of the entry-level luxury segment's bestselling triumvirate.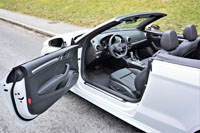 All receive a new chiseled edginess to their designs in the form of new sharply scalloped standard HID and as-tested optional full LED headlamp clusters bookending a broader more angular grille frame, this latter item visually floating above a variety of reshaped lower fascias; the differing fascia designs dependent on whether the S Line sport package is added or not (my loaner has it). New lenses and a revised array of standard LEDs update the look of the already stunning blade-shaped tail lamps, whereas the bumper below gets a few tweaks to make it new.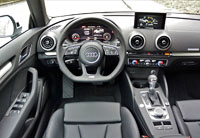 On that note, the just mentioned S Line package not only enhances the front fascia, but also provides rocker extensions down each side and a new bumper cap with intricately fashioned diffuser-style details for the rear lower fascia, this latter addition worth the price of admission alone.
As always with a mid-cycle update, Audi added new standard and optional wheel choices to the mix, while also on the expected upgrades menu are new exterior paint finishes. All in all the updates modernize the A3 Cabriolet's look and aligns it more fully with the rest of Audi's lineup, but I must say the outgoing version didn't need many changes to bring it up to speed.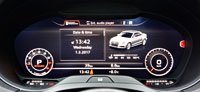 Where Audi often wins against rivals, including BMW, is interior design and execution, and the new A3's improvements won't help the Bavarian's cause. Tasteful minimalism continues, as do high quality surface treatments that include plenty of soft synthetics, genuine aluminum inlays and access, plus rich leathers.
As for all-important electronic interfaces, the A3's infotainment system continues to power up out of the dash upon startup, which is a bonus for those who'd rather stow it away during night driving, and a negative to others who prefer larger displays (the A3's is only 5.8 inches diagonally) with tablet-style pinch, swipe and tap touchscreen convenience.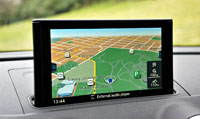 The A3's display is controlled via a beautifully finished rotating aluminum dial with classy knurled edges. It's situated on the lower console, which is common in the premium sector, making it easy to perform handwriting gestures on the knob's matte black circular top. The Audi MMI system's brains get filled with much of the latest tech, such as Apple CarPlay and Android Auto, plus various apps like Spotify and WhatsApp, and more when upgraded to the $600 Audi Smartphone interface (which is standard in second-tier Progressiv and top-line Technik trims), while its new iPhone-inspired graphics and more intelligent interface make it easier to figure out.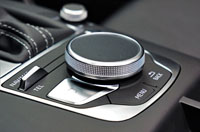 Even more impressive is Audi's fully configurable "Virtual Cockpit" TFT gauge cluster, new for the A3 this year and totally worth the upgrade to Technik trim. It's a 12.3-inch digital display that completely replaces the base and mid-range models' traditional dual-dial analog gauge package, and in the process offers a number of driver selectable configurations. The most interesting is a steering wheel-mounted "VIEW" button that reduces the size of the digital tachometer and speedometer before placing them to each side, at which point the centre-mounted colour multi-information display grows to epic proportions. When navigation is chosen, an eye-arresting array of colourful maps takes over most of the primary cluster. By scrolling through the steering wheel controls you can use this feature for enhanced readability of other functions as well, and then when needing to check up on vital driving info you can simply press the view button again.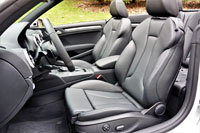 I could go on talking about the Virtual Cockpit ad nauseam, or for that matter the A3 Cabriolet cabin's improved switchgear, much of which now utilizes white backlighting for a bright, modern look, or we could all just celebrate that a USB port is now standard across the A3 line (it was Apple or the highway before), but I've said too much for a garage report already.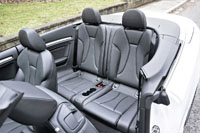 In my upcoming review I'll be sure to spend plenty of time telling you about my on-road driving experience. Just like earlier models, the 2017 A3 Cabriolet automatically upgrades the engine from the A3 Sedan's base front-drive layout to standard Quattro AWD, which means the drop-top model misses out on the four-door's all-new 186 horsepower 2.0-litre turbo four-cylinder (which replaced the aging 170 horsepower 1.8-litre turbo mill), the engine now making with 236 lb-ft of torque and improved fuel economy thanks to a new combustion process, auto start/stop, and a new seven-speed dual-clutch "S tronic" automatic, but the A3 Cabriolet's carryover 2.0-litre four is still competitive thanks to 220 horsepower and 258 lb-ft of torque, as is its mostly carryover six-speed twin-clutch transmission with paddle shifters, the difference being a new auto start/stop system just like on the lesser drivetrain.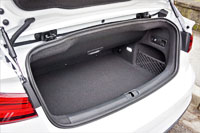 There's plenty more to comment on, including the general quietness of the car (or loudness) with the top up and down, the ease and speed (or not) of its powered retraction and deployment, its visibility (or lack thereof) with the roof closed, overall refinement, rear seat roominess and comfort levels, cargo capacity, how all the features work (or don't), and the list goes on, so be sure to come back and check out the road test review…