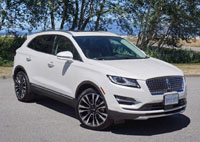 When I first saw Lincoln's new grille design I wondered how they'd graft it onto their smallest models so it wouldn't look like the modern interpretation of a '70s VW Beetle with a faux Rolls-Royce chromed waterfall grille tacked onto its otherwise sloping hood, a semi-popular, somewhat humourous theme back in the day, that occasionally augmented into fake BMW twin-kidneys adorning the fronts of Lada Signets, but now that I've seen the renewed MKC in the metal I have to say it works well.
On that note I also need to eat some crow regarding the new Bentley-esque radiator-style grille itself? I initially criticized Lincoln for its seemingly never-ending identity quest, despite having created something truly original in its previous split-wing front-end design, but once again I need to submit to the fact that fewer folks buying luxury prefer subtle minimalism over glittering, chrome-laden bling, so the tastefully discrete previous grille design had to go, and I must simultaneously admit that Lincoln got this new grille right as well, and hope they don't even consider changing it. It's bold, ritzy and wholly Lincoln. The new chrome mesh design is at the very least as loud and proud as the numerous chromed grille designs from the domestic luxury brand's glorious past, and it seems to be a relative hit with premium buyers too.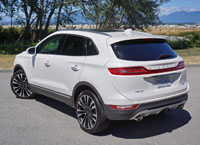 I first fell for it on the soon-to-be-discontinued Continental (I'm plenty chuffed about losing this wonderful car, so don't get me started) and warmed up to it on the MKZ as well (RIP—eventually—too). You can expect reviews of that MKZ as well as the updated Navigator and new Nautilus soon. They all look grand, but the current 2019 MKC, soon to be replaced by the 2020 Corsair as part of Lincoln's much-appreciated renaming strategy that says goodbye to confusing alpha designations and hello to cool navy-themed flotilla (although the Vought F4U Corsair was actually a WWII fighter plane that first flew in the U.S. Navy, and the upcoming 2020 Aviator purely aeronautical), will soon become one of the rarest compact luxury utilities to ever be produced.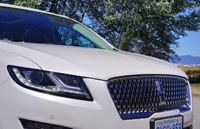 In fact, this little utility has most of the markings of a future collectable, as long as compact luxury SUVs are considered more than disposable appliances by the time anyone thinks of restoring one. This 2019 model is one of a kind in that its new grille was attached to a mostly unchanged 2015-2018 MKC, and as just noted will soon be replaced by the entirely new 2020 Corsair, making it one of the shortest durations for a mid-cycle refresh in modern times. Fortunately Lincoln didn't invest too much in the makeover, merely adding the redesigned front clip, which includes the new grille, a slightly freshened set of headlamps and a reworked lower front fascia, plus a chrome garnish splashed onto the rear hatch, but otherwise it's an unchanged model. This said only the grille appears to carry over to the 2020 Corsair.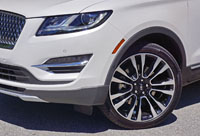 I won't go into too much detail about the differences from 2019 MKC to 2020 Corsair, but suffice to say the old one is based on the outgoing 2019 Ford Escape and the new one rides on the all-new 2020 Escape, complete with revised 2.0- and 2.3-litre turbocharged four-cylinder engines that make 250 and 280 horsepower respectively, which is five more and five less than this year's MKC respectively, albeit torque is an identical 275 lb-ft for the former and five lb-ft more at 310 lb-ft for the latter, while providing expected thriftier fuel economy, partially due to a new eight-speed automatic transmission that's controlled via new horizontally organized "piano key" shift toggles that replace this MKC's vertical row of centre stack-mounted buttons. LEDs for the signature-enhanced headlamps, turn signal indicators and taillights continue to be standard, but the interior is now fully modernized with a digital gauge cluster and new fixed tablet-style centre touchscreen.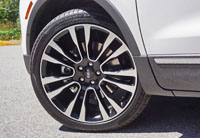 The Corsair's $44,700 base price is only $550 more than the 2019 MKC's $44,150 point of entry, while a 2018 MKC could be had for $43,950 when new (see all MKC and Corsair pricing at CarCostCanada, where you can also find out about manufacturer rebates and dealer invoice pricing that could save you thousands, CarCostCanada claiming up to $5,000 in additional incentives at the time of publishing this review). Interestingly, the MKC's base price when it debuted in 2015 was just $39,940, which probably says as much about our Canadian dollar steadily losing its value over the past four years as it does about Lincoln having streamlined trim offerings by eliminating its former base Premier trim for 2017 and thus adding more standard features.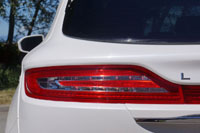 The MKC is available in two trim levels for 2019, Select and Reserve, the latter model starting at $48,800 plus freight and fees. Choosing the top-line trim is the only way to qualify for the just-noted most potent engine, which makes a total of 285 horsepower and 305 lb-ft of torque, and added $2,150 to the price of my tester. Both 2019 models are two forward speeds shy of the new 2020 Corsair, leaving the MKC with FoMoCo's tried and tested six-speed SelectShift automatic with manual mode and paddle shifters.
The 2.3-litre comes standard with idle start/stop that automatically shuts the engine down when it would otherwise be idling, and then immediately restarts it when lifting your foot from the brake pedal, whereas this feature is optional with the smaller 2.0-litre engine. The result at the pump is nominal for the latter, the non-idle start/stop base engine achieving a claimed Transport Canada fuel economy rating of 12.3 L/100km in the city, 9.3 on the highway and 11.0 combined, and idle-stop merely decreasing the combined rating by 0.1 L/100km to 10.9. Of course, local emissions are reduced so that's a good thing, but the difference might only get you a few hundred feet farther down the road before needing to refuel.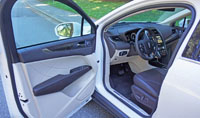 As for my tester's 2.3-litre, it's good for a claimed 13.1 L/100km city, 9.5 highway and 11.5 combined, which isn't all that great as far as compact luxury utilities go, with the BMW X3 xDrive30i achieving a claimed 9.6 combined, the Audi Q5 estimated to get 9.9, and the M-B GLC 300 4Matic said to be good for a combined rating of 10.0. The 2020 Corsair should improve things, but I can't see it getting dramatically better.
This in mind, I doubt many prospective compact luxury SUV buyers realize how much priority Lincoln has put on performance, but the MKC has long been a strong contender off the line and more than decent through a fast-paced set of curves or over a long stretch of highway, the MKC even sporting a standard adaptive suspension controlled by various Lincoln Drive Control systems including Normal, Sport or Comfort driving modes, while fairly precise electric power-assist steering joins grippy standard all-wheel drive. Its ride is smooth and inner sanctum quiet, of course, luxury being of the utmost importance and therefore laminated acoustic front door glass and active noise control coming standard, not to mention the just-noted adaptive suspension that also aids compliance, so there's no need to compromise straight-line speed or handling when choosing a new Lincoln these days.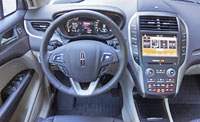 My tester's sporty 20-inch alloy wheels make this reality easy to see even before experiencing the MKC Reserve's performance firsthand, but then again it would be easy to continue the belief that Lincoln is only about luxury when climbing inside. The classy White Platinum exterior (a $700 option) turned to Espresso brown inside my tester (dark grey Ebony, creamy Cappuccino, and dark Rialto Green are alternative interior colourways), at least this was the case above the waistline and for the perforated Bridge of Weir Deepsoft leather-upholstered seats, with a light beige getting used for the lower dash, centre console and lower door panels, plus the roofliner, pillars and carpets. It's a rich looking interior, made even more so thanks to standard genuine hardwood inlays on the instrument panel and doors, the tasteful application of satin-finish aluminum accents elsewhere, plenty of aluminized and/or chrome trimmed switchgear, and other premium-level niceties.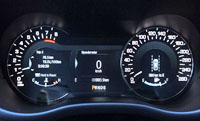 Possibly even better, Lincoln went to new levels of pampering when finishing off the dash top and door uppers, with these surfaces feeling like soft padded leather more than anything synthetic. There are plenty of pliable surfaces elsewhere as well, although they're more obviously high-quality composites, while the ones used to cover the lower dash have more of a rubberized feeling. That rubbery surface treatment is likely used for protection from shoes and boots, while the fact soft-touch surfaces are even used on the lower portion of the dash at all is a major positive. This padded treatment flows down each side of the centre stack and lower console, so the inside knees of the driver and front passenger won't chafe against a harder surface, and extends ahead of the front passenger including the glove box lid. Surfaces just above the driver's knees and those over on the lower door panels are made from harder composites, which is par for the course in this compact luxury class.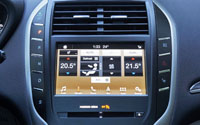 The top of the console is pretty minimalist thanks to the aforementioned gear selector buttons on the centre stack. It simply includes two cupholders and a little bin below the stack incorporating a 12-volt charger and two charged USB ports. It's finished nicely inside with a sort of peach fuzz covering, but the lid itself feels cheap and rickety, not up to the class standards. It does push and close softly, but that's about it for praise. I should also mention the same kind of velvety finish can be found inside the glove box as well, not to mention the centre console bin that includes a removable tray and another 12-volt charger, but there's also a hole in the bottom that could easily lose smaller items forever, so I'm guessing there's a piece missing from this particular vehicle as it makes absolutely no sense to have a hole there.
Also unusual, albeit entirely positive are fabric-wrapped A and B roof pillars, the practice of extending the roofliner downward more often than not kept to the two front pillars in this segment. In fact, I recently noted this shortcoming in a 2019 Acura RDX, a very good luxury SUV in most every other respect, other than its unorthodox gear selector, a foible it shares with this Lincoln.
The two brands go about gear selection in different ways, the Acura providing a long, narrow vertical strip of complicated buttons and pull-tabs on the lower console that took me many test weeks to get used to, and this Lincoln including a simpler line of buttons on the left side of the centre stack that force the driver to lean forward in order to engage. Acura has a very short history so the brand came up with its design out of thin air, where it probably should've stayed, while Lincoln looked to its long and storied past for inspiration. As nifty as this looks I longed for a classic column shifter a la Mercedes, something Lincoln could've also dug up from its glory days, but as noted earlier, the brand provides a new approach to its button design in the upcoming Corsair, so they seem to agree that this MKC's approach (shared with all other Lincoln models of the MKC's generation prior to the brand's newest additions) is less than ideal.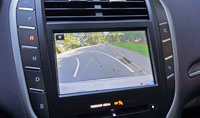 I like how Lincoln integrates the "ENGINE START STOP" button and "S" sport mode button within the MKC's regular "PRND" selections, however, but I'd rather stay comfortable planted in the SUV's excellent driver's seat and modulate something closer at hand. Along with an inherently good design and the usual fore/aft, up/down and recline power adjustments, both driver and front passenger receive four-way power lumbar support and four-way manual head restraints, resulting in 12-way adjustability apiece. They're three-way heated in base trim too, and three-way ventilated when stepping up to this Reserve model, while both trims get driver's seat memory.
Speaking of comfortable, the multifunctional steering wheel is nicely shaped for optimal 9 and 3 o'clock hand positioning, while its rim is wrapped in special Wollsdorf leather for a soft, high-quality feel. I should also mention the Bridge of Weir Deepsoft leather noted earlier is standard across the MKC line, so no cheap corrected-grain, split-skin, synthetic polymer paint-coated hides with Lincoln (you'll need to move up to a BMW for that). Instead, the MKC's standard features list is replete with items you'd normally be asked to pay more for in this class, such as a powered tilt and telescopic steering column with memory, plus reverse parking sensors complementing auto-dimming centre and driver's side mirrors, those outside power-folding with memory no less.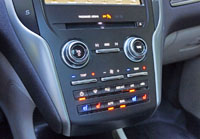 I've started listing standard Select features so I might as well continue with its 18-inch alloy wheels, roof rails, and Lincoln Embrace system that turns on the headlights when you approach at night, while simultaneously lighting up the door handles, interior lights and more. That's even without using remote engine start and before unlocking via the MKC's SecuriCode keyless entry keypad or proximity-sensing keyless access (or the remote key fob for that matter), while the standard menu continues with illuminated entry, ambient lighting, LED map lights, pushbutton ignition, an electromechanical parking brake, particulate-filtered dual-zone automatic climate control, an overhead console with handy sunglasses holder, and a universal garage door opener.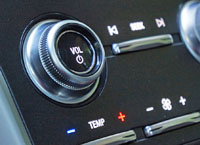 The centre stack is topped off with a large, easy to use 8.0-inch touchscreen (which incidentally is identically sized to the new Corsair's 8.0-inch centre display) incorporating Lincoln's impressive SYNC 3 infotainment interface with Apple CarPlay and Android Auto smartphone integration, a rearview camera with active guidelines, individual digital panels for the climate control system, the 10-speaker, subwoofer, satellite radio and Bluetooth streaming-capable audio system, phone functions, etcetera. The display is a bit smaller and not quite as high in definition as some of its competitors' widescreen, high-definition infotainment systems, but it works quickly, is easy to navigate through, and has nice gold graphics.
The MKC also provides standard Lincoln Connect with a 4G LTE modem, the Lincoln Way App that lets you unlock, lock, start or find your modem-equipped MKC and much more from the convenience of your smartphone, two USB charging ports, four 12-volt power points, a powered rear liftgate, a retractable cargo cover, Ford/Lincoln's Easy Fuel capless fuel filler, all the expected active and passive safety equipment including a driver's knee airbag, plus SOS post crash alert, SecuriLock passive anti-theft system, a perimeter alarm, and more.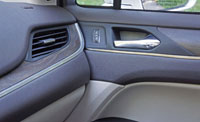 Base Select trim can be upgraded with a blind spot warning and cross-traffic alert system, that part of the $1,250 Select Plus package that also includes voice-activated navigation, and if you're going to add that you might as well upgrade to the $675 Climate package with its automatic high beams, heatable steering wheel rim, rain-sensing wipers, windshield wiper de-icer, and heated rear seats, plus you can add a $2,200 panoramic Vista Roof with a powered sunshade.
All of the above comes standard with my as-tested MKC Reserve, although the 18-inch wheels normally found on this model improve from simple painted silver rims to sportier machine-finished alloys with painted pockets. The Reserve's front seats feature forced ventilation, and the otherwise body-coloured door handles include bright chrome inserts, while the powered liftgate gets hands-free convenience, with the latter merely needing the wave of a foot under the back bumper from someone carrying the key fob.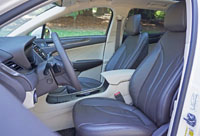 Choosing Reserve trim means you can upgrade the just-noted 18-inch aluminum wheels to $500 19-inch painted five-spoke alloys or the fabulous set of $750 20-inch machined rims with black painted pockets that underpinned my tester, but take note you'll need to choose the more potent 2.3-litre twin-scroll turbocharged engine in order to get the largest wheels, plus you can also ante up for $2,420 Technology Package that adds forward parking sensors, adaptive cruise control, pre-collision warning with pedestrian detection, automatic emergency braking, lane keeping warning and assist, and semi-autonomous active park assist.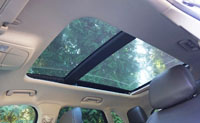 Lastly, both Select and Reserve trims can be optioned out with alternative Sonata Spin aluminum trim on their doors and instrument panel, and upgraded further with a superb sounding $1,100 THX II audio system, included in my tester and well worth the money, plus a $500 Class II trailer towing package is also on the menu, which together with the 2.3-litre engine provides up to 1,360 kilos (3,000 lbs) of trailer hauling capability, not too shabby for a compact luxury utility. With most available options added to my tester its price popped up and over $55k, which sounds like a lot until compared against the similarly equipped BMW X3, Mercedes-Benz GLC or Audi Q5, either of which would add at least $10k to your investment without packing in as many premium features and not providing as much straight-line performance.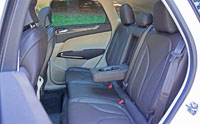 As for daily practicality, the MKC is spacious enough for average-sized Canadian families and more than enough for most empty nesters. The previously noted power-adjustable tilt and telescopic steering wheel had ample reach so I could push the seat rearward far enough for my relatively long legs, without leaving my shorter than average upper body stretching awkwardly to grasp the steering wheel. As I've learned, not all of us were born with perfectly proportioned bodies, and this can cause problems when trying to set up an ideal driver's position for optimal comfort and control. No such issues with the MKC, however, this SUV apparently designed to fit the majority of human frames.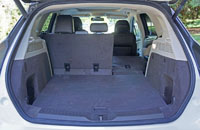 This said the MKC's rear seating area is definitely not largest in class, so this may cause problem if your teens or grandkids are taller than average. I had the driver's seat positioned for my just-noted long-legged, shorter torso five-foot-eight body, and when sitting just behind I was only left with three and half to four inches ahead of my knees, and I couldn't stretch my legs out much at all. This is not as spacious as many subcompact SUVs, such as Volvo's XC40 that I was testing during the same week. Likewise, the XC40 had more headroom, although approximately the same width side to side. The Swede also provided a wider, nicer armrest, the MKC's armrest too small to rest an elbow on comfortably due to cupholders down the middle, which were also quite small.
On the positive, the MKC's rear door panels are finished just as nicely as those up front, and on the backside of the centre console you'll find a set of buttons for the two-way heated window seats, plus a three-prong household-style socket, and two USB charging ports.
Also positive, the MKC provides loads of cargo capacity with 712 litres (25.2 cubic feet) when the 60/40-split rear seatbacks are upright and 1,505 litres (53.1 cubic feet) when they're lowered. The compartment is nicely finished with plush but durable looking carpeting on the removable cargo floor, seatbacks and each sidewall, but Lincoln doesn't include any levers for automatically lowering the rear seatbacks where that carpet ends, a common place to find them on competitors. I can live with this tiny bit of additional manual labour, but choosing not to include a centre pass-through or an even more flexible 40/20/40-split rear row may be a deal-breaker for those who want to keep their skis inside while transporting four in the most comfortable window seats, the 60/40-split also rendering one of the heated rear seats useless when it would be needed most, after a cold, wet day on the slopes.
All in all the 2019 Lincoln MKC misses the mark in some respects, but hits the bull's-eye more often than not. It's a strong performer, is nicely finished inside, comes well stocked with features, offers a wide variety of options, and provides better than average value. If its less than ideal fuel economy, smaller rear seating area, and less flexible cargo configuration don't impinge too much on your lifestyle (you can buy a lot of gas for the initial money saved over its German competitors), consider it seriously.