With an all-new 2020 Escape already showing up at Canada's blue-oval dealerships, it's time to say goodbye to a third-generation Escape that's been with us since 2013. The version seen here was dramatically refreshed to look more like its larger Edge sibling for 2017, and it's served its many owners well since then.
Of course, with a redesign arriving there's opportunity to save money on the outgoing 2019 model, and being that it's still so very good, and that plenty of Ford retailers still have various trims new in stock, you may want to consider your options. At the time of writing, CarCostCanada was reporting $1,200 in additional incentives over and above any personal discount you can work out with your friendly local sales manager, which is a great conversation starter you can back up further by knowing the 2019 Escape's actual dealer invoice price before arriving at the dealership. The best way to do this is by going to CarCostCanada where you can also discover the various features and prices of each trim, options package and individual upgrade. You can also check out pricing and features for the new 2020 Escape and even last year's 2018 model, making CarCostCanada a vital resource when buying a new vehicle.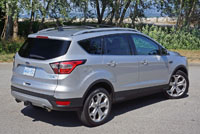 The top-line 2019 Escape Titanium you're looking at has changed one iota since introduced in 2016, as witnessed by my 2017 Ford Escape Titanium AWD Road Test, a compact crossover SUV that was virtually identical to this new one, even down to its Ingot Silver exterior colour. Don't worry, as smart as silver or white is for resale values (more people buy these shades than any other), Ford offers this 2019 model in seven additional colours, with some of the standard no-cost hues even quite vibrant such as Sedona Orange and Lightning Blue, while $450 Ruby Red and $550 White Platinum look downright rich.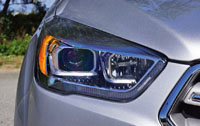 I can't say I liked this 2017-2019 grille design as much as its 2013-2016 predecessor, which was totally unique and even futuristic looking when it debuted. I remember how taken aback I was, not sure what to think initially yet warming up to it quickly enough, so that it quickly became my favourite small SUV. I understand why Ford changed up the look, both from a prospective customer's need for something new and a requirement to visually align its SUV lineup, but for reasons not necessarily related to styling the Escape has lost a little ground to the now top-selling Toyota RAV4 and Honda CR-V in recent years.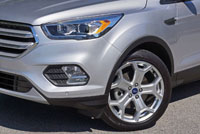 Only four years ago the Escape was number one in this class, a position it had held for years. In fact, look back a bit further and the Escape nearly doubled annual sales of the RAV4 and CR-V, but it's been on a steady slide downhill since this refresh, from a high of 52,198 units in 2014 to 47,726 in 2015, the last time it topped the category, falling to 46,661 deliveries in 2016 when the RAV4 leapt to number one, and then 47,880 sales in 2017 when both the RAV4 and CR-V passed the 50,000 threshold. The two Japanese branded SUVs kept luring in more and more new customers in 2018 when each models' sales neared 55k, but the Escape only managed 43,587 deliveries that year, while at the close of September 2019 the Escape only pulled in 30,817 new buyers to the CR-V's 43,464 and RAV4's 49,473, the redesigned Toyota on target for another record year.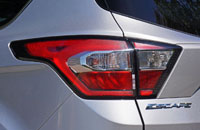 While this 2019 Escape is starting to show its age, especially when put beside that new RAV4 and the entirely new 2020 Escape that Ford hopes will inspire its once loyal customer base to come back to the domestic brand, it's still a very good compact SUV that can be had for considerable savings. You won't have your choice of colours, while available trims will come down to what's left in stock, but with such a wide variety to choose from there's bound to be something you'll like.
At the start of this 2019 model year the Escape was available in base $26,399 S trim, as a $29,349 SE and $30,849 SEL, the latter designation added this year, and finally top-line $37,699 Titanium. The Titanium comes standard with all-wheel drive, while the SE and SEL can be had with AWD for an extra $1,500, and the S is only available in front-wheel drive.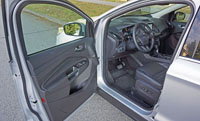 If this wasn't confusing enough, the Escape offers the choice of three gasoline-fueled four-cylinder engines, and strangely not one of them is electrified despite this model being first to market an SUV hybrid. The base model labours forward with Ford's dozen-year-old 2.5-litre mill making 168 horsepower and 170 lb-ft of torque, which are respectable numbers for a base model, but most Escape buyers will pay a bit more for one of the brand's turbocharged Ecoboost engines, the 1.5-litre making 179 horsepower and 177 lb-ft of torque and standard in SE and SEL trims, and the 2.0-litre version good for a very spirited 245 horsepower and 275 lb-ft of torque, this one standard with as-tested Titanium trim and available with the SE and SEL. So as you can likely imagine, just what you'll find at your local Ford retailer will be anyone's guess, although if you've got your heart set on a particular trim powered by a specific engine they can phone around to other dealers on your behalf.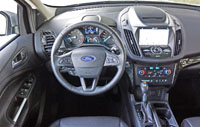 At least the Escape's sole six-speed SelectShift automatic makes your choice of transmission easier, which is two speeds less impressive than the new 2020 model's eight-speed automatic, but the outgoing gearbox is proven reliable and certainly capable enough when fitted to either Ecoboost engine. The 2020 Escape will get the 1.5-litre turbo-four as standard equipment, with auto start-stop technology no less, which shuts the engine off when it would otherwise be idling, while the 2.0-litre continues to provide a performance option in a compact SUV class that's in dire need of some excitement.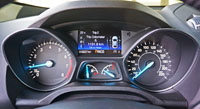 Speaking of drivetrain options, the long lost Escape Hybrid I previously complained about not being available is finally back for 2020, which is great news for those willing and able to spend more for better air quality, let alone saving some money on fuel.
While Ford isn't providing fuel economy numbers for the new 2020 Escape just yet, the 2019 model does quite well in all trims. The 1.5-litre is the best choice for those on a budget, with the FWD version achieving a claimed 10.2 L/100km in the city, 7.8 on the highway and 9.1 combined rating, and that engine with AWD good for an estimated 11.2 city, 8.4 highway and 9.9 combined. The FWD-only base S, on the other hand, does pretty well despite its age with a rating of 11.0 city, 8.0 highway and 9.6 combined, and finally the top-tier AWD-only Titanium is extremely thrifty considering all the performance available, with a claimed rating of 11.5 city, 8.7 highway and 10.2 combined.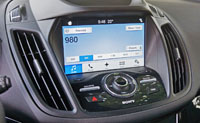 Looking past the 2019 model's aging body style and just as classic interior design, its quality of materials, fit and finish, and general goodness is hard to argue against. Even its electronic interfaces are better than a number of more recently redesigned competitors, its primarily analogue gauge cluster filled with a very crisp, clear and colourful high-resolution multi-information display at centre, and its centre stack-mounted Sync 3 infotainment touchscreen soldiering on as one of the more graphically attractive and easy to use, not to mention wholly functional. It's incorporated Android Auto and Apple CarPlay smartphone integration longer than most rival systems, while its navigation/route guidance is amongst the sector's more accurate, the system's tap, pinch, and swipe gesture controls working ideally with the nicely detailed map, and dynamic guideline-equipped backup camera easy on the eyes. There's much more to it, such as Bluetooth streaming audio, mobile apps, voice control, a WiFi hotspot, 911 assist, etcetera, so only those looking for premium-level options like overhead surround cameras and Near Field Communication (NFC) short-range wireless connectivity will find themselves wanting.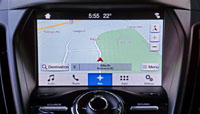 The centre display provides all the expected audio functions too, like AM/FM/satellite radio plus MP3 and WMA compatibility, but no HD radio, although the 10-speaker Sony system it all plays through is very good for this class. Some quick access controls sit on an angled interface just below the touchscreen, this just above a large user-friendly dual-zone automatic climate control panel, all the kind of premium equipment expected in a luxury brand, and the Escape's top-tier Titanium trim line. Still, compared to some competitors that have digitized these controls under touch sensitive interfaces, the Escape's look pretty dated, but a tiny pull switch for engaging the electromechanical parking brake makes it clear that Ford did everything it could to keep this model current.
Advancements in mind, my tester featured a $2,500 optional Safe and Smart + Roof Package including a panoramic sunroof, rain-sensing wipers, automatic high beams, adaptive cruise control, forward collision warning with automatic brake support, blind spot monitoring with rear cross-traffic alert, plus lane departure warning with lane keeping assist. A number of these features are also available as part of a separate package in the two mid-range trims, so you don't need to go full tilt with a Titanium model in order to benefit from these advanced driver assistive systems.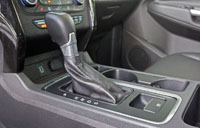 I'm not going to bother going into each and every standard and optional feature with this SUV, because as explained earlier it's now a WYSIWYG affair, but over and above everything already mentioned this Titanium includes 18-inch alloy wheels, HID headlights with LED signature lighting, a heatable steering wheel, leather upholstery, an auto-dimming centre mirror, front parking sensors, a 110-volt household-style power outlet, a foot gesture-controlled hands-free liftgate and plenty more, while highlights pulled up from lesser trims include extra chrome exterior trim, a leather-wrapped steering wheel, a powered liftgate, rear parking sensors and more from the SEL; fog lamps, body-colour exterior details, proximity-sensing keyless access with pushbutton ignition, Ford's exclusive keyless entry keypad, one-touch up/down power windows all around, a 10-way power-adjustable driver's seat, dual-zone auto HVAC, heated front seats plus more from the SE; and finally auto on/off headlamps, a windshield wiper de-icer, remote engine start, keyless remote entry, MyKey, variable intermittent wipers, powered windows, air conditioning, an overhead console with sunglasses holder, SOS Post-Crash Alert System, all the usual airbags including one for the driver's knees, and much more from the base S model.
Some Escape Titanium materials quality highlights include a mostly soft-touch dash top that nicely wraps all the way around the infotainment controls before crossing over to the front door uppers. The door inserts and armrests are nicely padded too, as is the centre armrest/bin lid, while at least the mid-door panel niceties extend into the rear seating area as well, but that's about it for soft synthetic pampering. Ford spiffs up the instrument panel with some piano black lacquered trim that extends across the dash and down each side of the centre stack, while a tasteful assortment of aluminized accents added a bit of brightness to my tester's mostly black cabin, but other than a touch of blue and red for the temperature controls, the lovely aqua blue needles within the gauge cluster, the dark blue and sky blue backgrounds used for the multi-info display and centre touchscreen respectively, this Escape won't exactly stimulate one's colour-craved senses.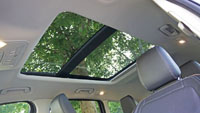 The leather upholstery is nice, and features what looks like cream-coloured contrast stitching, while the driver's seat is plenty comfortable and the SUV's driving position much better than some others in this class. In fact, I'd call its ergonomics excellent thanks to a tilt and telescopic steering column with enough rearward reach to make my long-legged, short-torso frame feel right at home. This isn't always the case, as anyone who reads my reviews regularly will know, but you'll be hard pressed to find a competitor with as much driver adjustment as this Escape. Visibility is excellent all-round too.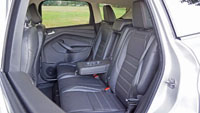 The rear seating area is spacious and reasonably comfortable too, especially if positioned in the outboard window seats, but take note you don't exactly sit in the seats, but rather on top of them, and there's not much lateral support at all. Fortunately, taller teens will have no problem fitting in thanks to reclining seatbacks, while the folding armrest at centre improves comfort and provides a place for drinks. Rear ventilation can be found on the backside of the front console, where the aforementioned 110-volt outlet features a more useful three-pronged socket. I was surprised not to see heatable seats in back, especially in this top-of-the-line model, but those wanting such luxuries can ante up for Lincoln's MKC, soon to be renamed Corsair, which is basically a 2019 Escape Titanium with more glitz and glamour.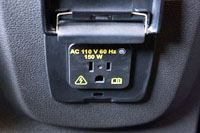 The rear hatch powers up out of the way via foot-activated gesture control as noted earlier, revealing a sizeable 964 litres (34.0 cubic feet) of cargo space behind the 60/40-split rear seatbacks, or 1,925 litres (68.0 cu ft) when these are lowered. I'd prefer a 40/20/40-split, or even a centre pass-through to provide room for longer items like skis down the middle while rear passengers enjoy the more comfortable and scenic window seats, but such configurations are rare outside of the premium sector, so this can hardly be seen as a deal-breaker. Ford doesn't include any mechanisms for automatically folding the rear seats down while loading in cargo either, unlike some rivals, but on the positive a flap drops down to cover the gap between seatbacks and cargo floor so smaller items don't slip between the cracks, so to speak, and the expanded cargo area does provide a fairly flat load floor.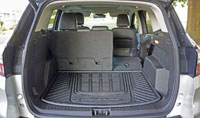 Before it starts sounding like I'm beating up on this poor old Escape, the fact of the matter is it remains a very good compact crossover SUV with the best performance in its class by far. Its arguably old school transmission might be short a couple of gears compared to some competitors (and its own replacement), but it goes about its business with a level of smooth refinement that would make a JATCO engineer proud, although my tester's steering wheel-mounted paddle shifters combined with a manual mode affecting real gears makes it a lot more enjoyable to drive than most competitors that are now using continuously variable transmissions (hence the JATCO reference, which is one of the world's largest suppliers of CVTs). The Escape's shifts are comparatively crisp and quick, resulting in a much more engaging experience than any of its top challengers, all of which use CVTs.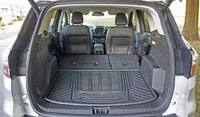 On this sportiness theme, a slightly firmer suspension means the Escape Titanium isn't the smoothest riding model in its compact SUV class. It's hardly rough or uncomfortable, but you'll notice each bump and road imperfection in a fairly pronounced manner, unlike a RAV4 or CR-V that better isolate driver and passengers, but keep in mind the Escape Titanium's more capable driving dynamics will have you smiling at speed on a winding back road. Of note, all Escapes incorporate torque-vectoring control and Curve Control that senses if you're going to fast when entering a corner and, if so, automatically slows you down via throttle reduction and anti-lock braking.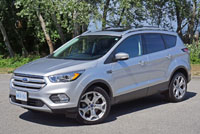 That pretty well sums up the 2019 Escape, particularly in Titanium trim. It remains a solid competitor that's stood the test of time because it was well conceived in the first place, and would be a good choice for someone who'd rather save money than be seen in the most modern compact SUV currently available. I can't say whether or not its replacement will be worth paying more for as I haven't even sat in it, but it make gains mechanically and now offers a hybrid, plus its infotainment systems appear to have made a step upward as well. This is important, because it will need to last for six years as well if Ford plans to follow its past upgrade schedule, which is one year longer than its main rivals. Now we'll have to see how well it does against the RAV4, CR-V and an ever-improving crop of compact SUVs.