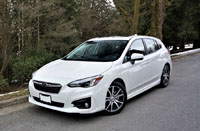 The compact class is incredibly competitive in Canada, but thanks to continually improving its exterior design, plus major strides made in interior refinement, big gains in cabin infotainment, and a diehard adherence to its unique horizontally-opposed powertrain connecting through to standard all-wheel drive, Subaru has found a way to keep its Impreza thoroughly relevant when others are getting discontinued.
News of model cancellations is never good to a car enthusiast, even if the vehicle in question is a rather bland compact commuter car. After all, the same market shifting issues that caused the elimination of the Chevy Cruze and its electrified Volt is responsible for the demise of Ford's Focus and its two sportiest trims, not to mention the fun-to-drive Alfa Romeo-based Dodge Dart a couple of years ago. And these four are only in the compact segment. Plenty of others have fallen by the wayside in the subcompact and full-size passenger car classes too, all making space for new crossover SUVs and EVs.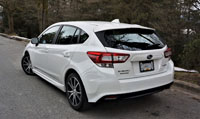 Subaru produces its share of crossovers, its most popular Crosstrek based on the very Impreza 5-Door being reviewed here. I'm actually a big fan of that innovative little CUV, but I'm also a proponent of smart compact wagons, which is more or less what the Impreza 5-Door is.
Call it a hatchback if you want, or a liftback if you want to make it sound sportier, but in reality the Impreza 5-Door is a wagon through and through. No doubt some in Subaru's marketing department would rather I don't say that, but they should be well aware that this Japanese brand has an ardent following of wagon-loving zealots. After all, the Outback is little more than a raised Legacy Wagon, the latter model no longer with us, unfortunately, but a mighty find rally car in its time, not to mention an excellent family hauler.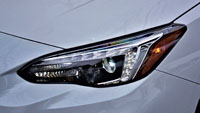 Subaru has spiffed up the Impreza's styling in recent years, and it really does look a lot more upscale and premium like, even in its more basic trims. This Sport tester comes with fog lamps and LED-enhanced headlights even though it's just a mid-range model, not to mention side sill extensions, a subtle rooftop spoiler, and attractive LED taillights, while machine-finished twinned-Y-spoke 17-inch alloys with black-painted pockets round out the sporty look.
Subaru makes a 4-Door Impreza sedan as well, but I'm willing to guess the 5-Door is more popular in Canada. They both look nice and each serves a purpose as well as personal styling tastes, the sedan providing the security of a trunk, useful for those that regularly need to keep valuables locked away from prying eyes, while the latter gets the convenience of added cargo space of a hatch or liftback. The trunk can manage a load of 348 litres, which isn't bad for a compact, but compared to the 5-Door's 588-litre cargo hold behind the rear seats, not to mention is uninterrupted 1,565 litres of available volume when the 60/40 split-folding rear seatbacks are lowered down, it's no contest.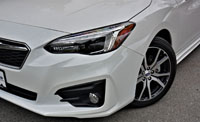 The car I recently tested is a 2019, and yes I'm fully aware the 2020s are already upon us and therefore this review will have a very limited shelf life. Nevertheless, those willing to choose the 2019 can access up to $2,500 in additional incentives (at the time of writing), as seen on CarCostCanada's 2019 Subaru Impreza Canada Prices page, whereas those wanting the refreshed 2020 model can only save up to $750 in additional incentives, unless they join CarCostCanada to access dealer invoice pricing at which point they could find themselves saving thousands.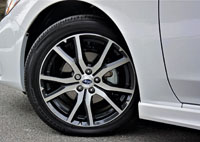 Subaru makes its EyeSight suite of advanced driver assistive systems standard on all Imprezas upgraded to an automatic transmission for 2020, while it's only available in Sport and top-line Sport-tech trims for 2019. The car I tested didn't include EyeSight, which meant it was missing pre-collision braking, pre-collision brake assist, pre-collision throttle management, lane departure warning, lane sway warning, lane keep assist, lead vehicle start alert, and adaptive cruise control. A Starlink connected services package is also available for 2020, included in most Impreza trims, while both 4- and 5-Door styling has been updated front and back.
The Impreza's four trim lines remain the same from 2019 to 2020, and include the base Convenience, plus Touring, Sport and Sport-tech, with 2019 pricing ranging from $19,995 to $30,195 for the 4-Door and $20,895 to $31,095 for the 5-Door. Subaru leaves the base price alone for 2020, but ups some pricing in between with the new 5-Door adding $100 to the bottom line for $20,995, and top-line Sport-tech trim costing $30,795 and $31,695 for the 4- and 5-Door body styles respectively.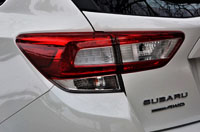 The 2019 Impreza Sport 5-Door model on this page retails for $25,395, this car increasing to $26,195 next year. Like the two bottom trims it can be had with a five-speed manual or optional Lineartronic continuously variable transmission (CVT) with standard steering wheel-mounted paddle shifters, the latter being how Subaru equipped my tester. As always, Subaru's Symmetrical AWD comes standard, not only making this the sole car with standard AWD in the compact class, but one of the only vehicles to be offered with AWD in this segment at all.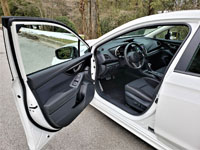 To be clear, Mazda recently anted up with an AWD 3, while Toyota's Prius can now be had with its new hybridized e-AWD system. Volkswagen offers its Golf Alltrack until they sell out (it's sadly being cancelled after model year 2019), but it's more of a Crosstrek competitor anyway, while the Golf R competes with Subaru's WRX STI. There you have it, all the AWD competitors in the compact class, a very small number for sure.
Speaking of VW, it's ironic that a relatively small Japanese brand has kept the German manufacturer's boxer engine design alive and thriving all these years. Subaru has long claimed the horizontally opposed engine configuration as its own, only sharing it with Porsche and, occasionally, Ferrari, with this latest 2.0-litre, dual-overhead cam, 16-valve, four-cylinder making a reliable 152 horsepower and 145 lb-ft of torque via direct-injection, dual active valve control, and electronic throttle control. This is significantly stronger engine output than most competitors' base engines. In fact, only three rivals make more power, albeit not much more, while just four put out greater torque.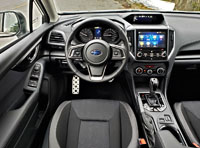 The result is strong performance from standstill all the way up to highway speeds and beyond, all of the extra torque working very well with my tester's CVT, which provides especially smooth, linear power delivery. The paddles are useful for downshifting mid-turn, but I found the engine and transmission worked best when left to their own devices. The Impreza's ride is very smooth too, while its agility through the corners is also typical of fully independent suspension setups, Subaru having infused a set of MacPherson struts up front and double wishbones in back, with stabilizer bars at both ends. This is a more sophisticated design than some of its challengers that use cheaper rear torsion bar suspensions, and can really be felt when pushing hard through curves covered in uneven pavement. Rather than having the rear axle bunny hop over the rough stuff, my Impreza's 205/50R17s stayed locked on course, the little five-door certainly showing the effects of Subaru's storied rallying heritage.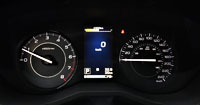 This was when I wished my test car had been equipped with the five-speed manual, as it would have been more fun to play with and potentially easier to extract more speed, but truth be told the paddles worked wonders when more engine revs were needed, even though they're hooked up to a CVT. It was good enough, in fact, that I might lean towards the CVT if this were my own personal ride, not only because it would make driving life in the city a lot more agreeable, but also because the automated transmission is a lot thriftier with a claimed fuel economy rating of 8.3 L/100km city, 6.4 highway and 7.5 combined, compared to 10.1, 7.5 and 8.9 respectively for the manual.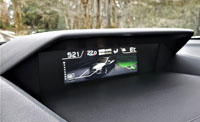 While a serious driver's car, the Impreza is also extremely comfortable, and not just because of its just-noted ride quality. The driver's seat offers good adjustability, but strangely no lumbar adjustment in this trim. Fortunately the seat design is inherently supportive, and thanks to excellent reach from the tilt and telescopic steering column I had no problem getting into a good position for optimal control of the leather-wrapped steering wheel and sporty metal pedals. The steering wheel is nicely shaped for a sporty, comfortable feel with the hands at the proper 9 and 3 o'clock positions, while ample switchgear on its spokes allow for control of audio, phone, cruise, and trip/multi-information display functions.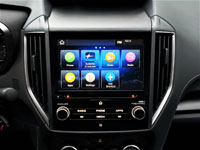 Unlike most rivals, the Impreza's mostly analogue gauge cluster merely splits its dials with a colour TFT readout for speed, gear selection, real-time fuel economy, fuel level, the odometer and trip mileage. The actual multi-information display is housed in a hooded 4.2-inch colour display atop the dash. It provides a comprehensive level of information, its top half-inch or so displaying the time, interior temperature, climate control setting, and exterior temperature, while the larger bottom section can be set up based on driver preference with options including audio info, real-time fuel economy and projected range, all-wheel drive torque distribution, a row of three gauges encompassing water temp, oil temp and average speed, and more.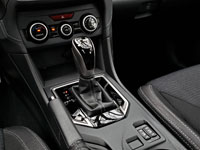 While the quality of graphics and screen resolution of the multi-information display has made big strides this generation, Subaru's biggest single area of improvement over the past few years has been in-car infotainment, particularly the centre touchscreen and its many features. The move up to Sport trim increases the display from 6.3 to 8.0 inches in diameter, and it's an extremely high-quality touchscreen with crystal clear definition, beautiful vivid colours and extremely rich contrast. The overall tile design is attractive, with big colourful "buttons" overtop a starry blue background that looks attractive and is easy to use, with the main functions being radio, media, phone, apps, settings, and Subaru's Starlink suite of apps. There's no navigation in Sport trim, but Apple CarPlay and Android Auto offer route guidance through your smartphone, which is likely good enough for most peoples' needs. The apps panel includes Aha and iHeartRadio, while dual USB ports and an aux plug allow smartphone access. The backup camera is excellent too, and benefits from dynamic guidelines.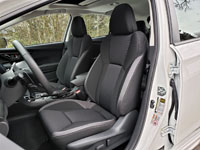 All HVAC controls can be found just below on a dedicated interface, and in Sport trim is a single-zone automatic climate control system featuring three dials and a couple of buttons to actuate. Setting the heatable front seats is done via two rocker switches on the lower console, but even the two-way warmer's highest settings aren't anywhere hot enough to feel therapeutic.
There's no heated steering wheel rim in Sport trim and no seat warmers offered in back at all, which is strange for a car that would likely be used as a family ski shuttle during winter months, but nevertheless the Impreza Sport 5-Door's rear quarters are nicely finished, yet without secondary air vents on the backside of the front console or anywhere else.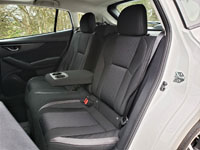 It's roomy in back, with about eight inches of space remaining ahead of my knees when seated behind the driver's seat that was set up for my five-foot-eight, long-legged, short-torso frame, plus ample area to stretch out my legs with my feet under said driver's seat. There's no shortage of room side-to-side either, plus a comfortably wide folding armrest at centre with dual cupholders, and about three inches left over above my head. The outboard rear seatbacks offer good lumbar support too, so it's easy to overlook the lack of amenities in back.
I've yet to mention this Sport trim's upholstery, which is a high point thanks to a nice durable feeling fabric featuring an attractive patterned insert surrounded by grey striped bolsters with contrast stitching. Each Impreza generation improves interior refinement, with this latest fifth-gen model a wholly more hospitable place for driver and passengers front to back with respect to materials quality and design. Just look at the contrast-stitched leather-like soft-touch dash top, which is easily as good as this class gets, the impressive surfacing treatment even flowing down the right side of the centre stack and copied over to the left portion as to provide a visual balance. It's gorgeous. The door uppers get a similar soft synthetic treatment and the armrests feel like genuine stitched leather, while Subaru adds more depth via carbon-fibre-like inlays, satin-silver/grey accents, tasteful applications of chrome and more, not to mention especially tight fitting switchgear throughout the cabin. Anyone buying into this class should be more than impressed with the Impreza's interior.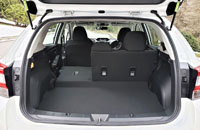 I've mentioned cargo dimensions already, and while it sits in the middle as far as space behind the rear seatbacks and much better than average when those seats are folded, I wish Subaru had thought of including a centre pass-through for loading in longer items like skis. Of course you can squish someone into the centre position if carrying four, but the outboards seats are much more comfortable and the view out the windows more enjoyable for those in back. Subaru includes a retractable cargo cover within a solid, attractive aluminum cross-member that's easy to pull out and store behind the first row of seats if no one is seated in the second row, or lay on the cargo floor if someone is.
All things said the Impreza 5-Door is a car I could buy and live happily with. It's just the right size, offers up lively performance with decent fuel economy, promises strong reliability, and delivers the level of refinement and quality I've grown used to. Its infotainment is now as good as this class gets, and while I would've liked a few more features in this Sport-trimmed tester, a top-line Sport-tech model I tested a couple of years ago delivered more than enough goodies to satisfy the tech geek within. Everything considered, the Impreza wholly worthy of your attention.