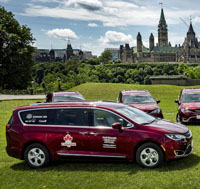 It's only fitting that Canada's favourite family shuttle was the official conveyance in our capital city for our 150th confederation celebrations.
Fiat Chrysler Automobile's ultra-popular Dodge Grand Caravan, dearly departing Chrysler Town & Country, and advanced new Chrysler Pacifica minivans combine for unsurpassed annual seven- to eight-passenger vehicle sales, having found almost twice as many Canadian buyers as all other minivans combined in calendar year 2016. In fact, if commercial vehicle sales were taken out of the overall equation, FCA's minivans would have accounted for more business than almost any other vehicle line in Canada last year.
Canada's most popular Ford F-150 and runner-up Honda Civic might have been appropriate official Canada Day 2017 vehicles for our July 1st weekend celebrations too, but for the purpose of conveying visitors around Ottawa, the fleet of 26 seven-seat Velvet Red Pearl-painted and "Canada 150" maple leaf decaled Chrysler Pacificas were much more useful.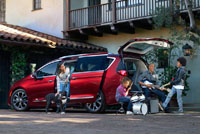 It didn't hurt matters that these vans were produced in FCA's Windsor Assembly Plant in Windsor, Ontario; the result of 6,000 hourly workers on three full shifts.
The Windsor facility builds both the conventionally powered Pacifica as well as the Pacifica Hybrid, the former featuring the brand's class-exclusive second-row "Stow 'n Go" seating that fold completely into the floor when more cargo space is required, while the latter includes a plug-in hybrid electric powertrain capable of 53 kilometres of pure EV range, up to 911 kilometres of total range, and a five-cycle Transport Canada claimed fuel economy rating of 2.6 Le/100km in the city.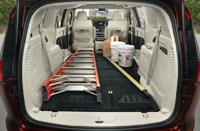 During the Canada Day weekend, Ottawa hosted a three-day festival in three venues including Parliament Hill, the Canadian Museum of History, and Major's Hill Park.
"I can't think of a more fitting vehicle than the Windsor, Ontario-built Chrysler Pacifica as the official vehicle of Canada Day 2017," commented Bill Levasseur, VP, Sales and Marketing, FCA Canada. "Our Chrysler and Dodge minivans have been an integral part of millions of Canadian families' lives over the years and we are honoured to have Chrysler Pacifica showcased in celebration of our nation's milestone 150th birthday."
Along with the fleet of vans shuttling event-goers from attraction to attraction, those in attendance were able to view 30-second video spots as part of the Major's Hill event, plus FCA branding broadcasted on big screen displays at other event locations.