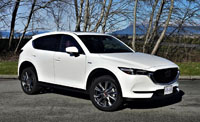 Has Mazda really been around 100 years? The independent Japanese brand celebrated its centenary this year, and to commemorate the once-in-a-lifetime occasion it brought to market a particularly attractive and exclusive Snowflake White Pearl exterior paint, which gets matched to white padded leatherette touch-points on the centre console edges and armrests plus door trim, along with deep, rich Garnet Red used for the Nappa leather seat upholstery and carpets. The look won't be for everyone, but those who like it, will like it a lot.
I'm in the latter camp, having fallen head over heels for red upholstered classics in decades past, two of my own previous personal rides in fact utilizing the interior colour scheme (minus the white), most recently on the pigskin hides (which were originally natural) in a 4.7-litre V8-powered 1967 Maserati Mexico coupe that I plunged bucket loads of money into for longer than I had sense, and another being a 1964 Mercury Montcalm coupe that I owned way back in my 20s.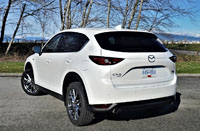 Mazda's CX-5 would be a much smarter choice for a daily driver, thanks to earning the best score of any brand in Consumer Reports' latest annual auto reliability rankings study, therefore beating Toyota, Honda, Hyundai, etcetera, not to mention Lexus, Porsche, and, er, well, Maserati wasn't on the list, but it would've no doubt been somewhere near the bottom, even in 2021 form.
The CX-5 also tied with Nissan's new Rogue as a runner-up in J.D. Power's newest Automotive Performance, Execution And Layout (APEAL) study, both of which were outranked by Ford's new Mustang Mach-E electric, albeit that model doesn't really compete directly with these two compact crossover SUVs, other than by its mainstream volume branding, basic interior volume and liftback cargo access, because its pricing ranges from $51,495 to $89,085, which is well into premium territory.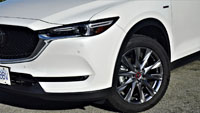 This brings up an important point we're seeing more and more these days, and not just amongst pricier electrified contenders. Plenty of volume brands are refining their interiors in hopes of wooing customers over to their offerings, and by doing so, sometimes stepping on their own premium branded toes, so to speak. As noted earlier, Mazda is independent, and therefore has no parental owner or premium sub-brand, like aforementioned Nissan has with Infiniti, or Toyota with Lexus. This is allowing them to move their brand upmarket to entry-level luxury levels, competing effectively with the likes of Buick and even Acura or Infiniti, depending on the model, which is why the CX-5 earned such high praise from its owners in the just-noted APEAL study.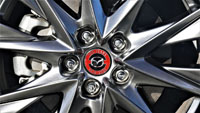 Therefore, this isn't the first and won't be the last Mazda I've lauded accolades upon, because this special CX-5 is based on the already superb Signature trim line, an model that also comes gussied up with Nappa leather, actual Abachi hardwood trim, plentiful metallic accents, and much more. It really seems as if the brand is making a play for the premium sector, despite not raising its prices any higher than key competitors.
On that note, the 2021 CX-5 100th Anniversary Edition starts and ends at $43,800 (plus freight and fees), which is only $1,400 more than the CX-5 Signature. There are no options, not even paint choices. Toyota's non-hybridized RAV4 rubs up against $42k with all options, incidentally, but doesn't provide the same level of refinement or performance, while the priciest Honda CR-V, also less premium-like than the top-tier CX-5, will set you back nearly $44k.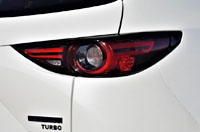 By my experience, Mazda's CX-5 comes closer to luxury brand refinement than any SUV in this class when upgraded to either Signature or 100th Anniversary trim. If you load up a $42,400 CX-5 Signature with its only option, beautiful trademark Soul Red Crystal Metallic paint, which comes with lovely Cocoa brown Nappa leather inside, it'll set you back another $450 anyway, so really, when moving up to the 100th Anniversary you're only paying for the pricier white paint, white interior accents and red carpets, plus some commemorative red and black "100 YEARS 1920 – 2020" metal badges and circular red wheel caps for its classy multi-spoke 19-inch alloys.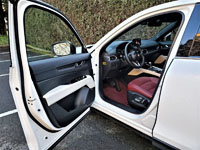 For reasons like interior materials and build quality, the CX-5 has become the third-most popular compact crossover SUV in Canada, but it's also due to aforementioned dependability, strong performance, competitive fuel economy, a roomy interior, and arguably attractive styling. The previously noted RAV4 is the segment's best-seller, by the way, while the CR-V was runner up last year, a position it continues to hold this year. If you'd like to know more about how they all stack up, I covered these three SUVs and all of their compact crossover competitors in a recent comparo.
Another CX-5 attribute that will matter a lot in this family-focused segment is its Top Safety Pick Plus ranking from the U.S. National Highway Traffic Safety Administration (NHTSA), which gives Mazda's compact crossover a serious edge over the RAV4 and CR-V that only qualify for Top Safety Pick status (without the Plus).
As mentioned a moment ago, performance is a CX-5 strong suit too, especially in its top-tier GT, Signature and 100th Anniversary trims, which get a turbocharged 2.5-litre engine that puts out 227 horsepower and 310 lb-ft of torque, capable of propelling the luxuriously appointed SUV from standstill to 100 km/h in a spirited 6.9 seconds. That's quick for this class, and feels it.
The CX-5's paddle-shift actuated six-speed automatic transmission, complete with Sport mode, won't win any marketing points now that most rivals are offering more efficient CVTs or fancier eight-speed automatic alternatives. Ford's Escape, for instance, provides the latter and actually beats the top-line CX-5 to 100 km/h in top-line trim, albeit by a hardly noticeable 0.2 seconds, and we're not exactly comparing Ferraris and Lamborghinis here, after all. Toyota and Honda don't even come close to the RAV4's sprint time, unless we're talking RAV4 Prime plug-in hybrid that manages the feat in just 6.7 seconds, but, like the less potent RAV and CR-V, fuel economy is what matters most.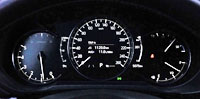 At 9.3 L/100km combined in its most basic AWD trim, efficiency is probably not the CX-5's most saleable asset, but Mazda does provide cylinder-deactivation that drops the naturally aspirated version's city/highway rating to 9.0 L/100km. This top-line CX-5 is rated at 10.8 L/100km in the city, 8.7 on the highway and 9.8 combined, so there's a small price for performance, while the equivalent Escape isn't much better at 10.4 city, 7.5 highway and 9.1 combined. A RAV4 around the same price and features does a bit better at 9.2, 7.1 and 8.2 respectively, but as noted its performance won't have you grinning from ear-to-ear at takeoff or when passing a slower moving vehicle on the highway, unless, once again, you step up to the electrified RAV4 Prime that'll put a serious jolt into your morning commute (Mazda has a smaller CX-30-sized electric dubbed MX-30 coming out, so stay tuned for that).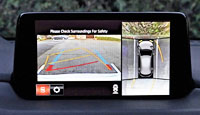 While the turbocharged CX-5 is certainly quick, and amongst the better handlers in the class, making it one of if not the sportiest SUV it competes against, with a true character that's entirely its own, it's also smooth, comfortable and quiet for this smaller SUV category. These critical qualities help it attain the entry-level luxury appeal I've been referring to throughout this review, and, I think, are more important to the majority of buyers.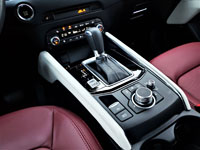 Comfort can be attained right across the entire CX-5 trim range, by the way, the most affordable GX FWD model starting at just $28,600 (plus freight and fees). Important for you to know is that Mazda will soon be out with a 2021.5 version of this SUV, with updates including a new larger 10.25-inch centre display with the brand's newest Mazda Connect infotainment interface as standard equipment (although the current one has a great overhead camera, accurate navigation, and the convenience of premium-level lower console controls), expanding by 2.25 inches from the previous 8.0-inch display, this being the same as found in upper trims of 2021 models, while Mazda Connected Services will be available to download this coming fall.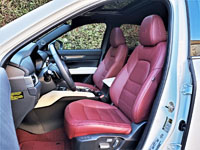 Additionally, all of Mazda's i-Activsense safety and convenience technologies will be standard in the 2021.5 CX-5, including Advanced Blind Spot Monitoring and Lane Departure Warning that currently get added in GS trim. Base 2021 models currently come standard with Smart City Brake Support and Rear Cross Traffic Alert, plus all the usual traction and stability control functions, ABS, tire pressure monitoring, etcetera.
To learn more about every 2021 and 2021.5 trim, as well as available options, plus prices for all, check out CarCostCanada 2021 Mazda CX-5 Canada Prices page, where you'll be able to access easy discounts thanks to dealer invoice pricing, that gives you an edge when negotiating your best deal. Currently Mazda is offering up to $1,750 in additional incentives on 2021 or 2021.5 models, while average CarCostCanada member savings were $2,360 last time I checked. Membership does have its privileges. On that note, be sure to find out all the ways CarCostCanada's money-saving membership works, plus remember to download their free app from the Google Play Store or Apple Store now.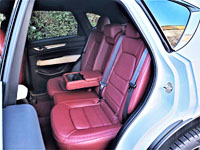 Membership in the Mazda family has its privileges too, many of which I've covered in this review. Interior comfort is very good (although four-way driver's powered lumbar support would edge it even closer to premium status) and spaciousness about average, the latter including 875 litres (30.9 cubic feet) of dedicated cargo space and 1,687 litres (59.6 cu ft) with the rear seats folded flat, while its cargo flexibility is amongst the best in the class due to European-inspired 40/20/40 split-folding rear seatbacks, normally only found in upscale luxury brands. This lets you stow longer items like skis down the middle, while rear passengers enjoy the benefit of the more comfortable window seats, plus they can warm up via rear seat heaters in upper trims like this 100th Anniversary. Just one recommendation to Mazda: please relocate the otherwise snazzy three-way buttons from within the centre folding armrest onto the backside of the front console or the door panels, because there's no way to activate them when that centre pass-through is in use. Sorry guys, but that wasn't the most intelligent idea.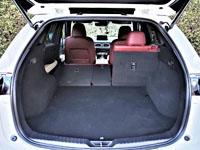 Other than this oversight, and an infotainment system that could use an update (and gets one in the 2021.5 version) there's not much I can complain about. In fact, the 2021 Mazda CX-5 is one of the best crossovers in its compact SUV class, for all of the reasons I've stated and more. I highly recommend a 100th Anniversary Edition if you can still get your hands on one, but if not, the Signature is just as good, albeit minus the captivating exterior and interior colour scheme and tasteful commemorative badging. While I like it a lot, I could certainly live without that, especially if a lack of 2021s forced me into a 2021.5 Signature, resulting in the new infotainment interface.
Review and photos by Trevor Hofmann