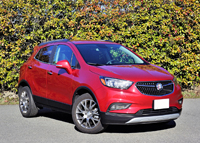 Every time I book a Buick Encore for testing I don't give it much thought. It's a subcompact SUV that needs to be covered because of its reasonably good sales, but it's not the type of vehicle that elicits a lot of passion. And then once inside I'm reminded of how nice it is, and on the way home how easy it is to drive.
I must say it's even better for 2017, in every respect. GM just gave it a thorough mid-cycle update that I'll be reviewing in detail soon, but for now let's just say it's frontal styling has seen significant improvement (the grille is modernized, headlights filled with LEDs and silly hood-mounted "ventiports" are gone), its interior gets a number of styling and technical enhancements (keep reading for the latter), and it still drives very well.
My tester was in base Sport Touring trim so it featured the slightly less potent 138 horsepower version of the 1.4-litre turbo four, and it was only configured to drive the front wheels as tested (AWD is optional). I'll go over its driving dynamics more thoroughly in my review, not to mention its comfort level, roominess, and more.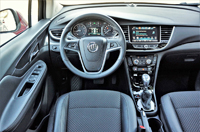 Of note, all 2017 Encores receive standard proximity-sensing access with pushbutton ignition, a feature that's optional with most competitors, while great sounding Bose audio is also standard, as is electronic noise cancellation that helps keep Buick's renowned "Quiet Tuning" as hushed as ever. Another feature worth noting is integrated Wi-Fi via 4G LTE internet connectivity, capable of turning this little subcompact SUV into a rolling hotspot.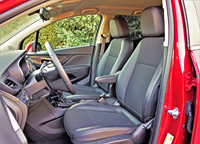 Additionally, a new 4.2-inch colour TFT multi-info display rests within the redesigned primary gauge cluster, and an even more intriguing 8.0-inch infotainment touchscreen featuring an updated Buick IntelliLink digital interface now includes Android Auto and Apple CarPlay for enhanced smartphone connectivity.
Will all these changes be enough to push the little Encore back up Canadian sales charts? You'll get an up-to-date sales comparison along with all the usual road test details and a comprehensive photo gallery when the upcoming review is published, so keep your eyes on these pages…