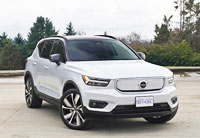 Volvo's new XC40 Recharge is everything I already loved about this fabulous little luxury utility, and less!
Less running costs, less emissions, and less of an impact on the local environment, but then again in contrast, the new XC40 Recharge' 78-kWh lithium-ion, high-voltage battery and twin 150-kW electric motors provide even more get-up-and-go than the turbocharged 2.0-litre gasoline-powered variants last tested. And while we're talking about more, you'll also need to make a bigger financial commitment to own one.
Getting clear on costs
The 2022 XC40 Recharge Pure Electric Core will set you back a minimum of $59,950, plus freight and fees, whereas a base XC40 Momentum starts at just $39,950. This said a top-tier gasoline-powered XC40 Inscription begins life at $49,750 before potentially adding on a few thousand in extras, whereas a fully loaded XC40 Recharge Pure Electric Ultimate starts at $71,800, before choosing from an even lengthier and pricier list of options.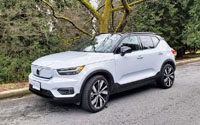 This puts the XC40's cost of going electric at about $20k give or take a couple of thousand, although we should never forget government EV incentives that range from $1,000 to $8,000 depending on your province. All things considered, the new Recharge might not initially seem like the ideal choice amongst XC40 trims, at least financially, but for those who want the extra performance and positive nods from passersby, it's a great choice amongst electrics.
The gasoline-powered XC40 variants previously tested included a 2019 T5 AWD R-Design that I reviewed back in June of its model year, plus a 2020 T5 AWD Momentum that I covered in October of that year. Both were infused with the non-electric model's upgraded powertrain, featuring an energetic 248 horsepower and 258 lb-ft of torque. They were relatively easy on fuel and fun to drive, but take note this purely gasoline-powered engine, as well as the less potent T4 variety that's available in the entry-level XC40, will be replaced by more fuel-efficient hybridized B4 and B5 powertrains this fall for the 2023 model year.
Shocking acceleration comes standard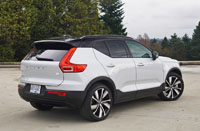 While all this is good news for small luxury SUV lovers, Volvo's new Recharge Pure Electric power unit, which is available right now for the 2022 model year, puts an entirely new spin on XC40 performance and efficiency.
This all-electric cute ute is serious fun at take-off, thanks to dual electric motors that supply four-wheel traction out to wide, grippy tires, my tester's having been upgraded to a set of 20-inch five-V-spoke diamond-cut alloy rims on 235/45 rubber up front, and 255/40s in the rear, which are the same as on the first XC40 R-Design I drove back in 2019.
The electrified utility's acceleration is actually quite shocking (not literally), with a standing start to 100 km/h taking a mere 4.9 seconds, this thanks to a combined 402 horsepower and 486 lb-ft of torque from both front and rear motors.
Recharge your XC40 Recharge in only 40 minutes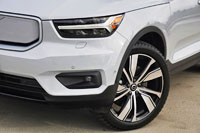 The XC40 Recharge' Lithium-ion (Li-ion) battery is rated at 78.0 kWh, incidentally, and only takes 7.5 hours to refill from a 240-volt home or public charger. Then again, if you can locate a 400-volt charger you'll need only 40 minutes to complete the same task, making it an ideal companion for longer trips.
I can access a few of these 400-volt chargers near my home in Richmond, BC, and would be able to do likewise in any other Vancouver suburb, or for that matter on major routes outside of the greater Vancouver area in any direction, while some of my regular road trip locations, such as Whistler and Kelowna, BC, have plenty of high-speed chargers to choose from. Recharging an EV isn't quite as quick as refueling with gas, but it's certainly a lot friendlier on the wallet, and there's always a coffee shop nearby for catching up on work, or even better, a little rest and relaxation.
Great range for commuting and running errands in town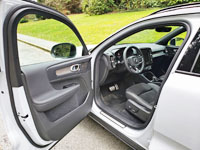 Of note, if you go easy on the throttle and don't overdo it with the aircon, the XC40 Recharge provides up to 359 km (223 mi) of range. This means you won't be able to drive directly from Vancouver to Kelowna, for instance, or even Burnaby to the Okanagan's most populous city. If you're taking off from Surrey, however, you'll be fine, and ditto for Toronto to Muskoka, while Montrealers will have no problem getting both to and from Mont Tremblant without recharging until arriving back home.
This said, most XC40 Recharge owners will be content just using their little all-season runabouts around town, where it has enough range to last days without recharging, depending on your commute. Like a lot of people these days, I work from home, so didn't need to recharge my tester until the day before bringing it back to Volvo's rep, at the end of my weeklong test. I managed to drive it all over the place in between, never concerning myself with any hypermiling techniques in order to get the most economy out of the power unit. It's truly too much fun to resist, anyway, causing me to regularly take off from standstill with a level of schoolboy enthusiasm I had when fuel was only about 45 cents a litre.
Impressive interior design and quality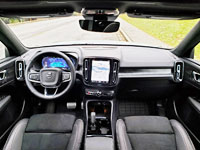 It's also a really nice cabin to spend time in. In fact, despite being Volvo's most affordable model, the XC40 is everything I've grown to appreciate about modern-day Volvos, which means that its overall interior styling, design layout, refinement, and technical interfaces are at least as good as most competitors, and better than some.
There's no shortage of soft-touch surfaces either, with nicely textured, matte-finish harder composites only used sparingly in the usual places for this class. Some highlights worth noting include sporty textured aluminum dash and door inlays, a cool quad of vertical vents for the easy-to-use dual-zone automatic climate control system, a fabulous set of drilled metal harman/kardon stereo speaker grilles on the front portion of the door panels (they sound great too), and beautifully contrast-stitched black leather bolsters for the microsuede-centred front and rear seats.
Nestled within a traditional hooded binnacle, the 12.3-inch primary gauge cluster is fully digital and customizable, with attractive graphics and very functional multi-information content at centre. About two-thirds of the screen is utilized by the route-guidance system's map in default mode, with other driving functions placed to each side. The fully digital gauge cluster comes standard with all XC40 trims, which is a step up from most other offerings in this segment.
Big changes as Volvo upgrades its vertical centre touchscreen to Google OS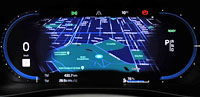 Making up the majority of the centre stack is Volvo's updated tablet-style vertical infotainment touchscreen, which comes with a new Google-derived operating system. Don't expect to find anything resembling Android Auto as far as graphics and usability go, however, as this is designed to appear like a revised version of Volvo's excellent Sensus infotainment interface, with Google not only running in the background, but also taking regular credit when using its "Hey Google" voice activation system. The latter prompt can be used for just about anything from changing radio stations and turning up the heat, to searching for an address in the route guidance system or, in the case of my tester, finding a charging station.
To fully use the system, you'll first need to log in with your Google account, which allows it to fully integrate with your personal smartphone. At this point you can utilize full navigation functions and much more. It's certainly a step up from the outgoing Sensus system, but even previous Volvo owners (and Android Auto users) will need some time to acclimatize, as is the case with most things new.
Navigation woes persist with Google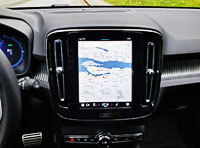 The only issue I had with the system is Google maps, which once-upon-a-time was a superb app, but from more recent personal experience isn't always that accurate. I've had it send me to incorrect addresses and even ask me to perform manoeuvres that would definitely get me a sizeable ticket along with a considerable fine if performed.
For instance, amid rush hour on a busy corridor it rerouted me down a residential side street, obviously trying to escort me past the busier thoroughfare, and then asked me to turn left on another main route, which is an action that wasn't permitted at that time of day, that day of the week, and designated so via signage. These weren't new signs either, but rather this action hasn't been permitted for decades due to such heavy traffic flows in the area. I already knew this, but out of curiosity and testing purposes allowed the system to guide me. Unfortunately, the result was a big fail, and caused me to reroute, which put me further back in traffic than I would've been if I'd just stayed on the route I knew.
A similar scenario played out with the Volvo XC60 B6 hybrid I drove the week prior, in which it tried to take me to the wrong location, although this one seemed due to recent construction. It appears Google maps isn't updating fast enough to compensate for such changes. This said, I find most carmaker-imbedded navigation systems more accurate, or at least I have in recent times.
Dreamy seats and a fabulous driving position are Volvo hallmarks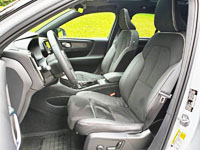 This said, the XC40 Recharge' driving position is superb, like every other Volvo I've driven in recent years. There's plenty of reach from the tilt and telescopic steering column, while the rim is wonderfully comfortable and heated via three different temperature settings. The three-way heatable and three-way cooled seats are wonderfully comfortable too. They're aided by four-way lumbar support, plus all the usual power adjustments as well as manually-extendable lower cushions.
They're attractive too, as noted earlier, with microsuede inserts, leather side bolsters, and nice light grey contrast stitching, plus piping on their outer edges. There's even a tiny blue and yellow Swedish flag sewn on the insides of the backrest, just in case you were wondering where this car was designed and made.
Likewise, the XC40's visibility is better than the class average in all directions, much thanks to a tall greenhouse with few blind spots. This makes parking ultra-easy, a process made even more effortless due to the SUV's subcompact dimensions, not to mention its front and rear Park Assist sensors that visually and audibly warn of close-proximity objects.
Cool features abound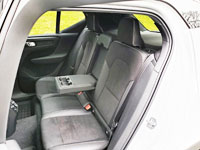 But I'm getting ahead of myself. I haven't even told you how to get the XC40's all-electric Recharge system going. In a nutshell, you don't have to do anything. As soon as you've unlocked and opened the door with the proximity-sensing key fob that can remain in pocket or purse, it's ready to drive. Similar to Tesla, there's no ignition button. It doesn't require the release of an emergency brake either. All you need to do is push or pull the gear lever into "D" for drive or "R" for reverse, and go. When you get to your destination, just press "P" for park and get out of the car. A simple touch of the door handle locks it up ahead of the power mirrors retracting inwards.
Additionally, as part of my previous XC40 reviews I noted a number of unique features designed to make this little ute easier to live with than any rival, such as the two slots on the dash just left of the steering column, perfectly sized for holding gas/credit cards; and the parking pass holder placed next to the driver's windshield pillar is a handy feature too. There's even a little garbage bin integrated within the centre console, with its own push-down lid and easy removability for cleaning. What's more, the carpeted door panel pockets are large enough for a 15-inch laptop as well as a big drink bottle, while the glove box hides a nifty hook that can be flipped outward to hang a purse or shopping bag. There's even an available storage box below the driver's seat, and the list goes on. No wonder the XC40 won European Car of the Year when it was introduced back in 2018.
Convenience is king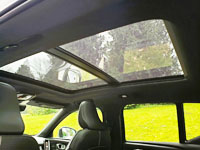 If you're using an older phone, like me, it might be time to upgrade to a USB-C-to-C cable, because there are no USB-A ports available in the XC40 Recharge. Still, the wireless charging pad on the lower centre console powered my phone up quickly enough, plus, on an unrelated yet still appreciated note, to each side was a handy spot for stowing additional items such as sunglasses.
Back to the charging pad itself, I should mention that sometimes while driving I was notified that my phone wasn't charging, at which point I had to physically slide my device back onto the centre of the pad. I have a fairly grippy case, so this was an unusual circumstance. Thankfully, the convenient notification feature let me know my phone wasn't getting any juice, but taller ridges around the charging pad area might better help keep devices in place.
On the positive, I love the panoramic sunroof, and especially like the touch-sensitive slider function used for both the powered front glass roof portion, and the power sunshade. The overhead console is nicely designed too, with LED overhead reading lights that are also touch-sensitive, while even the rearview mirror was well thought out, looking better than average due to being rimless with handy switchgear for the universal remote below.
Comfortable for rear passengers and practical for cargo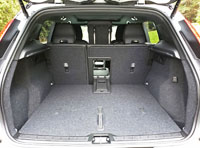 Much of the above can be enjoyed from the roomy rear seats as well, not to mention a large, comfortable centre armrest with dual integrated cupholders that actually hold drinks in place. Tall vertical vents for distributing air evenly to rear passengers can be found on the backside of the front centre console, with three-way rear outboard seat heaters controls located nearby, next to a device charger.
Before delving into rear luggage capacity, take note there's a small carpeted "frunk" under the front hood, which holds 31 litres (1.1 cubic feet) of well-hidden gear, while the rear cargo area is the one that truly matters, measuring 452 litres (16 cu ft) behind the 60/40 split-folding rear seatbacks, and an accommodating 1,328 litres (46.9 cu ft) when those seats are folded flat. Volvo has smartly included a centre pass-through too, large enough for a couple pairs of skis, which means rear passengers will still be able to enjoy the aforementioned heatable window seats.
Notably, a portion of the cargo floor doubles as a grocery bag holder when pulled upright, while opening the rearmost section exposes a compartment below for storing the regular 110-volt three-prong household-style charging cord, which is easily the most robust of any I've ever seen. I used it throughout my test week, and appreciated the blinking light that let me know it was charging. I had no issues charging from home, being that I work there and don't go out every day. This said, it takes nearly two days to fully recharge this "old-fashioned" way, so most owners will want to purchase a higher voltage home charger.
Still looking great after all these years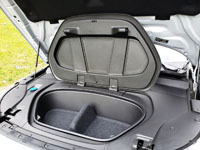 As noted earlier, the XC40 has been with us for a number of years already. Nevertheless, despite having almost a half-decade of experience under its stylish belt, I think it remains one of the better-looking subcompact crossover SUVs on the market, with the Recharge variant adding a more modern take on the design by filling in the grille opening with a nice body-colour cover. I think the little ute manages to balance sporty and cute ideally, making it a good choice for couples that share their ride. Plenty of fun colours can personalize it further, truly allowing for a bespoke appearance.
Of course, I'm biased, as I love the traditional boxy, upright, classic SUV shape, but it only works because Volvo has followed the new XC40 Recharge's significant dose of style up with so an extra helping of function, and plenty of go-fast sport. There's a lot to love about this tiny SUV package, which makes it an ideal candidate for your next new vehicle purchase.
Review and photos by Trevor Hofmann