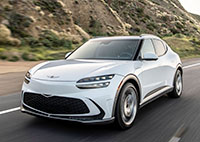 If you've been fortunate enough to spend time in Hyundai's new Ioniq 5 EV or sister company Kia's equally impressive EV6, you'll already know they provide near-luxury levels of features, refinement and performance, not to mention styling in spades, so it's going to take a lot for the Korean automaker's premium Genesis division to top these two standout battery electrics.
Yet despite the daunting task, Genesis has stepped up with a uniquely attractive design, even more standard features including some industry-first technologies, plus a much higher level of luxury than the two more mainstream volume-branded BEVs, as well as even stronger straight-line performance in its top trim level, that also provides even more EV range.
"We are thrilled to begin our momentous journey towards full electrification with the launch of the GV60," said Lawrence Hamilton, executive director of Genesis Motors Canada. "We are excited that our Canadian guests will be able to experience the innovative technologies, bold design, and extensive suite of Genesis Connected Services offered in this distinctive vehicle."
Priced competitively against premium rivals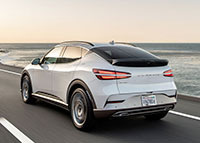 Pricing for the all-new 2023 Genesis GV60 starts at $71,000 (including delivery), which while a sizeable monetary leap from the entry-level trims of its two sub-$45k underlings, is nevertheless reasonable for the premium class. Tesla's Model Y, for instance, starts at $82,100, which is more than $10k dearer than the GV60, whereas Jaguar's I-Pace will set you back a cool $99,800 (for the difference you could park a new Hyundai Tucson in your driveway next to the GV60 and have change left over). Still, Audi's Q4 E-Tron starts at a very reasonable $59,950, but it's important to compare apples to apples, and to that end the new Genesis stacks up very well.
For starters, the GV60 is larger than all of the above. In fact, while smaller than most mid-size luxury crossover SUVs, it provides more passenger volume and cargo capacity than the compact luxury crossovers just mentioned. Before delving into such details, however, let's see how the GV60 lines up against the smaller Audi Q4 E-Tron dollar-for-dollar.
GV60 vs Q4 E-Tron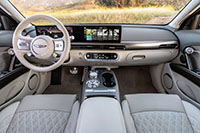 The most basic 2023 GV60 Advanced AWD comes standard with 20-inch alloy wheels (only 19s for the Q4 E-Tron), LED headlights and rear combination lamps (Audi's Matrix LEDs are part of an $8,400 package), supple Nappa leather upholstery (just regular leather for the base Audi), a heatable steering wheel rim (for both), three-way heated and ventilated front seats plus heated rear outboard positions (no standard cooled or rear warmers for the Q4 E-Tron), a panoramic Vision Roof with a powered sunshade (same for both), Fingerprint Authentication and Face Connect (nope), a 12.3-inch digital gauge cluster (just a 10.25-inch driver's display for the German SUV), a head-up display system (part of that aforementioned $8,400 package on the Audi), integrated navigation (part of a lesser $5,400 package with the Q4 E-Tron), and vehicle-to-load charging capability.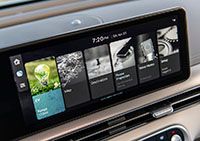 Additionally, a full suite of safety and convenience features is included standard with the GV60, such as adaptive cruise control with stop and go (a $750 option or part of the $8,400 package with the Q4 E-Tron), high beam assist (part of a $1,600 Tech pack or included in the same $8,400 one), and Genesis' list goes on with Highway Driving Assist, Intelligent Speed Limit Assist, Rear Cross-Traffic Collision-Avoidance Assist, Remote Smart Parking Assist, Parking Collision-Avoidance Assist, etcetera.
All said, the partially-loaded Q4 E-Tron Technic (that's the $8,400 package) will set its owner back $68,350 before adding on $890 metallic paint, a smaller set of 20-inch alloys, and a $1,600 Tech package (that includes a head-up display and Audi Connect Plus), as well as $2,700 in freight and PDI costs, resulting in a final total of $74,540, or $3,540 more than the GV60. And that's before factoring in that Audi's base mid-size E-Tron, which is dimensionally closer to the GV60 inside, starts at $89,600 including destination.
Industry-first features set the GV60 apart from all competitors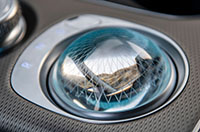 The new GV60 will also be available with some auto industry-first technologies, including Face Connect, Fingerprint Authentication, and Genesis' exclusive Crystal Sphere. The first two of these features have been available on smartphones for some time, making it somewhat surprising that it took an automaker this long to adapt. Nevertheless, Genesis will be first to offer facial recognition via a deep learning-capable Near Infra-Red (NIR) camera in the B-pillar that automatically unlocks or locks the GV60's doors without the need for a key.
Face Connect links to two individual driver profiles, causing the head-up display, powered driver's seat, power steering column, side mirrors, and multimedia settings to adjust automatically once a driver's personal preferences are chosen.
In the same way, Genesis' Fingerprint Authentication System lets drivers start and drive their GV60 without a key.
The Crystal Sphere, on the other hand, is a beautiful translucent orb that acts as a glowing ambient light when the GV60 is turned off, yet upon turning the ignition on it rotates around to provide a shift-by-wire dial for selecting gears. Gimmicky? Maybe. But is it cool? For sure.
Performance is impressive throughout the GV60 lineup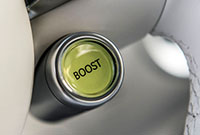 Genesis Canada's entry-level GV60 Advanced AWD trim features a strong power unit with 314 horsepower (234 kW) and 446 lb-ft of immediate torque, while the top-line GV60 Performance AWD, which incidentally starts at $79,000, adds a more potent 160kW front electric motor that combines with the rear motor for an impressive 429 horsepower (320 kW) and the same 446 lb-ft of torque when in Sport Mode, or alternatively 483 horsepower (360 kW) and 516 lb-ft of torque in Boost Mode, which is accessible by pressing a green button on the steering wheel.
Boost mode is kind of a like the "push to pass" system used in Indy Car racing, or nitrous-oxide found on dragsters, as it only provides a short 10-second boost. Still, the result is a rather stimulating 4.0-second sprint from standstill to 100 km/h, which should be good enough for the GV60's luxury crowd. Then again, Kia's EV6 GT reportedly does the deed in just 3.5 seconds, due to a whopping 576 horsepower "under the hood".
Drift Mode and other features set GV60 Performance trim apart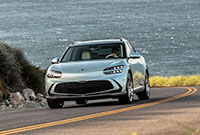 An industry-first feature not yet covered is the GV60's Drift Mode, an unusually welcome function that's ripe for future parking lot testing sessions. According to Genesis, Drift Mode uses the braking system along with rear-motor torque in order to break traction at the rear wheels to cause oversteer, after which the crossover's significant heft should carry the power slide through. There's no word on whether the feature further utilizes the GV60's stability management system to "catch" the slide before a spin, this normally requiring opposite lock steering along with driver skill to accomplish.
The Performance package also adds an Electronic Limited Slip Differential (E-LSD), plus an Electronically Controlled Suspension with Road Preview, and Active Noise Cancellation, while additional features include an Ergo Motion massaging driver's seat, Apple CarPlay and Android Auto smartphone integration, a 17-speaker Bang & Olufsen premium audio system, surround view and blind spot view monitors, alloy pedals, and larger 21-inch alloy wheels.
Range matters most for EV buyers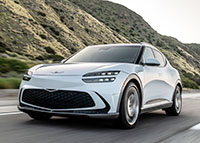 Genesis has yet to announce EV range specifics, but Canada's all-wheel drive-only variant should be capable of about 400 km (249 mi), or about the same as the two Hyundai and Kia AWD models that are also based on Hyundai group's E-GMP platform—the U.S. rear-drive version can supposedly eke out another 50 or so km (30 mi). Unlike Tesla's performance models, however, which provide more range with added go-fast goodness (as long as that performance isn't used), the GV60 Performance model is said to get 368 km (229 mi) of range between charges. Of course, these estimates may differ when calculated to Environment Canada's requirements, but the just-noted Korean-specs should be in the ballpark.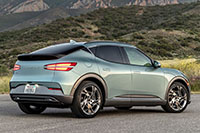 A Hyundai-first (but unfortunately not an industry-first), the GV60 will be able to fill the cabin with faux engine/exhaust noise via the audio system. New electric-Active Sound Design (e-ASD) recreates such familiar noises based on the GV60's speed and given driving mode, not to mention the level of pressure on the throttle.
More importantly, Genesis Connected Services will allow drivers to find a charging station (or their vehicle), remotely adjust the climate control system, remotely monitor their GV60, plus keep track of its average range and battery status, while it also has the ability to start a charge, schedule a future charge (when the price of electricity might be lower), or stop charging completely. Additionally, over-the-air (OTA) software updates allow the GV60 to keep its features up-to-date without the need of downloading updates to a USB and loading them on manually, or visiting a Genesis dealership.
Size is critically important in the crossover SUV camp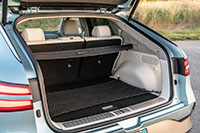 Back to the GV60's size, Genesis chose to make it a bit shorter overall than its volume-branded siblings, which makes it somewhat less accommodating inside in most configurations. The entire car measures 4,515 millimetres (177.7 inches) from nose to tail, while its 2,900-mm (114.2-in) wheelbase is 100 mm (3.9 in) shorter than the Ioniq 5's and identical to the EV6, but passenger volume is good at 2,863 litres (101.1 cu ft), making it only 153 litres (5.4 cu ft) smaller than the Ioniq 5 and just 54 litres (1.9 cu ft) shy of the EV6.
Likewise, the GV60's cargo capacity is generous at 680 litres (24.0 cu ft) behind the second row and 1,549 litres (54.7 cu ft) when those rear seats are folded flat, resulting in a downgrade of 90 litres (3.2 cu ft) from the Ioniq 5's dedicated cargo volume and merely 11 litres (0.4 cu ft) when compared to the EV6, whereas maximum cargo capacity is off by 130 litres (4.6 cu ft) in Hyundai's variant, while it actually grows by 127 litres (4.5 cu ft) over the Kia.
How does the GV60 size up?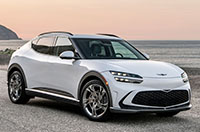 All said, such passenger and cargo volumes leave the GV60 within the smaller set of mid-size luxury crossover EVs, such as Jaguar's I-Pace, albeit still fairly close to competitors like Audi's aforementioned mid-size E-Tron, BMW's iX, and Cadillac's upcoming Lyric.
For those wanting more space, a Genesis SUV will likely ride on the back of Hyundai's upcoming Ioniq 7, the latter being a much larger three-row crossover EV.
If the new 2023 GV60 sounds like a good fit for you and your family, Genesis Canada will start taking orders this week, while new examples will already start arriving at Genesis dealerships by the end of this month.
Of note, the new GV60 will be followed up by the launch of Genesis' Electrified G80 mid-size sport-luxury sedan, while all new Genesis models will be fully-electrified by 2025, with a goal of 100-percent electrification across the entire range by 2030, five years before the brand plans to achieve carbon neutrality.
The First-Ever Genesis GV60 | Genesis Canada (0.47):

The All-Electric Genesis GV60 | Senses | Genesis USA (0:40):

Story credit: Trevor Hofmann
Photo credits: Genesis