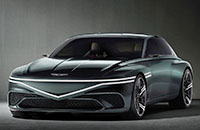 With the world's automotive sector quickly transitioning from internal combustion engines and interim hybrid-electric models to fully-electric battery-powered vehicles, some of the automotive industry's most cherished styling elements have not only become redundant, but in fact detrimental to an electric vehicle's efficiency.
First and foremost is the front grille, which was previously necessary to cool the engine, yet now impedes aerodynamics. Certainly, some cooling is needed, particularly for the battery, but battery-builders and automakers are resolving such issues with every new generation, which means frontal openings are now only needed for cabin airflow and possibly brake cooling on performance models.
Balancing aerodynamics with design character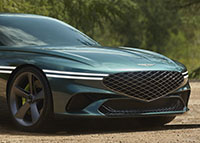 The issue for designers comes down to character. If automakers simply removed their cars' grilles to enhance aerodynamic efficiencies, every new car would look faceless, like a Tesla Model 3 or Model Y. Like others in the industry, such as Volvo and its Recharge EV models, new Genesis X Speedium Coupe Concept deals with this challenge by creating a frontal grille outline filled a body panel, but the creative way it extends its unique signature "Two Lines" headlamp/side marker lighting elements around that grille in a "V" shape, similar to the equally gorgeous Genesis X Coupe Concept that came before, is innovative.
Anyone guessing whether the new Speedium is destined to be a personal luxury coupe or something with serious performance credentials only needs to look at the aggressive fender flairs and windswept Kamm tail that juts up out of the rear deck lid as if it came straight off a Shelby Cobra Daytona coupe. Yellow/green-painted brake calipers further hint at the Speedium's go-fast personality, not to mention the massive rims and wafer-thin rubber surrounding them.
Could a four-door coupe be in the cards?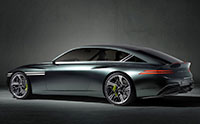 Back to personal luxury, an unusual greenhouse design shows this coupe is at the very least a 2+2, but more likely as accommodating inside as today's four-door luxury coupes, and could very much receive rear doors, like Porsche's Taycan, Audi's E-Tron RS, and others before it heads to production, but it's nice to believe a two-door variant might get the nod as well, so it could offer a potent BEV alternative to Mercedes' S-Class Coupe, BMW's 8 Series Coupe, Lexus' LC, or, a bit further down the pecking order, Infiniti's Q60.
The side profile and rear design pays a great deal of respect to the aforementioned X Concept, and being that Genesis hasn't shown any interior images of the new Speedium, some shots of its predecessor were added to the gallery for your perusal. It's a stunning interior, which places a visual priority on the driver via camel brown-tanned hides and equally earthy composites, compared to stark anthracite grey elsewhere. Photos of the previous concept have been included in the gallery as well, as well as videos below, just so you can see the transitional differences and similarities.
Genesis has yet to announce a production version of either the Concept X or X Speedium Coupe Concept, but we expect something bold from the Korean brand in this segment soon.
The Genesis X Concept Reveal | Genesis (1:43):

The Genesis X Concept Reveal Event in LA | X Concept | Future Vehicles | Genesis USA (17:31):

The Genesis X California Film | X Concept | Future Vehicles | Genesis USA (1:31):

Story credits: Trevor Hofmann
Photo credits: Genesis