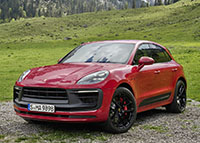 Call it the seven-year itch, but Porsche is updating its popular Macan compact luxury SUV for 2022.
This will be the Macan's second refresh, the first update affecting 2019 to 2021 models. That version received exterior styling modifications, including the current crossover's three-dimensional tail lamps, plus changes to the cabin, specifically a reworked centre stack that added a bigger 10.9-inch, high-definition touchscreen with a reconfigured infotainment interface up top, a fresh set of quick-access controls just below, and new HVAC vents underneath both.
For 2022, the Macan boasts an even more dramatic exterior redesign, plus an overhaul of the lower centre console, while under the skin it gets powertrain upgrades as well as some suspension tweaks to improve handling.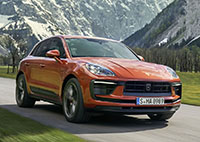 Some of those behind-the-scenes changes are likely due to the need to incorporate an electric drivetrain in the next couple of years. We reported on this in detail recently, noting the upcoming Macan EV is currently testing in real-world conditions. This will likely be the Macan's top-of-the-line power unit, in various stages of tune, and might just receive the "Turbo" and "Turbo S" trim designations when available, just like it does with the quickest Taycan EVs. Therefore, it makes sense that Porsche has dropped its Turbo trim line for 2022, now only offering the GTS as its more potent SUV challenger.
Before getting your mittens in a twist, take note that the new Macan GTS receives a 59-horsepower and 22 lb-ft gift for 2022, thanks to Porsche integrating the 2.9-litre twin-turbo V6 from last year's Macan Turbo between the front struts of the lesser trim line, the result being the exact same 434 horsepower and 405 lb-ft of torque found in 2021's top-tier Macan. Thus, the Macan GTS can be flung from zero to 100 km/h in an identical 4.3 seconds, when equipped with its Sport Chrono package, while the SUV's top track speed has also been increased from 270 km/h with last year's Turbo to 272 km/h for this year's GTS, possibly due to aerodynamic benefits from the updated styling.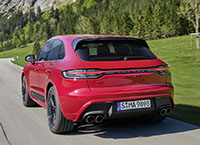 Thanks to the new upgraded 2022 GTS, it only made sense for Porsche to enhance the powerplants downstream too, resulting in the old 2021 GTS' 2.9-litre twin-turbo V6 making the move over to the new 2022 Macan S. This engine continues to make 375 horsepower and 383 lb-ft of torque, which is a 27-horsepower and 31-lb-ft boost over the 100-cc larger V6 used in last year's S, that 3.0-litre unit now cancelled. All in all, the new Macan S matches the old Macan GTS in a straight line, zipping from standstill to 100 km/h in just 4.6 seconds with its Sport Chrono package upgrade, while its terminal velocity is now said to be three seconds faster at 259 km/h.
While all this is good news from a value perspective, because Macan buyers will soon be getting a lot more performance for their money, it really only came down to a shuffling of trim name designations, but this isn't so at the Macan's point of entry where its turbocharged 2.0-litre four-cylinder engine gets some significant upgrades that provide another 13 horsepower and 22 lb-ft of torque over its predecessor, for a final tally of 261 horsepower and 295 lb-ft. Therefore, the entry model's zero to 100 km/h sprint gets shaved by three seconds to just 6.2 when its optional Sport Chrono package is included, all be topping out 3 km/h faster than last year's turbo-four, at 232 km/h.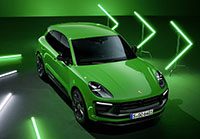 Just like before, all 2022 Macans come with the seven-speed Porsche dual-clutch transmission (PDK), as well as standard Porsche Traction Management (PTM) all-wheel-drive, which has proven to be a good combination for quick-shifting yet efficient performance no matter the weather conditions.
As for road-holding, few Macan owners have find much to complain about, the SUV arguably being one of the better handling offerings in the compact luxury SUV segment. Just the same, Porsche chose to make it better by giving it a more direct, sports car-like feel that provides greater feedback from the steering system. To achieve this, the German luxury brand readapted the damper characteristics of its Porsche Active Suspension Management (PASM) so that it actively and continuously regulates damping forces to each individual wheel. PASM, which comes standard with S and GTS trim lines, is optional with the base model.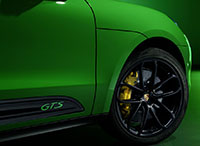 Added to this is a standard sport air suspension with the Macan GTS. This setup automatically lowers the body by 10 mm so as to enhance stability at high-speed. The air suspension is 10 percent more rigid at the front axle too, plus 15 percent firmer at the back axle, while an available GTS Sport package increases the wheel and tire package to 21 inches, plus adds Porsche Torque Vectoring Plus (PTV Plus), and the Sport Chrono package as standard equipment, making this top-line Macan (so far) even more capable on road and track.
As noted earlier, the new 2022 Macan's higher terminal speeds are probably due to improved aero, which includes a completely reshaped front fascia that incorporates a much stronger looking grille and corner vent arrangement, the latter being bigger and more upright in layout, similar to those featured on the brand's legendary 911 sports car. The new Macan now looks wider and more capable, which is a visual follow-up to all the suspension upgrades.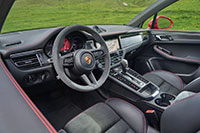 While base and S trims look nearly identical from the front, even including the same LED headlights incorporating the Porsche Dynamic Light System (PDLS) as standard, and standard Sport Design exterior mirrors are also included, the GTS receives an even more aggressive grille featuring unique airflow elements that change from body-colour to matte black, while this top-level trim's sideblades once again display a scripted "GTS" trim designation. This said, that sideblade GTS script is written in body-colour when choosing new optional Python Green paint, while it can also be optionally enhanced with a new 3D structure design, available on the rear diffuser too.
As usual, the Macan visually distinguishes each trim line with special sets of tailpipes, the just-mentioned rear diffuser housing four circular exhaust tips on S and GTS models, or alternatively two rectangular ones for the base model.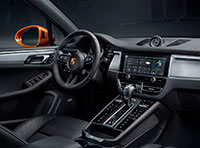 Personalization is always a popular option with Porsche buyers, thus your 2022 Macan can be had in 14 unique exterior colours, including new Papaya Metallic and Gentian Blue Metallic, plus of course the aforementioned Python Green that's only available with the GTS if it's upgraded with the GTS Sport package. What's more, Porsche Exclusive Manufaktur provides Individual Colour and Paint-To-Sample options, so there's really no end to exterior paint choices.
Rounding out the entire package are larger standard alloys and rubber, now measuring 19 inches for the entry-level turbo-four model, 20 inches on the mid-range Macan S, and 21 inches for the top-tier GTS. Seven new wheel designs are now available, once again making customization more convenient than ever.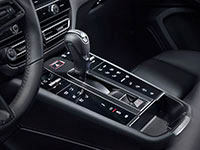 Inside, the most noticeable changes were once again made in the middle, or more precisely the sloping lower centre that's now covered in touch-sensitive switchgear, other than the Macan's two-zone auto climate control system's temperature selectors that remain knurled in metal. Overall, the look is clean and minimalist, plus the two parallel panels should be easier to literally wipe clean. What's more, the new console features a shorter gear lever for a sportier feel, while up on top of the dash, all Macans now include a standard analogue clock.
Just in front of the driver, the new 2022 Macan includes the new 911's multifunction and GT Sport steering wheels, which is a good way to further enhance the SUV's sports car-like driving experience. One of the buttons on the new wheels' spokes also activates voice commands to control functions in the previously-noted full-HD 10.9-inch Porsche Communication Management system, making life with the new model easier.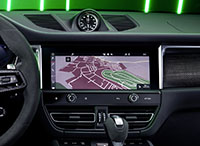 Back to customization, Porsche has no shortage of interior colour options either, such as leather upholstery and contrasting seam packages in Gentian Blue, Papaya or Crayon, while the available GTS Sport package gets some exclusive design details and equipment such as Race-Tex upholstery with extended leather, a Carbon interior package, 18-way sport seats, as well as contrast stitching and GTS lettering in body-colour green when choosing Python Green exterior paint.
What does all this cost? The updated 2022 Macan starts at $58,500 (plus freight and fees), while the new Macan S is available from $70,600, and the Macan GTS from $85,500. Those wanting their GTS with the model's ultimate GTS Sport Package will need to add $13,470 to their bill, for a total of $98,970 before any other options.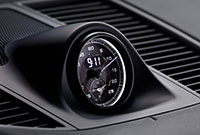 In the end, no matter which 2022 Macan trim line you purchase, it promises to be faster and a bit more advanced than its predecessor, while providing the same kind of luxury, comfortable interior accommodations, and dependable service the Macan has become known for.
Regarding the latter, the Macan earned the highest possible ranking in J.D. Power and Associates 2021 Vehicle Dependability Study's Compact Premium SUV category, while the same study also placed the Porsche brand in second amongst 16 luxury rivals. Likewise, the Macan achieves similar results when holding its resale value, with the Canadian Black Book Best Retained Value Awards naming it best in its Compact Luxury Crossover-SUV class for both 2019 and 2020.
The new 2022 Macan is not yet available, but if you need to trade up to a new model now take note that Porsche is currently offering factory leasing and financing rates from zero percent, while CarCostCanada members are saving an average of $2,750 when purchasing a new 2021 Macan. Find out how CarCostCanada can help you save when buying your next car, by providing all the latest rebate info as well as dealer invoice pricing, and remember to download their free app from the Google Play Store or Apple Store, so you can have all their critical info on hand when you need it most.
The new Porsche Macan – Dare forward (0:57):

Story credits: Trevor Hofmann
Photo credits: Porsche