Looking for a great deal on a very good premium sedan? I can think of a number of reasons to consider the Acura ILX, but the opportunity for a heavily discounted final purchase price is definitely on top of the list.
The ILX' MSRP ranges from a base of $30,805, plus freight and fees, to $36,205 for the top-line A-Spec Tech shown here, which is a seriously competitive starting point. This said, the ability to obtain a significant discount has never been better. In fact, Acura Canada is offering up to $1,000 in additional incentives with no questions asked, while CarCostCanada members are saving an average of $7,500! With discounts like that, Civic buyers should even be taking a look at the good old ILX.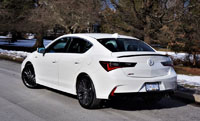 To be clear, the ILX isn't just a Civic with a body kit, as some like to refer to it. Way back in the early days of Acura, the ILX' predecessor only provided a few mild styling modifications, a leather-trimmed interior, some other cabin enhancements, a slightly stiffer suspension, and Civic Si engine-tuning in its top trim in order to earn its Acura badge. Nevertheless, the long forgotten 1.6EL (1997–2000), which was based on the Japanese domestic market (JDM) Honda Domani and optionally used the same 127-horsepower engine as the Si here in Canada, plus the 1.7EL (2001–2005), which still made 127 horses despite getting a 100-cc bump in displacement, sold quite well, paving the way for the much-improved CSX (2006-2011), a model that was only sold in Canada, and actually inspired the JDM Civic's styling (not the other way around, like so many critics have wrongly stated).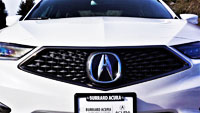 The ILX entered the import scene in 2012 as a 2013 model, and believe it or not is still based on the ninth-generation Civic that first appeared in 2011 (2022 will see an all-new 11th-gen Civic, to put that into perspective). That's an antiquated platform architecture, to be sure, but this oldie was a goodie. It looked like it was designed from the ground up to be an Acura too, as did the interior, while performance from its optional 201-hp Si-derived powerplant was strong, albeit this engine's sole six-speed manual transmission kept it from being as popular as the 150-hp 1.5-litre variant. A Civic-sourced hybrid drivetrain was also offered.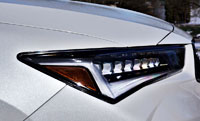 Acura provided a stiffer steering shaft for sharper turn-in, plus special "Amplitude Reactive" dampers to further improve handling as well as ride quality, and voila, its new compact competitor found serious traction on the sales charts, achieving a height of 3,192 Canadian deliveries in 2013, which put it fourth behind Buick's now defunct Verano (with 5,573 units sold that year), Mini's Cooper (3,946), and Mercedes' discontinued B-Class (3,207).
Mercedes dominates this segment these days, its second-generation CLA-Class now joined by a new A-Class Sedan and Hatch for a total of 3,440-unit sales in 2020, while the ILX slipped from fourth to fifth in popularity due to just 774 deliveries last year. Being that the entire premium C-segment (and B-segment) includes a mere six models, that's nothing to write home about, but then again managing to still sell anything after being around so long is a feat in itself.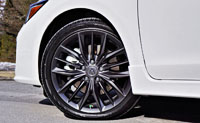 To be fair, Acura has made some big changes to the ILX throughout its nine-year tenure, the most significant in 2016 when an eight-speed dual-clutch automatic with steering wheel-mounted paddles was mated to the potent 2.4-litre four-cylinder, which became the standard engine that year. It received a 10 lb-ft bump in max torque as well, the new mill putting out 180 lb-ft in total, while Acura also gave this upgraded ILX its distinctive "Jewel Eye" LED headlamps and a slightly revised "shield" grille for 2016, along with standard LED taillights. Sportier A-Spec trim was added too, the test car shown here finished off top-tier A-Spec Tech trim.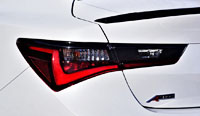 This one wears the much more visually dramatic "Diamond Pentagon" grille, however, which was added for the 2019 model. That car also received more aggressive headlights along with more sharply angled tail lamps, plus updates to most every other exterior panel, while the cabin incorporated new seats, with optional red leather upholstery in the microsuede-enhanced A-Spec. Finally, the infotainment system responded to inputs 30 percent faster than its predecessor, and Acura's suite of advanced AcuraWatch safety features became standard. The car on these pages hasn't changed since, which is probably why sales have steadily dropped, but that doesn't mean it's not worthy of your attention.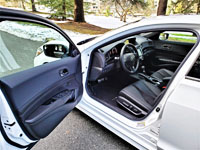 Today's 2.4-litre four still makes 201 horsepower, which while not as strong as some in this class, remains naturally aspirated and therefore a joy to rev well past its 7,000 rpm redline. It sounds fabulous when doing so too, while the fully-automated eight-speed dual-clutch gearbox delivers quick, smooth shifts that are ideally matched to the powerplant, its front-wheel drive layout the only negative in an otherwise wholly positive experience. Even then, the 225/40R18 Continentals hooked up well, with very little pull on the steering wheel at full throttle, even when taking off from a corner, with the overall driving feel coming across like a particularly well-finished Civic Si Sedan.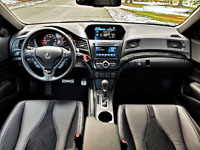 Yes, I know the 10th-generation Civic Si Sedan's interior is much more modern than this ILX, especially when it comes to the primary gauge cluster and steering wheel controls. The former is made up of analogue dials bookending a simple two-colour multi-information display (MID), with the otherwise grey screen highlighted by some nice bright greens when using adaptive cruise control, but Acura's dual-stack of infotainment displays was pretty high-tech when introduced, and still works well. The lower touchscreen is especially easy to operate, and while the graphics are a bit dated and display quality not quite up to today's high-definition standards, I'm not going to rag on this system or any of Acura's infotainment foibles right now, other than to say their unnecessary complexity isn't as appealing to me as Honda's excellent touchscreen systems. To that tend, the ILX offers a bit of both worlds, resulting in a system I certainly like better than some of the brand's more recent concoctions.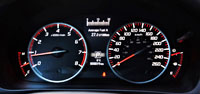 Just the same, purchasing a car as well-seasoned as the ILX means you'll need to forgo some of the industry's latest features and design elements. I didn't mind the aforementioned MID, as all info was crisply and clearly displayed, plus a fair bit of info was available, from audio stations, to phone and voice prompt controls, plus the aforementioned cruise control. Likewise, the analogue dials were bright and easy to read in all conditions. The steering wheel controls, while not including the outgoing Civic's ergonomically-designed volume switch and four-way rockers on both sides for most other functions, are made from high quality composites with good fit and decent damping.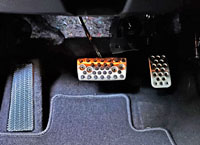 The infotainment's system's upper display is controlled by rotating a big knob and pressing surrounding buttons found just below the lower centre touchscreen, this top monitor being dedicated to navigation info, smartphone connectivity, car settings, and a few other functions. The touch capacitive screen just below, on the other hand, allows comprehensive control of the audio system. Both displays are full-colour, albeit only various blue hues are used for the latter. Again, it's dated look will only matter to those enamoured with more modern systems, because the screen is reasonably high in resolution and the interface is nicely laid out with decent enough graphics. It all works well too, while the navigation system was especially accurate. What's more, my tester's ELS Studio sound system pumped out tunes brilliantly, plus its satellite radio signal came in nice and clear most of the time.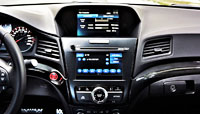 The ILX' dual-zone automatic climate control interface is pretty straightforward, with big dials to each side and buttons in between. Again, the quality of the switchgear is pretty good, with nice, tightly fitted buttons, but Acura hasn't even included a digital display to accompany the controls, so it all looks fairly basic. Likewise, the lower console-mounted two-way rocker switches for the heatable front seats are throwbacks to simpler times, as are the classic Honda-sourced power window and mirror controls on the driver's door, while the fuel and trunk release levers attached to the driver's inside rocker panel next to the floor are so old school they're cool.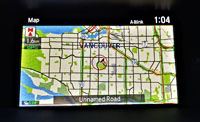 A classic handbrake is another sign this is an older model, and I suppose, being that Acura now uses push-buttons and pull-tabs for gear selection on most of its vehicles these days, the conventional gear lever and its time-tested PRND layout is just one more reminder of yesterday. There's no way to shift manually by the lever itself, but that hardly matters being that, as noted earlier, the ILX comes complete with paddles. Therefore, simply slot it into "D" to eke the most from a tank of fuel or "S" for Sport mode, and drive like a miser or, alternatively, shift to your heart's content.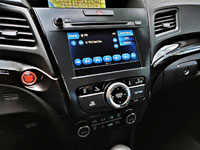 Sport mode allows for higher revs between gear changes, the engine freely spinning past 7,000 revs per minute when wrung out for all its worth, resulting in motive force that's as wonderfully engaging and every bit as capable as when found in the old Si. Yes, I'm aware that I'm repeating myself, but I absolutely love this 2.4-litre four, so allow me some fanboy leeway. I'll also reiterate that the dual-clutch automated manual is superbly matched to this peaky engine, allowing some playful fun when called upon, yet shifting early enough to save on fuel when in normal default mode.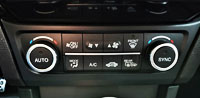 On that note, claimed fuel economy is thrifty considering the available performance, at 9.9 L/100km in the city, 7.0 on the highway and 8.6 combined, incidentally beating BMW's 228i xDrive Gran Coupe that's only good for 8.8 L/100km combined city/highway, but take note the Bimmer comes standard with AWD, while Mercedes' A220 4Matic Sedan is even stingier at 8.4 L/100km combined (4Matic means AWD in Mercedes-speak, incidentally), while Audi's FWD A3 is good for a near hybrid-like 7.8 L/100km combined.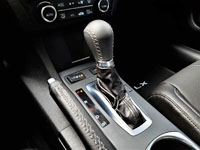 Now that we've slowed down, some finely crafted detailing worth noting includes a soft leather-wrapped steering wheel rim with nicely carved thumb spats and contrast-stitched baseball-style stitching around the inside, plus the same treatment applied to the shift knob and the handbrake lever's grip. That handbrake feels incredibly well-made too, with a level of solidity not normally found with such devices, and this said, I must attest to preferring a hand-applied parking brake to an electromechanical one when driving a performance car. In fact, as good as the eight-speed auto is, the very inclusion of a handbrake made me long for the Si's phenomenal six-speed manual, although I can understand why Acura didn't bother bringing one to market, being that the take-rate would probably be less than 10 percent.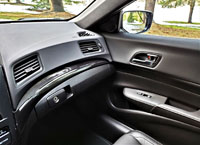 Driver's position is important for any performance car, and to that end Acura has done a fine job with this ILX. The beautifully finished front seats, complete with contrast-stitched leather bolsters and insets, the latter adorned with an hourglass-shaped strip of ultra-suede down the middle, hug the backside nicely for optimal control through tight, twisting curves. The driver seat's adjustability was excellent, with enough fore and aft movement for most body types, which when combined with ample reach from the tilt and telescopic steering column made for adequate comfort and control.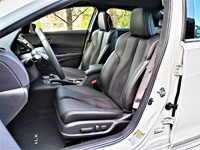 When seated behind the driver's seat, which was set up for my long-legged, short-torso five-foot-eight frame, I still had plenty of space for my knees and feet, plus about three inches over my head. Likewise, Acura provides good side-to-side spaciousness, although I wouldn't have been as comfortable if three were abreast in back. The usual flip-down centre armrest was wide enough for two arms resting, but the dual cupholders infused within were substandard for this class, particularly compared to the innovative drink-holding contraptions offered by the Germans. A magazine pouch on the backside of the front passenger seat sums up everything else provided for rear passenger pampering, while no centre pass-through or divided rear seatback means that skiers are forced to strap boards to a rooftop rack when more than two occupants are aboard.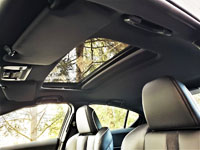 At least those rear outboard seats are comfortable and covered with the same high-grade leather and suede upholstery as those up front, while the aft compartment's door panels are finished off just as nicely as the one ahead as well. This means high-quality soft padded synthetic covers the door uppers, while a nicer stitched leatherette with even softer padding is applied to the inserts and armrests, plus this segment's usual hard composite for the lower third of each door.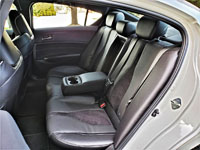 Some less significant areas of weakness include a lack of fabric wrapping for the roof pillars, which is kind of a premium brand status staple, plus the ILX only gets a simple moonroof overhead, when others in the class offer larger panoramic glass openings. Also, where the soft-touch synthetic dash top is finished all the way down to its midpoint, and the dark grey inlays are up to par, the plastic used for the lower half of the dash, including the glove box lid, as well as that on the lower centre console, is less than ideal.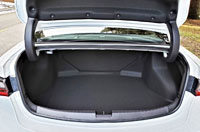 Of course, this reflects in the ILX' aforementioned pricing, and becomes an absolute nonissue when factoring in available discounts. Adding to this car's list of accolades is Acura's seventh out of 17 premium brand ranking (Buick, Mini and Tesla were included as premium brands) in J.D. Power's latest 2021 Vehicle Dependability Study, in which it was only beaten by Lexus, Porsche, Buick, Cadillac, Genesis and Lincoln, none of which compete in the ILX' entry-level B category. Hopefully, now knowing this, plus the ILX' many additional attributes, might leave you seriously considering a car that might not have caused you much deliberation before reading this review.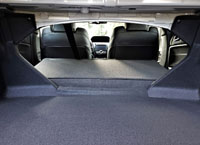 All said, be sure to visit CarCostCanada's 2021 Acura ILX Canada Prices page to find out more, including detailed trim pricing and available options, and while you're at it find out how accessing dealer invoice pricing can help out when negotiating your best deal on a new vehicle, not to mention how having all this information on a smartphone app will turn you into a car buying pro the next time you're visiting any retail dealership. Download the free CarCostCanada app from the Apple Store or Google Play Store now.
Review and photos by Trevor Hofmann