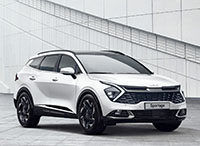 Kia has gone from a lineup of smooth, sleek cars and utilities, to embracing an edgier, sportier design language that's all about forward thought and has little to do with hanging onto the past.
Just take a look at today's K5 (née Optima) mid-size family sedan, or the premium-level Stinger sport sedan, not to mention the Seltos subcompact crossover SUV, the always funky Soul, all-new Sorento mid-size SUV, rugged looking Telluride full-size SUV, and the recently renewed Carnival (née Sedona) mid-size van, while the new K3 will soon mix it up in the compact sedan class when it replaces today's Forte. Each new Kia design pushes the mainstream volume brand to sharper, wedgier extremes, and now it's the Sportage compact crossover SUV's turn to transform from ovoid to edgy.
At first glance, the 2023 Sportage appears like Kia's most aggressive attempt to push that design envelope yet. If the current Sportage seemed to pull inspiration from Porsche's Cayenne when introduced in 2016, the creators of this fifth-generation SUV were tapping into the genes of Lamborghini's Urus, or at least Audi's RS Q8.
This makes sense considering the president and chief design officer of the entire Hyundai Motor Group is one Peter Schreyer, previously responsible for Audi's TT (and A3, A4, A6, etc.), Volkswagen's New Beetle (and Golf, Eos, etc.), a slew of Hyundai and Genesis models, plus everything Kia has put to market since 2008 when he took over the design department. No wonder Kia has been producing such great looking models over the past decade.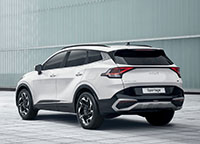 The new Sportage is designed to turn heads, with a futuristic front fascia that'll have you searching to find the headlights. They're tiny LEDs in complex clusters set within two boomerang-shaped LED driving lights, both of which bookend the wide gloss-black grille positioned below a set of narrow, horizontal nostril-like openings. It's a radical design that nevertheless should be pleasing to a large swath of SUV buyers that are currently wanting something sporty yet practical to trade up to from their less-appealing cars.
From profile, the new Sportage features a lot of side sculpting on the door panels, with a narrow greenhouse up top, for added visual length, and some really attractive detail around the lower rocker panels, giving the SUV an exposed structural look that lightens its overall presence.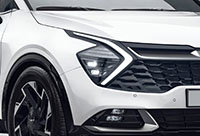 While the new Sportage looks more conventional from the rear, its body-wide taillight cluster lends to a feeling of width, with a thinness at its mid-section that almost makes it seem like it was stretched into place. All of that delicate detail is supported by a meaty rear bumper section that's a visual extension from the just-noted blackened rockers, continuing upward to encompass two-thirds the SUV's backside, and capped off by angular metal-look trim that mirrors a similar treatment on the aforementioned rockers and lower front fascia, the latter surrounding a set of LED fog lamps. The edgy treatment continues over to the sizeable alloy wheels, which are machine-finished with glossy black pockets in order to make them an intrinsic part of the design.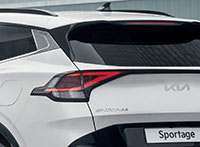 "Reinventing the Sportage gave our talented design teams a tremendous opportunity to do something new; to take inspiration from the recent brand relaunch and introduction of EV6 to inspire customers through modern and innovative SUV design," said Karim Habib, Senior Vice President and Head of Global Design Center. "With the all-new Sportage, we didn't simply want to take one step forward but instead move on to a different level in the SUV class."
Kia's new design language, which they call "Opposites United", continues into the cabin where the uniquely shaped air vents and horizontal instrument panel trim combine like parentheses to highlight the massive dual-display primary gauge cluster and infotainment touchscreen within.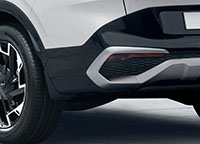 The single-screen layout follows a driver display design that both Kia and the namesake brand of its parent company Hyundai have been utilizing in their most recent models, which incorporates some of the most advanced tech in the industry, particularly rear-facing camera monitors that automatically provide a rearward view down either side of the vehicle when using the turn signal.
A row of switchgear follows the horizontal theme just below, integrating a nicely organized dual-zone automatic climate control panel at the mid-point, while a gently sloping piano black lacquered centre console is filled with an engine start/stop button, a rotating gear selection controller, a drive mode selector, and various other driving related buttons to the left, plus switches for the heated and cooled front seats and heatable steering wheel rim to the right. A wireless charging pad is likely fitted under the lidded compartment just ahead of this cluster of controls, along with USB ports and other connectivity/charging interfaces for personal devices.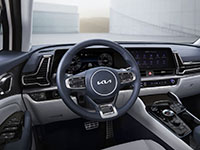 "When you see the all-new Sportage in person, with its sleek but powerfully dynamic stance, and when you sit inside the detailed-oriented cabin with its beautifully detailed interior and first-class materials, you'll see we have achieved those goals and set new benchmarks," added Habib. "In the all-new Sportage, we believe you can see the future of our brand and our products."
Kia hasn't shown any other details, such as its front and rear seating or the cargo compartment, but capacities should be similar to the new Hyundai Tucson that shares its underpinnings, and that compact crossover SUV has grown in size from its predecessor, now measuring 4,605 mm (181.3 inches) from nose to tail, which makes it 155 mm (6.1 in) longer than before, with a 2,751 mm (108.3 in) wheelbase that's grown by 86 mm (3.4 in), plus it's around half an inch (12-13 mm) wider and taller than the SUV it replaces.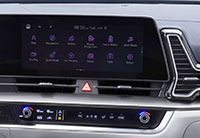 The Sportage has long shared mechanical components with the Tucson as well, so we can expect a version of the same 2.5-litre four-cylinder engine, which makes 190 horsepower and 182 lb-ft of torque in the compact Hyundai. The Tucson utilizes an eight-speed automatic transmission across its entire trim line too, which should be the only gearbox used in the Sportage as well, while Hyundai's compact SUV provides a front-wheel drive train in lower priced models, plus optional all-wheel drive.
We can expect more details closer to the new Sportage launch, which should take place sometime next year. All the usual trims should be available, as well as an off-road oriented X-Line version, plus a new hybrid-electric based on the latest 2022 Tucson Hybrid.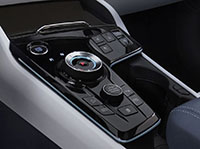 For the time being, Kia is offering the latest 2022 Sportage with up to $750 in additional incentives, as well as $2,500 off of 2021 models, while CarCostCanada members are averaging savings of $2,361. Check their 2022 and 2021 Kia Sportage Canada Prices pages for all the details, including complete trim pricing with all available options and colours.
Also, learn how the CarCostCanada system works so you can save big on your next new vehicle purchase too, by accessing manufacturer rebate information, factory financing and leasing deals, and especially dealer invoice pricing. What's more, remember to download the free CarCostCanada app from the Apple Store or Google Play Store, so you can have all of this valuable information on your device when you need it most.
Story by Trevor Hofmann
Photos by Kia