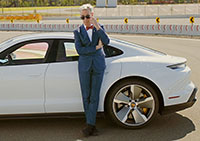 Porsche's new Taycan is one of the most technologically advanced electric vehicles available today, but that doesn't mean non-engineering folk need to stay in the dark about how it works.
Fortunately, Porsche hired Bill Nye The Science Guy, a popular TV personality, to explain the science behind the tech, resulting in a five-part short video series. The episodes, which run from just under one minute to a-minute-and-a-half long, focus in on those technologies that separate the Taycan from key competitors, such as the model's 800-volt battery, innovative aerodynamics, regenerative braking, two-speed transmission, and repeatable performance.
Named "Bill Nye Explains The All-Electric Taycan," the YouTube series is filmed at the Porsche Experience Center in Los Angeles, California. The zany host helps clarify subject matter that would likely be difficult to understand for most viewers. He uses simple terms and silly antics, resulting in an entertaining series that's fun for all ages.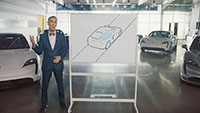 The Taycan only arrived on the electric scene last year, but it's already available in two body unique styles and four separate trims, the latter including the 4, 4S, Turbo and Turbo S.
The low-slung Taycan four-door coupe is available in three of the four trims, including 4S, Turbo and Turbo S, whereas the new Taycan Cross Turismo can also be had as a base model. What's more, the Cross Turismo can be optioned out with an Off-road Design package that increases its ride height, and adds beefier, more aggressive styling upgrades.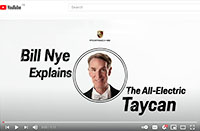 Top-tier Taycan Turbo S trim is capable of accelerating from standstill to 100 km/h in a mere 2.8 seconds, due to its 750-horsepower twin-electric-motor power unit, while standard all-wheel drive means that all four tires maintain adhesion to the road no matter the surface below or surrounding conditions.
Porsche is currently offering the 2021 Taycan with factory leasing and financing rates from zero-percent, so make sure to link through to CarCostCanada to learn more. Take note that CarCostCanada also provides its members with dealer invoice pricing that could save you thousands off your next new vehicle purchase, so find out how their system works, and be sure to download their free app from the Google Play Store or Apple Store while you're at it.
Now, sit back and enjoy the five quick videos.
Bill Nye Explains the All-Electric Taycan: Two-Speed Transmission (1:11):

Bill Nye Explains the All-Electric Taycan: 800 Volts (1:17):

Bill Nye Explains the All-Electric Taycan: Regenerative Braking (0:52):

Bill Nye Explains the All-Electric Taycan: Aerodynamics (1:14):

Bill Nye Explains the All-Electric Taycan: Repeat Performance (1:34):

Story credits: Trevor Hofmann
Photo credits: Porsche