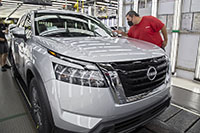 It's been nearly a decade since Nissan launched its car-based Pathfinder crossover, representing a risky move that replaced three generations of body-on-frame SUV predecessors, as well as the Quest minivan that faded away five years later, but it proved positive for sales. Now those awaiting its replacement before trading up can take heart, because the all-new fifth-gen Pathfinder just started rolling off the automaker's Smyrna, Tennessee assembly line.
"Start of production of the new Pathfinder marks another major milestone in our Nissan NEXT momentum story," said Jeff Younginer, Vice President, Nissan Smyrna Vehicle Assembly Plant. "The Smyrna plant team is thrilled to put the newest version of this iconic vehicle on the road for customers."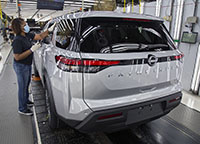 The new Pathfinder, which has been built in the Nashville suburb since 2004, pulls its sole 3.5-litre direct-injection V6 engine from Nissan's Decherd Powertrain Plant in Decherd, Tennessee, located about an hour south on Interstate 24. The drivetrain's all-new nine-speed automatic transmission, on the other hand, hails from ZF's production plant in Gray Court, South Carolina, but would-be buyers hoping for greater performance will likely be more interested to know that it's not the continuously variable transmission (CVT) from the outgoing model.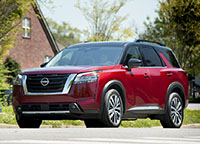 The new nine-speed auto should provide quicker, more engaging shifts when performing passing manoeuvres or managing the three-row mid-size SUV through fast-paced corners, while Nissan promises smooth operation as well. Additionally, standard Intelligent 4WD with a seven-position Drive and Terrain Mode Selector means Canadian buyers will enjoy optimal traction year-round. This is especially important off the line thanks to the powertrain's strong 284 horsepower, the torquey V6 partially responsible for the new SUV's impressive 6,000-pound (2,721-kg) maximum towing capacity.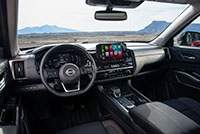 Along with wholly renewed styling that should appeal to Nissan's many truck buyers thanks to plenty of sharp angles and rugged details, the bigger and broader version of its trademark "U" shaped grille especially notable, a completely redesigned interior provides seating for up to eight, new available second-row captain's chairs (which reduce seating to seven), plus an optional 10.8-inch head-up display that projects key info onto the windscreen ahead of the driver, a large 12.3-inch digital gauge cluster, and the brand's ProPilot Assist semi-self-driving capability with Navi-Link, while the Nissan Safety Shield 360 suite of advanced driver assistive systems comes standard.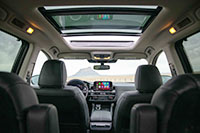 The new 2022 Pathfinder will start showing up in Nissan Canada dealer showrooms this summer, although those wanting to take advantage of especially good savings may want to consider the outgoing 2020 Pathfinder which utilizes the same V6 engine. Nissan is currently offering up to $7,000 in additional incentives when purchasing a 2020 model, and new zero-mileage examples are still available being that no 2021 version was produced. Be sure to check out CarCostCanada for all the details, and remember to download their free app so you can access timely info on available factory rebates, manufacturer financing and leasing deals, and dealer invoice pricing that could save you thousands on any new car, truck or SUV.
2022 Pathfinder and Frontier Reveal (14:39):

Dévoilement du Pathfinder et du Frontier 2022 (14:39):

The All-New 2022 Nissan Pathfinder ​(0:06):

2022 Nissan Pathfinder LIVE Walkaround & Review (5:31):

Design Spotlight | Nissan Design Director Ken Lee on All-New 2022 Pathfinder (8:55):

How many seats does the Pathfinder have? | 2022 Nissan Pathfinder Q&A (0:55):

How many trims are available? | 2022 Nissan Pathfinder Q&A (0:31):

What's the towing capacity? | 2022 Nissan Pathfinder Q&A (0:39):

Story credits: Trevor Hofmann
Photo credits: Nissan