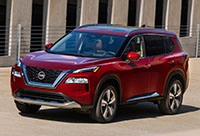 Nissan has taken a cue from Toyota's best-selling RAV4 by toughening up the look of its Rogue for 2021, and if recent sales trends are indicative of things to come, most would-be buyers should find its sharper angles and more rugged appearance appealing.
Like Toyota, Nissan has built decades worth of respect for its 4×4-capable SUVs and pickup trucks, so pulling a number of styling cues from its full-size Armada down to the more affordable, economical and car-like compact class certainly doesn't hurt the new Rogue's image.
To a lesser extent Honda did likewise with its CR-V, but other than ATVs and motorcycles the second-most popular compact sport utility's maker doesn't have any serious off-road heritage to pull from, giving Nissan and Toyota, not to mention Chevrolet, Dodge/Ram, Ford, GMC, Jeep, Kia and Mitsubishi, which also currently produce or have produced off-road-oriented trucks and SUVs, a unique advantage while the SUV sector continues to take over the entire automotive landscape.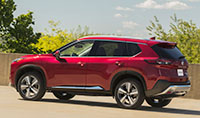 While the word aggressive is probably not applicable, the new 2021 Rogue looks more assertive than its predecessor. Nissan is quick to point this out in its press release, using words such as "edgy" and "adventurous" to describe the overall "spirit of the vehicle," and expanding on that theme with phrases like "commanding presence," "athletic strength," and "adventure-ready exterior."
While we all love creative marketing-speak, the expected Nissan design cues are clearly evident, including its new squared off V-motion grille up front and blackened D pillars at back, the latter creating the appearance of a "floating roof," this now enhanced when choosing new two-tone exterior colour combos that allow for an all-black roof. Rugged looking lower body cladding beefs up appearances further, accentuated via a new "U-shape" bodyside design, while the attractive set of LED taillights don't depart quite as much from their forebears as the new multi-level LED headlights do up front.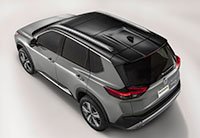 In a market that always seems to expand outer dimensions, a compact SUV that shrinks 1.5 inches from nose to tail and shaves 0.2 inches from its height is a welcome addition. While its shortened and lowered stance won't be felt inside, these slight dimensional changes contribute to the crossover's blunter more traditional SUV-like appearance without making it look too tall and boxy.
Unlike the RAV4, Nissan has yet to offer the new 2021 Rogue with an off-road trim line, the competitive Toyota having provided a more rugged looking and somewhat more 4×4-capable Trail version since its 2019 redesign, which can be upgraded with an even more empowering TRD Off Road Package for 2020, but that's not to say the Rogue's hardy new image is only skin deep.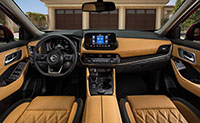 In models equipped with Nissan's Intelligent All-Wheel Drive system, it starts with a centre console-mounted Drive Mode Selector that incorporates an "Off-road" setting for tackling more treacherous terrain, or at least it can help overcome unruly rocks and other reasonably sized obstacles poking up from the dirt on the way to the summer cottage. A "Snow" mode does likewise for slippery conditions, while the Drive Mode Selector also incorporates Standard, Eco and Sport settings when weather patterns are less extreme, these final three the sole settings available in front-wheel drive trims.
Enhancing traction further, the new Rogue gets an entirely new Vehicle Motion Control System that Chris Reed, Senior Vice President of Research and Development at the Nissan Technical Centre North America, claims to do "what a human can't."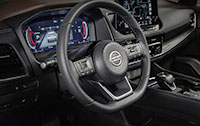 "The all-new Vehicle Motion Control predicts what the driver is trying to do by monitoring steering, acceleration and braking," adds Reed. "It can then step in and help to smooth things out."
Basically, Vehicle Motion Control joins the all-wheel drive system and Drive Mode Selector to provide individual four-wheel control, improving line traceability in order to smooth out corners via the braking system, and even applying an individual brake pad to do so. The system, which features a chassis control module that "monitors and adjusts engine, transmission, Vehicle Dynamic Control, all-wheel drive and steering functions" is especially helpful when "driving on snowy slopes, deep snow, snow flat turning and off-road driving (such as beach or dirt trails)," said Nissan in its press release, although it's always on and therefore assists in all situations.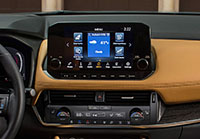 As for the Rogue's all-wheel drive system, it now incorporates a new electro-hydraulic controlled clutch that distributes torque quicker and more accurately thanks to an ability to predict front-wheel slippage, thus allowing for better rear torque distribution along with greater traction and responsiveness overall.
Speaking of responsiveness, a new quicker-ratio rack-electric power steering setup should result in more immediate turn-in, while a rigid six-position front suspension mounting and redesigned multi-link rear suspension will no doubt help to flatten out the curves.
This is important, as the new Rogue with be quicker thanks to an updated direct-injection 2.5-litre four-cylinder engine that makes 11 more horsepower and 6 additional lb-ft of torque, the new total being a nice even (or odd) 181 units apiece. In order to achieve this gain in performance, Nissan uses its GT-R-proven mirror bore coating technique to reduce friction and therefore enhance efficiency, while also adding a variable displacement oil pump, an integrated exhaust manifold and an e-VTC intake valve along with other improvements.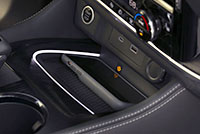 Yes, Nissan has been a technology leader as of late, so prepare yourself for some serious digital wizardry along with a bigger safety kit filled with new gear like Intelligent Driver Alertness that monitors steering patterns and if detecting drowsiness warns to take a break with a chime and coffee cup icon, Rear Door Alert that signals if you've left something or someone in the back seat when exiting, and Easy Fill Tire Alert that lets you know when a tire needs more air.
The brand's Safety Shield 360 suite of advanced driver assistive systems is included as standard too, with features like Intelligent Emergency Braking with Pedestrian Detection, Blind Spot Warning, Lane Departure Warning, Rear Cross Traffic Alert, and High Beam Assist, while an unusual yet welcome addition is standard Rear Intelligent Emergency Braking, which will automatically stop the Rogue if backing into an obstacle or worse, out into oncoming traffic.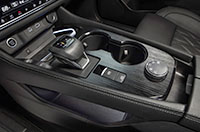 Of note, Traffic Sign Recognition, Blind Spot Intervention and Intelligent Cruise Control with improved stop-and-go are optional, the latter integrated with an even more advanced version of Nissan's semi-self-driving ProPilot Assist system. Safety improvements continue with 10 standard airbags instead of the six found in the outgoing Rogue, and extended crumple zones in case of impact. Additional options include a new four-door Intelligent Key system that allows the driver and passengers to open all four doors, this part of the Rogue's new "Family Hub" combination that also includes tri-zone automatic climate control with two independent temperature zones up front and one in the rear.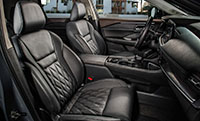 Even more noticeable, the Rogue's upper-crust trim gets a fully customizable 12.3-inch "Digital Dashboard" gauge cluster that completely replaces the conventional instruments with a colourful TFT display, although the base model's regular primary gauge package is still advanced thanks to a 2.0-inch larger 7.0-inch multi-information display at centre, which is also capable of full personalization.
On top of this, literally, a supersized 10.8-inch head-up display unit projects key information onto the windshield where it's easiest to see, while the standard 8.0-inch centre touchscreen display (already large for the class) gets increased to 9.0 inches for those willing to spend a bit more. Android Auto and Apple CarPlay come standard across the line, with Google Maps and Waze (with voice recognition) integration available.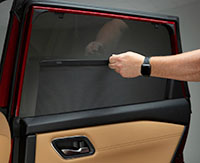 It all comes in a cabin that looks wholly improved over its predecessor, with many more soft-touch surfaces plus richer optional Prima-Tex leatherette or quilted semi-aniline leather upholsteries in Graphite, Grey or Tan, as well as nicer wood grains and metallic trims, while Nissan's NASA-influenced Zero Gravity seats offer comfortable support along with standard front warming. The steering wheel rim is heatable in base trim too, a smart nod of respect to Rogue owners of all means, while rear outboard seat heaters are optional, as is two-way driver's memory. Other options include a surround parking camera system Nissan calls Intelligent Around View Monitor, this combined with the aforementioned rear driver assistive systems.
A smart electronic shift lever is shorter and positioned closer to the driver, and due to not needing any mechanical hardware underneath, allows for a raised centre console with plenty of what-have-you space on a shelf below.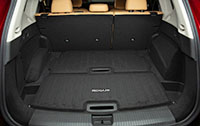 The Rogue still doesn't provide a centre pass-through in the second row or better yet, the 40/20/40-split rear seatbacks provided by some competitors, which allow owners to lay longer items like skis down the middle while rear passengers enjoy the more comfortable, optionally heated rear window seats, but Nissan does include a one-touch automated folding mechanism with "an available remote fold feature" for convenience. The Japanese brand's useful Divide-n-Hide cargo system is once again available too, plus a powered and Motion Activated Liftgate that lets you open the rear hatch by kicking your foot under the back bumper.
Once again available in S, SV and Platinum trim levels, the 2021 Rogue will be available this fall, with pricing expected closer to its launch date. If all this sounds like it's worth waiting for, stay tuned for more updates, but if you'd rather take advantage of some pretty incredible savings available on the current model, check out CarCostCanada's 2020 Nissan Rogue Canada Prices page that was showing up to $5,000 in additional incentives at the time of writing. All you'll need in order to learn about available manufacturer rebates, financing and leasing deals, plus otherwise hard to find dealer invoice pricing is an inexpensive CarCostCanada membership. Find out how it works now and while you're at it, download the free CarCostCanada mobile app from the Apple Store or Google Play Store.
Story credits: Trevor Hofmann
Photo credits: Nissan