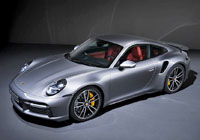 The Geneva Motor Show may have been cancelled due to the outbreak of COVID-19 (the novel coronavirus originating from Wuhan, China), but that hasn't stopped automakers from making their big reveals online, and therefore Porsche has pulled out all the stops with the most exciting version of its all-new 992 yet.
The 2021 911 Turbo S just hit the web with a 61-horsepower bump over its much-revered 580-hp predecessor, which means it now makes a staggering 641-horsepower from an identically sized 3.8-litre six boosted by two VTG (variable turbine geometry) turbochargers. What's more, the horizontally opposed engine also puts out an additional 37 lb-ft of torque for a total of 590, so be glad it comes standard with Porsche Traction Management (PTM) all-wheel drive that can transfer up to 369 pound-feet of torque to the front wheels when required.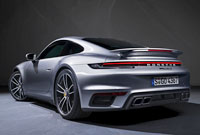 The 3.8-litre turbo-six, which is based on the latest 911 Carrera engine generation, has been completely redesigned. It gets a new charge air-cooling system and new, larger VTG turbochargers in a symmetrical layout that feature electrically adjustable waste-gate flaps, while piezo injectors are said to significantly improve "responsiveness, power, torque, emissions, and revving ability."
The standard gearbox is an upgraded Turbo-specific eight-speed dual-clutch PDK automated design, which allows for a shockingly quick sprint from standstill to 100 km/h in just 2.7 seconds, an improvement of 0.2 seconds over its predecessor, while zero to 200 km/h arrives in a scant 8.9 seconds, this being a full second faster than the outgoing Turbo S.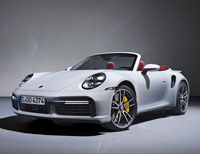 To put the new 911 Turbo S into perspective, it's a tenth of a second quicker from zero to 100 km/h than the current GT2 RS (soon to be replaced by one based on the new 992), a 700-horsepower monster. Those choosing the new 911 Turbo S Cabriolet will lose a tenth of a second in the other direction, but that makes the drop-top as quick as a GT2 RS, so it certainly hasn't lost face in this regard. No doubt the convertible would be best for hearing the new sports exhaust system, which features adjustable flaps that promise the kind of distinctive sound only a Porsche flat-six can deliver.
An American performance spec worth noting is 10.5 seconds over the quarter mile on the drag strip, which is no small feat, while those lucky enough to test one out on the Autobahn will potentially be able to achieve a maximum speed of 330 km/h (205 mph) in either coupe or convertible model.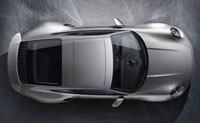 Hauling the Turbo S back down to reality are standard carbon-ceramic brakes with 10-piston front calipers, while control is further enhanced via a larger rear wing that, together with the pneumatically extendable front spoiler, delivers 15 percent more downforce than the outgoing model.
The new car is also wider than the outgoing 911 Turbo S by 45 mm (1.8 inches) above the front axle, measuring 1,840 mm (72.4 in) across, and 20 mm (0.7 inches) over the rear axle, spanning 1,900 mm (74.8 in), which should improve stability, while Porsche has tweaked its active suspension management system's (PASM) software and hardware, lowering it by 10 mm (0.4 in) and providing "faster and more precisely controlled dampers," stated Porsche in a press release, to enhance "roll stability, road holding, steering behaviour and cornering speeds."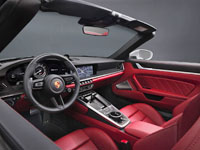 The numerous functional vents added to the Turbo S' front fascia and rear fenders are more about engine and brake cooling, however, not to mention design aggression, with those added to the rear valance especially eye-catching. Additionally, special rectangular exhaust tips protrude from the outer edges of the black centre diffuser, while the entire Turbo S design gets rounded out by a set of staggered 20-inch front and 21-inch rear lightweight alloys wrapped in respective 255/35 and 315/30 Pirelli performance tires.
Inside, the new Turbo S is as livable as any other 911 and even more upscale thanks to a full leather interior with carbon trim and Light Silver accents, plus a GT sports steering wheel, a large 10.9-inch infotainment touchscreen at dash central, a newly integrated Porsche Track Precision app within that centre display that comes as part of the Sport Chrono package, a Bose surround-sound audio system, and leather-upholstered 18-way power-adjustable sport seats.
The new 911 Turbo S will be available to order in April of 2020, with deliveries expected later this year. Pricing for the 911 Turbo S coupe starts at $231,700 plus freight and fees, while the 911 Turbo S Cabriolet starts at $246,300. To order yours, contact your local Porsche retailer.
Until it arrives, enjoy the few videos Porsche supplied.
The new Porsche 911 Turbo S: The peak of driving emotion (2:28):

 
The all new Porsche 911 Turbo S. Relentless. (1:02):

 
Livestream: new Porsche 911 Turbo S Premiere (14:56):