Genesis, Hyundai's luxury division, just revealed new images of an all-new premium crossover SUV designed to go up against the Lexus RX, BMW X5, Mercedes-Benz GLE and other mid-size luxury utilities, and by first glance it certainly looks up to the task.
The GV80, as it will be called when it goes on sale globally later this year, wears a bigger, bolder modified version of Genesis' new five-sided grille introduced to a production model on the brand's redesigned 2020 G90 flagship sedan, plus it carries a number of other styling cues from that full-size four-door including horizontal LED-enhanced Quad Lamp headlights and wraparound tail lamps, as well as side vents on the front fenders. The basic design was formed from the GV80 Concept that launched at the 2017 New York International Auto Show, but we have to say it looks much better in production trim than prototype.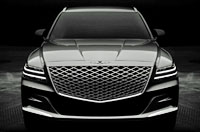 "GV80 allows us to expand our definition of Athletic Elegance design language to a new typology, while retaining sublime proportionality and sophistication of form," said Luc Donckerwolke, Executive Vice President, Chief Design Officer of Hyundai Motor Group.
Genesis calls its design language Athletic Elegance, and while this descriptor comes off as a bit generic the SUV's overall presence is anything but. Its grille is reminiscent of Cadillac, however, only lacking a big crested-wreath shield in the middle, which might put it at odds with the General and American patriots that feel an allegiance to their domestic luxury marque. Genesis even unabashedly names the GV80's foremost feature the "Crest Grille" and claims it as a "signature Genesis design element," but in fairness a lot of brands have tried to put their own spin on this type of pentagonal grille design in the past, including Acura and Honda. No one should argue against any other GV80 design element or its overall look, and to that end Genesis would probably rather have us focusing on its trademark headlamps.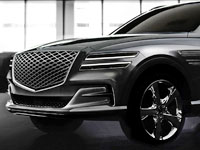 "The Quad Lamp, our design signature, introduces an unmistakable visual impression completely unique to Genesis," said Sang Yup Lee, Senior Vice President, Head of Genesis Design. They feature a "G-Matrix pattern" that was "inspired by beautiful orchids seen when diamonds are illuminated by light," said the brand in a press release, mentioning the wheel design was similarly inspired.
Most everyone who's entered a new Genesis product has been impressed by its quality of workmanship, and the GV80 should be no exception. The brand says its new SUV "focuses on the beauty of open space, characteristic of the elegant South Korean architectural aesthetic," and we're just glad the brand's designers weren't inspired by K-Pop fashion. In all seriousness the new GV80 does provide a beautiful interior design, once again reminiscent of the elegant, well-built 2020 G90 cabin, although its instrument panel more traditional with an arcing gauge cluster hood and more conventional fixed tablet-style infotainment display atop the centre dash, although the horizontal theme continues with strong, steady lines made from a slim set of air vents ahead of the front passenger, a well sorted touchscreen climate control interface atop a gently sloping centre console, and more. A "jewel-like" rotating dial appears to be the modus operandi for selecting gears, making for a cleaner, more sophisticated look, while rich hardwoods, leathers and aluminized metals appear at least on par with its competition.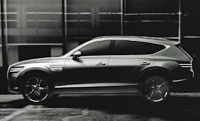 The GV80 rides on an all-new rear-wheel drive chassis and will be available with either rear- or optional all-wheel drivetrains in the U.S., although it will likely only come with AWD in the Canadian market. If the new SUV drives similarly to other Genesis products, it should be a formidable performer as well as a commendable luxury ride, balancing sport and comfort similarly to Mercedes and Audi.
The GV80 is a mid-size model capable of seating seven occupants in three rows, although it will also be offered as a two-row five-seat SUV. True to the "V" in its name, which stands for "versatility", we should expect competitive passenger space and a roomy cargo area.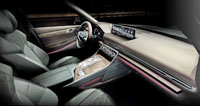 The Hyundai Motor Group made a bold move to enter a completely new brand into an already full luxury marketplace back in late 2016, and it hasn't exactly been easy going. Its initial two car lineup, made up of the G80 mid-size sedan (previously the Hyundai Genesis Sedan) and G90 full-size sedan (Hyundai Equus), since augmented with the G70 compact luxury sedan in 2018, has made impressive headway on the sales charts yet still lags well behind luxury leaders. This was no doubt planned for, as were initially slower sales due to its passenger car lineup, which means the brand has a lot riding on its first SUV. The GV80 could potentially outsell all other Genesis models combined if the histories of rival brands are repeated, which could point the upstart Korean luxury marque on the road to success.