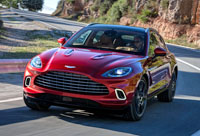 We've long known Aston Martin would eventually provide ultra-luxury SUV buyers with something to step up to, and thankfully the production-ready 2021 DBX simultaneously introduced at the Los Angeles and Guangzhou International auto shows last week (after a special private VIP preview during the 2019 U.S. Formula 1 Grand Prix in Austin, Texas earlier this month) is much better looking than the storied British luxury marque's Lagonda Concept from the 2009 Geneva Motor Show.
To be fair, Dr. Ulrich Bez and his team were way ahead of their time with that early concept, and in retrospect its blocky frontal styling and angular LED headlamps would've aged reasonably well, although the '30s-era Lagonda de Ville Saloon-inspired narrow, near-vertical rear window and curved notchback trunklet would've remained controversial to this day, whereas current CEO Andy Palmer and his crew (with Bez still looking over his shoulder as nonexecutive chairman) made sure the new DBX looks appealing from front to back.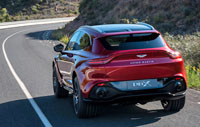 In fact, the DBX' rear three-quarter view is quite possibly its best angle, while the front design might actually incorporate more classic Aston Martin styling cues than any other current model, or at least more than the avant garde Vantage and outrageous Valkyrie supercar. Ironically it's the body-wide Vantage-like LED taillight treatment that helps highlight the DBX' shapely backside, whereas the frontal design is more reminiscent of today's DB11. Most importantly, the majority of premium crossover SUV shoppers should find the new DBX enticing.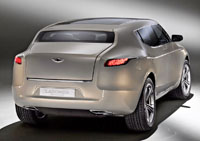 Aston Martin spent five long years developing the crossover you're looking at, but so far the time well spent has not resulted in electrification. An "E" version, along the lines of the Rapide E, is likely in the works, and was the claimed power source for the original 2015 Aston Martin DBX Concept coupe as well as the 2019 Lagonda All-Terrain Concept that wowed Geneva motor show goers back in March of this year (which was heavily inspired by the Lagonda Vision Concept introduced one year prior), the former an elevated, bulked up two-door coupe that looked nothing like today's production version, and the latter an ultra-sleek crossover that makes us wonder if Aston is considering making Lagonda its dedicated electric brand in similar fashion to how Volvo is positioning its new Polestar division, but nonetheless we're treated to a more potent version of the AMG-sourced 4.0-litre twin-turbo V8 that's found in the aforementioned Vantage and the larger 2+2 DB11.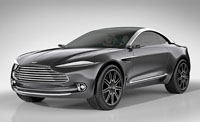 In DBX form the V8 puts out a substantive 542 horsepower and 516 pound-feet of torque, which is 39 more horsepower and 11 lb-ft of additional torque over both sports cars, yet its greater size and mass make it a tad slower off the line at 4.5 seconds from standstill to 100km/h, compared to 3.6 and 4.2 seconds respectively for the Vantage and DB11, while its top speed is 291 km/h (181 mph) compared 314 km/h (195 mph) and 322 km/h (200 mph), which is still mighty respectable for an SUV.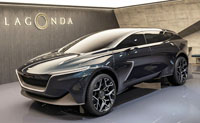 Aston uses a nine-speed automatic for the DBX, up one gear from both Vantage and DB11 models, while its standard Pirelli P Zeros (or optional Pirelli Scorpion Zeros or Scorpion Winters) grip tarmac (or gravel, sand, mud and snow) via standard all-wheel drive that apportions torque through electronically controlled centre and rear differentials defaulting from a 47/53 torque-split to nearly 100 percent powering the rear wheels. The rear differential joins brake-based torque vectoring to improve high-speed handling, while hill descent control aids with steep inclines, and 16-inch rotors bound by six-piston front calipers provide stopping power, important for this 2,241-kg (4,940-pound) utility.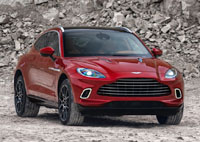 While that might sound like a lot of weight for an Aston Martin, it's certainly not much for a mid-size five-passenger luxury crossover SUV, the Gaydon, UK-based automaker choosing to use its extensive experience with alloys to create a wholly new bonded aluminum platform architecture. An adaptive air suspension supported by a 48-volt anti-roll system makes sure the DBX stays flat during hard charging, enhanced by six driving modes including Sport and Sport+ settings, while its standard 198 millimetres (7.8 inches) of ground clearance can be raised by 46 mm (1.8 inches) for clearing obstacles when off-road, this improved upon via Terrain and Terrain+ modes. Speaking of heading off-pavement, the new DBX is also capable of wading through 500 mm (19.7 inches) of water.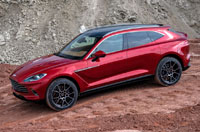 Alternatively the suspension can be lowered by about two inches to allow for an easier lift height to its 631-litre (22.3 cubic-foot) dedicated cargo hold, which can be extended via optimally divided 40/20/40 rear seatbacks to accommodate up to 1,529 litres (54 cubic feet) of life's gear, making the DBX by far the most practical model the brand has ever produced.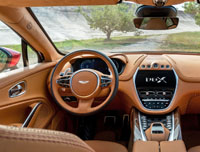 While practical, it's hardly short on luxury. The exquisite Bridge of Weir leather is painstakingly stitched together and looks the part, requiring a total of 200 hours per car. Aston chose its DB11 for front seat inspiration, carving out their backsides for more second-row knee space, and while the brand's marketing team included a shot of the front seatbacks as seen from the rear compartment (see this image and every other photo Aston Martin provided in our comprehensive photo gallery above) it's unfathomable to comprehend how they forgot to shoot a single photo or any video footage of the rear seating area, although from photos in Aston's online Lifestyle Store and Accessories catalogue we were able to learn the rear seat is a three-person bench. If this wasn't bad enough, an even a bigger oversight for a production SUV is the lack of cargo compartment photography or video, at least without dogs and/or bespoke luggage blocking the view.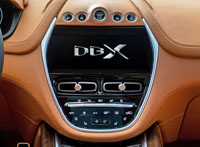 The branded bags and puppy peripherals are joined by plenty of other upscale items, including small accessories like a leather key pouch, a leather umbrella strap, and a leather centre console organizer, plus bigger "Halo" upgrades like event seating (that adds a rear-facing third row for tailgate parties), a leather upholstered hamper, or a similarly finished field sports cabinet.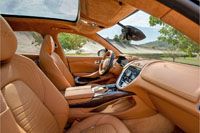 The DBX accessories list also includes less pricey items such as customized saddle bags that attach to the folding second-row centre armrest, rear outboard "comfort" leather headrest pads, a black leather child safety seat (that may be available in tan leather too), a heated ski boot bag, adjustable roof rail cross-members, lockable roof-mounted storage, top-mounted and rear-mounted bike racks, a leather and fabric flip-out rear bumper protector (designed so dogs won't scratch up the rear bumper while jumping onboard), a dog partition, a dog washer (complete with a hose), and a roll-up leather and grey cloth doggy bed for two, albeit thus far no puppies are being offered.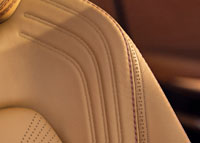 Some standard features include 22-inch alloy wheels, frameless windows, separate armrests for front occupants, ambient interior lighting with the choice of 64 different colours, and a large panoramic glass sunroof that adds an airy ambience overhead, while if you're concerned Aston's beautiful handiwork might fade from too much overhead light, a sunshade can be powered forward to darken the mood, this available in Alcantara to match an equally suede-like optional headliner.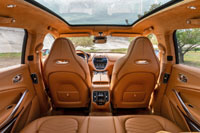 High-grade leathers and Alcantara are hardly unusual finds in an ultra-premium vehicle, let alone many lesser brands' products, but Aston provides plenty of unique alternative interior options that just might appeal even more, such as an unusual 20-percent synthetic and 80-percent Australian lambs wool upholstery material, which Aston calls a "luxurious felt-like fabric."
Other options include leather upholstery brogue detailing, quilting, perforations and colour splits, plus plenty of available veneers. If you want something even more bespoke, Aston's "Q" customizing shop will fit you up just like 007 (the DBX will reportedly make an appearance as James' — Daniel Craig — family car in the 25th Bond film, "No Time To Die").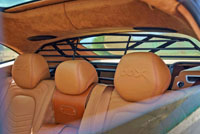 Back to features that will likely matter more to most, the DBX will come standard with a 12.3-inch high-definition TFT digital instrument cluster, while the centre infotainment display is an equally bright and clear 10.25-inch screen, Aston choosing to fit it within the centre stack rather than standing upright on top as so many rivals do. It only includes standard Apple CarPlay, however, which means the majority of smartphone users that use Android devices will need to rely on the system's standard interface, while a 360-degree surround parking camera will improve safety, as will adaptive cruise control, automatic emergency braking, lane departure warning, lane keeping assist, and more.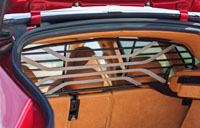 All of this ultra-luxe goodness doesn't come cheap, the DBX available in Canada from $218,400 plus freight and fees, which puts it right where it needs to be from a pricing standpoint (out of reach from the masses yet right in the midst of its strongest competitors). The Aston's price entry point is probably closest to the $240,569 Lamborghini Urus, an SUV that's similarly sized too, but the Italian's standard 641-horsepower V12 means that zero to 100 km/h takes just 3.6 seconds while its terminal velocity is a staggering (for an SUV) 305 km/h (190 mph).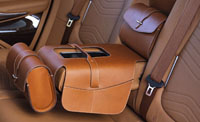 The V8-powered Bentley Bentayga, on the other hand, which can be had for only $176,800, will hit 100 km/h in 4.5 seconds, just like the DBX, and tops out just a single kilometre per hour shy of the Aston's 291 km/h (181 mph) terminal velocity, plus it seats two more occupants in its third row and can manage considerably larger loads. What's more, the Bentayga also comes in 600-horsepower 12-cylinder form, this $241,900 utility managing naught to 100 km/h in a scant 4.1 seconds before attaining a 301-km/h (187-mph) top speed.
For those curious about the new $370,500 Rolls-Royce Cullinan, its 563 horsepower V12 is slower than all of the above to 100 km/h, but 5.2 seconds is still respectable considering all the weight its hauling, while its terminal speed is limited to 250 km/h (155 mph).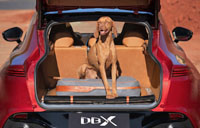 At the other end of the ultra-premium spectrum lies the somewhat less prestigious Maserati Levante at only $95,500, but the $138,500, 550-horsepower V8 GTS variant aligns most agreeably with the DBX in both size and performance, thanks to a zero to 100 km/h sprint time of just 4.2 seconds and a near identical top speed of 292 km/h (181 mph), while Maserati also makes a GTS Trofeo version that starts at $187,500 and pulls off the same two feats in only 3.9 seconds and 304 km/h (189 mph) respectively.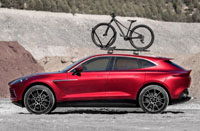 Of course, there are much less expensive and less prestigious crossover SUVs that can match the DBX in straight-line performance and possibly through the curves too, but as already detailed out in this preview there's much more than performance making this new Aston Martin special.
Even better, the first 500 DBX customers will receive a special "1913 Package" commemorating 106 years of Aston Martin heritage, complete with unique front fender badging outside, sill plates on the way over the threshold, and an inspection plaque inside summarizing the early adopter SUV's limited-build run, while each of these models will be personally inspected and endorsed by the company's aforementioned CEO, Mr. Palmer. Additionally, an exclusive build book will be signed by Palmer and the DBX' Chief Creative Officer, Marek Reichman, with all of these extras getting topped off by an invitation to a celebratory cocktail party at the Waldorf Astoria, London, attended by a member of the Aston Martin Lagonda executive team.
The 2021 DBX will be built two and a half hours southwest of Aston Martin's Gaydon, England headquarters at a new facility in Saint Athan, Wales, with deliveries arriving in the latter half of 2020. While you're waiting for yours to arrive, make sure to peruse the complete photo gallery above, which includes images of all the preceding concepts from newest to oldest, plus enjoy the full array of Aston Martin supplied videos below:
Aston Martin DBX: Behind The Scenes – Daisy Zhou (0:59):

 
Aston Martin DBX: Launch (9:01):

 
Aston Martin DBX Chapter 6: In Motion (0:45):

 
Aston Martin DBX Chapter 5: Adventure (0:55):

 
Aston Martin DBX Chapter 4: Indulgence (0:51):

 
Aston Martin DBX Chapter 3: The Engine (0:21):

 
Aston Martin DBX Chapter 2: The Grille (0:41): 

 
Aston Martin DBX Chapter 1: Testing (0:37):

 
Aston Martin DBX SUV testing in Sweden (0:39):

 
2019 DBX – Aston Martin's first SUV (0:38):