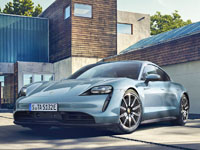 Porsche introduced two production versions of its fabulous Taycan EV last month, but some would-be buyers might have found the $173,900 and $213,900 prices of the respective Turbo and Turbo S prohibitively out of reach. Fortunately there's a more affordable version of the much celebrated new Porsche on the way, with a base price that's much closer to the $108,990 needed for an entry-level Tesla Model S, the Taycan 4S shown here merely costing $119,400 plus destination.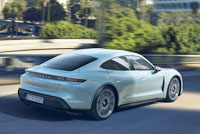 The new 4S gets the Taycan's stylish four-door coupe design and appears to provide the same high-end interior, the reason for its near $100k discount from the top-line Taycan Turbo S being performance. Instead of a maximum of 750 horsepower, 774 lb-ft of torque, and a launch control-assisted 2.8-second sprint from standstill to 100 km/h for the Turbo S, or the still incredible 671 horsepower, 627 lb-ft of torque, and 3.2-second run to 100 km/h for the Turbo, the new Taycan 4S uses a 522 horsepower motor/battery combination with 472 lb-ft of torque to reach 100 km/h in 4.0 seconds flat.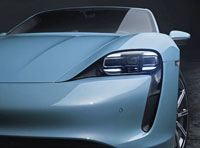 What's more, an available Performance Battery Plus package boosts output to 562 horsepower and torque to 479 lb-ft for a fractionally faster zero to 100 km/h time, but Porsche only shows how this upgrade improves the Taycan 4S' standing start to 160 km/h, upping an already impressive 8.7-second run to 8.5 seconds. Top speed of both variants is limited to 250 km/h, 30 km/h down on Turbo and Turbo S terminal velocities.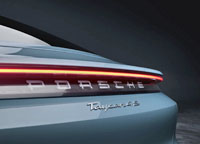 Embedded within the floor of new Taycan 4S is a 79.2-kWh high-voltage lithium-ion battery with enough stored energy for 407 km (253 miles) of range on the European WLTP rating system, whereas the upgraded 93.4-kWh Performance Plus battery allows for 463 km (288 miles) of estimated range. This compares well with the Taycan Turbo's claimed 388 to 412 km (241 to 256 mile) range and the Turbo S model's estimated 388 to 412 km (241 to 256 mile) range.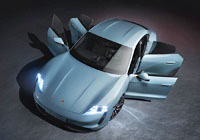 All Taycan trims use an industry-first 800-volt electrical architecture that makes recharging faster, thanks to a charge rate of 225 kW for the Performance Battery or 270 kW for the Performance Battery Plus, which makes it possible to refill from five to 80 percent in only 22.5 minutes no matter the trim. Standard 400-volt high-speed DC charging occurs at 50 kW, while an available booster increases the charge rate to 150 kW. You can use the standard AC charger for topping the Taycan up at any J1772 compatible charge station, or simply plug it in at home, but you'll be waiting a very long time to accomplish the task.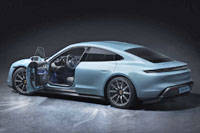 Porsche makes charging even easier with the Taycan's new Charging Planner, which can plot a given course by factoring in the best places to recharge along the way. For instance, it can choose a faster 270-kW charge station that can save you time over a regular 50-kW DC charger, even if the quicker charger requires a slight detour from the otherwise shortest route. Additionally, the Charging Planner preconditions the battery to 20°C, optimal for faster charging.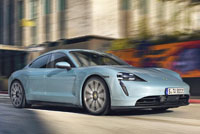 The Taycan 4S utilizes the same all-wheel drive layout as its more potent trim lines, including front and rear axle-mounted permanently excited synchronous motors and a two-speed transmission in back, while Porsche's centrally-networked 4D Chassis Control system provides real-time analysis and synchronization for the Taycan's standard electronic damper control Porsche Active Suspension Management (PASM) enhanced three-chamber adaptive air suspension, which promises superb handling.
Porsche also hopes to achieve better reliability than its main rival Tesla, by incorporating a special hairpin winding technique to the stators' copper solenoid coils, thus providing a copper fill factor of 70 percent compared to 45 percent when wound the traditional way, all resulting in improved performance and cooler running.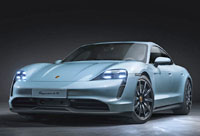 You can keep tabs on its mechanical status via a fully digital primary gauge cluster packed full of colourful high-definition graphics yet housed in a free-standing, curved design that pulls plenty of stylistic cues from Porsche's storied 911 past, while the Taycan 4S' 10.9-inch standard capacitive touchscreen, integrated within the top portion of the centre stack, is at the cutting edge of in-car infotainment. Most buyers will likely ante up for the available front passenger display that continues the digital experience right across the instrument panel, this feature first shown when the Taycan Turbo and Turbo S debuted.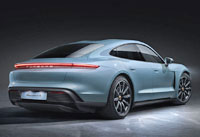 Standard Taycan 4S features include White or Black exterior paint, a unique front fascia, black painted side skirts and rear diffuser, LED headlights with Porsche Dynamic Light System Plus (PDLS Plus), 19-inch five-spoke Taycan S Aero alloy wheels, red-painted six-piston front and four-piston rear brake calipers (instead of the yellow ones used for the Turbo and Turbo S) clamping down on 360-mm front and 358-mm rear rotors, regenerative brakes (with a maximum regenerative force of 0.39 g and recuperation of up to 265 kWh), proximity-sensing keyless access, ambient interior lighting, partial leather upholstery, front comfort seats with eight-way powered adjustment and driver's memory, plus more, but take note this base car won't be produced until June of 2020. Until then, the $1,690 panoramic glass sunroof replaces the standard aluminum roof. The Porsche Mobile Charger Plus option won't be available initially either, leaving the standard Porsche Mobile Charger Connect system for early adopters.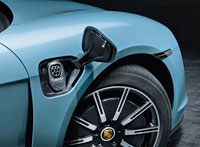 Taycan 4S options include a host of $910 metallic colours (including the Frozen Blue launch colour shown in the photos, plus vibrant Mamba Green and stunning Gentian Blue) and one $3,590 special colour (Carmine Red), plus two sets of 20-inch alloy wheels and three 21-inch rims ranging from $2,710 to $10,010, while its black partial leather cabin can be upgraded to $4,710 black or multiple $5,360 two-tone leather interiors, $7,490 solid or $8,150 two-tone Club leather motifs, or alternatively a Porsche-first $4,710 solid or $5,360 two-tone leather-free Race-Tex interior upgrade, that latter duo including innovative recycled materials for less environmental impact.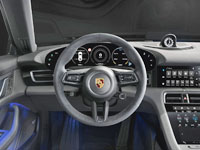 The new Taycan should be whispery quiet on the highway thanks to a 0.22 coefficient of drag, while its slippery aerodynamics should minimize high-speed energy use as well.
Those wishing Porsche had created a taller more crossover-styled model instead of the low-slung four-door coupe they actually built will be happy to learn the SUV coupe-styled Cross Turismo is scheduled to arrive next year. It's designed to go head to head with the Tesla Model X, Jaguar I-Pace and any others that dare compete, so stay tuned.
Back to the here and now, the new 2020 Taycan 4S can currently be ordered through your local Porsche retailer, with its Canadian arrival date set for the summer of 2020.