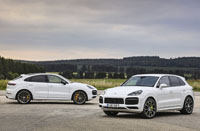 Porsche's entirely redesigned third-generation Cayenne only just arrived on the scene as a 2018 model, but as is always the case with the iconic German sports car and sporty SUV brand, new trim levels have been expanding the line since then. 
From a modest 335 horsepower base V6-powered model up to a stimulating 541 horsepower Turbo version, with a 434 horsepower Cayenne S and a 455 net-horsepower Cayenne E-Hybrid filling the void, Porsche's Cayenne arsenal seems all-encompassing, although as we've just found out it will soon take a marked turn upward in performance and price. 
Taking a cue from the 2018 Panamera line, Porsche will be adding a great deal more performance through its plug-in E-Hybrid powertrain, with the all-new Cayenne Turbo S E-Hybrid pushing out a stunning 670 net horsepower, 541 of which comes from the Internal Combustion Engine (ICE), and 134 of which is derived from the electric motor.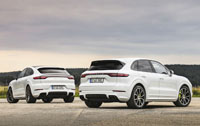 The luxury marque's sport-tuned eight-speed Tiptronic S automatic transmission comes as standard kit, as does Porsche Traction Management (PTM), its active all-wheel drive system. It transmits twist through an electronically variable, map-controlled multi-plate clutch, while an automatic brake differential (ABD) and anti-slip regulation (ASR) are also on the standard equipment list. 
Along with all the electrified and twin-turbo 4.0-litre V8 horsepower, the new Cayenne Turbo S E-Hybrid produces a shocking 663 lb-ft of combined torque, including 567 lb-ft from the ICE and 295 lb-ft from the electric motor, allowing it to catapult from standstill to 100 km/h in a supercar-like 3.8 seconds with its standard Sport Chrono Package, or an even more amazing 3.6 seconds with its available Lightweight Sport Package, all before achieving a 295-km/h (183.3-mph) claimed top track speed.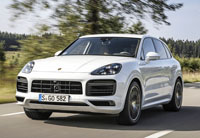 Being that the Cayenne Turbo S E-Hybrid is a plug-in electric vehicle, or PHEV, it can fully rely on motive power from its 14.1-kWh battery over short distances of approximately 40 kilometres. This means owners can achieve zero local emissions quick commutes to and from work, or for running errands near home. 
The Cayenne Turbo S E-Hybrid's lithium-ion battery, which is stowed under the cargo floor, takes just 6 hours to completely recharge when connected to a 230-volt Level 2 household-type charger, but Porsche promises a mere 2.4 hours from a 400-volt supercharger. 
Cayenne Turbo S E-Hybrid owners can also download a smartphone app capable of remotely monitoring the charging process. Additionally, this app can prepare the SUV's automatic climate control system to chosen settings, similarly to how a remote start system can do likewise, but this Cayenne PHEV application only employs the battery for such purposes, rather than the ICE.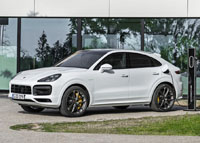 The new 2020 Cayenne Coupe, a more sporting version of the regular Cayenne, will also receive a top-tier Turbo S E-Hybrid trim line. For those not familiar with Porsche's sleek new addition to the Cayenne lineup, it features a 20-millimetre lower roofline along with a new front windshield that comes framed within shallower A pillars, as well as much more radically tapered rear side windows, totally reshaped rear doors, remoulded rear quarter panels, and a completely new back bumper featuring an integrated license plate holder. These changes result in a minor 19-mm (0.7-inch) increase to the sportier SUV's width, which when combined with the aforementioned lower height allows for a more aggressive stance than the traditional Cayenne. 
A few additional Cayenne Coupe upgrades include a standard adaptive rear spoiler, individual second-row bucket-style sport seats separated by an open centre console bin, plus a standard 2.16-cubic-metre fixed glass panoramic sunroof with an integrated roller sunshade, or an optional lightweight carbon-fibre panel.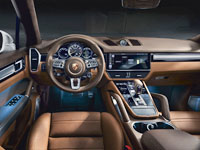 The Cayenne Turbo S E-Hybrid, which is now available to order with expected deliveries in early 2020, can be purchased for a lofty $182,200 plus freight and fees, which is $40,400 more than the current 2019 Cayenne Turbo, and more than double the price of the base Cayenne that can be had for just $76,700. The new even sportier looking Cayenne Turbo S E-Hybrid Coupe, which is said to perform identically to the conventional upright version, is available from $187,100, making it $39,100 pricier than the Cayenne Turbo Coupe, and once again more than twice the price of the $86,400 base Cayenne Coupe. 
By the way, you can see all 2020 Porsche Cayenne pricing at CarCostCanada, including trims, packages and individual options, plus you can also learn about money-saving rebates as well as dealer invoice pricing that could save you thousands. 
As usual we've added all the available Cayenne Turbo S E-Hybrid and Cayenne Turbo S E-Hybrid Coupe photos to our gallery above (including some cool pictographs), and provided the only video Porsche has produced for the new models below. Enjoy! 
The new Cayenne Turbo S E-Hybrid Coupé: A master of balance (1:00):