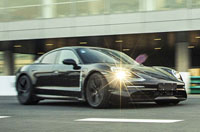 Those who follow the electric vehicle industry have been excited about the upcoming 2020 Taycan since the Mission E concept arrived on the 2015 Frankfurt auto show stage, and thanks to the first two stints of a three-continent "Triple Demo Run" the low-slung four-door coupe appears to be almost ready for prime time. 
The first event was held at the beginning of this month on a handling track at the Porsche Experience Centre (PEC) in Shanghai, China, while just last weekend the new Taycan silently whisked up the hay bale-lined "Hill Run" as part of the UK's Goodwood Festival of Speed. Soon, on July 13th, the automotive tripleheader will wrap up at the season finale of the ABB FIA Formula E Championship in New York City. 
Porsche Carrera Cup Asia driver Li Chao took to the wheel around the 1.4-km Shanghai racetrack in a road-ready albeit pre-production Taycan, this version wearing a red dragon on its rooftop, which was the least camouflaged version of the car seen up to that point.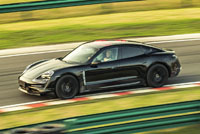 "The exceptional performance typical for Porsche was a clear development objective for the Taycan. You can sense that right from the start," commented Li Chao, particularly impressed by the Taycan's handling. "From uncompromisingly sporty to surprisingly comfortable, the chassis of the new Taycan covers a wide range and successfully combines the precise handling of a sports car and the long-distance comfort of a saloon. In addition to its low centre of gravity, the rear-axle steering also plays a crucial role. The Taycan steers into corners very directly and has plenty of grip." 
The Taycan incorporates a fast-charging 800-volt architecture and a 90-kWh lithium-ion battery, combining for 592 horsepower (600 PS) and a terminal velocity of 250 km/h-plus, while possibly even more impressive the new four-place sport sedan sprints from zero to 100 km/h in under 3.5 seconds before achieving 200 km/h in less than 12 seconds.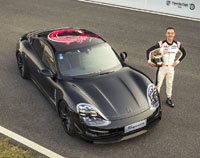 Videos (below) of the Taycan touring through Shanghai, and another bearing a blue and grey Union Jack on its rooftop as it charges up the Goodwood Festival of Speed hill climb help verify the new car's ultra-quick acceleration. 
"The Taycan's power delivery is awesome," said multiple racing winning past-F1 driver and LMP1/Porsche 919 Hybrid World Endurance Championship (WEC) contender Mark Webber, who was piloting the Taycan for the Goodwood event. "I took part in this event in a Porsche 911 GT2 RS two years ago, so I already knew that it all comes down to power and traction. But, even for a thoroughbred racing driver like me, it is amazing how the Taycan – even though it's still a prototype – accelerates off the start and out of the corners." 
This upcoming weekend's New York City demo run will have current ABB FIA Formula E Championship driver and 2016 24 Hours of Le Mans winner (at the wheel of a WEC Porsche LMP1 car) Neel Jani in the driver's seat, so make sure to check that one out on your favourite video streaming website.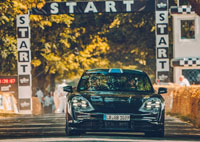 As exciting as the multi-continent debut of the Taycan has been so far, and despite its obviously quick acceleration, extreme handling prowess, arguable good looks, and the highly respected Porsche name on its backside, much talk about the Taycan has centered on whether or not this newcomer will find sales traction, at least to the levels of EV darling Tesla.  
Tesla has owned the electrified sport-luxury sedan market since the Model S arrived in 2012, the shapely albeit somewhat dated looking mid-size model doing so well on the sales charts that it's beaten all but BMW's 5 Series and the mighty Mercedes-Benz E-Class in recent years. Canadian Model S sales were off by 6.3 percent last year and a whopping 56 percent during Q1 of 2019, but thanks to all the Germans spiraling in the same downward trajectory but Audi, the American brand has still managed to hang on to third in the rankings.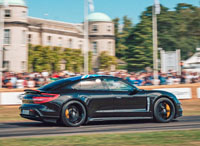 I shouldn't say all Germans, because Porsche saw 40.1 percent growth from its Panamera last year, a car that was also only flat over the first three months of 2019 with a fractional loss of 0.8 percent, and while Tesla's Model S outsold the Panamera by nearly three to one throughout 2018, and 2.5 to one during Q1 this year, the success of both models bode well for the new four-door Taycan. 
In case you were wondering, the Panamera (which is currently available with various conventional gasoline internal combustion engines as well as two plug-in hybrid powertrains) is nearly identical in key dimensions to the Model S, other than being slightly longer from nose to tail, while the Taycan's dimensions have yet to be disclosed. If the final production model comes close to the Mission E concept, however, it will be a bit shorter albeit substantially wider and dramatically lower than both, but nevertheless fit within the same mid-size E-segment category.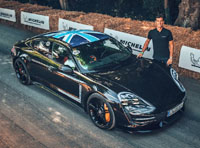 So here's the question: As good as the Porsche Taycan appears to be, can it somehow manage make a real dent in Tesla's very real sales leadership? It makes sense that luxury competitors such as Jaguar might have trouble luring in EV buyers, even with their potentially more appealing crossover-style I-Pace offering, being that the British brand already struggles to sell significant numbers of its conventionally powered models, but Audi, one of the hottest luxury brands, recently brought an all-electric crossover SUV to market too, and the E-Tron hasn't exactly lit up the sales charts either. 
Specifically, electric vehicle sales in the U.S. increased by a whopping 120 percent in June, but almost all the credit goes to Tesla that accounted for 83 percent of market share thanks to 20,550 Model 3 (a compact D-segment sedan), 2,725 Model X (a crossover SUV), and 1,750 Model S deliveries. Not including Tesla, EV sales were up 30 percent in June, which is good, but the numbers of each model were small by comparison.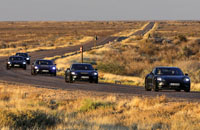 Out of a total 29,632 EV sales, 23,914 were Teslas and 4,718 were from other brands. Those other brands weren't exactly reaping in the rewards of their efforts either, with Nissan merely finding 1,156 new Leaf buyers, Chevy luring in just 1,190 new Bolt owners (its poorest result so far this year), Honda surprisingly finding 1,092 Clarity FCV (Fuel Cell Vehicle) leasers, previously-noted Audi actually slipping to 726 new E-Tron customers (after 253 sales in its first month of April, and 856 in May), BMW enjoying its best month of the year with 473 i3 sales, Jaguar achieving its second-best month with 236 I-Pace deliveries, Toyota leasing out 166 units of its Mirai FCV, Hyundai selling 127 Kona EVs, and the deliveries of models such as the Kia Soul EV, Volkswagen E-Golf, etcetera, unaccounted for due to being lumped in with the conventionally powered models that bear the same name. 
With such low sales it makes sense that the manufacturers listed aren't profiting from their multi-billion investments in battery-electric models, while even Tesla has struggled to make any sustained profits in this burgeoning EV market sector. Will the Taycan finally break into the mainstream like Tesla's Model S? Of course, we'll need to wait and see how the luxury market responds after the final production version arrives on the auto show circuit in September, and goes on sale later this year. 
Until then, make sure to check out our full photo gallery above and the three videos below showing the new 2020 Porsche Taycan in action: 
Kicking off in China: the Porsche Taycan prototype visits Shanghai (1:00):

Porsche Taycan prototype visits Goodwood Festival of Speed 2019 (1:41):

Hey Porsche, watch this video. Love, Electricity (1:03):