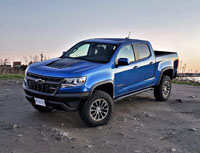 This is one badass truck. Chevy got the proportions perfect, and along with the Colorado ZR2's rugged looking styling and beefed up suspension, the General's most popular brand has created one hell of an off-road race replica. 
Of course, the Colorado ZR2 wasn't first to this category, and it won't be the last. Depending on your viewpoint, the Dodge Power Wagon might have been the street-capable off-road race truck initiator, but modern-day enthusiasts will look to the 2010 Ford F-150 SVT Raptor as the segment-busting leader when it comes to OEM custom 4x4s. Not only did it set new standards from assembly line to off-road capability, but the blue-oval development team behind it almost completely changed up the model's styling so that it came across like a totally separate model.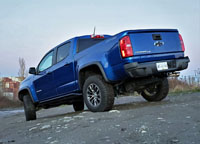 For reasons only Fiat Chrysler Automobiles (FCA) can answer, Dodge no longer makes trucks, but the newish spinoff Ram brand answered back with its 2016 to present 1500 Rebel, which is a more aggressively styled take on previous Power Wagons, while Toyota has more recently anted up with its Tundra and Tacoma TRD Pro models, the latter even featuring an ultra-cool snorkel-like air intake that makes it look as if it can literally swim its way across rivers, through mud holes, or any other type of deep, liquid deterrent. I'd be remiss not to draw attention to the new 2020 Jeep Gladiator too, which might be the most capable off-roader in the class (it's certainly endowed with worthy heritage), while also delivering payload and trailering capabilities that define it as a true pickup truck.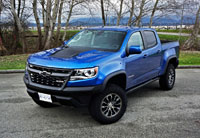 Other honourable mentions include Chevy's redesigned Silverado that now comes with a Trail Boss package featuring a two-inch lift kit. It delivers a bit more capability than GMC Sierra Elevation trim, but it's mostly a cosmetic exercise as there's not much else to overcome rocks, stumps, bogs and other off-road impediments, while Nissan offers its geriatric Frontier and fresher Titan models in tougher Pro-4X trims, plus Honda antes up with the Ridgeline Black Edition… ah, yah, whatever. 
Only the Gladiator Rubicon and Tacoma TRD Pro appear as dedicated to storming the wild frontier as the Raptor, or for that matter this ZR2 (the GMC Canyon doesn't provide anything to go head-to-head with the ZR2), the Chevy even more so with its special Bison upgrade package, but all deserve mention (including the Asian-market 2018 to present Ford Ranger Raptor that's become very popular amongst well-heeled 4×4 fans across the Pacific).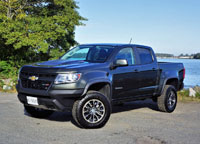 Of course, the one big differentiator between all trucks mentioned is size, the Raptor, Rebel (plus the Power Wagon), Tundra and Silverado/Sierra being full-size trucks, while the Tacoma, Ranger, Frontier and this Colorado (plus the Canyon) are compact, or more accurately, mid-size pickups. Another significant difference is powertrains, and being that this review is for a mid-size entrant I'll focus on its key competitors, with most rivals sporting four-cylinder and (when suited up to compete off-road) V6 gasoline-powered mills and the two GM mid-size trucks doing likewise, plus adding a high-torque, fuel-efficient turbo-diesel variant.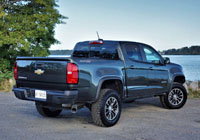 Let's take a look at the ZR2's available powerplants and how they measure up against its two most credible rivals, the Jeep Gladiator and Toyota Tacoma TRD Pro, and after that take a look at some features that make the ZR2 and its competitors more capable off the beaten path. First off, I tested the ZR2 with both engines, starting with the Deepwood Green Metallic painted version (it looks grey) that's actually a 2018 (I'll comment on the differences later in this review). This optional colour was discontinued for 2019, but the brilliant 2.8-litre Duramax turbo-diesel four-cylinder behind its blackened grille wasn't. It's good for 181 horsepower and a best-in-class 369 lb-ft of torque from just 2,000 rpm, and comes mated to a capable and robust six-speed automatic gearbox.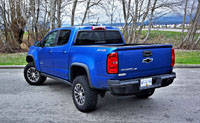 Fuel economy is rated at 12.5 L/100km in the city, 10.7 on the highway and 11.7 combined, which is impressive for the class, but maybe not thrifty enough to justify its hefty $4,090 upgrade charge, unless you happen to put a lot of distance between trade-ins, or require the diesel's much improved efficiency to travel deeper into the woods than gasoline-powered truck owners dare tread, or its tractor-like torque for said wilderness treks. 
Between the front wheel wells of the $495 optional Kinetic Blue Metallic painted 2019 ZR2 is the standard 3.6-litre V6 that's good for a sizeable 308 horsepower and 275 lb-ft of torque, the latter from 4,000 rpm. Like with the Duramax turbo-diesel, the V6 drives the rear axle or both via part-time four-wheel drive, although the standard transmission is an efficient eight-speed automatic. The combination results in a claimed 15.0 L/100km city, 13.0 highway and 14.1 combined fuel economy rating, thanks in part to cylinder deactivation under light loads, but of course this pales in comparison to the oil burner.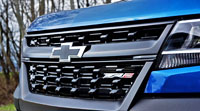 By comparison the Gladiator solely uses FCA's ubiquitous 3.6-litre V6 making 285 horsepower and 260 lb-ft of torque, which is down by a significant 23-hp and 15 lb-ft of torque when pitted against the ZR2's base engine, while it pushes that power through a six-speed manual (there's no manual offered with the ZR2) or an eight-speed auto, plus part-time 4WD, and is rated between 10.4 and 14.1 L/100km city/highway combined depending on trims; whereas the Tacoma TRD Pro comes standard with Toyota's well-seasoned 3.5-litre V6 capable of 276 hp and 265 lb-ft of torque, which is 32 hp and 10 lb-ft less capable than the ZR2's V6. It comes mated to a six-speed manual or a six-speed auto plus part-time 4WD, and achieves a city/highway combined fuel economy rating that ranges between 11.9 and 12.9 L/100km depending on transmissions and cab configurations.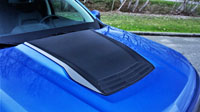 Of course, all V6 engines outpace the Duramax turbo-diesel's 181 horsepower by a considerable margin, which is immediately noticeable on the road when testing Colorado models back-to-back, but its 109, 104 and 94 lb-ft torque advantage over the Gladiator, Tacoma and Chevy's own ZR2 V6 respectively, makes the diesel optimal off-road, and of course its 11.7 combined fuel-efficiency advantage can only be beaten by one Gladiator trim (and I'd be surprised to see the FCA V6 win in a real-world comparo). 
There are other important factors that come into play when off-roading, ground clearance, front and rear overhangs, and wheelbase being paramount. The Tacoma offers up the shortest wheelbase at 3,236 mm (127.4 in), yet its 5,392 mm (212.3 in) overall length means that its overhangs are more exaggerated, which means it will be less prone to get hung up when going over an obstacle, but more likely to drag its front or rear bumper when climbing up or down a steep grade. The Colorado bridges the gap with a relatively short wheelbase at 3,258 mm (128.3 in), and the shortest overall length at 5,347 mm (210.5 in), while the Gladiator has a surprisingly long wheelbase at 3,487 mm (137.3 in) and stretches a full 5,537 mm (218.0 in) from nose to tail.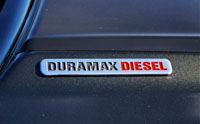 Full disclosure: of the three trucks covered in this review, I've only tested the ZR2 and an older 2017 Tacoma TRD Pro (it now includes the aforementioned snorkel and a few other upgrades). As also noted, I spent a week in a 2018 ZR2 with the Duramax Turbo-Diesel, and a week in a 2019 version with the V6, mostly on pavement in town and in suburban, rural areas, but also getting dirty in mud and muck with both, and deep into hood-high water most recently with the latter. I 4x4ed the Taco and it performed well, but considering how far back that was I'd rather spend time with an updated version before commenting.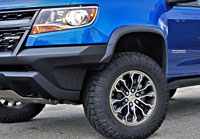 As for the Gladiator, which I hope to get into this summer, it boasts a disconnecting front sway bar (something first seen with the Ram Power Wagon and now also found in the Rebel), plus a Wrangler-sourced solid front axle that's preferred over the ZR2's (and most every other modern pickups') independent front suspension by most 4×4 purists. Again, I'll defer comment to a future test. 
Like the initial 2017 Colorado ZR2 and the grey-green 2018 turbo-diesel version shown in this review, the latest 2019 model gets a substantial boost in ride height and therefore ground clearance that's up by 50 mm (2.0 inches), while any negatives to high-speed handling are offset by a 90-mm (3.5-inch) increase in front and rear track, new stiffer cast-iron lower front control arms, and special 8- by 17-inch alloy wheels cushioned by 31-inch Goodyear Duratrac off-road rubber. Additionally, a new 1.0-inch-diameter solid anti-roll bar replaces the usual 1.5-inch hollow one, which improves suspension articulation, while leaving the best for last are special Multimatic DSSV Position Sensitive Spool Valve Damping Performance shocks designed for cushioning the otherwise jarring impacts of rocks, roots and other obstacles you might find along an ungraded back road or trail (incidentally, the TRD Pro uses Fox-sourced shocks, which are also highly recommended).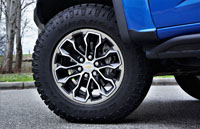 Easier to see are skid plates below and tubular rocker extensions at each side, both designed to protect vulnerable components and bodywork, but the ZR2 is even more noticeable to passersby thanks to its all-business matte black grille and even beefier black hood dome that serve no purpose but looking good, rugged black bumpers that get chopped down a couple of notches to improve approach and departure angles, and more muscular black fender flares that make way for those just-noted meaty tires.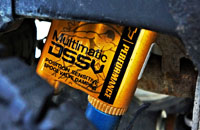 I took both ZR2s to a local 4×4 playground I use often, only about five minutes from my home. It gave me good opportunity to test it out on some trails that are nowhere near as tough as this truck is, but still fairly intimidating without a spotting crew to guide me through. During the first mostly dry run I was able to hang the rear-mounted spare tire up on a couple of grassy knolls while exiting deep ruts, and also scaled some steep grades, bounced through some oscillating ruts and bumps that left tires hanging in midair, but more so proved that its suspension is firm enough for stability yet plenty absorbent for comfort. 
It was the rainy and muddy during the second mid-winter stint at the same location, which made for more fun, those steep grades now requiring me to lock both front and rear differentials (just like the Gladiator can, but alas not so with the Tacoma that only offers a rear locker) to scale with ease, no doubt helped by its grippy Goodyear Wrangler all-terrain rubber. A 50-foot puddle caught me a bit by surprise when the front end slipped into some deep ruts and the dirty water rushed over the hood and onto the windshield, my tired old heart racing for a moment as I kept a steady foot on the throttle, but the tires gripped and the ZR2 carried me confidently to the other side. The TRD Pro's snorkel would've been comforting in such circumstances, but the ZR2 didn't need it, at least this time around.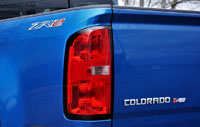 I'd like to try the ZR2 with the Bison package noted earlier, which only comes in Red Hot paint (I'd like it better if you could choose paint colours), gets a unique grille with "CHEVROLET" written across in block letters (not unlike the Raptor's bold "FORD" emblazoned grille), special AEV (American Expedition Vehicles) front and rear bumpers (the one up front capable of accepting a winch), beefy black extended fender flares, unique 17-inch AEV alloy wheels, fog lamps, contoured front and rear floor liners, and about 90 kilos (200 lbs) of ultra-strong boron steel AEV skid plates (front, transfer case, fuel tank, and rear differential) to better protect its vitals, all for $6,980.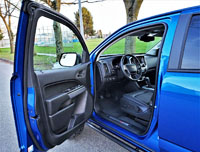 Still, the regular ZR2 is plenty capable all on its own, and quite impressive from a styling standpoint. I find the regular Colorado a bit tame looking compared to most rivals, particularly the new Gladiator and Tacoma, but the ZR2's bulging domed matte black louvered hood, redesigned matte black front bumpers and rear bumpers, exposed skid plates, robust tubular rocker protectors, and other trim upgrades make it look a lot tougher. Peer behind the machine-finished 17-inch alloys with black-painted pockets and you can just see the yellow Multimatic shocks, unless they're covered in mud. 
Unfortunately, no side steps help shorter than average folks like me climb up inside, and there aren't any Corner Steps on the back bumper to aid access to the bed either, the only complaints I have, but it looks fabulous and these special bumpers serve the truck's pure off-road purpose very well.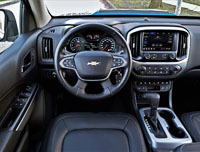 Once up in the comfortable albeit rudimentarily powered driver's seat, enjoying a view allowed by especially good sightlines in every direction, the V6 is by far the engine to choose if fuel economy isn't as important as accelerative performance. It jumps off the line and keeps up the pace right past legal highway speeds, whereas the diesel is just as motivated from standstill initially, yet doesn't maintain the same level of enthusiasm as revs rise. That's ok for diesel fans like me, because it feels like a work truck capably going about its business, and it pays dividends at the pump, as noted earlier, but those who want more of a sport truck will appreciate the V6. 
Fortunately the Colorado ZR2 handles just as well no matter the engine choice. Even with its jacked-up suspension, or possibly because of it, the ride is reasonably smooth and comfortable, unless going over curbs. Those slightly more rigid Multimatic shocks that work so well off-road help reduce body roll at higher speeds on pavement too, so therefore the ZR2 is surprisingly agile through twisting fast-paced corners, unless trying to go faster than anything so top-heavy and obviously 4×4-focused was designed to go. Braking is decent too, but once again don't be silly. The ZR2 hits the scales at 1,987 kilos (4,381 lbs), and more when upgraded with the aforementioned Bison package, so keep this in consideration when judging stopping distances.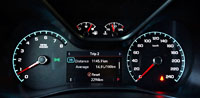 I only pushed it hard for testing purposes, and no matter what surfaces I drove over or speeds I attained, those comfortable seats noted earlier always adequately supported me. I especially appreciated the lateral support provided by large side bolsters, which stopped me sliding sideways on what could have otherwise been slippery leather upholstery. It was dyed in the usual black shade, by the way, but highlighted with a red embroidered "2" as part of the otherwise black "ZR2" insignia on the headrests. The ZR2 steering wheel gets no such name recognition, but it's leather as well, and made of a particular soft and comfortable variety, with nice baseball-style stitching for enhancing grip. I'd call it more of a sport steering wheel than the usual truck type, as it could just as easily be found in a performance car despite featuring four spokes, and thanks to a standard tilt and telescoping steering column with excellent reach, the overall ZR2's overall ergonomics are excellent. This means I was able to sit upright, comfortably, with the steering wheel perfectly positioned for my long-legged, short torso, five-foot-eight, slight-build body type, safely and comfortably with my hands at the optimal nine and three positions, further allowing excellent reach to the pedals and great visibility all around.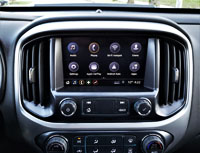 Likewise, the rear seat of this Crew Cab, short box (the ZR2 is also available in the Extended Cab, long box configuration) provides good roominess for adults (or kids) of all sizes. When the front seat was set up for my just noted body, I still had about five inches ahead of my knees and plenty of space for my feet, plus another three to four inches above my head, and five inches from my shoulders and hips to the door panel, plus I'd estimate there was still room enough for a smaller person in the middle. When three's a crowd in back, you can pull down a wide, comfortable centre armrest filled with large cupholders that include rubber grips to fasten cups or bottles in place. Other nice features in the rear compartment include twin USB ports and a 12-volt device charger.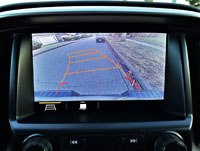 If a need to keep your gear dry and safe from theft arises, the rear seat headrests flip forward and backrests fold flat so you can lay what-have-you on top, or alternatively you can lift the seat cushion upwards to expose a hidden compartment below, this including all the tools you might need for lowering the spare tire and then removing the flat before bolting on said spare. 
To be clear, seats and leatherette armrests aside, Chevy doesn't include any fancy soft-touch surface treatments in back, but up front the dash top gets nice soft paint to help absorb some of the sound and make it more appealing to fingertips, as does the instrument panel. I should also point out this isn't the fanciest version of Chevy's Colorado, because it's optimized for off-road, but it's certainly good enough for this class of truck. Chevy has included some nice metallic trim around the centre stack and lower console, as well as the door handles and armrests. The inner door handles are chromed, as are the insides of some of the rotating knobs on the centre stack.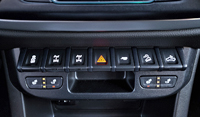 A highly legible primary gauge cluster is shielded well from sunlight and filled with the usual tachometer on the left and speedometer to the right. Fuel and temp meters fill the top centre position, while just below is a reasonably sized 4.2-inch high-resolution colour multi-information display that provides ample information for the class. You can control it via an arrow button pad on the right steering wheel spoke, which pulls up a bright menu of multicoloured functions including info, audio, phone, navigation, options, and more, while the navigation feature provides directions within the gauge cluster where they're easier to see without removing eyes from the road as often, with the detailed mapping coming up on the large 8.0-inch infotainment touchscreen atop the centre stack (this larger display is now standard in all Colorado trims except for the base WT or Work Truck that still does pretty well with a new 7.0-inch touchscreen).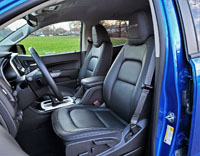 That touchscreen comes standard with Chevy's nicely laid-out, bright, and colourful HD menu display that appears inspired by Apple's iPhone, which is a good thing, while it can be made to look even more iPad like by hooking up standard Apple CarPlay, or alternatively Android Auto that doesn't look anywhere near was nice. At least Chevy gives you these smartphone connectivity alternatives, while it also features an audio system that's easy to connect up to your phone via Bluetooth wireless streaming, plus you also have the option of satellite radio, and all the usual AM/FM/HD sources. 
I found the navigation system very accurate and associated mapping incredibly detailed and easy to figure out. My only problem were directions that told me when to turn, such as 50 metres or 150 metres from the point I was at, were a tad too small to see and only monochromatic, not colour. I would rather have them pop up larger on the screen in a more visible colour while saying something like "In 50 meters turn right". The infotainment system also received text messages and provided some stock responses so that I could communicate that I was driving and would contact later. Other apps include OnStar, traffic info, even one for shopping, which I don't recommend while driving.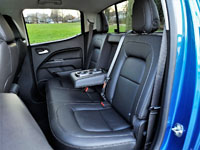 Along with navigation and an excellent HD backup camera with dynamic guidelines (albeit not one as 4×4-friendly as the Gladiator's, which sports front and rear trail cams that can even be cleaned via the touchscreen), plus some of the other features already mentioned, this truck comes with a device charging pad positioned just ahead of the centre armrest (standard with Z71 trim and above), plus a USB port inside the armrest if your phone needs a wire. Chevy provides two more USB ports (one for the new USB C-type charger) as well as an aux port and an available SD card reader within another storage bin just under the centre stack, so you and your devices should be well taken care of. Lastly, the Colorado gets a second microphone mounted closer to the front passenger to improve Bluetooth hands-free voice quality, while I personally really appreciated the ZR2's heatable steering wheel rim during some cold mornings, this now standard on all trims above the LT.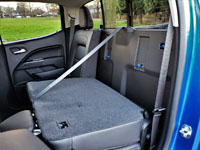 On that note, standard ZR2 features include GM's excellent heatable front seats, which not only warm the lower cushion and backrest, but can be set to only heat the latter, which works well for those of us with lower back problems that just want a little temporary relief. On that note, this truck gets single-zone auto HVAC, not the usual dual-zone setup offered by the top-line Tacoma and Gladiator. I think most can live with that shortcoming, while this particular model also doesn't include pushbutton start or proximity-sensing access. It didn't have a sunroof either, which might be a bone of contention for those choosing the Jeep for its removable roof, but I couldn't care less as it's not something I normally use. The only kind of sunroof I really like are the big panoramic ones anyway, so I say if you're not going to go all the way, don't bother at all. I like the padded sunglasses holder in the overhead console, and the reading lights are fine, but take note they're not LEDs. On the positive, the rearview mirror is an auto-dimming unit, and along with OnStar it features a button for voice activation as well as an SOS telematics button that lets you call for help if needed.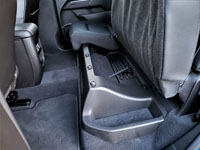 A row of toggles can be found on the centre stack, including stability control off, a bed light, hill descent control, an exhaust brake that's helpful when trailering, a hazard light, and finally two individual switches for the separate front and rear differential locks mentioned earlier. 
Having just mentioned trailering, the ZR2's towing capacity is rated at 2,268 kilos (5,000 lbs) no matter the engine, while its payload is 500 kilograms (1,100 lbs) with the four-door short-bed or 528 kg (1,164 lbs) with the extended-cab long-bed, while the Taco TRD Pro is good for a 2,900-kg (6,400-lb) tow rating and a payload of 454 kg (1,000 lbs), and the Gladiator in its most ZR2-fighting Rubicon trim can tow up to 2,040 kg (4,500 lbs) and manage of payload of up to 544 kg (1,200 lbs) with the manual, or tow 3,175 kg (7,000 lbs) of trailer and carry 526 kg (1,160 lbs) on its back with the auto.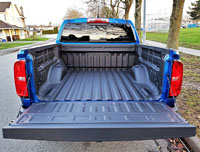 I won't bore you with all the ZR2's comfort and convenience features, which are readily available on Chevy's retail website or at CarCostCanada where I sourced all the 2019 Colorado's pricing information including trims, packages and standalone options, not to mention money-saving rebate info and dealer invoice pricing, but suffice to say it's very well equipped from just $46,100 for the Extra Cab or $47,600 for the Crew Cab, plus freight and fees of course. 
So which Colorado ZR2 powertrain would I rather have? Being that I keep my vehicles for longer than average, I'd likely opt for the Duramax turbo-diesel, as the extra initial expense would more than likely be recouped by lower running costs over time. I'd also be tempted to spend more for the optional Bison package, because the key reason for stepping up to this truck is its 4×4 prowess, so further protecting vital components underneath only makes sense. I'd also spring for an aftermarket snorkel, if only because it looks so good. Other than that, this Colorado ZR2 is the Raptor for mid-size truck buyers, at least until Ford brings its Ranger Raptor to North American markets.