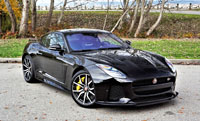 I'm not going to lie to you. As curious as I am to spend a given week with seriously important big market cars like the recently redesigned Toyota Corolla, and as interested as I am to find out how far I can go on a single charge with Kia's latest Soul EV, nothing gets me out of my editor's chair as quickly or as enthusiastically as a hopped up muscle car, a high-revving super-exotic, or something along the lines of Jaguar's F-Type SVR, which might be the perfect combination of both. 
Regular readers will remember that I spent a blissful week with this very same car last year in its more eye-arresting Ultra Blue paintwork, so having this 2019 model gifted to me for yet another seven heavenly days was a welcome surprise made better due to its stealth Santorini Black bodywork that thankfully doesn't attract quite as much attention.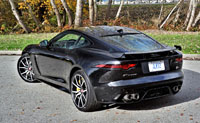 It's not that I was embarrassed to be seen in it, quite the opposite of course, but rather that this car coaxes my most juvenile impulses from their hardly deep recesses all too easily, which can quickly get a person deep into trouble. 
How quickly? Well that depends on whether you're thrown into a stupor or moved into action when first laying eyes on the F-Type SVR, as well as which sense moves you most. If you're visually stimulated first and foremost, you might be stopped dead in your tracks as soon as it comes into view, but then again if your receptors respond more to an auditory trigger you'll move right past first sight to initial startup, resulting in the rasp of one of the more sensational exhaust notes in autodom, which will either send you to the moon in a momentary daze or turn you toward the street to put some of that wound up energy to good use.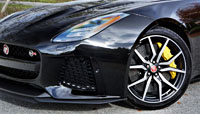 I'm jaded, or maybe it's just that experience tells me not to waste a moment gawking inanely at something I can relive later in pictures. Certainly one can recall memories of moments well spent, but the more one collects such moments makes recalling them a helluvalot easier. A quick glance of appreciation, out of respect, immediately followed by a quicker descent into a familiar body hug, the SVR's performance seats are as wholly enveloping as they're sinfully comfortable. Foot on brake pedal, finger on start button, mechanical machinations ignited and ahhh… glory hallelujah! What a sound!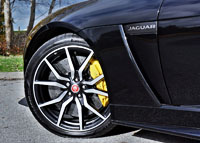 Nothing roadworthy this side of an XJR-15 sounds as brutally raw, as purely visceral as an F-Type SVR being brought to life, that is until you've given the throttle a few more blips after opening up its two-mode titanium and Inconel active exhaust system via a wee little console-mounted button that makes a great big noise. Any sort of right foot twitch capable of spinning the crank above 4,000 revolutions per minute lets loose a cacophony of crackling barks and blats, the kind of song that'll have gearheads singing along in dissonant unity, and zero emissions folks sneering. 
Allowing spent gases to exit more freely isn't exactly the Tesla mantra, and to think the minds behind this wondrous high-test glutton are the very crew responsible for the Model X-beating I-Pace (well, it beats the entry-level Tesla crossover, at least). We've all got to love the bizarre dichotomy running rampant in today's automotive market, where the cars we all lust after are paying for the ones that government mandates are forcing down our throats.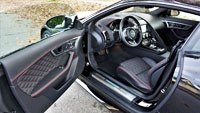 Of course, thanks to companies like Jaguar and Tesla we're all beginning to realize that going electric isn't the end of motorized fun, but potentially a new beginning. Could there be an electrified F-Type in our future? Likely, and it'll be the quickest Jaguar sports car ever. Still, the good folks at Castle Bromwich will need to expend terahertz levels of energy in their artificial sound lab to recreate the auditory ecstasy this SVR composes. Let's hope they succeed, because we all know that as sensational as this 5.0-litre supercharged V8 sounds, and as fabulously fast as this Jaguar becomes when powered by it, the still impressive yet nevertheless 23-year-old AJ-8 power unit's days are numbered.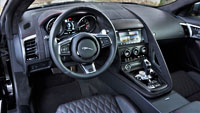 As it is, this 575 horsepower beast catapults from naught to 100km/h in just 3.7 seconds before attaining the seemingly unattainable terminal velocity of 322 km/h (200 mph)—that's 1.1 seconds quicker and 122 km/h (75.8 mph) faster than the I-Pace, in case you were wondering. Certainly a driver's license would be unobtainable for the remainder of my sorry life if I were so foolish as to attempt the former speed on public roads, and being that no such track is long enough within close proximity of my home we'll all just need to take Jaguar's word for it. Suffice to say that zero to all other cars at the stoplight looking like tiny coloured dots happens all of a shockingly sudden, so you'd better gather your stunned thoughts, get into the game and prepare for upcoming corners or you'll fast be shuffled off this mortal coil.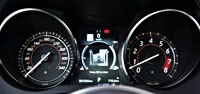 Fortunately the F-Type SVR manages all roads serpentine as easily as it's guided down the straight and narrow, its brilliantly quick-shifting eight-speed automatic as ideally suited to flicking up through the gears as for rev-matched downshifts. Remember when I mentioned muscle car credentials earlier? That was strictly referencing the engine, its prowess over undulating, curving backroads the stuff of mid-engine exotica. Just look at the meaty 305-section Pirelli P-Zero rubber at back and plentiful 265/35s up front, both ends supported by the lightweight aluminum chassis and riveted, bonded body shell noted earlier, and then factor in that suspension's Adaptive Dynamics system, the electronic active rear differential, and the brake-sourced torque vectoring. Tap the carbon ceramic brakes to load up the front tires, enter the apex, add throttle and enjoy as the SVR's backside locks into place while catapulting this leather-lined beast toward the next bend, a process I repeated over and over, as often as opportunity would allow.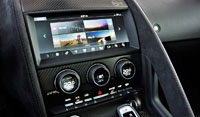 All said, you'd think something as fabulously fast as the F-Type SVR would be a handful around town, but that's where its exotic nature ends and more upright practicality enters. It's actually a very comfortable coupe to spend time in, while visibility is quite good considering its sleek greenhouse and thick C pillars. The 12-way powered driver's seat and steering column fit my long-legged, short torso five-foot-eight frame well, and due to much more movement in all directions should provide good adjustability for all sorts of body types, and I certainly had no complaints from my various co-drivers. 
On the practicality question, Jaguar provides a large hatch opening for loading in all kinds of gear, with up to 408 litres (14.4 cubic feet) in total and about half that below the removable hard cargo cover. It's beautifully finished, as one would expect in this class, but remember that unlike the old XK the F-Type is strictly a two-seater with no rear seats to fold, so there's no way you'll be able to fit skis or any other long items aboard, unless you slot them down the middle between driver and front passenger.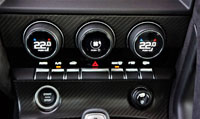 I remember stuffing my significant other and kids into an XKR coupe years ago, and while its 2+2 grand touring profile wasn't carried forward into the F-Type's design, the interior's fine workmanship and beautiful attention to detail continues. In fact, I'd say this SVR's cabin is even better, with rich red stitching and piping providing colour to the otherwise black Suedecloth and quilted leather surfaces, while its electronic interfaces are beyond comparison. 
Classic analogue dials flank a large 5.0-inch colour TFT multi-information display at centre, unchanged from past years, albeit the Touch Pro infotainment touchscreen on the centre stack is all new for 2019, growing from 8.0 to 10.0 inches in diameter and now flush-mounted without buttons down each side. It's properly outfitted with navigation, a backup camera with active guidelines, Pro Services, InControl Apps, 770-watt 12- speaker Meridian surround audio, satellite and HD radio, and the list goes on, while Jaguar also added Apple CarPlay and Android Auto for $300.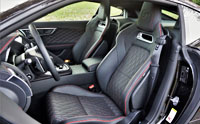 You can get into a 2019 F-Type Coupe SVR for just $140,500, or go topless for an extra $3,000, either of which is a bargain when compared to the Porsche 911 Turbo that will set you back $43,700 more for the hardtop or an additional $54,700 for the drop-top. That easily pays for the aforementioned $13,260 Carbon Ceramic Brake Pack with plenty left over, which includes 398 millimetre rotors up front and 380 mm discs at back, plus massive yellow calipers encircled by a stunning set of 10-spoke 20-inch diamond-turned alloys. Plenty of options were included with my test car and a yet more, like LED headlights, a heated steering wheel, rain-sensing wipers, auto-dimming centre and side mirrors, auto climate control, front and rear parking sensors, autonomous emergency braking, and lane keeping assist, comes standard, so make sure to check out all the 2019 F-Type trims, packages and options at CarCostCanada, not to mention rebate info and dealer invoice pricing that could save you thousands.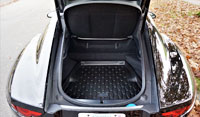 It's difficult not to write an epic for such a phenomenal sports car, but instead of running on at the mouth I recommend you head to your local Jaguar retailer and ask them to start one up in the showroom or on the lot, turn on the switchable active exhaust, rev the throttle and then listen to the snap, crackle and pop of the exhaust. If you're not raring to go for a drive after that, you might be better off moseying down the road to the Lexus store for a smooth, comfortable ride in ES 300 hybrid.