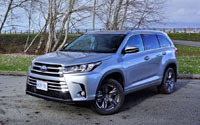 Toyota redesigned the Highlander for the 2014 model year, giving it much more character and impressive refinement inside, while upping the maximum seat count from seven to eight, and then after just three years they replaced the simpler truck-inspired front grille and fascia for a ritzier chromed up look that certainly hasn't hurt sales. 
Its popularity within its mid-size crossover SUV segment grew from eighth in the 2016 calendar year, when the updated model was introduced, to seventh the following year, while after three quarters of 2018 it's risen to fifth overall and just third amongst its dedicated three-row peers.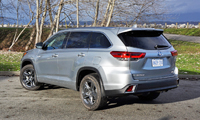 Obviously Toyota sees no reason to change much for 2019, so the full-load Limited model in our garage this week only gets a nice new set of LED fog lamps. This is true for both the conventionally powered model and our Highlander Hybrid tester, the latter being the only mid-size SUV within the mainstream volume sector to be offered with a hybrid-electric powertrain. 
Think about that for a moment. SUVs are taking over the entire automotive market, and electrification is supposedly our future, but only Toyota offers a hybridized mid-size SUV. Like so many things in life, this doesn't make a lot of sense. Kudos to Toyota, mind you, that's been leading the way for more than a dozen years.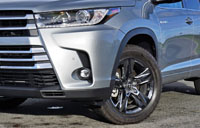 Hybridization means Toyota swaps out its standard 295-horsepower 3.5-litre V6 for the same engine running on a more efficient Atkinson cycle, which when mated to two permanent magnet synchronous electric motors, one for driving the front wheels and the other for those in the rear, plus a sealed nickel-metal hydride (Ni-MH) traction battery, results in 306 horsepower and an undisclosed amount of torque that's no doubt more than the 263 lb-ft provided by the gasoline-only variant.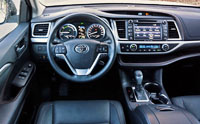 Additionally, the regular Highlander's advanced eight-speed automatic is replaced by an electronically controlled continuously variable transmission (ECVT) with stepped ratios to mimic the feel of a traditional gearbox, plus a sequential shift mode for getting sporty or merely downshifting while engine-braking, and as sure as rain (or should I say snow this time of year) its aforementioned all-wheel drivetrain takes care of slippery situations. 
At $50,950 plus freight and fees the 2019 Highlander Hybrid doesn't come cheap in base XLE trim, while this upgraded full-load Limited model hits the road for a whopping $57,260, but then again a similarly optioned 2019 Chevrolet Traverse High Country comes in at an even loftier $60,100, and the only slightly nicer 2019 Buick Enclave Avenir will set you back a stratospheric $62,100, and they don't even offer hybrid drivetrains, so maybe the Highlander Hybrid Limited isn't so pricy after all.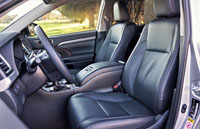 By the way, check out CarCostCanada for detailed pricing of trims, packages and options, plus money saving rebate info and dealer invoice pricing that could save you thousands, whether purchasing the new 2019 Highlander, 2019 Chevy Traverse, 2019 Buick Enclave, or any other mid-size crossover SUV. 
I'll go into much more detail in my upcoming 2019 Highlander Hybrid Limited review, so for now enjoy our comprehensive photo gallery above and be sure to come back soon for my full road test…