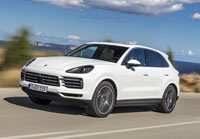 While the majority of car enthusiasts will immediately conjure thoughts of the legendary 911 sportscar when Porsche enters the conversation, crossover SUVs are the German premium brand's biggest sellers. Such is the case with most automakers in today's sport utility crazed market, and the Porsche Cayenne gets credit for being in on the early stages of this relatively new automotive phenomenon. 
The Cayenne was first introduced in 2002, and quickly became Porsche's most popular model. Now that mantle falls on the smaller, more affordable Macan, with the two having made up more than 70 percent of the brand's best-ever Canadian sales last year. Still, the Cayenne is key to continued profits due to its higher cost of entry and much pricier high-end model lineup.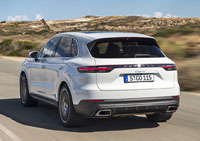 What's more, Porsche sales are on an even stronger course in 2018 than the previous record year, up more than 40 percent over the first nine months, and now with a completely redesigned third-generation Cayenne, 2019 should be a banner year if our shaky economy holds up. 
With the launch of the new model Porsche addresses some key issues that previous generations chose not to, particularly size. Measuring 4,918 millimetres (193.6 inches) from nose to tail, the 2019 Cayenne is now 63 mm (2.5 in) longer than the model it replaces, plus (not including mirrors) it's also 44 mm (1.7 in) wider at 1,983 mm (78.1 in) with a 9-mm (0.3-in) lower roof height at 1,696 mm (66.8 in), except for the top-line Cayenne Turbo that keeps the same wheelbase and width yet adds 8 mm (0.3 in) of extra length while losing another 23 mm (0.9 in) in overall height.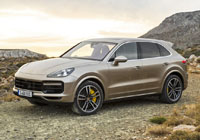 That wheelbase length remains identical from old to new at 2,895 mm (114.0 in), yet the ability to slide the rear seats fore and aft by about six inches allows for more rear legroom, while the really big interior gains show up behind the back seats where 100 litres (3.5 cubic feet) of cargo space has been added for a new total of 770 litres (27.2 cu ft), which is almost a 15-percent improvement over the outgoing model. Additionally, when the standard 40/20/40-split reclining rear seatbacks are lowered they form a nearly flat loading floor, improving the Cayenne's practicality even more, while expanding its load carrying capacity to 1,710 litres (60.4 cu ft).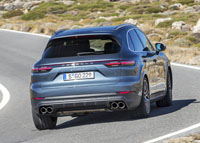 Surprisingly, despite the new model's increased size it's now 55 to 65 kilograms (121.2 to 143.3 lbs) lighter, depending on trim and configuration, thanks to a body structure made from roughly 50 percent aluminum (including the front wings, doors, side panels, roof and rear liftgate) and 50 percent high-strength steel, plus other mass-reducing components such as a lithium-ion polymer (LiPo) starter battery that saves 10 kilos (22 lbs) on its own. 
This also results in better weight distribution, now about 55/45 percent front/rear in base configuration, so together with an increase of about 20-percent in overall torsional rigidity due to the tauter mixed-metal construction method, which according to Porsche includes more than 6,800 MIG (metal inert gas) and laser weld points, 630 "float drill screws", and 170 metres (557 feet) of bonding agent for each Cayenne produced at the brand's Bratislava, Slovakia assembly plant, improvements have been made to straight-line performance, handling and fuel-efficiency.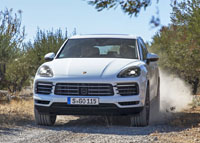 To that end the mid-size crossover SUV is pulling yet more cues from Porsche's legendary 911 sports car, particularly by providing staggered narrower-to-wider front-to-rear tire sizes on all trims, as well as new optional Rear Axle Steering, the latter feature helping to reduce the Cayenne's turning radius at low speeds for easier manoeuvrability in tight spaces like parking garages. 
Also improving handling, albeit at higher speeds, the new Cayenne's front suspension gets upgraded from the old double wishbone design to a multi-link setup like the rear, which promises to enhance steering response while maintaining better tire contact with the road surface below.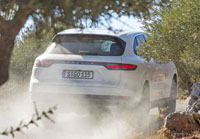 Continuing on the theme of relentless grip, the Stuttgart brand also includes its Porsche Traction Management (PTM) active all-wheel drive system as standard equipment, which comes together with an electronically variable, map-controlled multi-plate clutch, an automatic brake differential (ABD) and anti-slip regulation (ASR), while options include a new three-chamber Adaptive Air Suspension with alternative ride heights that are preset to 28 mm lower than normal or 56 mm taller than normal, plus improved Porsche Dynamic Chassis Control (PDCC) electronic roll stabilization, which now benefits from the Cayenne's new 48-volt electrical system that allows for faster-reacting electrical components compared to the old model's hydraulic system. All are now made to work more effectively via standard Porsche 4D Chassis Control, resulting in the most capable Cayenne yet. Also important, the new Cayenne can still tow up to 3,500 kilograms (7,700 lbs) of trailer weight.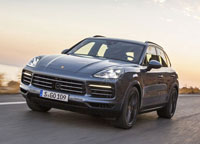 The new third-generation Cayenne is now available in base Cayenne trim for $75,500 plus freight and fees, while other trims include the $92,600 Cayenne S, $91,700 Cayenne E-Hybrid, and $139,700 Cayenne Turbo, with a Cayenne GTS and other variations no doubt on the way. 
All Cayennes come mated to Porsche's new ZF-sourced eight-speed Tiptronic S automatic transmission featuring manual mode, paddle shifters, quicker response to input, and faster shift increments in lower gears to enhance on-pavement prowess and off-road performance. As a side benefit the new German-designed gearbox delivers up a smoother auto stop-start system with coasting capability, the outgoing Aisin-sourced eight-speed autobox in need of some refinement in this respect.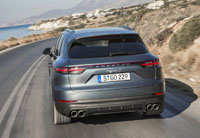 For 2019, the base model's V6 engine loses 600 cubic centimetres on its way from 3.6 to 3.0 litres of displacement, yet is now turbocharged for 35 more horsepower and 37 additional lb-ft of torque resulting in a new maximum of 335 horsepower and 332 lb-ft, the latter arriving 1,000-plus rpm sooner at 1,840 rpm. It's good for a zero to 100km/h sprint time of just 6.2 seconds, or 5.9 seconds with the Sport Chrono Package, and is now capable of a 245 km/h top track speed, which incidentally is a massive performance gain over the previous base Cayenne model that could only manage the same feat in 7.6 seconds, whereas its top speed was just 230 km/h.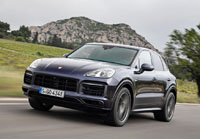 The upgraded Cayenne S includes a 2.9-litre twin-turbocharged V6 that makes 434 horsepower and 406 lb-ft of torque for a significantly quicker 5.2-second sprint from standstill to 100km/h, or 4.9 with the Sport Chrono package, plus a new top speed of 265 km/h. 
The new E-Hybrid raises the game for electrified Cayennes by combining the base 3.0-litre V6 with a plug-in hybrid drivetrain featuring a 14 kWh lithium-ion battery with on-board charger, resulting in a shocking new total of 455 net horsepower and 516 lb-ft of torque, and a zero to 100km/h time of 5.0 seconds with its standard Sport Chrono Package, plus a top speed of 253 km/h.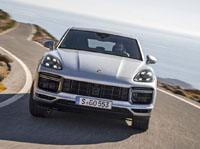 Finally, the new 2019 Cayenne Turbo utilizes Porsche's 4.8-litre twin-turbo V8 to produce 541 horsepower and 568 lb-ft of torque for an ultra-quick 4.1-second launch to 100km/h, or 3.9 seconds with the Sport Chrono Package, and a terminal velocity of 253 km/h. 
Improving performance further, the Cayenne will offer the choice of three driving modes including Comfort, Sport and Sport Plus, as well as an Individual mode that lets each driver configure their own personal setup.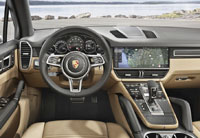 The 2019 Cayenne also features Mud, Gravel, Sand, and Rock modes for overcoming more treacherous terrain off-road, tackling the wild unknown always high on Porsche's SUV priority list. To that end its maximum water wading depth is now 526 mm (20.7 in), while the new model's approach angle is 27.1 degrees, breakover angle 21.1 degrees, and departure angle 24.1 degrees. 
Improving performance further is a new world-first optional high-performance braking technology dubbed Porsche Surface Coated Brakes (PSCB). The cast-iron discs are coated with 70 micrometers of tungsten carbide, which, when bedded in cause a mirror-like finish to the surface of each rotor. Porsche promises stronger performance over steel brakes, with reduced wear and therefore a longer life. In fact, Porsche claims a 35-percent reduction in brake wear when upgrading to PSCB, while brake dust is reduced by up to 50 percent. Also, they're available for less than half the price of the optional Porsche Ceramic Composite Brake (PCCB) package.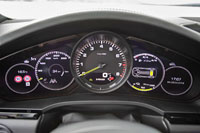 As noted earlier, all-important fuel economy is improved as well, with the base Cayenne good for a claimed 12.4 L/100km in the city, 10.1 on the highway and 11.4 combined, compared to 12.9, 9.7 and 11.5 respectively with the outgoing model, while the Cayenne S is estimated to achieve 12.9 L/100km city, 10.4 highway and 11.8 combined, compared to 13.9, 9.6 and 12.0 in the old version. Lastly, the new Cayenne Turbo receives a claimed rating of 15.6 L/100km city, 11.8 highway and 13.8 combined, compared to 16.7, 11.2 and 14.3 with the previous model, the end result being notable improvements from all 2019 Cayenne trims despite their significant performance upgrades.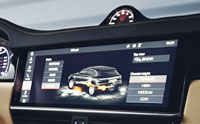 Styling plays an important role in any new model's redesign, but the Cayenne's reshaped body panels also aid performance due to an improved coefficient of drag of 0.35. Most will more likely be drawn to its Macan-inspired front fascia that, as always, looks meanest in Turbo guise. This is where its familial resemblance to the all-new 2020 911 is most obvious too, its wide, squared-off, blackened grille opening much larger and more dramatic than the air intakes found on previous generations, while the new Cayenne's narrow, body-width single-unit LED taillight cluster shares much with the new 911 and Macan as well.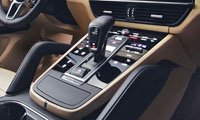 Other muscular details include aggressive hood creases and deeper Coke bottle-like sculpting at each side, while the roofline tapers downward in 911 coupe-like fashion as it nears the rear hatch, this now possible due to a much more design-flexible Volkswagen group MLB platform architecture that no longer forces the Cayenne to share its side doors with the Touareg.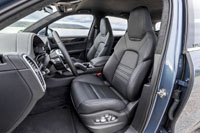 Inside, the new Cayenne receives improvements in design, materials quality, and refinement, but most will likely notice its new electronic interfaces first and foremost. The primary gauge cluster features dual 7.0-inch TFT colour displays flanking a classic analogue tachometer at centre, while just to the right is the same 12.3-inch Porsche Communication Management (PCM) touchscreen infotainment system first used in the second-generation Panamera. Resolution quality, depth of colour and contrast, plus operating system speed is all improved, as is overall ease of use and the amount of features as well as their functionality, with some highlights including a rearview camera with ParkAssist front and rear parking sensors, Apple CarPlay smartphone connectivity, an Online Navigation Module, wireless internet, Bluetooth with streaming audio, 10-speaker 150-watt audio, satellite radio, and Porsche Car Connect that adds Carfinder, Remote Vehicle Status, Remote Services, and the Porsche Vehicle Tracking System (PVTS).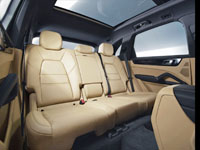 Additional in-vehicle enhancements include touch-sensitive quick-access controls under smartphone-like black glass on the lower console surrounding the new electronic shifter and electromechanical parking brake, while classy knurled metal detailing help to dress up key dials and rocker switches.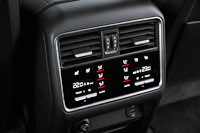 The 2019 Cayenne comes stock full of standard features such as LED headlamps, four-point LED daytime running lights within each headlight, three-dimensional LED taillights with integral four-point brake lights and a centre light strip, 19-inch alloy wheels (up an inch from last year), brushed aluminum door sill guards, LED interior lights, a heated smooth-finish leather-wrapped multifunction steering wheel, rain-sensing wipers, active carbon filtered dual-zone automatic climate control, two USB charging ports in the front centre console and two in the rear centre console, heatable eight-way powered front seats, partial leather upholstery, a retractable cargo cover, a powered rear liftgate, Porsche Hill Control (PHC) and automatic hold function, tire pressure monitoring, all the usual active and passive safety features including front knee airbags and rear side-thorax airbags, Porsche's Warn and Brake Assist pedestrian detection system, and more.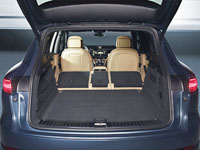 As always with Porsche, the 2019 Cayenne continues to offer the longest list of packages and options in the luxury SUV sector, with some available features including myriad 19- to 22-inch alloy wheels, various leather colours and qualities, proximity-sensing keyless access, active LED Matrix headlights, thermal/noise insulated glass, soft-close doors, ambient lighting, auto-dimming centre and side mirrors, a head-up display, 14- and 18-way powered front seats with available massage, ventilated front and heated rear outboard seats, a panoramic glass sunroof, Bose or Burmester surround audio systems, a 360-degree surround parking monitor, adaptive cruise control, Lane Change Assist, Lane Keep Assist, traffic sign recognition, four-zone automatic climate control with rear controls, heat-sensing Night Vision Assist that sees pedestrians and animals even when the driver can't, a trailering package, roof rails in various colours, a multitude of exterior and interior trim upgrades, an off-road package, and the list goes on and on.
The 2019 Cayenne is currently available at Porsche retailers across Canada, but before you head down to your local Porsche dealership make sure to check out our massive photo gallery above and watch all the videos below:
The new Porsche Cayenne. TVC: "Neighbor" – Ad filmed in Vancouver (0:59):


The new Cayenne: a sportscar for five (2:11):


The new Porsche Cayenne in motion (1:19):


The new Porsche Cayenne Turbo in motion (1:17):


The new Cayenne E-Hybrid in motion (1:18):


Global endurance test for the new Cayenne (3:39):


Designing the new Porsche Cayenne (5:24):


The design of the new Porsche Cayenne Turbo (1:16):


The new Porsche Cayenne – Comfort (1:41):


The new Porsche Cayenne – Sportiness (2:14):


The new Porsche Cayenne – Everyday Practicality (2:23):


The new Porsche Cayenne – Driver Assistance (1:02):


The new Cayenne E-Hybrid: facts & figures (1:24):


The new Porsche Cayenne: facts & figures documentary (18:38):


How to Video Cayenne "PCM based Services – E-Charging" (1:23):