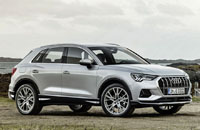 When Audi's Q3 showed up on the Canadian subcompact luxury SUV scene in 2014 for the 2015 model year it was already old news in other parts of the world. It had originally launched as a 2012 model in Europe, so the heavily refreshed 2016 version that soon replaced the first-generation Q3 was a complete surprise for many when it arrived in late 2015. 
That mid-cycle update ushered in a new look for Audi SUVs on the whole. Its equiangular hexagonal singleframe grille grew broader and more sharply edged, with new satin-silver exterior trim for a more sophisticated look. Its headlamps received some subtle revisions too, while a new aluminum hood with reworked sculpting sat overtop, and the lower apron received some minor updates too, depending on trim. Other small updates to the rocker panels and rear bumper cap let aficionados know which model they were looking at no matter the direction of view, but for the rest of us it was the grille up front that made the 2016 Q3 look entirely new.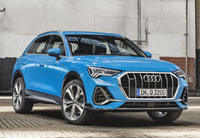 Now, three more years into what is effectively a seven-year model run has the current Q3 showing its age, so this completely redesigned second-generation Q3 will be a much needed breath of fresh air for Audi retailers and fans of the little utility, many of which have been patiently waiting for a redo before upgrading. 
Audi introduced the new and improved 2019 Q3 online over the summer and in the metal at the Paris Motor Show last month, and it's expected to go on sale during the second quarter of next year. Larger than its predecessor and therefore getting closer to true compact status, the new Q3 rides on parent company Volkswagen group's MQB platform architecture that also underpins the namesake brand's much improved Tiguan.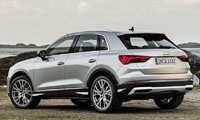 To put it in perspective, with a 4,485-mm (176.6-inch) overall length the new 2019 Q3 is 97 mm (3.8 inches) longer than the outgoing model from nose to tail, with a 77-mm (3.0-inch) longer wheelbase that now measures 2,680 mm (105.5 inches). It's also gained 25 mm (an inch) in width, now spanning 1,856 mm (73.1 inches) from side-to-side, while the new model's 1,585-mm (62.4-inch) height means that it's shrunk by 5 mm (0.2 inches) compared to the old Q3. 
Sidle the new Q3 next to the new Tiguan and you'll find it's almost identical in length and wheelbase, albeit only when compared against the short-wheelbase VW offered in Europe. The long-wheelbase version we get here is a significant 227 mm (8.9 inches) longer than the new Q3, with 111 mm (4.4 inches) more distance between the axles, but the Q3 is 17 mm (0.7 inches) wider and interestingly 88 mm (3.4 inches) lower overall. This should give the Q3 a sportier stance, thus leaving the Tiguan to more practical utility duties.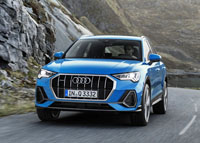 Of course, Q3 buyers wouldn't normally be shopping the little Audi against the Tiguan or any other mainstream volume branded SUV, but instead other subcompact luxury SUVs, but how has its increased size placed it amongst its premium peers? The list of subcompact luxury SUVs is long and ever-increasing, with longstanding models like BMW's X1, Mercedes-Benz' GLA, Range Rover's Evoque and Mini's Countryman more recently joined by Infiniti's QX30, Jaguar's E-Pace and Volvo's XC40, with Lexus' new UX getting ready to enter the fray next year and Acura recently teasing North American buyers with its China-only CDX. Without going into too much detail, the new Q3 is currently the longest in its class, but will soon be outflanked by the new UX. Its right in the middle with respect to wheelbase length and width, however, while its roofline is lower than class average.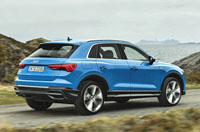 So Audi has taken one of the smaller utilities in the class and made it one of the largest, and therefore potentially opened the door to a future Q1. Rather than climb down that rabbit hole, more Canadians will be happier to know the new Q3 has grown as much inside as it has outwardly. For instance, the longer wheelbase translates into more rear legroom, while the rear seats are capable of moving a full 150 mm (5.9 inches) back and forth. What's more, the rear bench is now fully split in the most convenient 40/20/40 configuration, instead of just 60/40 with a centre pass-through like the previous model. This means there's more space down the middle to fit longer items like skis when the rear outboard seats are in use, and those rear backrests are even more comfortable thanks to a recline function that can be tilted in seven increments.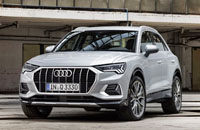 Back to those skis, you might be able to fit the kids' boards diagonally in the back thanks to 57 more litres of cargo space behind the rear seatbacks, the new total amounting to 530 litres (18.7 cubic feet), while 160 additional litres of gear-toting room can be had when the rear seatbacks are laid flat for a new maximum of 1,525 litres (53.9 cubic feet). Aiding flexibility, a new removable loading floor can be repositioned in three levels, while the parcel shelf can be stowed beneath the floor when not in use. Lastly, a powered liftgate with "kicking motion" gesture control access is optional.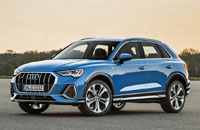 Audi hasn't revealed standard and optional Canadian-specification information yet, but they have announced that a 10.25-inch version of their Audi Virtual Cockpit will be standard across the line in all markets, which will be a big bonus being that similar digital primary gauge clusters are normally pricey options if available from the competition at all—currently the Volvo XC40 is the only rival to offer one as standard kit. As per usual it operates via steering wheel controls, while when upgrading to a higher trim grade featuring optional MMI navigation plus the Virtual Cockpit comes in a larger 12.3-inch form that allows digital mapping, plus other functions, to appear larger in the more configurable multi-information portion of the display, between the speedometer and tachometer. The optional display also includes three different views, featuring new performance graphics that Audi promises to be "particularly sporty".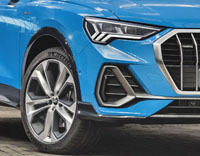 An attractive high-gloss black MMI Touch display with a sophisticated glass-look surround can be found just to the right of the driver within the horizontally designed centre stack that, together with the climate controls just below, is tilted 10 degrees toward the driver. Audi claims its all-new MMI Touch Response infotainment system, which no longer uses a separate controller on the lower console and therefore is more tablet-like in operation, has an "intuitive operating concept" featuring a "flat menu structure" that's "supplemented by natural-language voice control." 
In fact, the Q3's new voice control is said to understand "freely structured wording," which means it should respond to voice prompts like a modern-day smartphone. According to Audi, the dialog manager can even ask questions if required, plus it "allows corrections, offers choices and defers to the speaker when interrupted." Now if Audi could only make the front seat passenger so cooperative.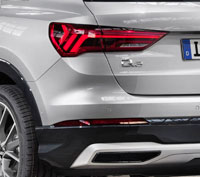 Additionally, top-tier Q3 trims get an infotainment system with new LTE Advanced standard connectivity featuring a Wi-Fi hotspot, while the navigation interface remembers preferences from previous journeys and then provides possible route suggestions. Audi connect also uses real-time traffic information when guiding via navigation, while point-of-interest searches plus parking space and filling station info appears directly in the map. 
Regarding the search for that illusive parking spot, the new Q3 actually uses swarm intelligence to forecast the availability of roadside parking spaces, plus it also provides info on road hazards and speed limits.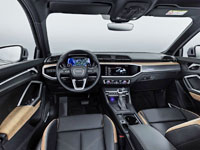 Additional options will include Google Earth and hybrid radio, which automatically switches between FM, DAB and online streaming to provide the best reception possible. 
What's more, the myAudi app lets you to connect your smartphone to the Q3, so you can transfer your schedule via a calendar app and any pre-organized navigation routes to the car's MMI infotainment system, or even locate where your Q3 is parked. 
Speaking of phone connectivity, the Audi phone box inductively charges the owner's smartphone through the Q3's antenna, while the Audi smartphone interface lets said smartphones link to the MMI display via Apple CarPlay or Android Auto. 
Of course, Bluetooth phone connectivity with audio streaming will come standard, but you'll need to pay extra for the top-line Bang & Olufsen premium audio system that provides three-dimensional virtual sound via 15 speakers including a subwoofer.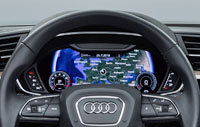 Technologies that aid driving may be appreciated even more by Q3 owners, such as advanced forward collision warning with autonomous emergency braking, and available adaptive cruise assist that combines the functions of adaptive speed assist, low speed traffic jam assist and active lane assist together in one. Audi claims that adaptive cruise assist helps with longitudinal and lateral control to particularly improve "comfort on long journeys." 
What's more, the Q3's four 360-degree cameras, which display on the infotainment touchscreen, make it easier to manoeuver in tight surroundings like parking lots. Even better, when using the available park assist semi-autonomous parking system the Q3's driver only needs to watch the proceedings on the screen while shifting into the correct gear, applying the throttle, and stepping on the brake when necessary, while the car automatically steers itself in and out of parking spaces. Audi also offers cross traffic assist to warn of oncoming vehicles when reversing out of a parking space, while lane change warning is also part of this suite of safety features.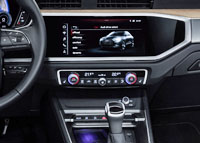 Along with interior styling that's much more dramatic, delivering a true sense of occasion even in this more price-sensitive entry-level luxury class, not to mention interior fit, finish and materials quality that should be a considerable upgrade over the previous Q3, especially if we receive the same two-tone suede-like Alcantara dash, armrest and seat trim being offered to Europeans, Audi also promises an ergonomically designed cabin, which is a claim that's certainly consistent with its latest offerings. This means that "all displays, buttons and controls" are within easy reach and logically laid out for intuitive operation, while the steering wheel is "steeply angled" to coincide with the "sporty", albeit "comfortable" driver's seat.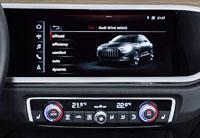 The outgoing Q3's driver's seat delivered a nicely raised view to the road ahead with good visibility all-round, important being that the sense of control that comes as part of this commanding driving position is a key reason that SUVs have become so popular. The new model will continue with its similarly raised profile, while also providing some very real performance improvements to enhance the overall driving experience. 
This will be critical to the new Q3's success, being that a weakness of the outgoing model was its one-size-fits-all 2.0-litre turbocharged powertrain that made 200 horsepower and 207 lb-ft of torque. Such output is quite reasonable for a base engine, yet when put up against some of its competitors' upgraded powerplant options it was a tad underwhelming. Therefore, the Canadian-spec Q3 will be available with a new 2.0-litre turbocharged and direct injected four-cylinder making 190 horsepower and 236 lb-ft of torque in base trim, while a new 230 horsepower variant of the same four-cylinder engine with 258 lb-ft of torque will also be available.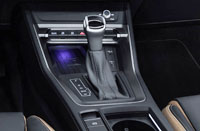 Likewise, six-speed manual, "fast-shifting" seven-speed dual-clutch S tronic automated, and eight-speed automatic transmissions will be on offer, but likely only the latter, which adds two more gears over the outgoing Q3's six-speed Tiptronic automatic, will make it here, with permanent Haldex-type Quattro all-wheel drive as standard equipment, a marked change from the outgoing Q3 that offered Quattro as an upgrade to a base FWD layout. Audi says the Q3's new hill descent control will maintain a preset speed on steep downhill gradients by simply pushing a button, which should aid the model's off-road capability. 
Back on the street, the new Q3 will sport an upgraded Audi drive select with a total of six profiles, from "markedly comfortable, highly efficient through to out-and-out sporty." Audi drive select can also enhance the suspension with adjustable damper control when equipped, which uses sensors to "measure the movements of all four wheels as well as the vehicle's lateral and longitudinal acceleration," before automatically making adjustments.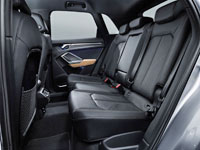 Alternatively, the S line exterior package includes a sport suspension that provides more progressive steering tuning with a more direct feel via increased steering angle, while it firms up the Q3's springs and dampers too. Previously, steering wheel-mounted paddle shifters were also added as part of the upgraded sport package, but we'll need to wait and see what Audi has in store for our Canadian-spec model. 
We also won't know about the 2019 Q3's fuel economy until closer to its arrival, but if it's anywhere close to the current model's 11.9 L/100km city, 8.4 highway and 10.3 combined AWD rating, it will be very competitive.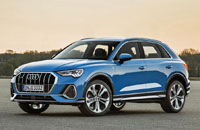 Lastly, the new model is arguably better looking too, with its most striking feature a new equiangular octagon grille, adding two more sides to Audi's now trademark singleframe design. We first saw this with the new Q8 four-door crossover/coupe, and it's also appeared in various Q2, Q4 and Q6 renderings and concepts, so we can feel pretty confident it's the new face of Audi SUVs, at least. All of the new cars still feature versions of the now classic six-sided grille, albeit featuring sharper edging with each new model, but this new ovoid look is appealing within the brand's crossover SUV lineup, giving the Q3 distinctive character. 
The new grille gets divided up with vertical bars and large air inlets, the look made more dramatic when opting for the aforementioned S line exterior package that brightens the vertical strakes with aluminized highlights, or alternatively with available glossy black and dark grey trim. Moving up to the S line also enhances the lower front fascia with unique floating satin-silver detailing within deeper cut corner vents, and then pulls the brightwork inward with a horizontal metallic strip. There's much more to the S line exterior package than that, making it a good choice for those who want their Q3 to stand out in the subcompact luxury SUV crowd. 
Depending on trim, the Q3's narrow headlamps can be fitted with one of three lighting sources, topped off with Matrix LED technology and adaptive high beams. 
We'll know more about all of these details when the 2019 Audi Q3 goes on sale next year, but until then enjoy our photo gallery above and video below. 
Audi 2019 Q3 Defined: Design (3:04):