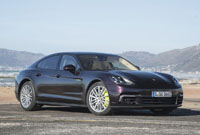 Few luxury brands get as much diversity from a given model as Porsche. The sports car of sports cars, for instance, the Porsche 911, is available in eight different models that range from $104,000 to $334,000, and within this range of models are multiple body styles, performance grades and trims. The variations seem limitless. 
The Porsche Panamera four-door coupe doesn't cover quite as much of a price spread and is only available in three models for 2018, but once again within those models are multiple body styles, performance grades and trims, so while the variations don't appear quite as limitless as 911 permutations, the chances of seeing the exact same Panamera driving down the street toward you is near impossible.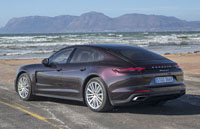 To help shed some light on the breadth of Panamera models available, Porsche Canada divides its road-hugging four-door coupe into three categories including Panamera, Panamera E-Hybrid and Panamera Turbo, while a fourth Panamera GTS model will slot in between the latter two for 2019. 
Within these classifications are three body styles and various states of tune. The former includes the regular-length Panamera, the long-wheelbase Panamera Executive that adds 150 mm (5.9 inches) between the axles and significantly lengthens the entire car for improved rear legroom, and the shooting-brake, wagon-style Panamera Sport Turismo that uses the regular wheelbase yet increases cargo volume by 27 litres (1.0 cubic foot) behind the rear seatbacks and 51 litres (1.8 cubic feet) when those seats are folded flat, while the latter variances are much more diverse.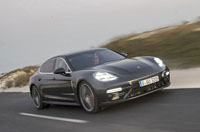 Base Panamera trim incorporates a 330 horsepower turbocharged V6 with rear-wheel drive (RWD); the numeric 4 designation signifies the same engine with all-wheel drive (AWD); the 4S denotes a twin-turbo V6 making 440 horsepower mated to AWD; the 4 E-Hybrid combines a twin-turbo V6 with Porsche's plug-in hybrid drivetrain and AWD for 462 net horsepower; the Turbo boasts a twin-turbocharged V8 and AWD for 550 horsepower; and finally the Turbo S E-Hybrid with its twin-turbo V8, plug-in hybrid and AWD combination results in a staggering 680 net horsepower.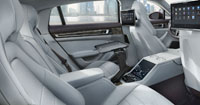 Connecting powerplant to driveline is Porsche's new eight-speed dual-clutch PDK transmission that works with both hybrid and non-hybrid models, as well as both rear- and all-wheel drivetrains. Introduced just last year with this new Panamera, the new gearbox might just be the most important "cog in the wheel" both literally and figuratively, in that it replaces three transmissions from the previous generation, including a six-speed manual used with base model V6 and naturally aspirated V8 trims, a seven-speed PDK found most everywhere else, and a Tiptronic S eight-speed automatic exclusive to hybrids and diesel models.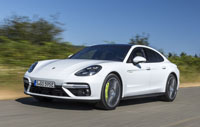 The former transmissions did an admirable job, but the performance gained by the new eight-speed PKD has made a significant difference across the line, especially amongst hybridized Panameras that have been transformed from fast fuel-sippers to the dominant forces within the Panamera lineup. 
The new eight-speed PDK transmission builds on the seven-speed original that was already impressive, with better efficiency, quicker shifts, smoother shift intervals, and most importantly greater strength, the new transmission given a torque ceiling that reaches upwards to 737 lb-ft.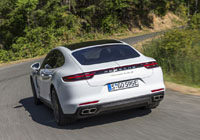 This last point is critical when fitted to the aforementioned hybrid powertrains that produce immense amounts of torque at a much faster rate than their conventionally powered siblings. To be clear, Porsche didn't create a one-size-fits-all dual-clutch gearbox solution, but rather a modular design that allows different versions of the same basic transmission to be used for hybrid, non-hybrid, rear-wheel drive, and all-wheel drive applications. 
For instance, the electrified variant fits its hybrid module within the PDK's bellhousing, while a hang-on clutch transfers torque to the front axle in conventionally powered all-wheel drive configurations. With a focus on efficiency, the eight-speed PDK provides three overdrive ratios, which means the Panamera achieves its terminal velocity in sixth gear. This in-house design certainly serves all Panamera purposes well.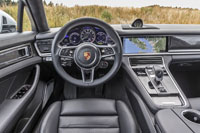 This being a Porsche, performance numbers factor heavily into the purchasing decision for most buyers. The good news is that even the base rear-drive Panamera can sprint from standstill to 100km/h in just 5.7 seconds, whereas the same engine with all-wheel drive can do so in 5.5 seconds. If you're still yearning for more speed, the Panamera 4S manages the same feat in just 4.4 seconds.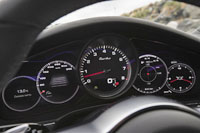 You'll need to add 0.1 seconds for extended wheelbase Executive models, but on the contrary you can enhance acceleration by opting for the Sport Chrono Package that chops 0.2 seconds off of all zero to 100km/h sprint times via sportier engine, transmission and chassis tuning. The Sport Chrono Package also includes a special Sport Plus button next to the regular Sport button, which makes the engine even more responsive than when in Sport mode by adjusting the rev-limiter to a harder setting, plus it sharpens turn-in and overall steering sensitivity, and increases the standard Porsche Active Suspension Management (PASM) and Porsche Dynamic Chassis Control Sport (PDCC Sport) damper rigidity. What's more, the Panamera's adaptive air suspension lowers and its spring rate firms up, while the Rear Axle Steering with Power Steering Plus improves agility yet further.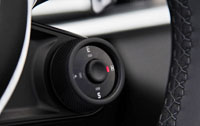 The former benefits low-speed manoeuvrability by pointing front and rear wheels in the opposite direction, shortening the turning circle, and also enhancing high-speed stability by steering the front and rear wheels in the same direction, while Power Steering Plus boosts the electric power steering to lighten its load at low speeds and firms it up while responding with more precision at high speeds.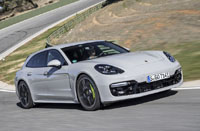 All driving modes, including Normal, Sport, Sport Plus and Individual are available from a new steering wheel mounted rotating switch featuring an integrated Sport Response button, the latter similar to Launch Control albeit even more useful on a daily basis, as it not only primes the engine and transmission for quickest possible acceleration, but works just as well off the line as it does during overtaking moves on the highway or track. Consider it a "push to pass" mode that provides maximum responsiveness for about 20 seconds at a time. 
And yes, Launch Control, which optimizes acceleration from a standing start, is included as well, as is a performance display within the standard 12.3-inch Porsche Communication Management (PCM) infotainment touchscreen, plus an analogue/digital chronograph stopwatch mounted atop the dash top for calculating performance/track lap times. Porsche also adds a graphic within the primary instrument cluster's multi-information display that shows longitudinal and lateral acceleration.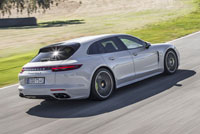 Back to straight-line performance figures, the first electrified Panamera is the 4 E-Hybrid that moves off the line similarly to the aforementioned 4S despite being more powerful, taking a mere 0.2 seconds longer to hit the 100km/h mark due to 300 kilos (661 lbs) of extra weight. Of course it's the hybrid's 5.1 Le/100km (compared to 10.1 L/100km) city/highway combined fuel economy and its ability to run totally on electric power for up to 50 kilometres (31 miles) at speeds of 140 km/h (87 mph) that separates it from the conventionally powered pack.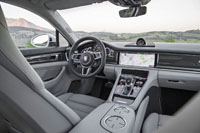 Next are the Panamera Turbos. The twin-turbo V8's 550 horses and 567 lb-ft of twist manage to launch it to 100km/h in a scant 3.8 seconds, or once again 3.6 seconds with the Sport Chrono Package. 
Lastly, the Turbo S E-Hybrid is why the new eight-speed PDK needed to be so robust. With its twin-turbo V8 and plug-in hybrid combination making a shocking 680 horsepower and 626 lb-ft of torque it needed to be as strong as possible, its amazing all-wheel thrust capable of flinging it to 100km/h in a seemingly unreal 3.4 seconds despite gaining 315 kilograms (694 lbs) over its Turbo counterpart, let alone 140 kg (308 lbs) more than the lesser 4 E-Hybrid, while its top track speed is a staggering 310 km/h (192 mph).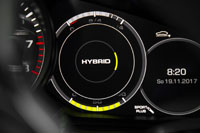 Batteries are heavy, not to mention all the compact yet still mass amassing hybrid components, but once again it's all worth it when passing by the pump, the top-tier Panamera also excelling at efficiency performance with a claimed 4.8 Le/100km rating. The Panamera Turbo S E-Hybrid is truly a best of both worlds, have your cake and eat it too kind of car.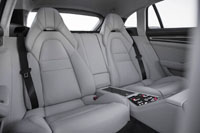 On that note, the base Panamera is good for a claimed rating of 11.0 L/100km in the city, 8.3 on the highway and 9.8 combined, with some thanks to its standard auto start-stop function that not only shuts the engine off when it would otherwise be idling while stopped, but includes an innovative coasting mode. As you might imagine the more powerful engines use more fuel, but even the most formidable non-hybrid Turbo ekes out a commendable 13.4 city, 10.1 highway and 11.9 combined. 
Once you've decided which model, body style and trim you'd like, deciding on options can be an overwhelming prospect. This side of bespoke coachbuilders that make most everything by hand, no other manufacturer offers as many possible build combinations as Porsche. Just go ahead and try to put one together on the company's online configurator and you'll quickly figure this out. 
For such reasons there's no way to provide a full menu of standard and optional features here in this overview, but take note that over and above items already mentioned base model highlights include LED headlamps, Porsche's quad of signature LED spotlights within each headlight, three-dimensional LED taillights with the same four-point LED signatures, 19-inch alloy wheels, an adaptive rear spoiler, brushed aluminum door sill guards, an electromechanical parking brake, partial leather upholstery, eight-way powered front seats with heated cushions and driver's memory, and much more.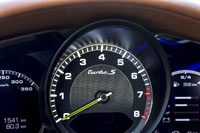 The leather-wrapped multifunction steering wheel is heatable in standard trim too, and features paddles shifters on its backside in all trims, while you'll be looking through it at an instrument cluster comprised of two large 7.0-inch high-resolution digital displays surrounding a large black-faced analogue tachometer, while other standard items include pushbutton ignition, auto-dimming interior and exterior mirrors, a HomeLink garage door opener, rain sensing wipers, filtered dual-zone automatic climate control, front and rear parking sensors, a panoramic sunroof, a powered rear liftgate, tire pressure monitoring, and the large PCM infotainment interface noted earlier, all standard.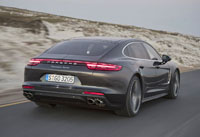 The infotainment display on the centre stack is filled with functions such as Apple CarPlay iPhone connectivity and a backup camera with ParkAssist, plus plenty of services like Real Time Traffic, News, Weather, Contacts, Calendar, Napster, a vehicle locator, remote door lock, etcetera, an Online Navigation Module, 4G LTE Capability with in-vehicle WiFi Hotspot, 10-speaker 150-watt audio, and more, again all standard. 
As noted, the package and options list is epically long and varied, with dynamic cornering and self-cleaning headlamps, soft-close self-cinching doors, higher grade leathers, myriad seat adjustments with powered massage, ventilated front seats, heated rear seats, four-zone auto climate control, Bose surround audio, and an even more potent Burmester 3D surround sound audio upgrade that comes with 21 individually controlled speakers and 1,455 watts of power, while advanced driver assistance systems include Adaptive Cruise Control with Traffic Jam Assist, Lane Keep Assist, Lane Change Assist, Night Vision Assist, a Speed Limit Indicator, and more.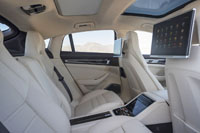 To give you an idea of how wide the Panamera pricing spectrum spans, the base model starts at just $97,300 before freight and fees, while a fully loaded Panamera Turbo S E-Hybrid Sport Turismo can reach upwards of $300,000 — check CarCostCanada for all retail and dealer invoice prices, plus rebate information. 
Panamera pricing is fair too, because along with exceptional performance and high-end premium features galore its interior is as good as anything available today. The quality of materials is exemplary, craftsmanship exquisite, and detailing superb. Ergonomically it's far superior to most four-door luxury coupes, with rear seat roominess improved over its predecessor and downright limousine-like compared to some it competes against, while cargo carrying capacity is right up there with the class average. 
You'll find 493 litres (17.4 cubic feet) of luggage space under the powered liftback, or 405 litres (14.3 cubic feet) in Hybrid guise. Flip down the top halves of its rear seatbacks and the Panamera will accommodate 1,339 litres (47.3 cubic feet) of longer cargo in the former and 1,246 litres (44.0 cubic feet) in the latter, while cargo improvements made by the Sport Turismo were covered earlier. 
To summarize, this has already been an exhaustive overview, but there's still so much that could be said about the 2018 Porsche Panamera. In top trims it's easily the sportiest sport sedan currently available, yet its style, quality, workmanship and livable practicality set it apart as one of the best cars in its category as well.