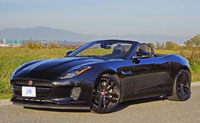 Jaguar installed its potent yet economical gasoline-powered Ingenium turbocharged and direct-injected 2.0-litre four-cylinder engine into its gorgeous 2018 F-Type sports car last year, with an after effect being a significantly reduced base price of $68,500. That was a $10k advantage over the previous base price, and this car, in model year 2019 open-top form, is in our garage this week. 
Pricing for the car in question starts at $72,500 this year, while the Coupe's price has been raised to $69,500. With such an attainable point of entry the new F-Type P300 Coupe and Convertible models become prime 718 Cayman and Boxster competitors, while pricier more powerful F-Type trims continue to fight it out with the Porsche 911 and others in the premium sports car segment.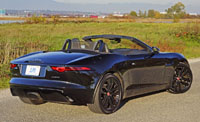 The turbocharged four-cylinder should provide more than enough performance for plenty of sports car enthusiasts thanks to a very healthy 296 horsepower and 295 lb-ft of torque combined with the F-Type's nimble and lightweight aluminum chassis and body structure, especially when considering that key competitors Audi, Mercedes-Benz, BMW, and Alfa Romeo don't offer anywhere near as much output from their entry-level four-cylinder sports models, with 220 horsepower for the TT, 241 for the SLC, 241 for the Z4, and 237 for the 4C, while F-Type P300 numbers line up right alongside Porsche's dynamic duo that are good for 300 horsepower and 280 lb-ft of torque apiece.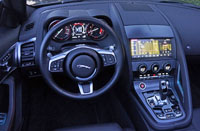 Jaguar makes its eight-speed Quickshift automatic transmission standard in this rear-wheel driven model, a steering wheel paddle assisted gearbox that delivers ultra-fast shift intervals that result in a particularly spirited 5.7-second sprint to 100km/h before attaining a limited top speed of 250 km/h (155 mph). 
But how does it feel from the seat of the pants? Make sure you check out my full review of the F-Type P300 Convertible shown here in the photos, where I'll divulge just how well all of this turbocharged four-cylinder goodness comes together. And don't think for a minute that it's not going to be positive. 
Even considering all of the other more powerful F-Type iterations available, including the incredible 575 horsepower SRV that I spent a week with over the summer, the new P300 has many attributes that stand out above its low base price, making it worthy of the "Growler" emblem on its grille and wheel caps, plus the "Leaper" atop its rear deck lid…